A posting about the last 2 years of Disco ownership.
I've wanted a D3 since they came out in 2004, it had to be an HSE spec, with autobox and either in silver or black. However, a £41k pricetag when new meant a long wait for them to be used and for values to drop into a price i could afford.
This is how it started. Standard D3 tdv6 hse, Silver with black interior. just shy of 98k on the clock and just under 8 years old.
Had 3 previous owners, never off roaded in it's life or towed as it didn't have the towbar's or electrics in the back.
All clean, shiny, no dents or scratches etc.
A basic plan for my ideas was formed, around building a replica of the G4 spec D3's but with my own twists and extra's.
It got used for some off road days and green road runs, finding the basics of Terrain response and what it could do on standard road tyres.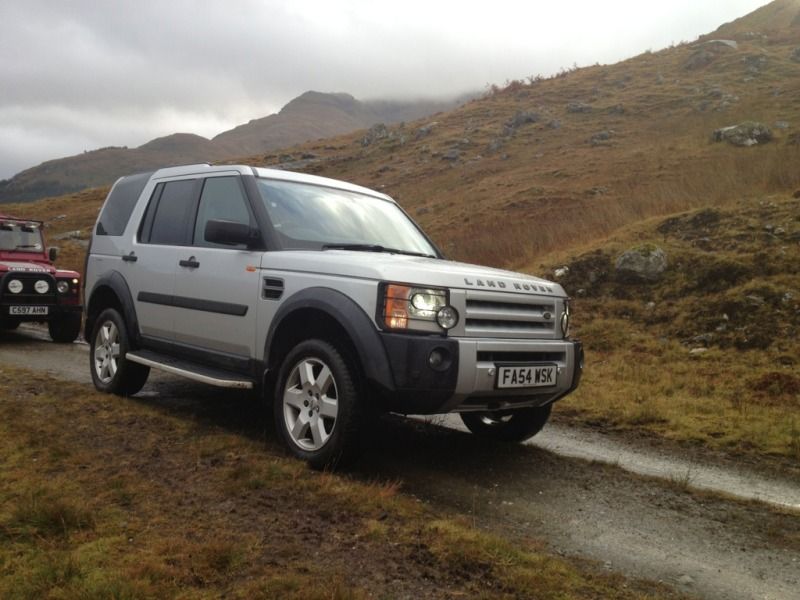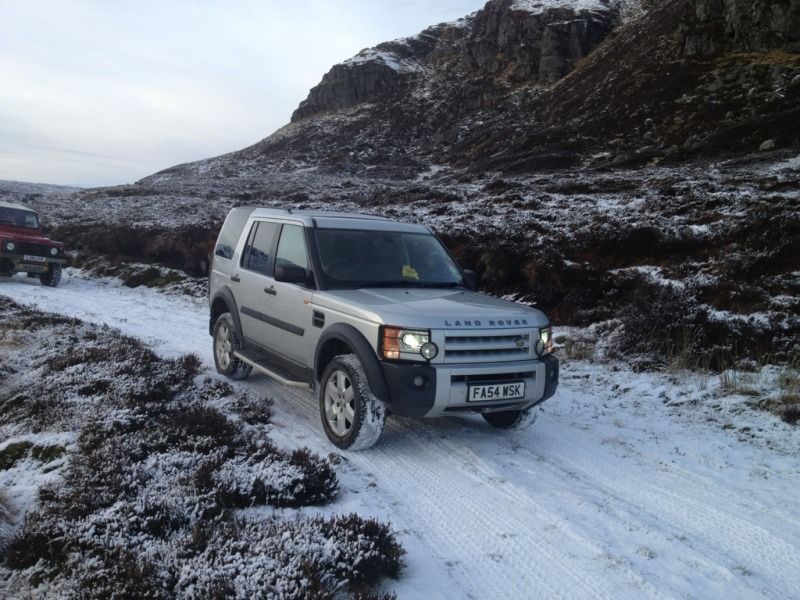 However, road tyres do have their limits, it did get stuck a few times in mud and wintery conditions were not the best either.
One run could have ended badly, very badly.
I was car 25, out of 27, the hill going up was slippery, it had caught a few cars out but going down was to prove even worse.
One section was a long gradient with a wide gentle right turn at the bottom. By the time i got to it, the surface was very polished with the cars going before me. HDC was selected and i set off at a gentle walking pace, letting the car find it's own grip and control the braking.
About 1/3rd down, HDC slipped. Not just a small slip either. It lost it completely. Sh*t.
Options tried were to let HDC find it's feet. Candance braking to try and find some grip, speed up to try and let the wheels match the increasing downhill speeds and then good old both feet on the brake and try to push it through the bulkhead.
By sheer luck i managed to miss the large rocks and boulders and slid off the road into a gravel section of the ditch before coming to a rest.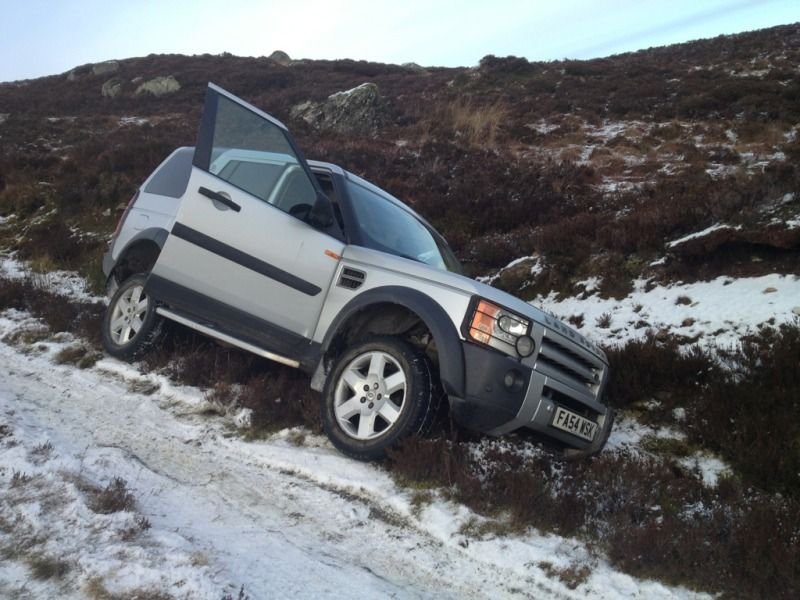 I had to stand on the center console to get out it was that far over.
It did drive out, about 250m down the ditch as there was no suitable place to get it up and out as it kept getting 2/3rds out before sliding back into the ditch.
A few weeks later. These arrived.
Goodyear Wrangler Duratrac in 255/55/19 111S M+S spec. No more sliding around in mud and ice for me.
These tyres were designed to be good on road, in wet and dry conditions but also have good mud and winter capability.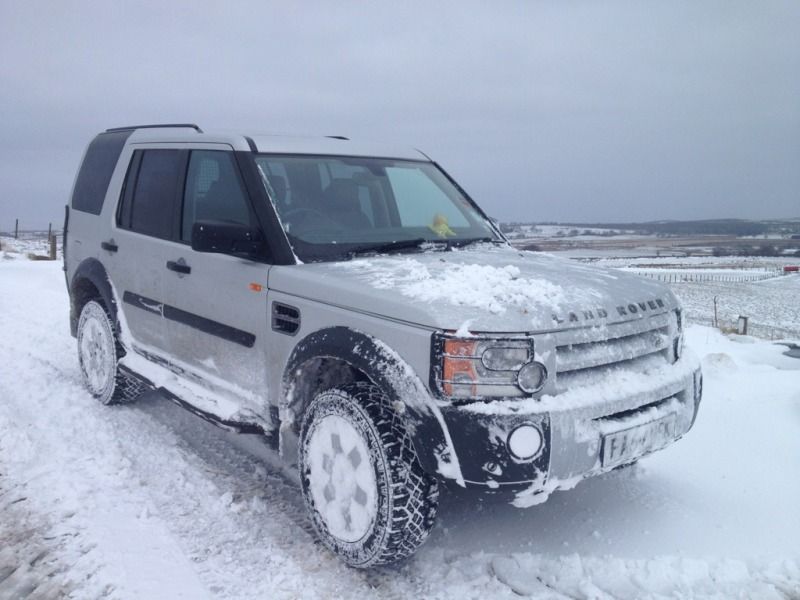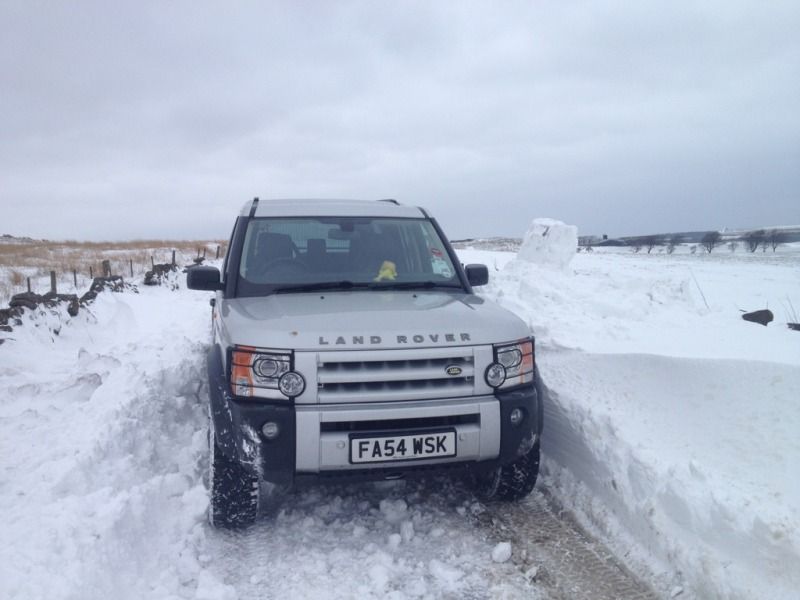 These got put to the test in the forests of Aberfoyle and across sites in the central belt of Scotland.
Some frontal protection was added with a RLD sump guard, this has a built in hole at the front to allow easy access to the front recovery point.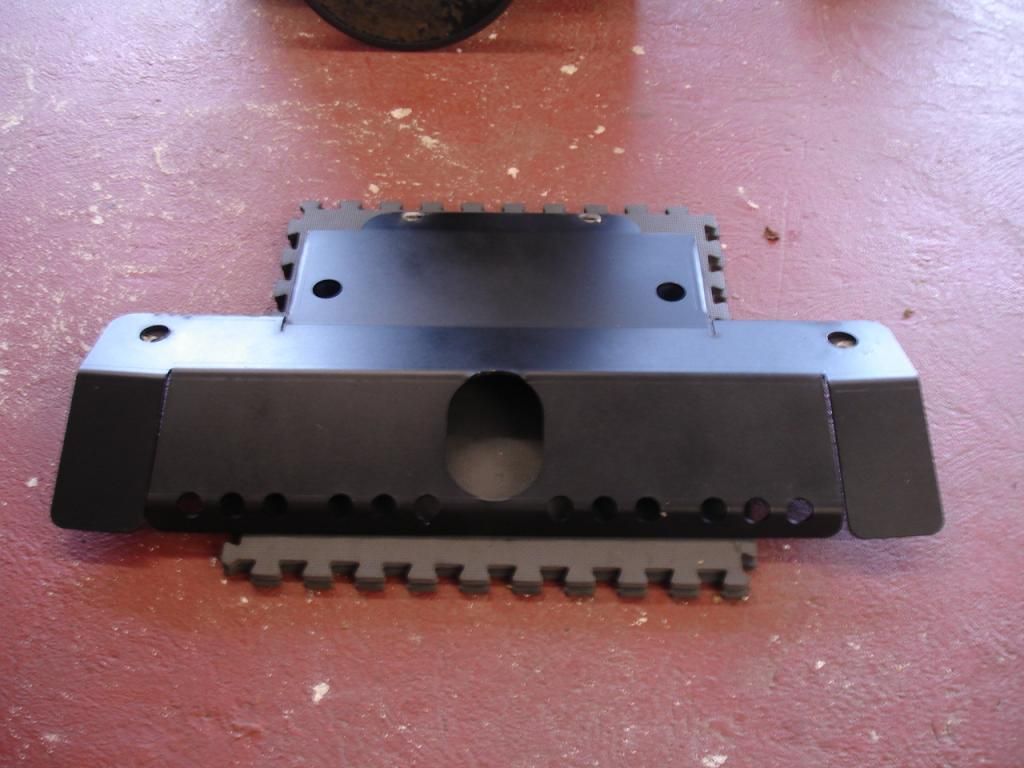 It's been through the tank trap at Cambusbarren Army off road centre as well...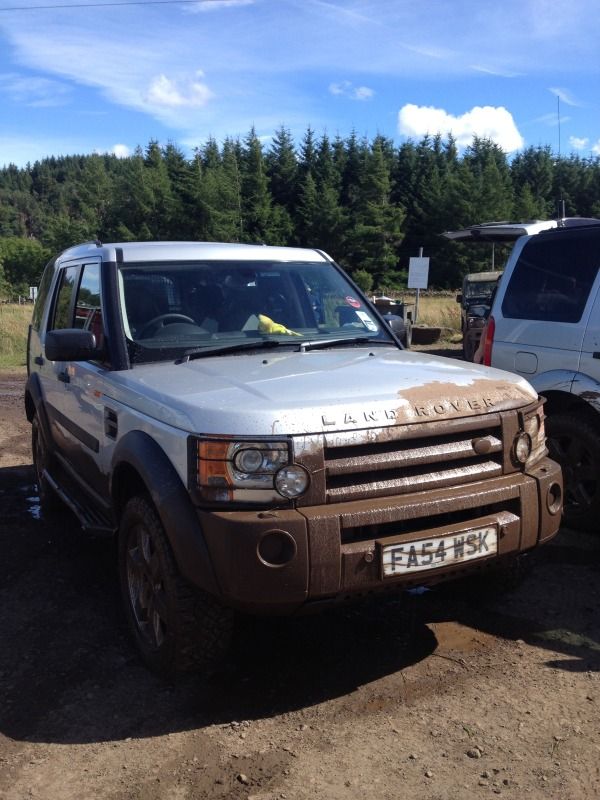 The 6 spoke HSE wheels had always been a bit rough, eventually they started to leak air and i fancied a change in wheel so i bought a set of 19 inch RRS V spoke alloys. After selling on the 7 tyres that also came with the deal and the 6 spokes i actually made a small profit from it.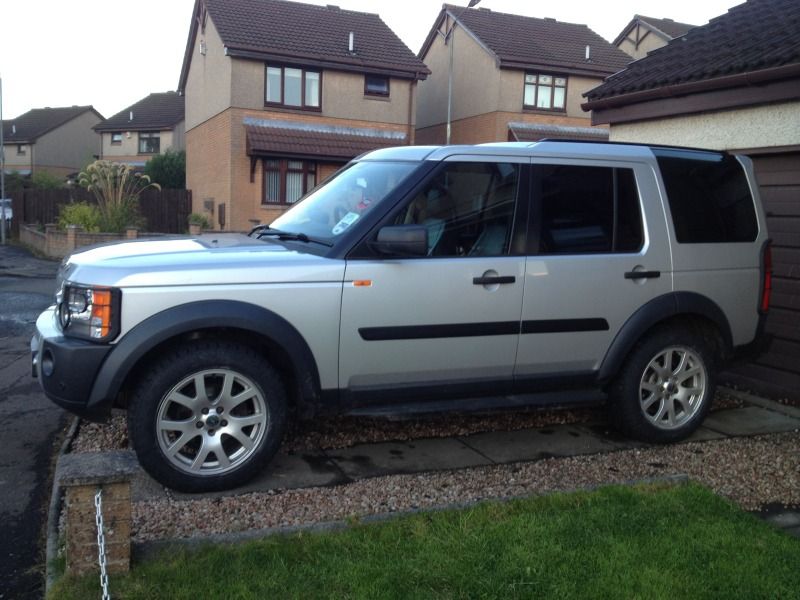 A rattle from the engine bay was identified to be a failing aux tensioner.
Then in October last year, I along with a mate, entered Mud Master.
MM is a 2 day off road challenge involving map reading, time trials, RTV style courses orienteering stages.
You are not allowed to use sat navs, or phone maps. It's all done with OS maps and plotting courses.
There was 3 orienteering stages, 2 time trials and 9 RTV stages. These were laid out over the central belt with the start and finish of each day at Dumfermline Army base. We placed 23rd out of 70 cars and 19th in the standard class section.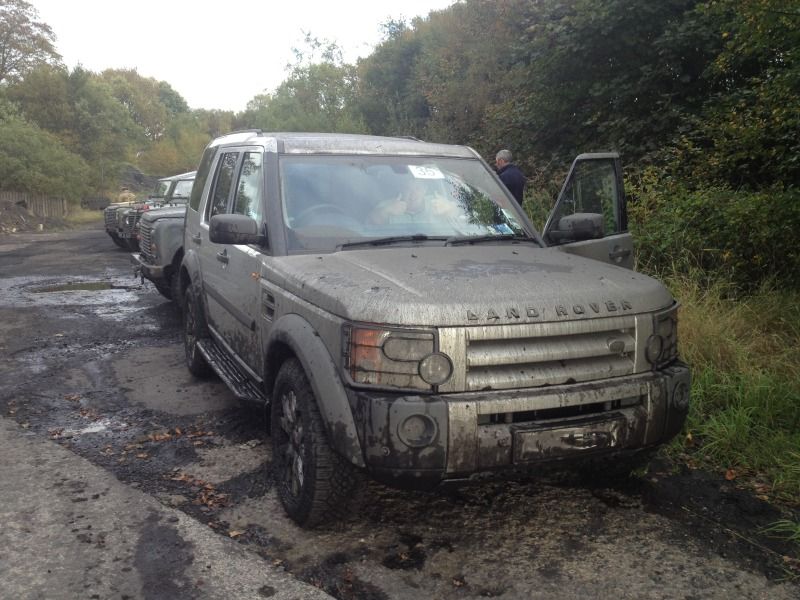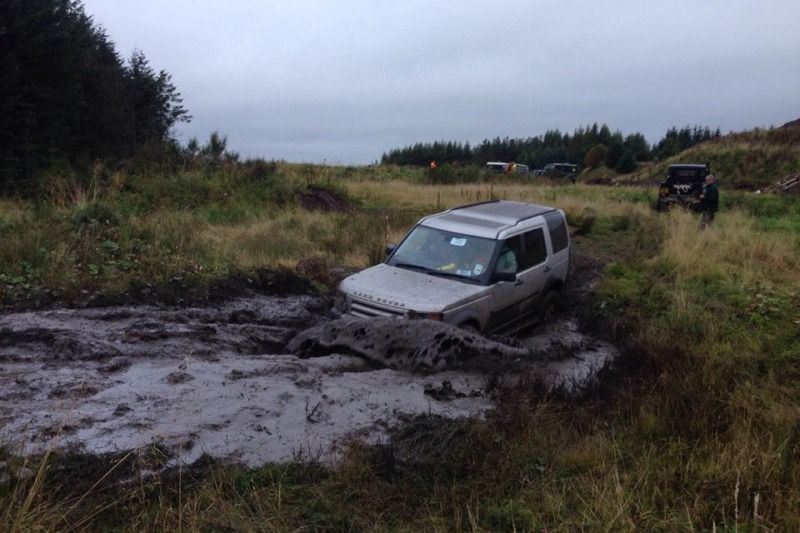 I think this picture sums up the weekend, that and showing we were the only D3 entered.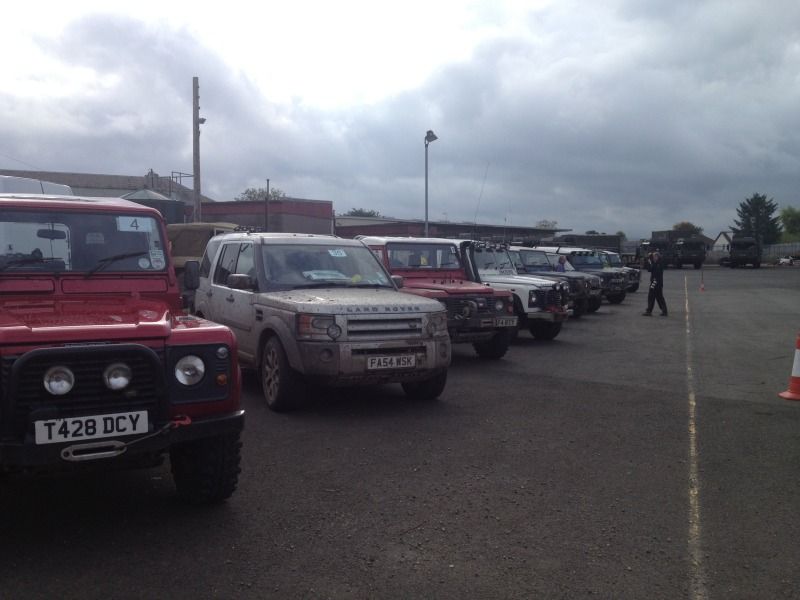 However, off road use and general running was taking it's toll and at 9 years and 117k, i pulled the trigger and sunk just over £2000 into a serious overhaul of the brakes and suspension of the car.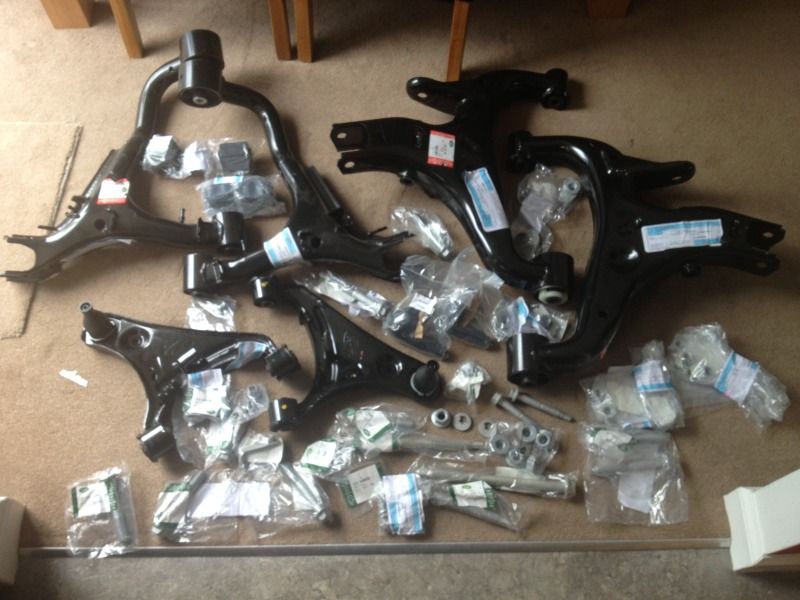 This picture shows most of the suspension parts.
2 RRS rear upper arms.
2 D3 rear lower arms.
2 D3 front upper arms.
4 arb bushes.
2 track rod ends.
All bolts, nuts, washes and fixings for the above.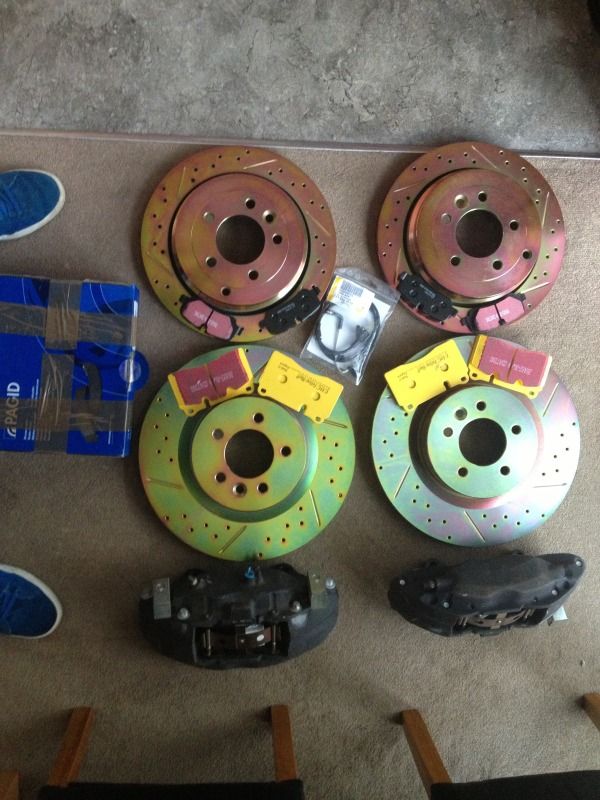 RRS 4 pot Brembo brakes.
Drilled and grooved front discs.
EPC Yellowstuff front pads.
Drilled and grooved rear disc's
EPC ultimate pads.
New EPB shoes kit.
You can see the size difference over the tdv6 standard disc's and pads vs the RRS disc's and pads.
How big is a Brembo calliper? This big.
Car key, to Barr's finest to calliper.
These were also painted in Subaru Blue Ridge pearl colour using proper calliper paint.
So, how do you bed in all those parts? Nice easy driving? Or go to the Lake District and drive green lanes?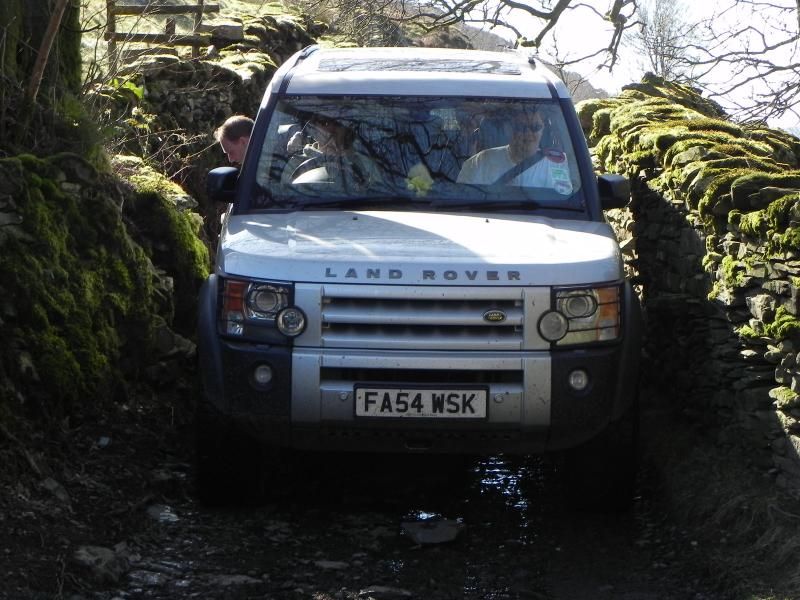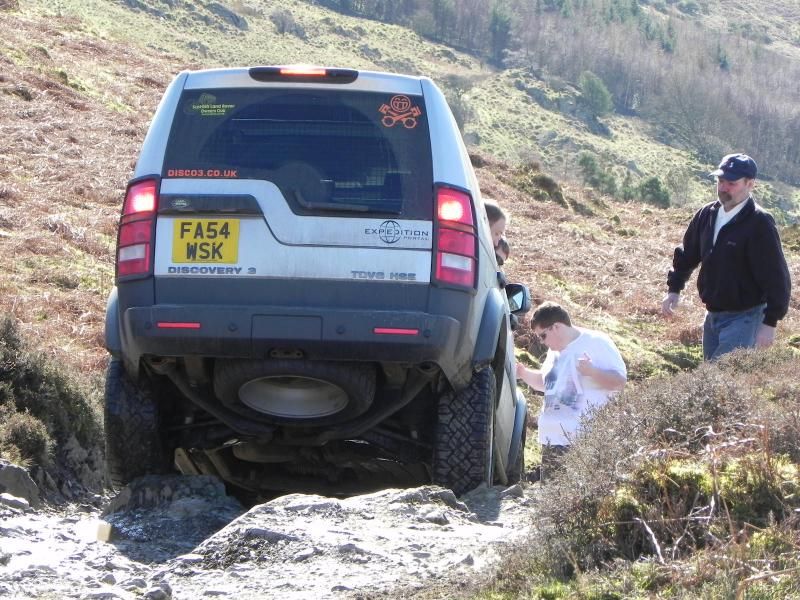 Next came yet another service, plus diff oil changes and installing the Terrafirma rock and tree sliders to replace the OEM side steps.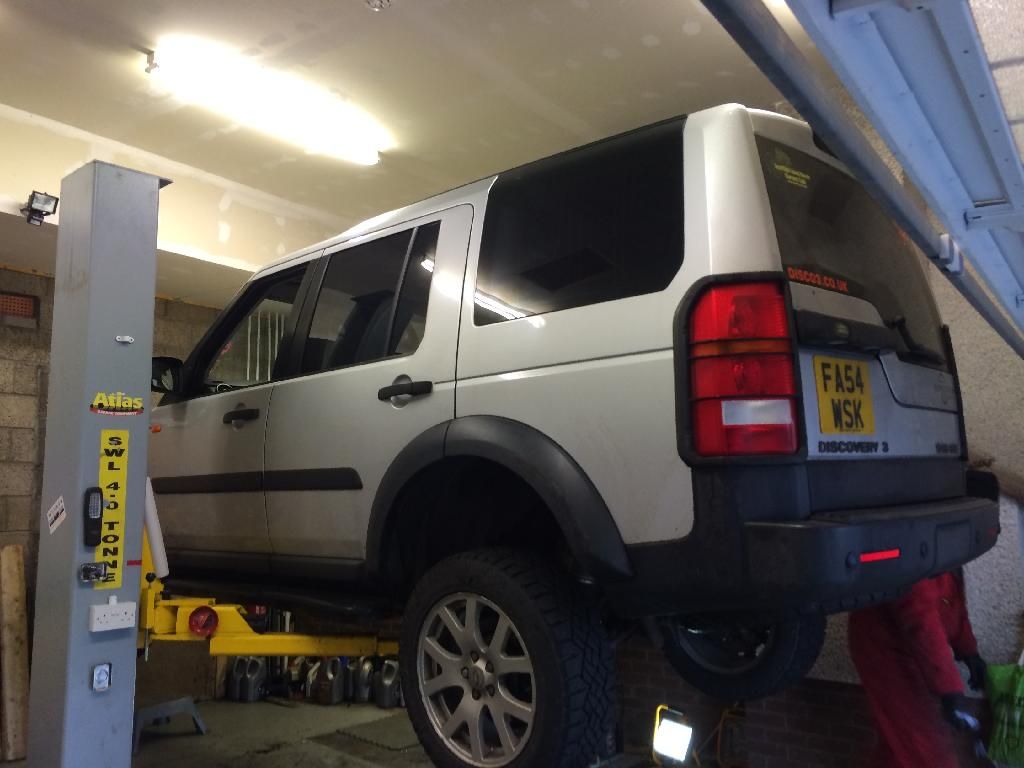 However, this also showed an unexpected issue. My rear propshaft bearing had failed.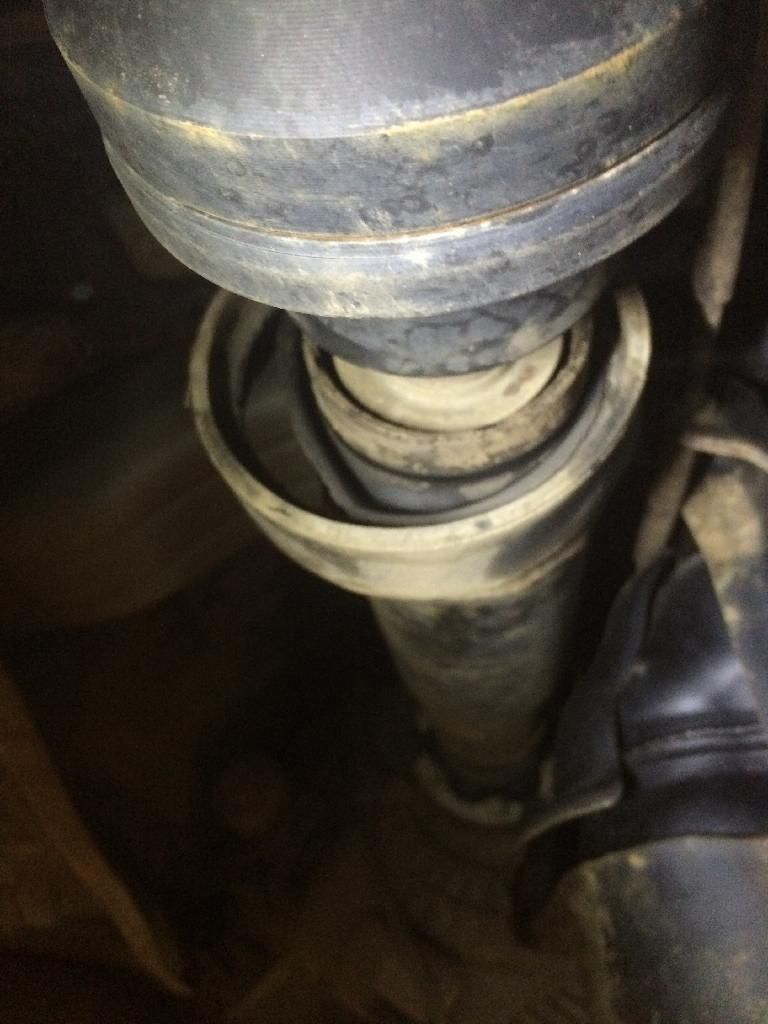 A new one was ordered from Land Rover, however, there was a bit of a backlog on them so it took a few weeks to be back in stock and be sent out.
£300 for a new one.
That was the end of issues and such till the summer, when i finally managed to get myself a Expedition roof rack for the car.
That was a bit of a faff trying to get fitted as it came with none of the 6 mounting brackets needed to bolt to the roof.
So, i had them made up from drawings by guys in the SLROC and with some light tweaking they fitted and one rack was bolted on.
At the same time the car was booked in and given a Terraclean treatment.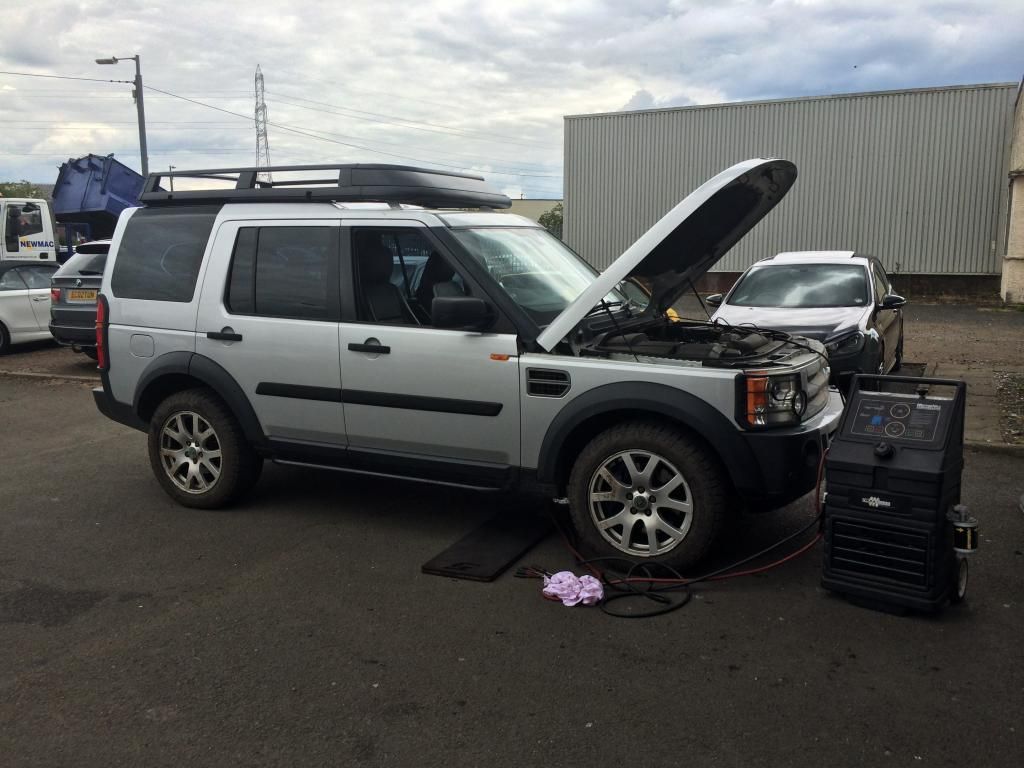 The car had about 125k on the clock and there has been improvements to pick up and mid range grunt so it's done something.
Step forward a month and ebay delivered a proper Prospeed rear ladder for the car. £210 brand new. Mine delivered for £102.
I did have some issues with fitting and after a few calls and emails Prospeed delivered another mounting kit for the ladder. I've had no issues with the ladder since.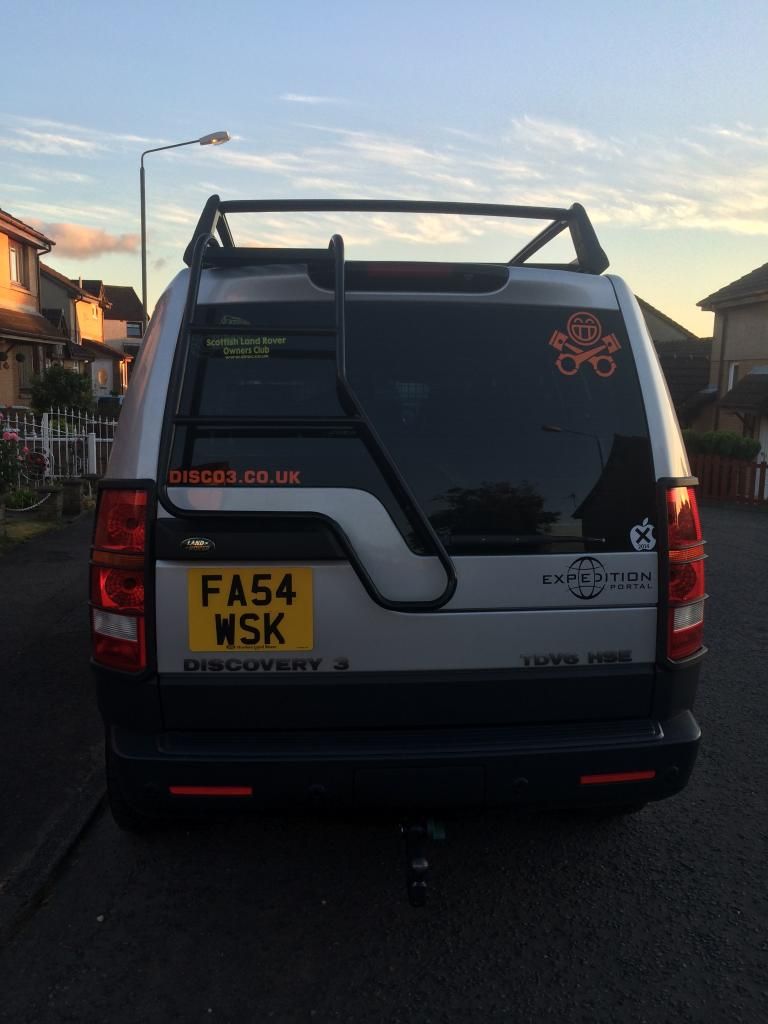 Next up was to fit some of the parts i've been gathering to add to the front end but also to lay the foundations for power gains in the future.
Remove the front end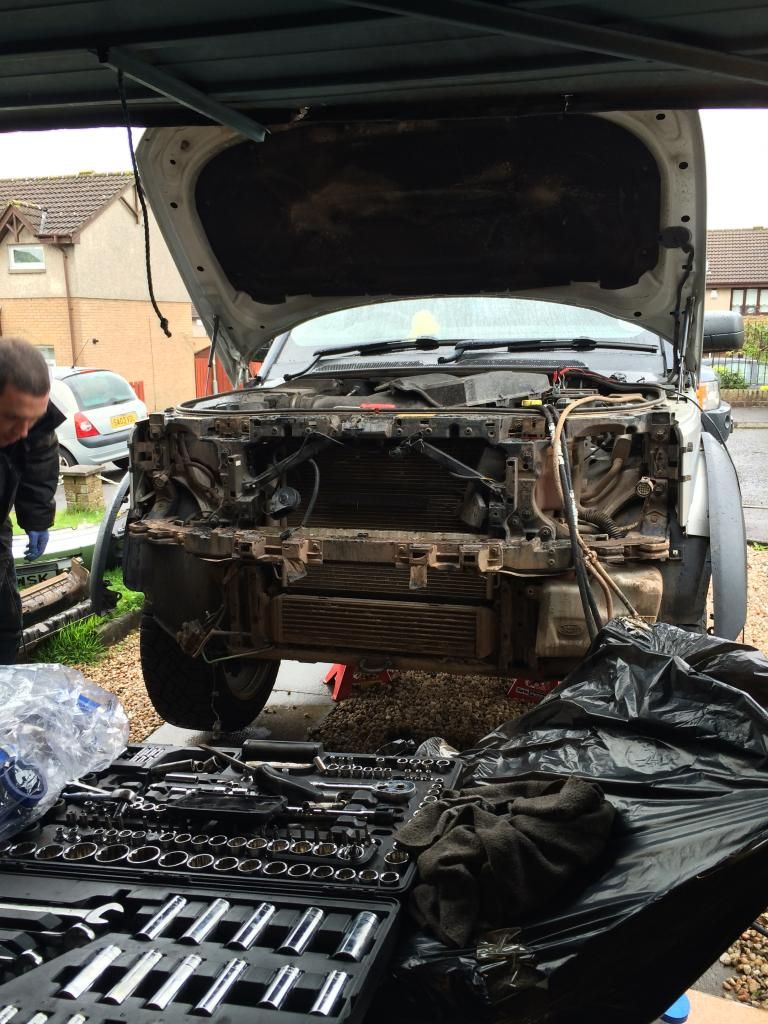 Add one Ford Sierra RS500 Cosworth intercooler and 5 ply silicone hoses.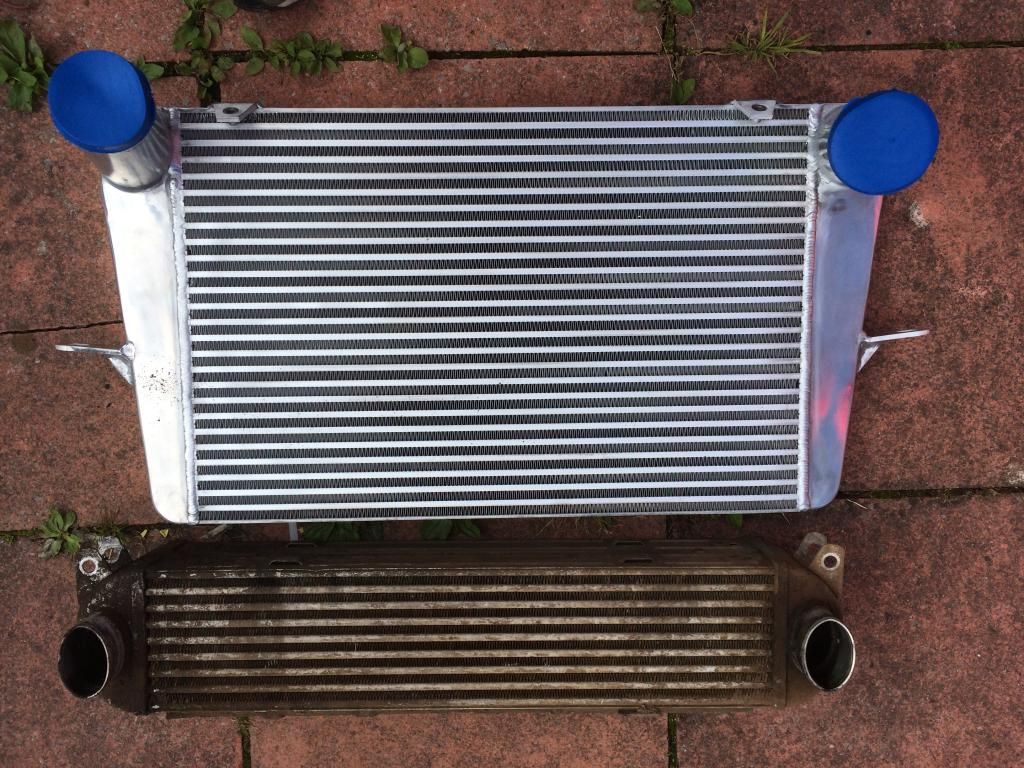 Add Genuine LR winch version A bar and LR spotlights.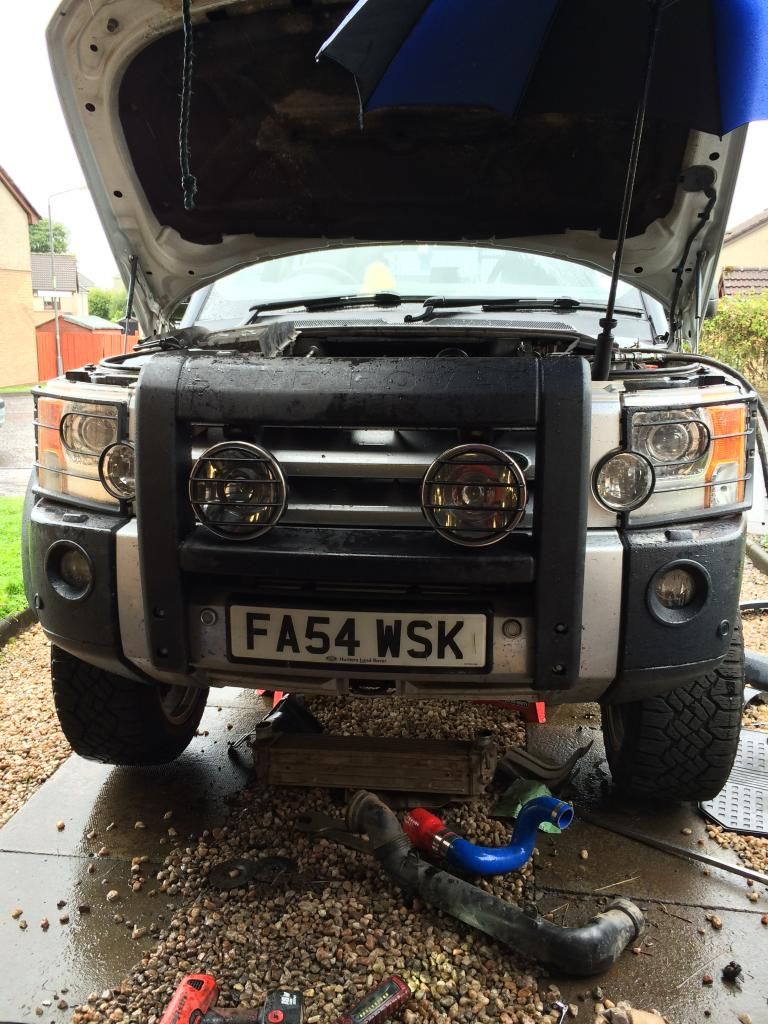 You may be thinking, why an RS500 cooler instead of a proper D3 one. Well the answer is cost.
To get a proper upgraded cooler i would have to spend £550 on one from Alisport. The RS500 one, with hoses and adaptors was £155.99 and is larger in every way to the Alisport one. No brainer really.
I have also added to the lights with a 50 inch curved LED light bar. This is a 288W and 24,000 Lumems bar. It's bright. Very bright.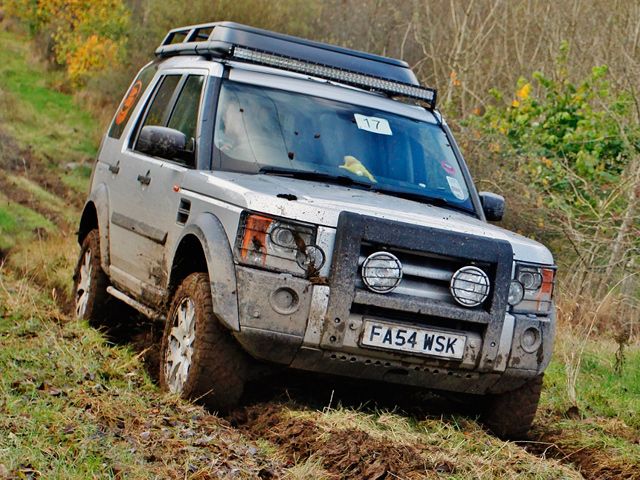 It's currently fixed on temporary brackets to the front of the rack, joining to the car using the mount points for the front support bracket for the roof rack.
It can light up the road for roughly 250 metres, it has both spot for long range driving beam and flood to light up the sides of the road.
That brings it up to date really.
Next on the list is to address a few issues that will need attention now it's broken the 130k mileage figure.
Front lower wishbones need replacing as they are once again knocking over bumps.
It needs a rear calliper as one is starting to stick on. They are known for that to happen as they age and a replacement is £56 so not a big deal.
The rear 4 hub bushes also need changed. Again, wear and tear issues.
The 2 large ones are injectors and the torque convertor.
It has a starting issue that is believed to be a weeping injector leaking fuel into the cylinder and causing poor starting. Currently pricing up quotes for a refurb of injectors as to buy replacements is £200+ each.
The TC has a low speed judder issue going up some hills, i can work the throttle to make it stop but it will only get worse as it ages. The oils been changed but the damage is done. It won't pack in on me so i can run it till i save up to either refurbish it or replace it. A new one is £1500 though which is a large bill to be hit with.
It also needs the tyres replaced by Easter time, the Dura's have done 28k in under 2 years so have done well. Will be replacing them with another set of Dura's as i'm very happy with their performance on the car.
They will go on these.
A set of Gloss back, 6 spoke HSE wheels.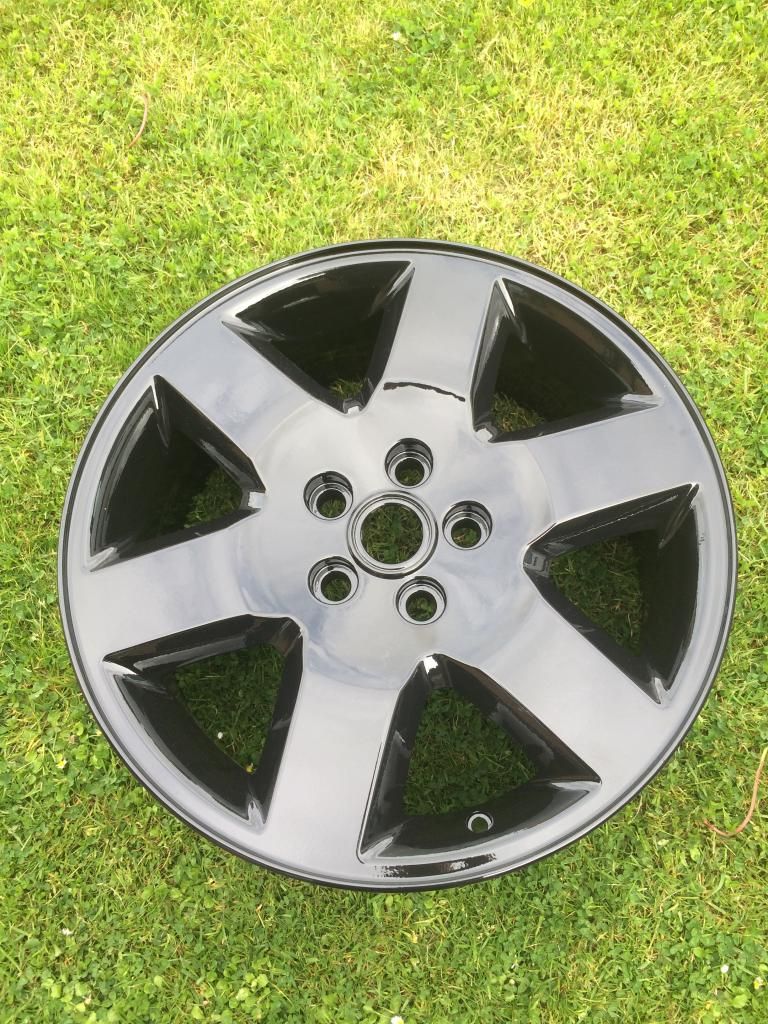 Possible mods when cash allows are as follows.
Safari Snorkel for the car. You can get cheap copies but the best is still made by Safari themselves.
3 way 2 inch height rod kit. This will come from a company in Australia.
A 2nd battery and split charge system. Fairly easy to do as the space is there under the bonnet and is quite a popular mod to do as D3's are heavy on the battery and alternators for power. A lot of warning signs, faults on dashes etc can be traced back to a dying battery or alternator and this mod will help keep the electrical supply at it's best.
Kaymar swingaway rear bumper.
This moves the spare from under the car and onto a custom rear bumper with better access, it also comes with build in mounts for the reverse sensors, and extra lights for brake lights, indicators and also reverse lights.
Eventually it will get the full underbody protection protection plating from Prospeed. This will cost, but it gives full plating from the front bumper to past the rear diff and protects all the transmission, engine and fuel tank.
I will in time also add a proper winch system to the front and fit ARB air locking diffs, these however are expensive and way down the list for wants/needs..
The best figure i have with this car is that in 32k of use, it has used 5,786 litres of fuel and has returned an average of 23.49MPG. Thank god for fuel expenses.
I have tallied up the costs for repairs and mods, then went into a corner of the room and cried a lot..