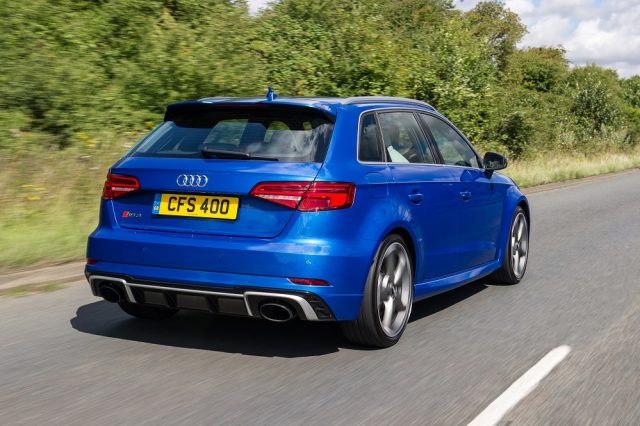 Do you like your hot hatch kicks with a naturally aspirated engine? With hot hatches now packing 400bhp (RS3 and A45 AMG) making it far too easy to hand your driving license over to the nearest police speed check, can you actually get more enjoyment out of one of yesterday's examples?
Honda was the last manufacturer to go turbocharged and you can pick up a decent example of its FN2 Civic Type R for only £6k! With 198bhp @ 7,800 rpm and 193 N⋅m of torque@ 5,600 rpm, it sounds slow compared to today's mega hatches, but you can redline it all day and still stay at relatively sane speeds.
This tidy Civic Type R GT is from 2009 and has only 60k miles on the clock with full-service history and two months of extended warranty remaining. Finished in silver, it's rarer and more subtle than the ubiquitous Type R red that you'll see many models in.
https://www.autotrader.co.uk/classified/advert/201802043399291
Away from horsepower, it's funny to see how basic the cabin seems when compared to today's infotainment strewn centre consoles. Still, the trademark Type R seats and aluminium (they changed from titanium a few years earlier) gear knob make it a purposeful place to sit.
However, not everyone liked the lack of torque from a NA engine and emissions changes forced Hondas rivals to switch to turbocharged engines a bit earlier. So for £6k, what alternatives are out there?
In everyone's favourite, ASBO (Electric) orange, the Ford Focus ST-3 packed a burbling 5pot motor with 225bhp (easily remapped to more) and 320Nm of torque. This one has a full-service history, only 55k miles and even has DAB radio. Lots of owners like to turn their ST into a RS clone, but this one looks to be reasonably standard.
https://www.autotrader.co.uk/classified/advert/201711111167156
For our £6k budget you can also pick up a Renaultsport Megane Lux (F1 Team R26 with leather). From 2008, this example has 60k miles and produces 230bhp and 300Nm from its 2.0l engine. Known at the time for being one of the best handling hot hatches ever, the only thing that might put you off is Renault's reputation for reliability and eccentric electrics. Still, at only £4,275 it's a lot of performance for not a lot of money.
https://www.autotrader.co.uk/classified/advert/201801132717743
Next up we have the SEAT Leon Cupra at a budget bursting £6,298. This was the only second generation Cupra for sale on Autotrader that was even close to our budget and it's for sale at our very own Arnold Clark. The 2.0 TFSI Cupra packed 237bhp and 320Nm of torque and was quite the bargain when it was launched. Fast forward a few years and it's still looking quite a fresh design. This one has 66k miles, but if it's been looked after (no info on service history) then this is still quite low.
https://www.autotrader.co.uk/classified/advert/201801172824212
Last, but not least, we have the stalwart hot hatch, the MK5 Golf GTI. It's never been the fastest or most aggressive of hot hatches but "most complete" seems to be the title it always wins. This example is from 2007 and has 57k miles with a recent service. 197bhp and 280Nm of torque isn't going to set the world on fire, but it's still plenty to have a good time on some of Scotland's country roads. You do, however, get tartan seats and the most subtle car here, if that's important to you.
https://www.autotrader.co.uk/classified/advert/201801273156916
These cars would all provide some great fun at weekends or during your daily commute, and it's not an easy decision on which one I'd pick. It's interesting how equally basic they all are inside and how, even with the orange Focus ST, they are quite reserved compared to today's quad exhaust equipped hot hatches.
Given that I'd want this to be mostly a fun weekend car; I'm going to stick to my original premise that the Honda Civic Type R would provide the most thrills for the money. The 5pot engine in the Focus is a peach and the Megane would probably have a better chassis but revving the nuts off the Type R and having faith in Honda's legendary build quality would surely make up for it.
Which car would you choose or is there another wildcard that you would go for?