Yes that's right folks, Porsche in the Glen 2014 saw the biggest ever gathering of Porsches in Scotland and it was quite a sight.
What was I doing there I hear you all ask, you're not a Porsche guy. You're right but when my TT pal Lee Reader asked me to become a Porsche owner for the day and take his car to the show as he couldn't make it, well I couldn't say no could I. I had to see what all the fuss was about with these Beetles 😉
What Lee actually said was John, you're the only other person on the TT team that can drive, Olie just makes people car sick, Andrew drives a BMW and Mike probably won't fit. OK he didn't say that at all but I couldn't pass up this opportunity to take the piss out the team.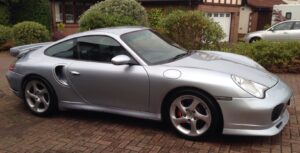 So anyway, back to my chariot for the day, Lee's 996 Turbo, I have to say having spent some time with this car I can now see what all the fuss is about, I loved it, a real drivers car, nice manual gearbox(yes I liked a manual, get over it) handled great and you've got to love that turbo thrust.
So the destination for my drive was Calderglen park where for the last 3 years has hosted Porsche in the Glen organised by friend of TT Brian Wood, as you'll see on the video Brian put on a great show with over 120 cars in attendance which is a record for Scotland. Looking forward to next year already, hopefully Lee can't make it 🙂
Check out the video below and let us know what you think on the forum.
Biggest ever gathering of Porsche cars in Scotland from John Steele on Vimeo.