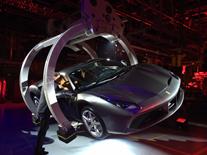 Friend of Tartan Tarmac Alex Stewart attended the World Premiere of the 488 GTB in Maranello last week, were we jealous? No, not much at all, ok Yes very jealous, it looked like a great event. Here's Alex to tell us all about it.
What an evening! Ferrari at its best; emotional videos celebrating the life and birthday of Enzo Ferrari; a visit to the new GES (the brand new home of the Scuderia F1 team before they occupy it in two weeks' time); Championship winning F1 cars; laser shows; speeches from the CEO Amedeo Felisa and new Chairman Sergio Marchionne; the formal first welcome to the Ferrari family for Sebastian Vettel; a 5 star dinner served on the actual V8 production line with Sebastian and all the top brass; and everything cast in a eerie low red light…..but what about the car……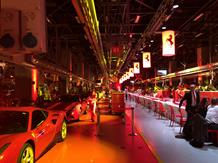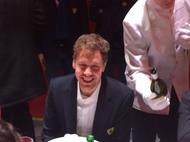 Ferrari built the anticipation; loud music, lasers, stage smoke and suddenly they were there – one from above, and four from the sides. First impressions, it's a striking car. What is clear to me is that air dominates. Huge scalloped intakes on the sides to feed the turbos. Enormous air intake at the front to feed the equally large radiators and inter-coolers. It's clear this is one "hot" engine in more ways than one. But air also in the sense of aerodynamics. A double splitter/wing at the front, a "blown" rear wing at the rear and various active aero tweaks. Downforce apparently double the standard 458 it replaces.
And of course the engine. The big talking point. A 3,902 cc turbo….. How will it replace one of the greatest naturally aspirated V8 engines ever produced and in the 458 Speciale – winner of countless awards? An engine, that even on this evening, Ferrari was still clearly very proud of.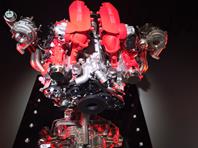 The new engine is the most powerful V8 they have ever produced with 670hp at 8,000 rpm. A very high rev limit for a turbo and loads of "torques"! Driven by emission regulations, Ferrari had to make this leap to turbo but the numbers look impressive and Ferrari clearly feel they set very high targets and have achieved them, including the "all important Ferrari noise" and the response. It's certainly quieter than a Speciale but one would expect that. I felt if there appeared to be a weakness, in the presentations, it was they were justifying the response time of the turbos a lot…… Apparently class leading, and it apparently beats all other turbos in the sector, but not quite as good as the hair trigger Speciale.
The proof will be in the driving of course.
Performance looks amazing:

670hp! Martin Brundle tweeted this week that his first F1 car had 480hp.
Pub trivia quiz; why 488 GTB – back to that engine. Take 3,902cc and divide by 8 cylinders equals 487.75, rounded to 488. It's a number bigger than 458 and the number 8 is regarded as very lucky in China. An important market for Ferrari, and likely to be where they allow sales volumes to rise as they head to a separate stock exchange listing.
Perhaps leave the last words with Enzo Ferrari that were written high up on the wall:
"I want to build a car that's faster than all of them, and then I want to die…"
Thanks to Ferrari and Graypaul for an amazing evening and to Ferrari for allowing photographs in areas where they are normally strictly forbidden!