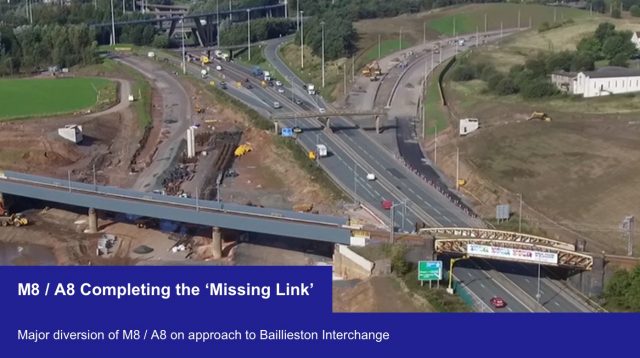 As predicted earlier in the week, Transport Scotland have now confirmed there are going to be some major disruptions when the M8/A8 Completing the 'Missing Link' project takes place.
Major diversion of M8/A8 on approach to Baillieston Interchange are going to be ongoing for 10 weeks.
The diversion via the newly-aligned A8 will start from 8pm on Friday 17 February 2017.
Delays are expected on all diversion routes for the duration of the works. Transport Scotland are advising all road users are advised to:
Plan ahead.
Avoid Baillieston interchange.
Use alternative routes and modes of transport if possible.
Current situation is;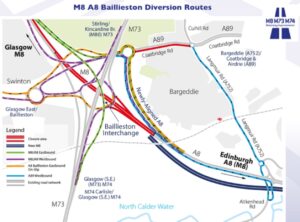 Alternative routes are,
Glasgow to Edinburgh is;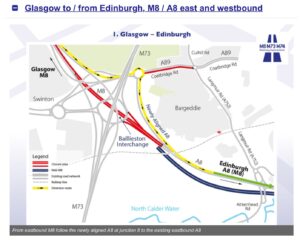 Edinburgh to Glasgow is;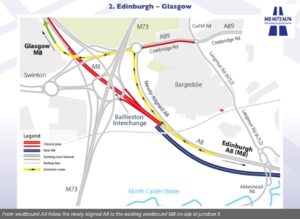 Reason for the diversion
This major diversion of the A8/M8 is needed to remove 13,000m² of existing carriageway and 40,000m³ of earth to connect the new M8 to the existing M8, which is approximately 5m higher.
Also, 12,000 tonnes of blacktop will then be laid to complete the M8 'Missing Link'. After these major construction works, the new M8 between Junction 8 Baillieston interchange and Eurocentral will be opened to traffic.
Could this have been foreseen and better managed? Probably, but we need to get it things on track and until it's finished, we're all going to be suffering the effects.
Comments
comments