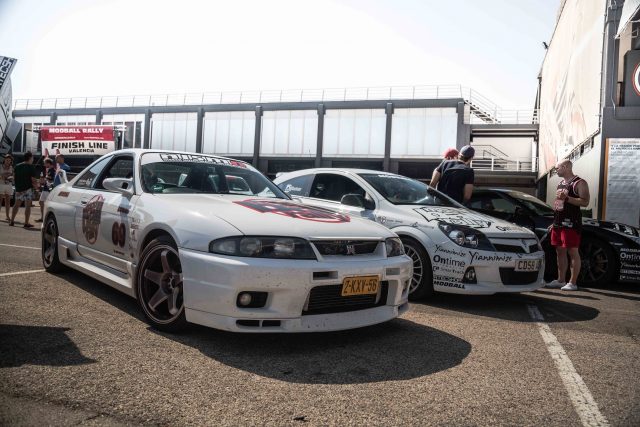 If you've been following the Tartan Tarmac Facebook or Instagram you'll more than likely have seen many photos from the Modball Rally, if not then here's the main facts of the rally; it started on Sunday the 26th of June from Pall Mall in London with stops in Paris, Lyon, Monaco, Barcelona and finally finishing in Valencia on the 1st of July. 180 cars took part and ranged from hot hatches to hypercars and many in between.
I took my Astra VXR Nurburgring Edition, one of the more practical cars on the rally. The car was stickered up about a month before the start and it really started to feel real when they went on. It's amazing how much attention the car received once the stickers were on, every time I took the car on the motorway it'd catch many stares.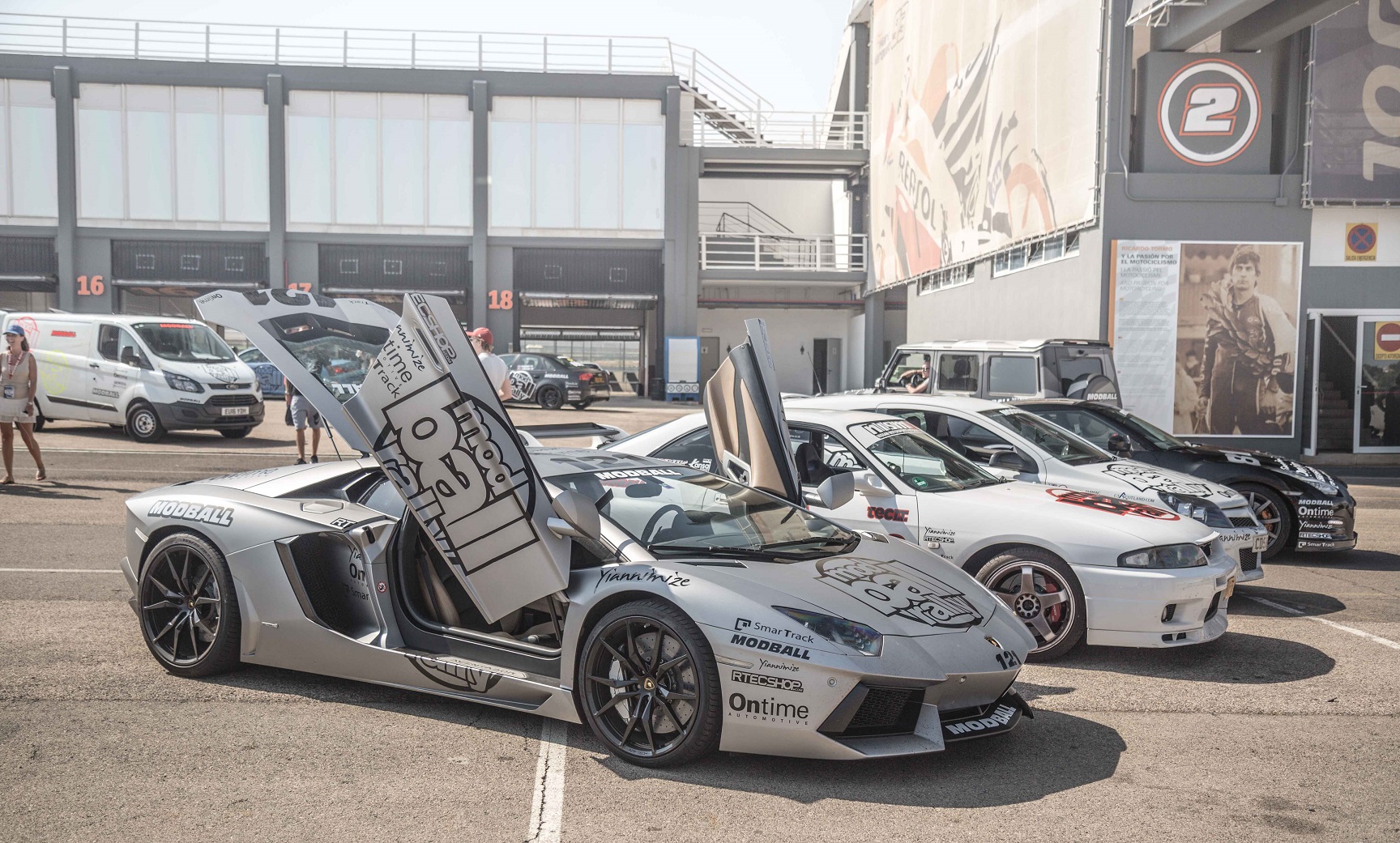 In the week leading up to the start the nerves started to kick in, so much to do and so little time to do it. I made sure everything was good with the car, I took it in for a service, took out European break down cover, just in case. I would be putting around a year's worth of mileage on within two weeks. I checked the AA website for advice on driving abroad and ordered the essential French driving kit. I'd never driven on the wrong side of the road before so was a tad nervous about that too.
The night before leaving was a very long, sleepless one, a combination of nerves and excitement in equal measures keeping me awake. We drove down to Derby on the Friday before the start to meet up with some Modballer friends. On the way down we came across another Modball team, a Range Rover Sport SVR from Elgin Autos, I think we were both as surprised and excited to see another Modballer as each other. We arrived at my friend's house in Derby and parked up with another three stickered up cars; Lamborghini Huracan Spyder, Porsche 911 Turbo cabriolet (997.2) and a 911 Carrera S (991.2). Late that night the final car of our small convoy made an appearance; a Nissan Skyline R33 GTR, after a seven hour flight delay and, to add insult to injury, a missing bag. Not an ideal start to an almost two week roadtrip.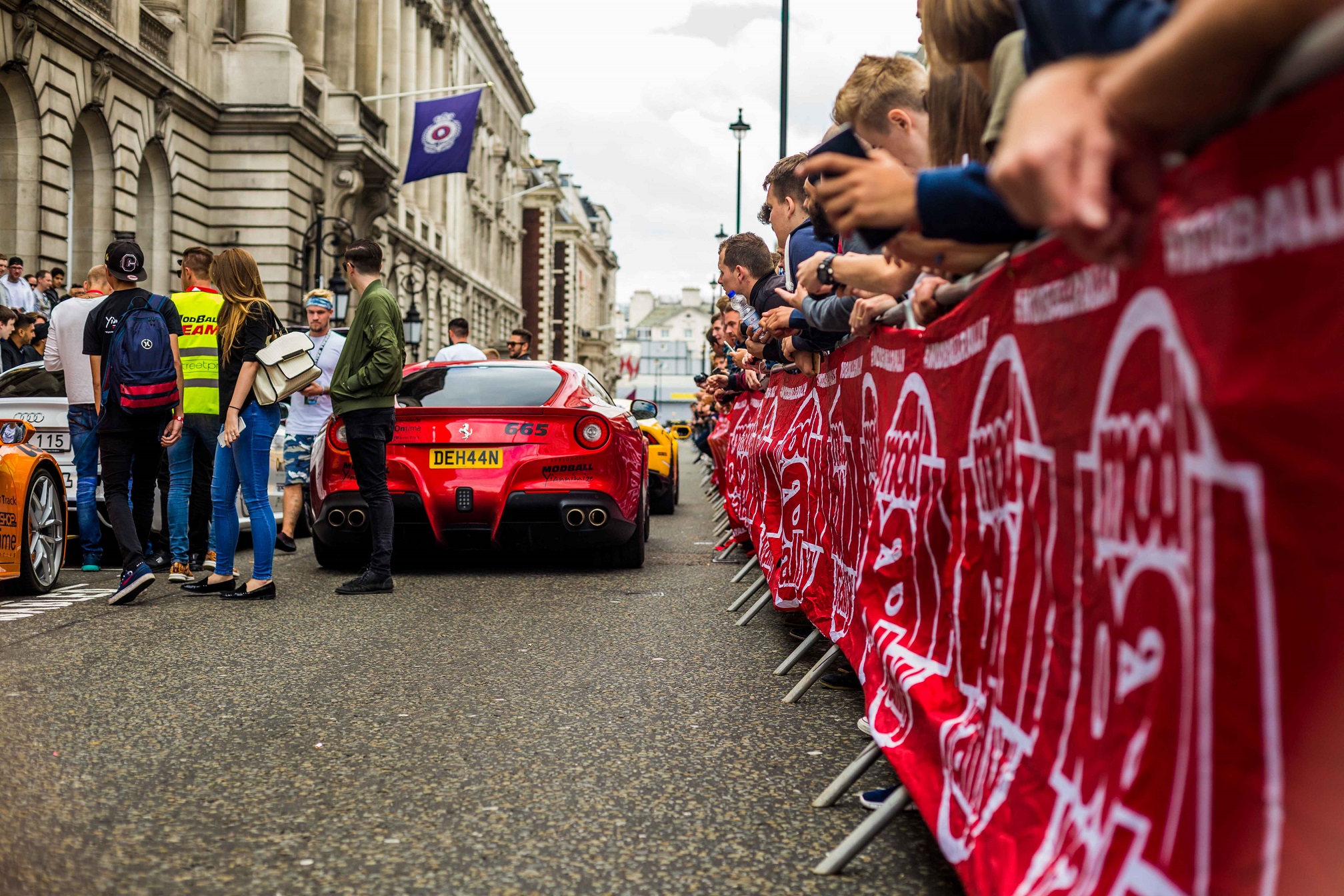 The next day our convoy headed to London. We drew a lot of attention on the way down, it wasn't until we got to the outskirts of London in built up areas where I noticed lots of phones coming out for pictures, even of the Astra, which was quite surreal. We took a tour of London on arrival, taking in Park Lane, The Dorchester Hotel, Harrods etc, all the big carspotting areas. We had people in cars next to us in traffic asking what Modball was, where and when it left. We parked up on Sloane Street and took the tube to Leicester Square for registration and some food. When we finished it was around 10pm so we took a taxi back to the cars. On the way I was distracted by a Bugatti Veyron Grand Sport Vitesse Rembrandt Edition sitting lonely on a random side street, welcome to London. We decided to take a night tour of London and headed across the Pall Mall where a good few car were already lined up.
The next morning arrived and we headed back across to the start line. We were a little bit late so ended up at the front of the queue past the start line a bit. The scale of the event really started to hit home. Walking down the line some stand out cars; Ferrari F12 TDF, Lamborghini Huracan Novitec Torado, seven or eight Aventador including a SV and Carl Hartley's Bugatti Veyron complete with green stickers. As the start drew closer everyone was summoned to the driver's briefing. The briefing had a really good buzz with everyone excited to set off on the tour. Modball founder John Bourgerie got the crowd ready to go.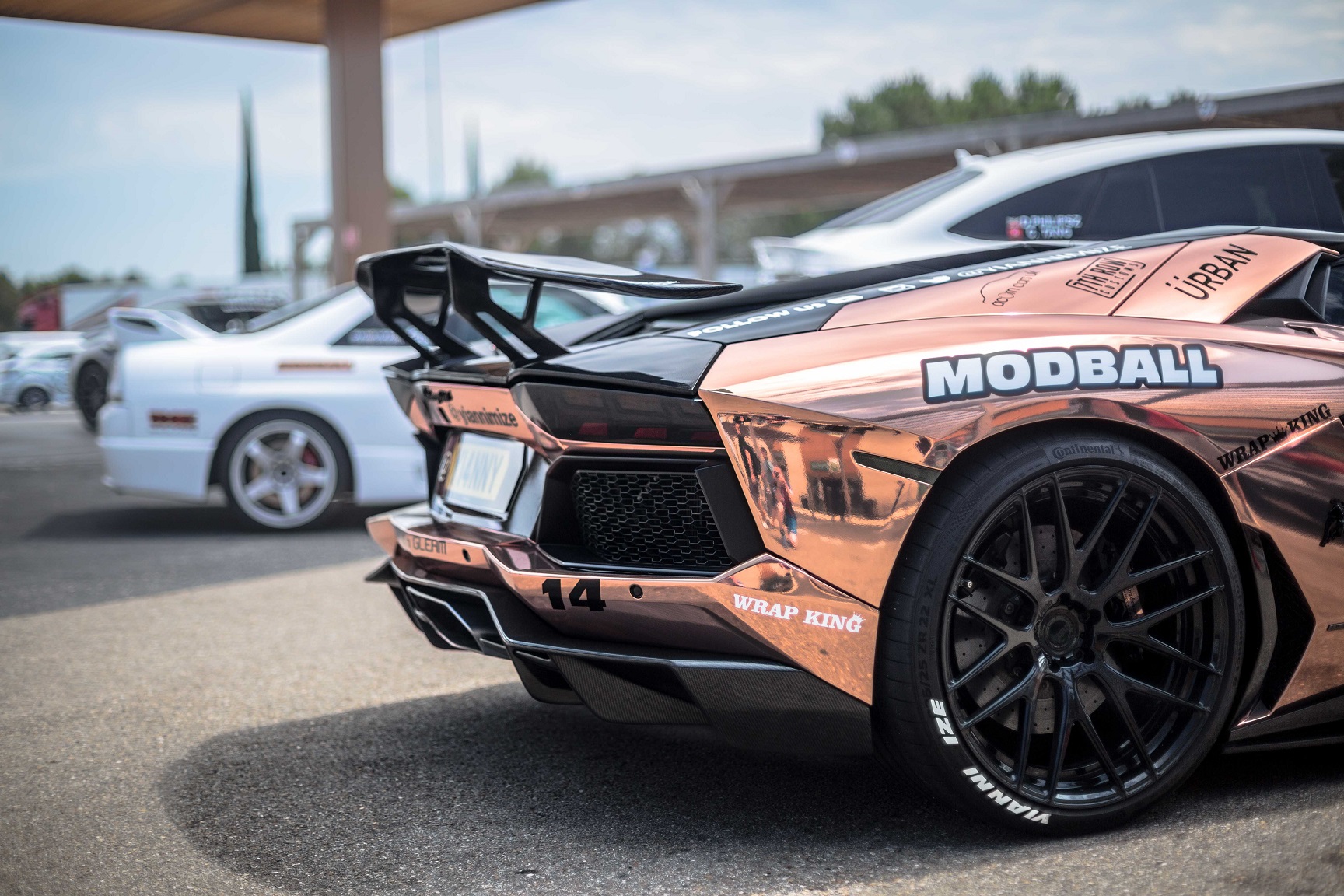 Everyone jumped in their car, started their engine and a few rev offs started, the crowds were now lining the start straight. 12 noon arrived and we set off, the crowds seemed to go on forever, it was all a bit of a blur, an amazing experience, kind of felt like a celebrity. There was 30,000 people watching the send off with 45,000 being there over the full day according to the Modball Facebook page. On the way out of London we stumbled across some other convoys of Modballers.
Our first fuel stop came along on the way to Dover and the surrealness kept coming with more Modballers appearing in behind us to the petrol station with a 458 Speciale and Huracan, both from R3 Wheels. We arrived in Dover with supercars dotted all over the place. We lined up in our lanes and holiday makers didn't know what was going on, a German lady started speaking to me asking what we were all doing, she was translating to her husband what I was telling her. The crossing was a lot less rowdy than I expected, it gave us a welcome break between driving.
We docked in Calais and everyone got back in the cars, our lane was second to disembark so we watched the first lane full of supercars passing by. Before leaving the port we regrouped with our friends and I took the opportunity to get some photos of others passing by. Jon Modball parked up just next to us in his bright green Lamborghini Huracan setting up a nice shot.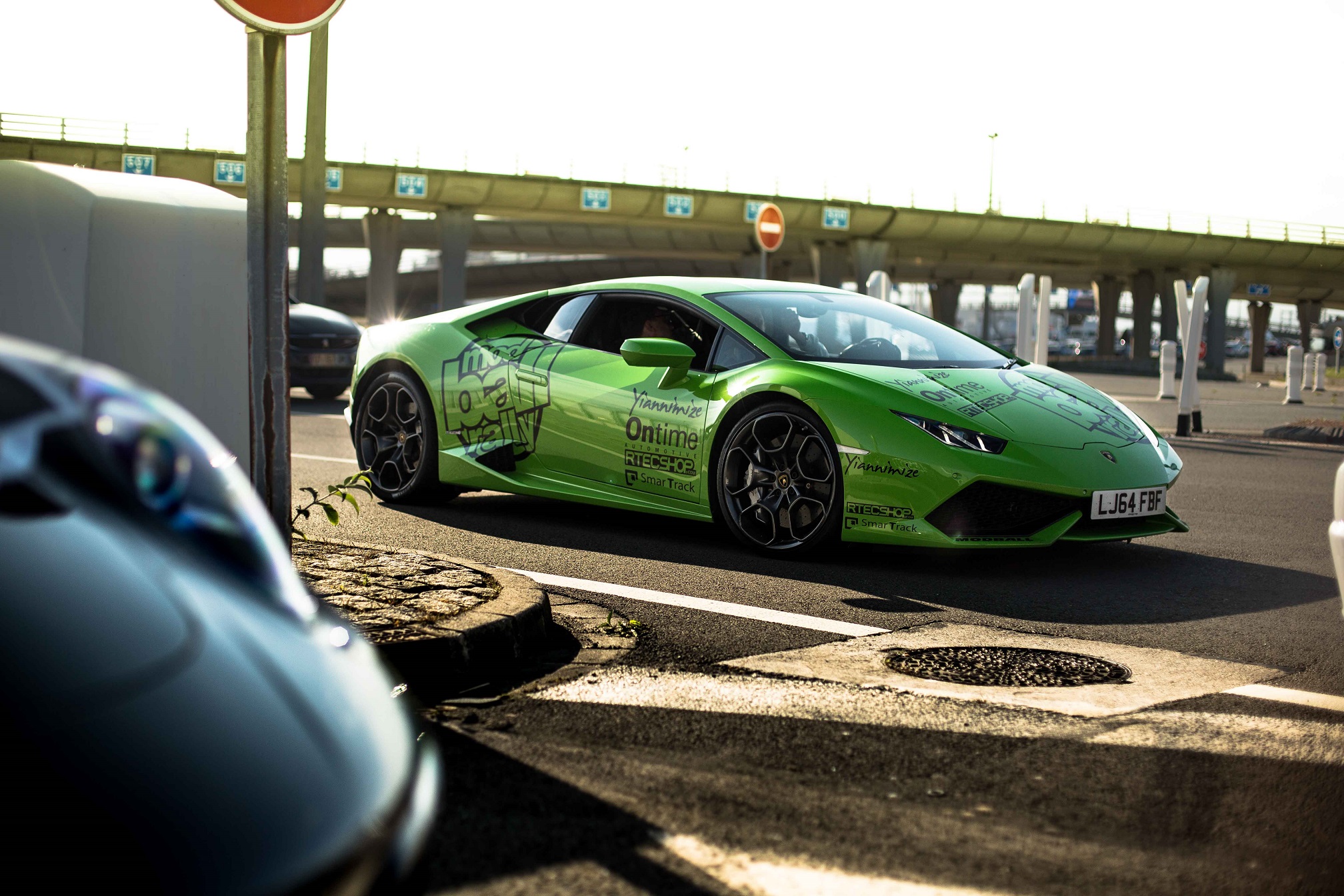 On we went, getting to the first toll and it was just a ticket, which I ended up losing. We stopped for fuel and I turned the car upside down looking for it, I actually found it on Saturday (22nd of October) in the passenger footwell falling out from under the centre console. I only had to pay an extra €3 more than everyone else I think, so it wasn't a big issue, certainly not a €1,000 fine which my friends tried to convince me over the radio. My friend Jeff who's baggage had went missing during their flight had arranged for the bag to be sent to Charles De Gaulle airport so before heading to the hotel we stopped by the airport to pick it up. After a 20 minute wait we decided to go check into the hotel leaving Jeff's fiancée, Eleanor, waiting to get the bag, around an hour later they returned with the bag at around 11:45pm, we decided to ditch the party.
The next morning we rose to a slightly damp Paris and a packed car-park full of supercars and sportscars, with the occasional "normal car" Vauxhall Astra *cough*. We set off with our first stop planned for the Eiffel Tower. Our hotel was out by the airport so around 30 minutes from the centre of Paris which turned into about an hour with the traffic. Driving in Paris certainly lived up to it's reputation. Cars were appearing from nowhere, roundabouts were crazy, there didn't seem to be any order, with spaces getting smaller with every yard moved. The Arc De Triomphe was hectic, especially trying to keep together with our small convoy. You definitely need to have your wits about you. After stopping for a few photos at the Eiffel Tower it was a relief to head out of the city onto the motorway.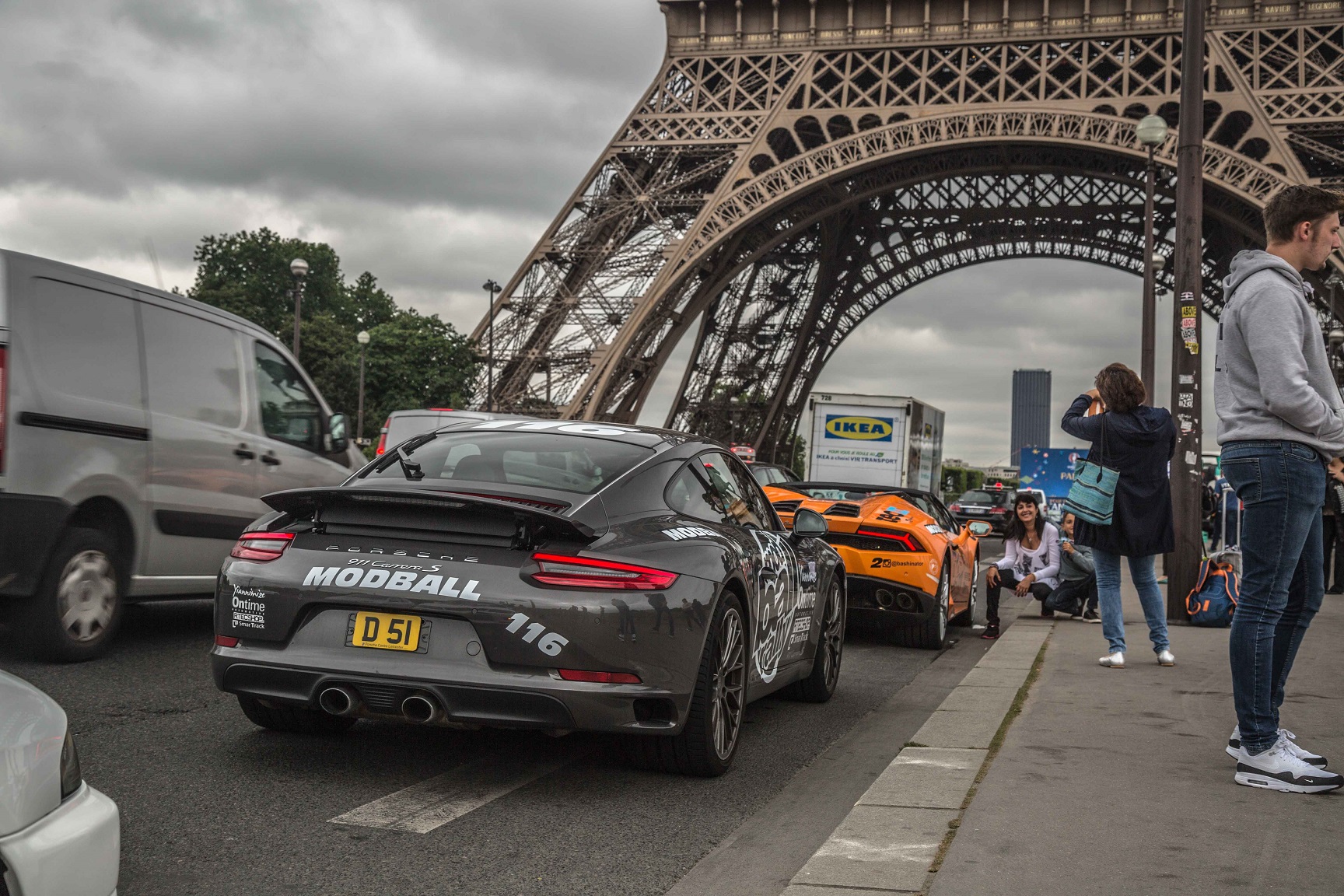 One of the coolest things about Modball was meeting other Modballers on the road, we stopped at a services (Aire De La Chaponne, if anyone knows it) to get the cars a drink and get ourselves a quick bite to eat. We followed a couple of Modballers in; a Z4M and Cayman S. After being fed we came out to a Modball takeover of the garage. Two Aventador Roadsters, a Huracan, Dodge Challenger, E36 BMW, Fiesta, GLE63 and many more including the guys from Supercars of London and Seen Through Glass in the Phantom. Later that day the two Aventadors caught up with us and were convoying with the Nismo GT-R, so we ended up convoying with them for a while too, which was fun, taking turns to do flybys.
We arrived in Lyon at around 6:30pm, just in time for the England v Iceland game, sadly it didn't go as planned for the majority of the people in the hotel restaurant, a guy at a table across from us snapped the bottom of his wine glass putting it down too forcefully. We had a good laugh with our friends, who were mostly English but all taken in good humour, we kept on being reminded that Scotland never made it to the finals.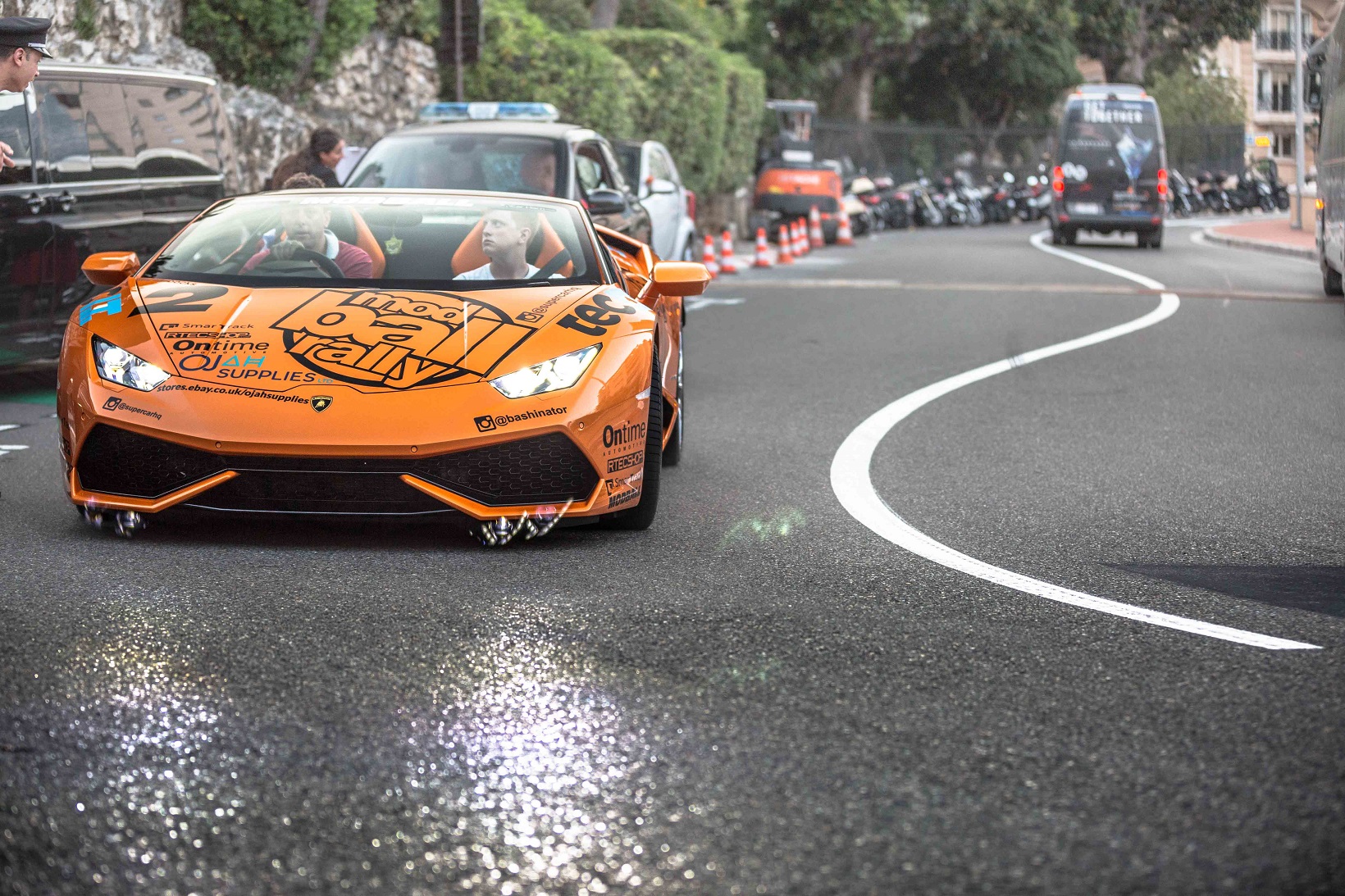 The next day was the one I'd been looking forward to the most; Monaco. Our group was taking turns leading and this was my day to take charge. We decided to head down through Italy for a more scenic drive through the Alps so I plugged Monaco into Google maps on my phone and selected the route through Italy, sorted or so I thought. We stopped for fuel and hit the road again, unbeknownst to me that Google maps had reverted to the fastest route. Only when I noticed signs for Marseilles did I realise something wasn't right, however it was still a really nice route through some mountains.
This was my first time in Monaco and I never realised how many tunnels there were on the way in, it's safe to say that was one of my favourite drives of the trip. I love a tunnel to myself but when in the company of some supercars it just gets better. The V10 of the Huracan sang a good tune in each tunnel, and the R33 GT-R (probably one of the loudest cars on this year's rally) was spitting some huge flames, I still need to look through my GoPro videos to see it I caught any on camera. Another thing I noticed regarding the sound of the cars was how much you can hear the turbo on the 991.2 Carrera S, I was behind it many times and every time he took off you could hear the turbos spooling up.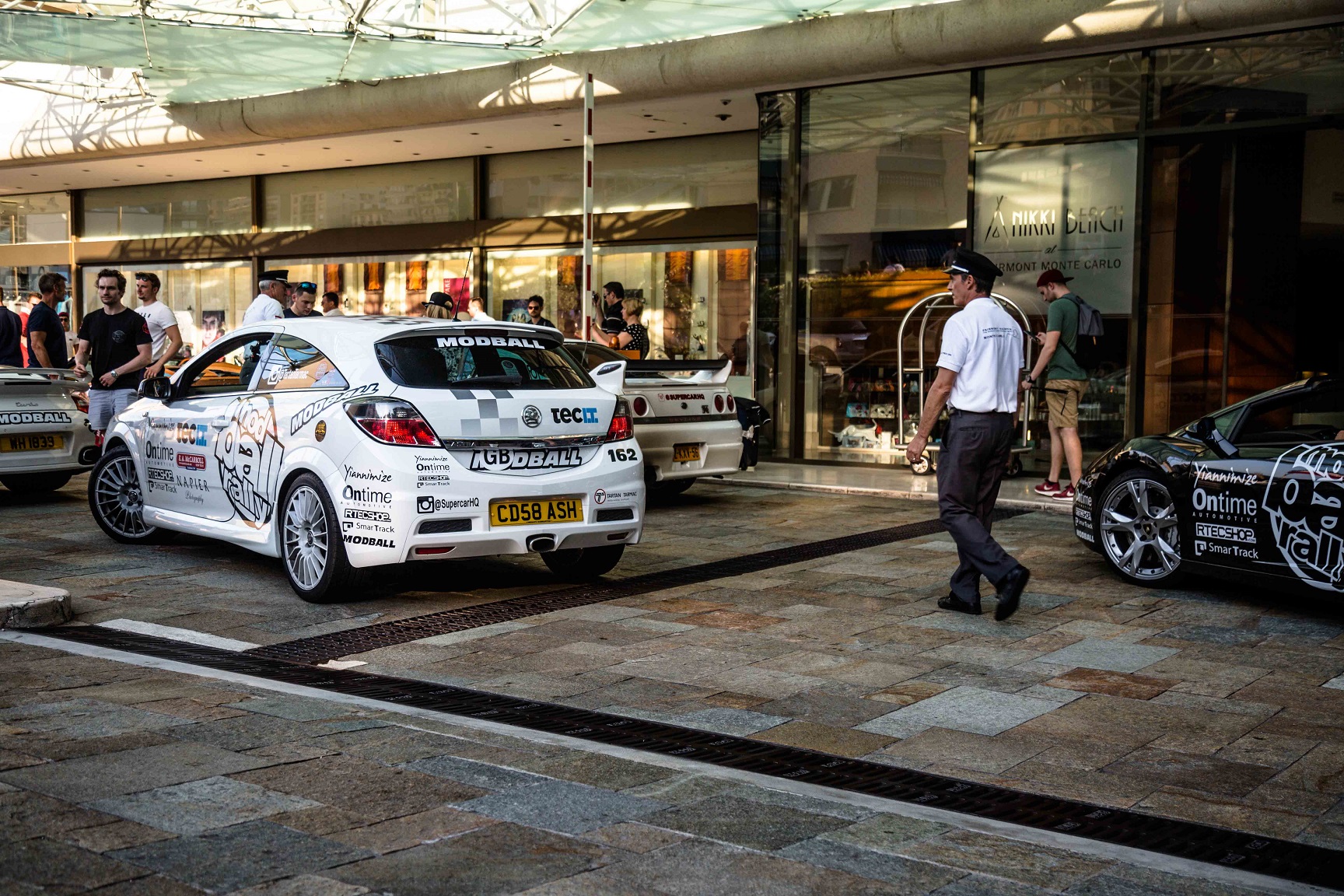 Arriving in Monaco was such a surreal experience, especially in my own car, something that I never imagined myself doing. Driving through the F1 tunnel is one of those bucket list things and has been ticked off. It just seems like a different word, with supecars driving about like your average car back home, one of the first cars we saw was a red on red F12 TDF. You get a real sense of how small a place it is too. We stayed in the Fairmont hotel, which had some of the Modball cars parked outside. On the first night we headed along to the party at Jimmyz, the club was packed, Jason Derulo's DJ was playing for the Modballers. We left the party around 4am and managed to find an Italian cafe still open and finally got something to eat. It had been a successful night.
We had a rest day so decided to go towards Nice to a go karting circuit. The karting place was out in the wilds and we managed to get split up from a few of the guys and got lost in some small town with some very tight roads and the Astra turned into a tripod at one point so we had to reverse back down the tight road, needless to say I was sweating. We managed to find the karting track after a mile or so on a dirt road, which was fun. After a couple of runs we headed back to Monaco and back through the tunnels, I think everyone enjoyed that again. After getting food we headed back to the hotel and there was a big commotion outside, with official looking cars, it turned out that Prince Albert had been in and was just leaving. I never saw him but I saw his car leaving.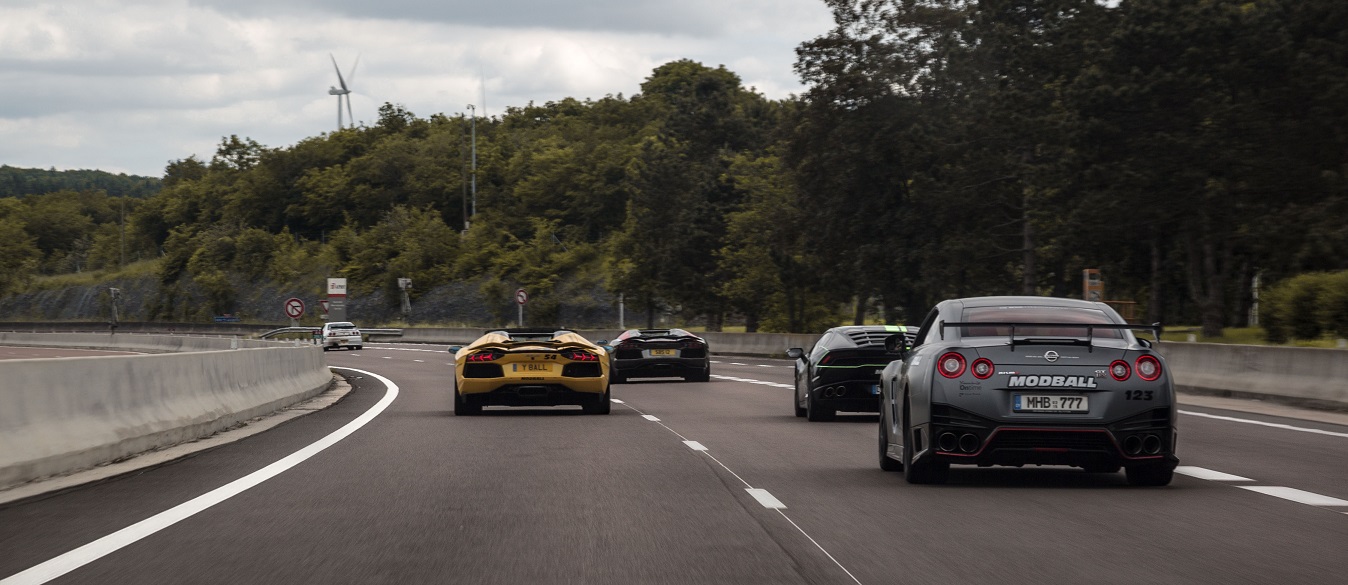 The next morning arrived and all the Modball cars at the front of the hotel started firing up, with everyone excited to get back on the road to Barcelona. This was the longest journey of the rally, 6-6:30 hours. At one of the services we came across a large convoy with Yianny from Yiannimize at the head of it, they left just in front of us. We got back on the road and up to pace when suddenly the car in front of me swerved to avoid the car in front of him so I had to slam on the brakes to avoid it too, luckily no one crashed. We later caught up with Yianny and his crew and quickly realised the cause of the near miss was them slowing down to group up before having a blast as they were taking up the whole road, needless to say I was quite happy to stop for some food and get away from that group. I'm all for having a blast but there was no need for them to slow down so much, it was just stupid in my opinion, I saw videos later on Instagram of that group crawling at what looked like 20mph on the motorway, no need.
After the long drive it was nice to get to Barcelona. Our hotel was directly across from a police station and they were pleased to see us, with their tow truck parked across from the hotel. We unloaded the cars at the front door and shot round to the car-park as we could only park at the front for 5 minutes before being towed and didn't want to risk it with the welcome party across the road. The hotel wasn't in the best part of town, a fellow Modballer described it as "downtown Baghdad", with some people actually checking out and finding their own hotel to stay in. We stayed to watch the football in the hotel lobby and another guest was there too, he put his phone on charge next to himself and 5 minutes later it had disappeared, at this point we knew for definite we were in a bad part of town. The hotel staff didn't seem very interested in the guest's case telling him they couldn't phone the police, he'd need to go to the police station himself. A very stark contrast to where we'd been in the morning. Barcelona was probably my personal low point of the rally, I had looked forward to visiting the city but it left a sour taste in the mouth, we went out for dinner to Las Ramblas, where we were hounded by street sellers, who wouldn't take no for an answer, the whole time on the way to the restaurant. After food it was party time, which ended up only being one drink as I think the long drive was starting to catch up with everyone, I don't even drink and was knackered so I don't know how other people could do the "drive all day, party all night" nature of the rally but each to their own.
The final drive of the rally, Barcelona to Valencia, the shortest drive of the rally. The finish line was at the Ricardo Tormo racetrack, we planned to leave early, around 6am to head straight to the track for the briefing, however my alarm went off and I fell asleep again. We decided to go straight to the hotel when we arrived in Valencia. The racetrack closed at 5pm, so around 4:30 Jeff with the GT-R and I decided to head across to the track, when we arrived all the cars were parked up with the owners next to them waving us in so we waved back only to realise as we parked that they were waving to the camera and not us, spot the idiots. We stuck around and got our photo taken at the finish line by the Modball photographer Fly. Only one thing left to do; the awards party and after party. We arrived just as the awards party was finishing but the after party finished at 7am so we were in for the long haul, arriving back at the hotel around 6:30am; a good night, still sober to boot.
The long drive home was put off by a day as we stayed in Valencia for the extra day to have a break from driving. We had already booked our pit stops in Biarittz and Le Mans for the trip back. Another great bit of road up to Biarittz too. Our final night together as a group ended up very eventful. We arrived at the hotel just outside Le Mans and before checking in decided to fuel the cars up to save us doing it in the morning. Everything was going well until the GT-R started to cut out after being fuelled then it wouldn't start. After a while of trying to get it started we decided to go and check in to the hotel and ditch our bags before heading back the the petrol station. After the help of a couple of French mechanics who had just finished work, it seemed like it wasn't going to start so we ended up pushing the car back to the hotel (about a mile away). It turned out a sensor had come loose underneath the engine, after a quick plug in of the laptop in the morning every was okay and ready to hit the road, homeward bound.
An absolutely amazing experience, I would highly recommend doing it to anyone who is thinking about it. I've always dreamt of doing the Gumball 3000 but realistically I'd need a lottery win to do it. It's the ideal holiday for a pertolhead, constantly being around amazing cars. I was really lucky to have a few friends to do it with and constantly in touch over the radio, those guys really made it a holiday to remember some brilliant banter and constantly winding each other up. It is a great way to see Europe although there wasn't much sightseeing going on as we didn't really have that much time in each place to properly see things. One thing I was slightly disappointed in though was the lack of a Gumball style checkpoint where all the cars could gather in each city, it was only the startline in London and finish line at the track where all the cars were together. So the big question; would I do it again? In a heartbeat, I'd love to do it again, I just don't know if I'd want to do it in the Astra again, due to the mileage.