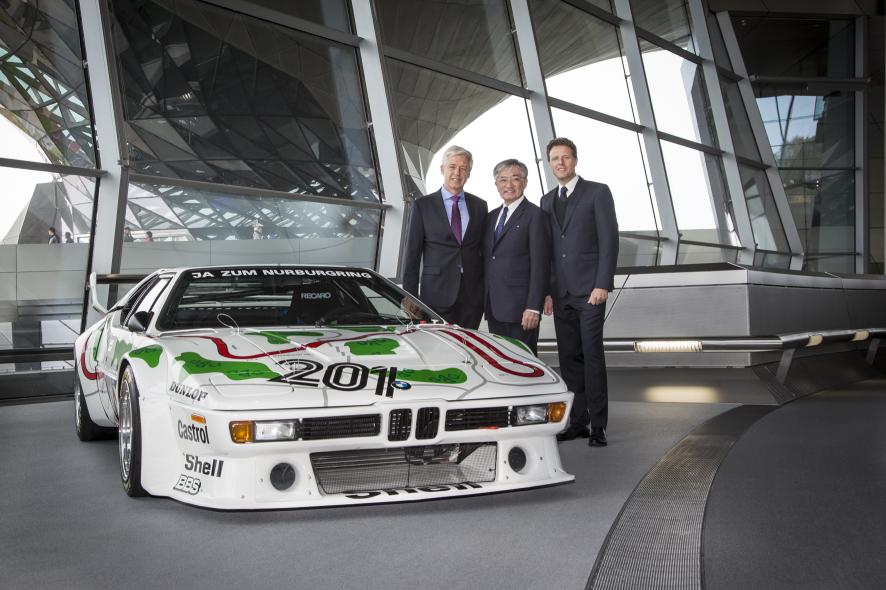 If you are wealthy, one of BMW's best customers and President of the BMW Club Japan then maybe you will be lucky enough to pick yourself up a factory restored BMW M1
As if going to the factory to collect your new car isn't special enough, imagine what it must be like going to collect a one of a kind classic like this!?!
Since the M1 was released a little bit before my time there is quite a bit I didn't know about the car that has just been collected by Masakuni Hosobuchi:
"In 1979 and 1980, a racing series preceding the Formula One events was held specifically for the BMW M1. The fastest Formula One pilots of the day, such as Niki Lauda and Nelson Piquet, appeared here in a thrilling duel against private drivers. A total of only 54 Procars were built, each with its own, individual style. The BMW M1 Procar belonging to Masakuni Hosobuchi, entitled "Yes to the Nürburgring," is painted with images of the famous race track, symbolizing BMW's strong connection to the old Nürburgring. Nelson Piquet and Hans-Joachim Stuck drove this car to the class win and third overall in the 1,000-km race at the Nordschleife in 1980."
Any time I see a M1 (usually only at Goodwood FoS) it makes me want to know why BMW have never released a replacement? They might be selling huge amounts of 1, 2 and 3 series but it was cars like this that make BMW popular in the first place. Surely it is time to take the new M3/M4 engine and stick it in a purpose built sports car?