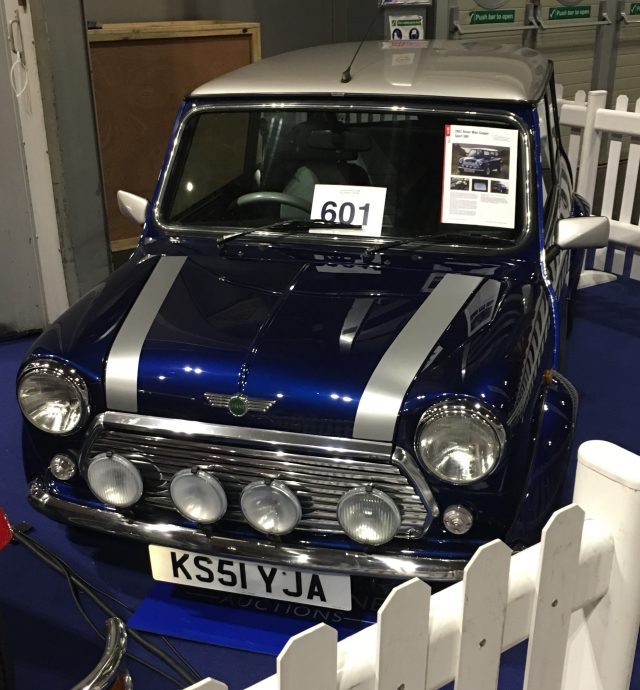 Somehow, I've ended up with two cars in the auction at the NEC Classic Car Show, run by Silverstone Auctions.
I knew that I'd need to sell a couple of cars sooner or later. I had ruined a reasonably healthy savings and rainy-day cash situation by allowing my head to be turned by a Ferrari race car and could easily extrapolate forward to the point where something (or things) had to go.
That point has arrived and I decided to be reasonably pragmatic about deciding which of the cars should go.
I live on fast, sweeping, quiet A roads in the rural West of Scotland and the cars I least often reach for the keys for are therefore, it'll come as no surprise to hear, the ones least suited to fast sweeping A roads; my Rover Mini Cooper Sport 500 ("Moira") and my 1964 Alfa Giulia Spider ("Jools")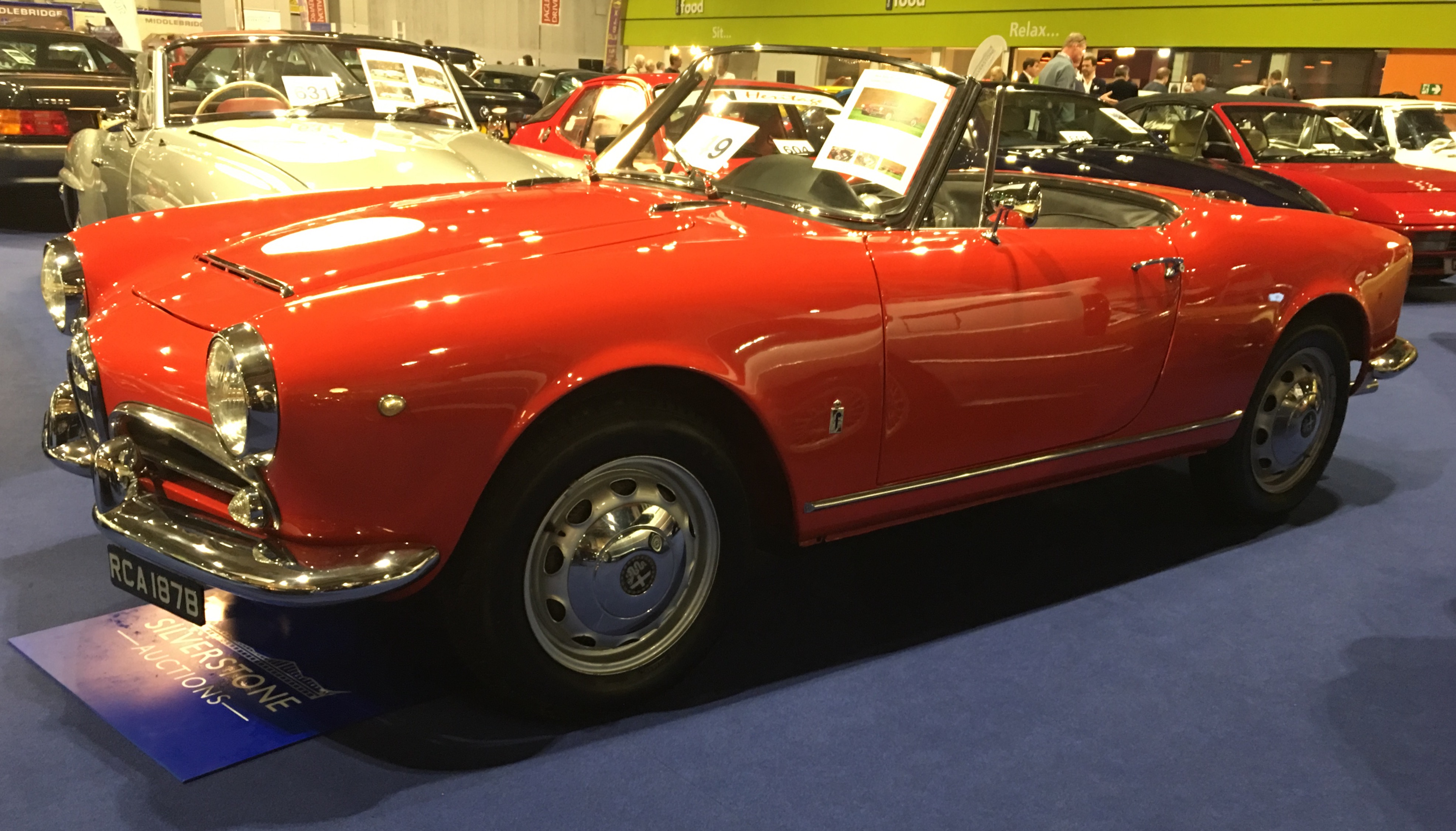 I bought them both on the celebrated level-headed basis of "they're lovely – I really want one", also known as "scratching an itch".
As much as I love them both, I have done everything I'm going to do with them, seldom drive them anymore, am going through the "I've got too many cars and I'm always fixing something and struggling to find enough time" phase of the standard Classic petrolhead cycle of life….and could do with the cash in any case
The Alfa ended up in the auction because I wanted to use it at the Ignition Festival of Speed in August and therefore by the time I gave it to a broker friend to sell, it was really a bit late in the season to expect someone to be driven towards the classifieds by the sunny weather and a wistful notion.
I also think (and hope!) major auction houses are quite good at reaching overseas buyers, so having imported the Alfa from Italy in 2015 while the pound was quite strong, I'm hoping the now weak pound will mean that the number of bidders will be swelled by some continental Alfisti who finds it attractive to take it back over.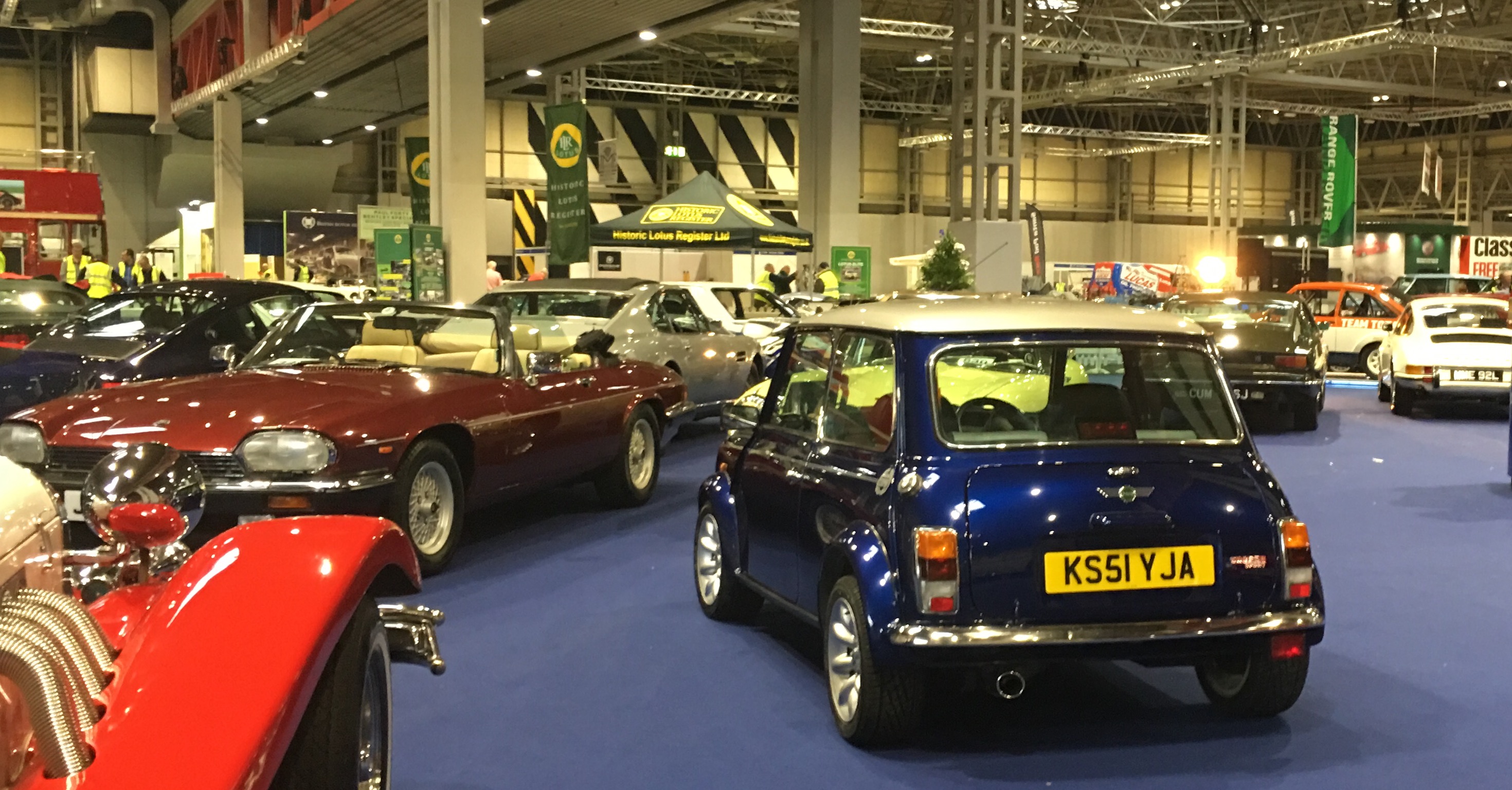 The Mini is in the auction because I'm working on the assumption that a Mini will sell better at the bright centre of the Mini world that is Birmingham, than it would ever do in deepest Argyll. I really hope I'm right because Silverstone Auctions only accept cars into this auction with no reserve if they're valued below £15k. No pressure!
The Alfa has come to the auction directly from my broker friend and is in great shape. It is mechanically and cosmetically superb and has a fascinating original log book with official stamps through the decades.
The Mini was a different story. I'm now sitting in my hotel, before my lots go to the block in the second day of the auction on Sunday, having trailered the car down from home earlier in the week.
It's been a frantic month or so since making the decision to sell wee Moira. Although I've sold one car at auction before, it was a very rare car and in perfect condition and I wasn't there in person, so it all felt quite remote and automatic.
Preparing and transporting the Mini has been quite a different affair.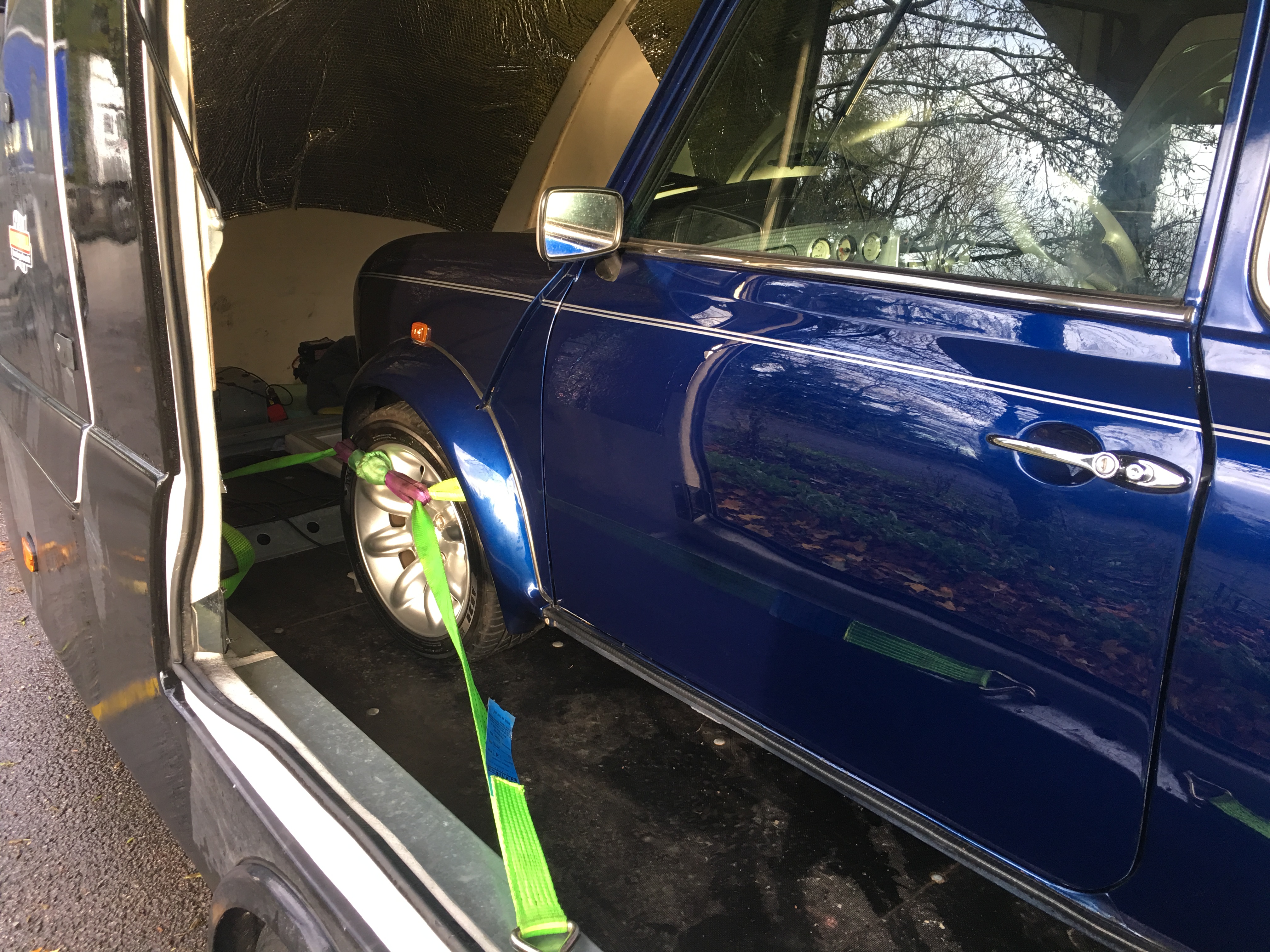 First steps were easy. Although the Mini is mechanically great (I did use it as a daily driver in summer 2015 and it has new brakes all round), there were some rust bubbles in common Mini areas, e.g. below the headlamp bowls, and the bonnet had too many stone chips, so off it went to the body shop.
I got it back and didn't check it much. I've used the body shop before and will again, so didn't go over the car with a magnifying glass before loading it into the trailer and dragging it back up to Argyll.
First panic – I've had the bonnet resprayed so the stripe decals naturally need replaced. Of course, I hadn't thought of that in advance and the auction company need photos. Better order some. Of course they're out of stock.
I got some eventually, having ordered from two places to be sure (anyone want to buy my second set of silver classic Mini bonnet stripes?) and then set about cleaning the car up for the photos.
Cleaning up a good car is usually a rewarding experience and Moira is in good shape. Nevertheless, there is a difference between "that's looking good" and "that'll photo well" and then on upwards to "that'll bear close scrutiny by a guy in an anorak in the auction room".
Moira cruised through to "that'll photo well" but the list of things to address before she could be auction-anorak-friendly just kept growing as I went around her.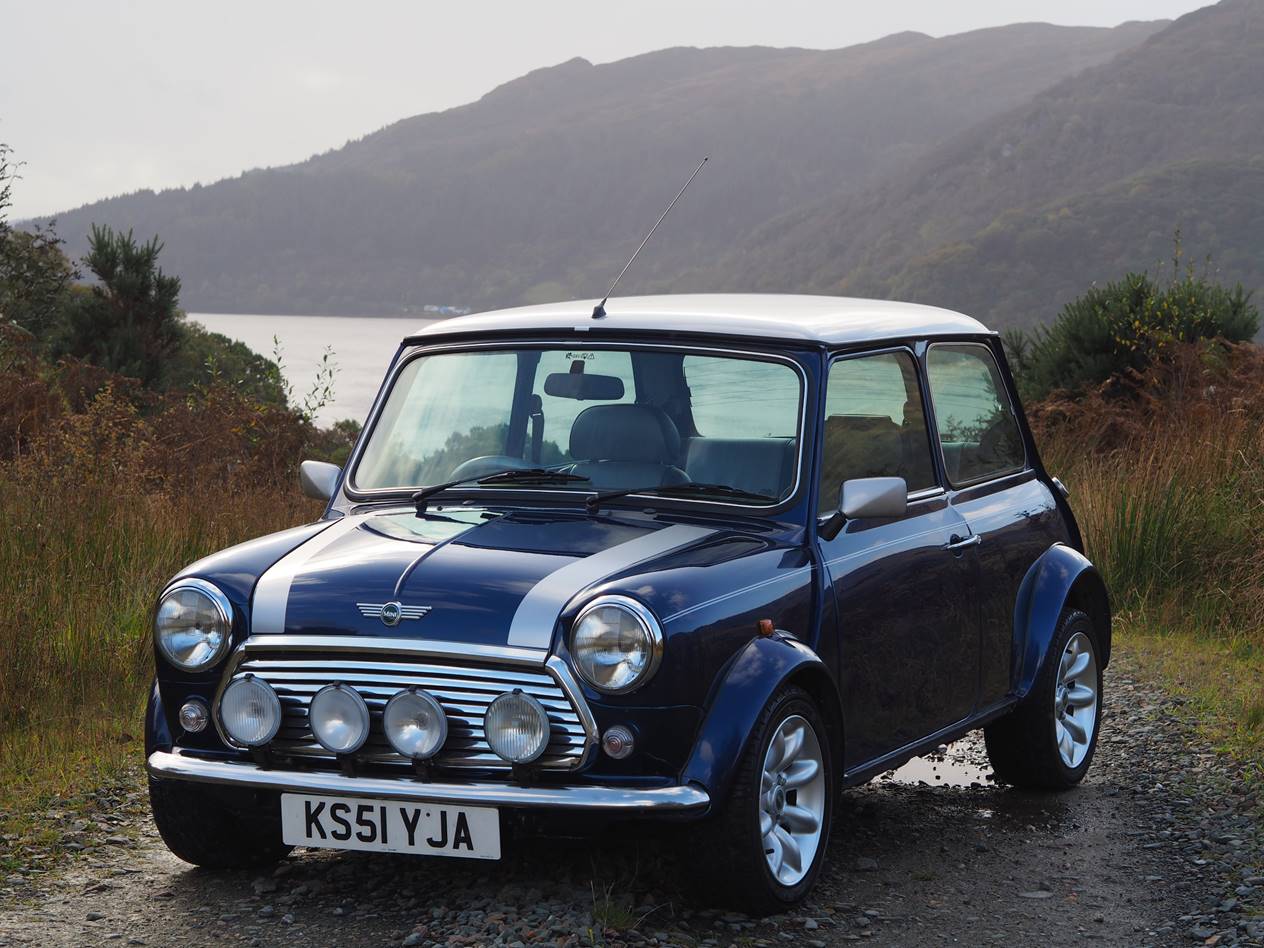 The long suffering photographic enthusiast Mrs S, took some nice pictures of Moira and the auction company expressed their satisfaction, but there was work to be done.
First of all, in the bright daylight you could see that there had been some paint mixing malfunction at the body shop and the metallic flake in the Tahiti blue paint was weirdly unevenly distributed over the driver's door. Back into the trailer she went. Another day's travel lost to the joys of living near to great scenery and roads but otherwise…..nothing.
There was also a collection of other paint and other cosmetic defects that were a bit of a dilemma. Suddenly I can recall myself looking at the various cars at the multitude of auctions I have visited.
I can vividly remember my secret sniffy thoughts at how the owners could possibly entertain their cars going on offer without addressing the various cosmetic issues I can spot.
Suddenly the boot is on the other foot!
I believe there is a hard to define target aura about a car at auction. It needs to be as good as it can be, but it needs to be honest. It can't look like lipstick on a pig or nobody will bid, but it needs to look like it's been cared for.
I was really sweating about what to do with the various issues. I replaced the old rocker cover with a nice shiny chrome one from Mini Spares but kept the old one boxed in the boot. The car is the 36th last classic Mini built, so someone might value having the original parts.
The block had a lot of surface rust. I cleaned it up for hours on end, but only re-painted the areas I could safely and completely reach, so someone can clearly see that the engine hasn't been taken out recently. Was that the right thing to do?
The area around the bottom of the clutch slave cylinder was sound, but a bit grotty, so I cleaned it up and gave it two coats of marine-quality rust converter rather than trying to paint over the trouble. Will I be respected for preserving but not disguising the car?
…and so on.
One way or the other, two trips to the body shop, days of detailing, a bleached expansion tank, a new rocker cover, one new tyre, a window mechanism and a driver's door handle later (ruined by retracting seatbelt rash), the car was ready.
I can't tell you how relieved I am to have dropped the car off at the auction in good shape. There must be some unlucky harmonic relationship between the Mini's suspension and the geometry of my trailer and Land Rover because the darn thing jumped out of its straps twice before I was out of Argyll.
Eventually I had to strap the rear wheels through the minilite alloys' spokes, so I was much relieved to unload the car and find that the strap protector thingamabobs had done their job and the alloys and wheel arches were unmarked.
It's Saturday night now and it was clear in the first session of the auction today that there were plenty of bidders and strong prices for some cars, particularly classic Fords – I've bought Ferrari's for far less than an Escort RS2000 sold for today!
All I can do now is wait and hope. I shall try to distract myself with future bucket list purchase ideas and the mass of trader stalls.
Until tomorrow…..