We had the chance to check out the new Jag XE last week at Taggarts Jaguar in Glasgow, I must say, Jaguar are on fire right now! not actually on fire, we'll leave that to Ferrari and Porsche but on fire from the point of view that right now they're just on a roll.
This new XE is the entry level Jag but there's really nothing about it that feels entry level.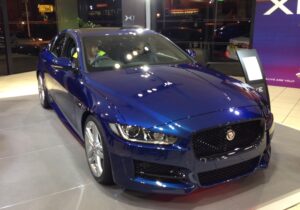 Continuing the now established Jaguar design language that started with the XF the XE looks the business, especially in this metallic Bluefire colour, it has the right amount of aggression at the front end and I'm really loving the black grills, much better than boring old silver.  The overall design just works well and it's what we've come to expect from Jaguar.
The interior is a lovely place to be, well laid out with the standard touchscreen controls in the centre of the dash, funky but comfortable steering wheel and lots of leather in this car but there are models with cloth interior but that doesn't look nearly as good.
Engine choices are limited at this point, I did ask the question "will there be an XE-R" but that's not known at this point but to really compete with the Germans it needs more than a 4 Cylinder Petrol and Diesel choice but a 550hp V8 might just not be cost effective for this type of car, we'll wait and see.
Hopefully we'll get a chance to drive one soon but on looks alone I'd definitely take this over it's German rivals from BMW or Audi. Well done again Jag, keep up the good work!