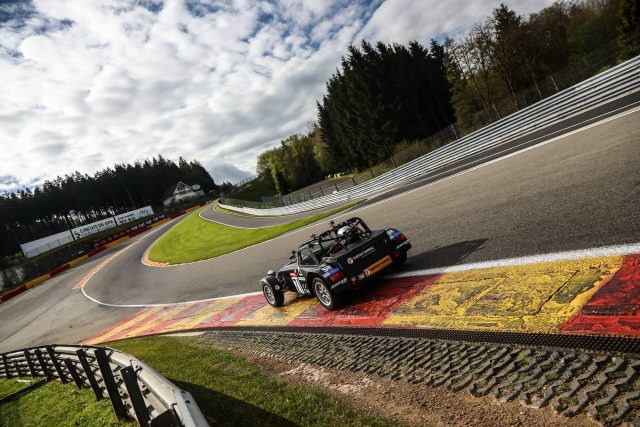 It's probably just as well that it has taken me a while to get around to this race report as I was really quite giddy with the thrill of having raced at Spa and this report may be a little more sensible than the one I might have written the day I got home.
Climbing up the pit exit lane for the first time, parallel to the track at Eau Rouge and then finding myself heading down the Kemmel straight was a bit other-worldly for me.
You get the idea "can't believe I'm really here, racing, at Spa. This is exactly where Hakkinen pulled THAT overtake move" etc etc
I will get onto the details of my dependably mediocre performance, but you'll need to forgive me if I harp on about how special it felt to race there.
Eau Rouge is indeed much steeper than you can see on the TV, but everyone tells you that.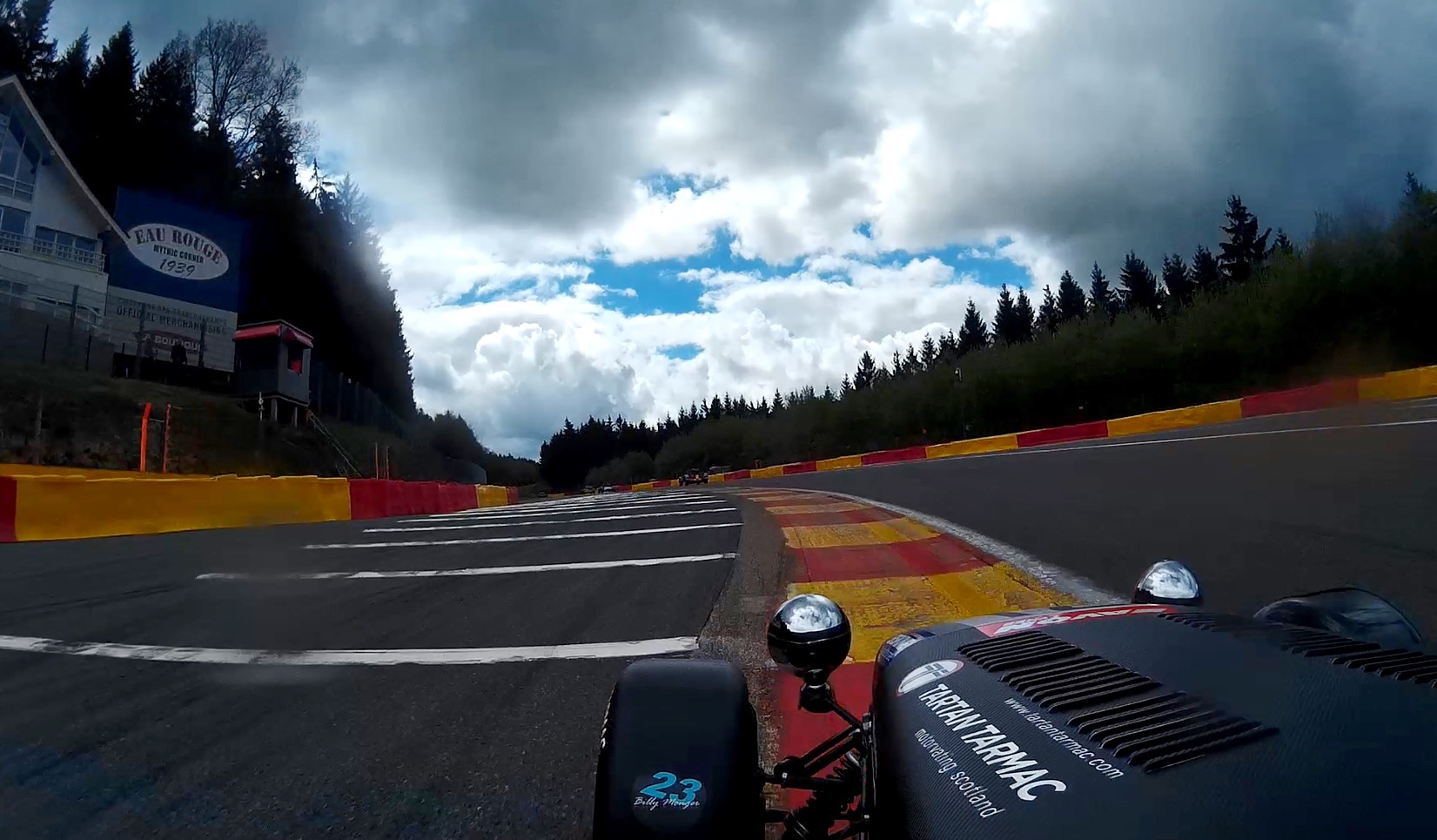 What you don't expect is how steep the straight down from La Source to Eau Rouge is. You don't expect to be standing at the bar (well, you do expect to be standing at a bar but…) on the fourth floor roof of the F1 pit building and to have to look UP, way up, into the distance to a break in the forest where you see the Rivage hairpin, like a distant ski slope. It's an epic place to be, let alone to drive.
I'm really glad I did Spa with the Caterham Roadsport field and not just because it's a great bunch of guys'n'gals, racing fiercely but fairly. Those cars were great for Spa. If you're only going to race once at Spa, which is likely the case for me, do it in a car that always feels like it's going twice as fast as it is, that needs you to go through Eau Rouge flat to the mat (tick), that depends on drafting on the straights and is narrow enough to go three-a-breast. What a riot.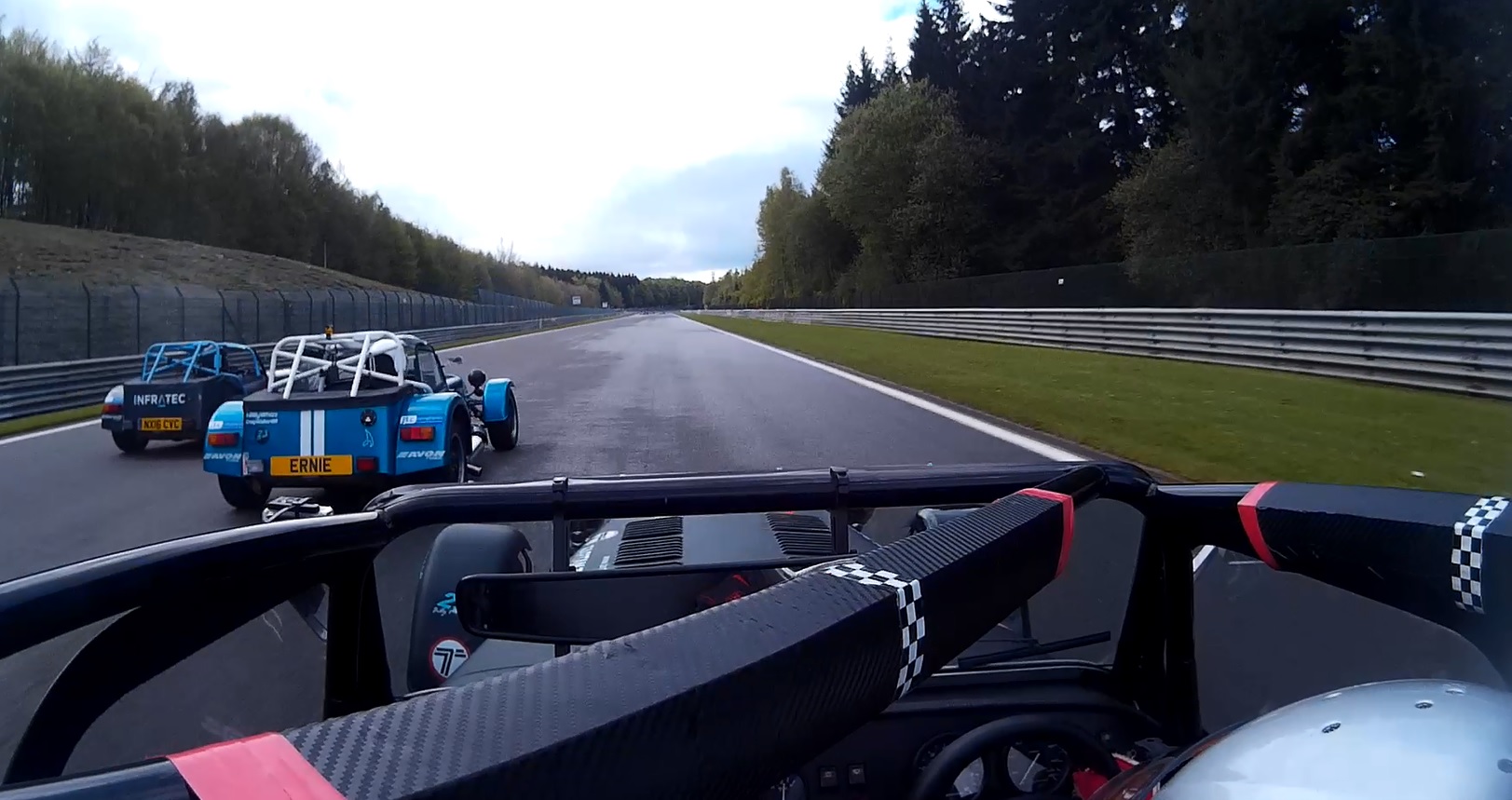 Anyway, on to my performance and once again I find myself reporting that I didn't experience a dramatic catapulting up the pecking order. I suffered ("suffered", racing at Spa, what a laugh) from familiar problems and only have myself to blame for not doing better.
All through last year, I found that I couldn't get my head around a circuit in the time I had available to me. Too many times, my fastest lap of the weekend was in the race, when it really should be in qualifying. I was still learning the fastest way around while racing.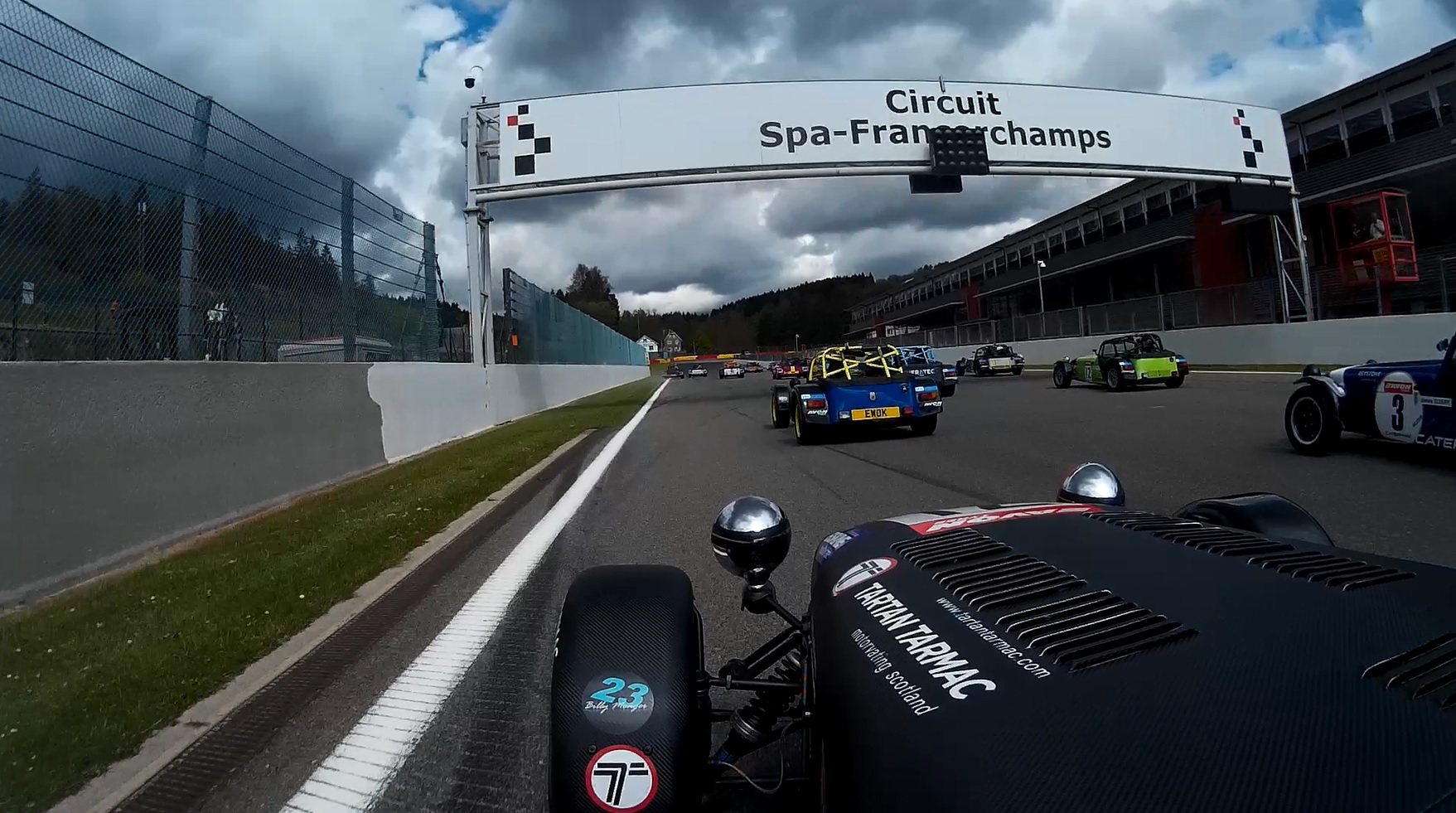 Spa was no different. I started the test day putting in 3:08's. Unlike at Snetterton, I did at least have the presence of mind to look at video during the day and that showed me a few places where I clearly wasn't using all the track. At the end of the test day I was just getting into the 3:06's, so I had applied myself more logically than just circulating around thinking "MUST TRY HARDER".
I hadn't looked at a video from a front runner though, and I really should have.
I also knew that I wasn't throwing the car hard enough into the two right-left complexes at Les Combes and Fagnes.
I qualified on a 3:06.1 which was an ok lap, benefiting from a tow at one point. At the end of the session I was in clear air and just about equalled that time with no tow, so if I had been lucky with tows on the two flat secions I might have put in a 3:04 and jumped a few places. As it was, I qualified 28th of 36, which I was pretty gutted about, but I knew I'd have some fun in the race as I had the speed to bother the cars immediately in front of me. Pole was 2:58.7 and the top four qualifiers all dipped under the magic 3:00.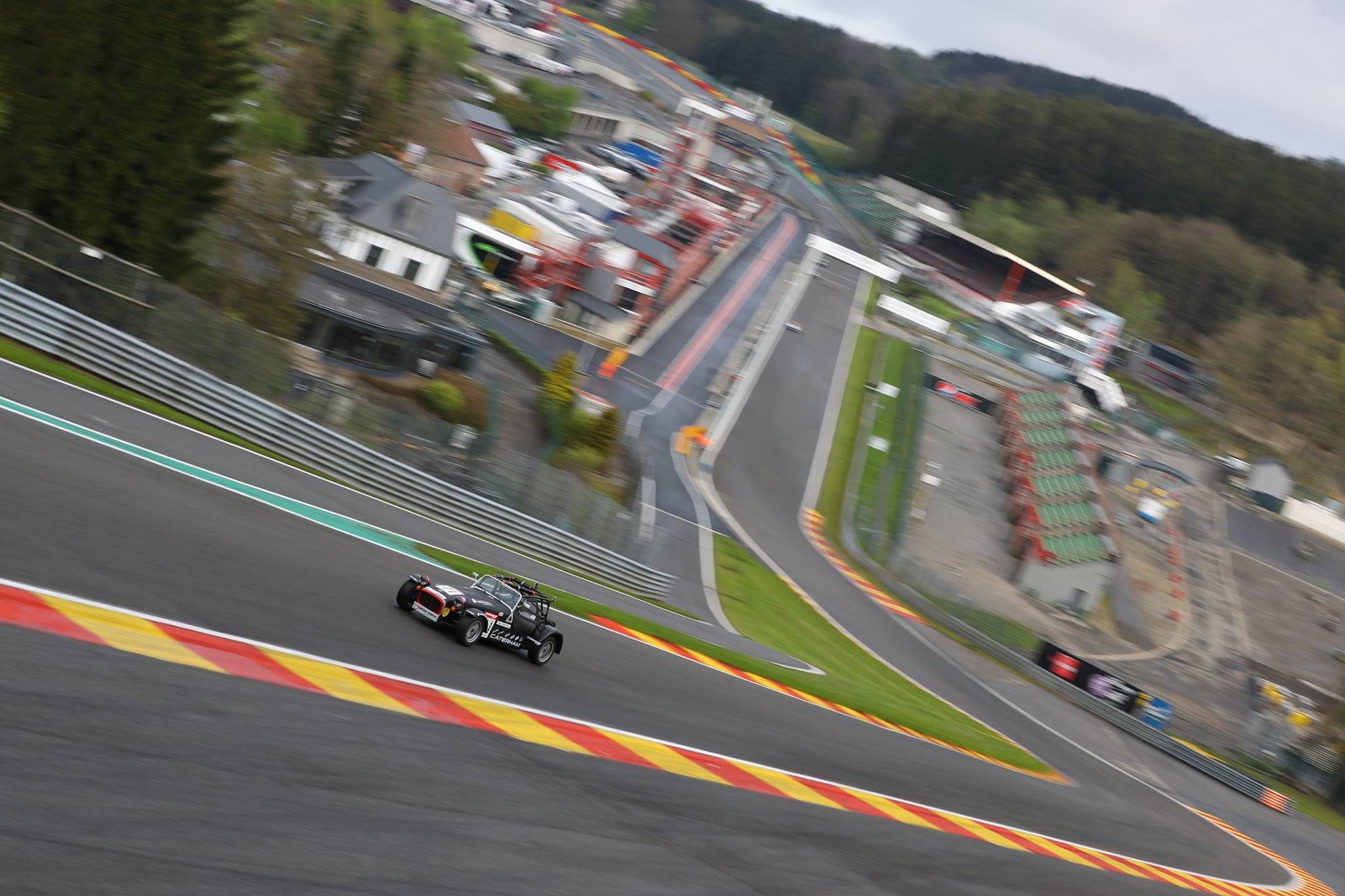 I got a reasonable start in Race 1 and avoided the by-now-standard Caterham bunching and bumping on the inside line of the first corner. I maybe made up one place but was very conservative and fell in line going up Eau Rouge for the first time, but kept my foot in. I drafted past one on the Kemmel straight and then settled in, but going through the fast last sector, I found the cars in front getting away, not coming back to me, but I made up dozens of metres under braking and found myself back in the mix as we got to La Source. I got drafted myself on the next lap but got one more under braking at the end of the Kemmel. I had clearly been braking too early during testing and qualifying.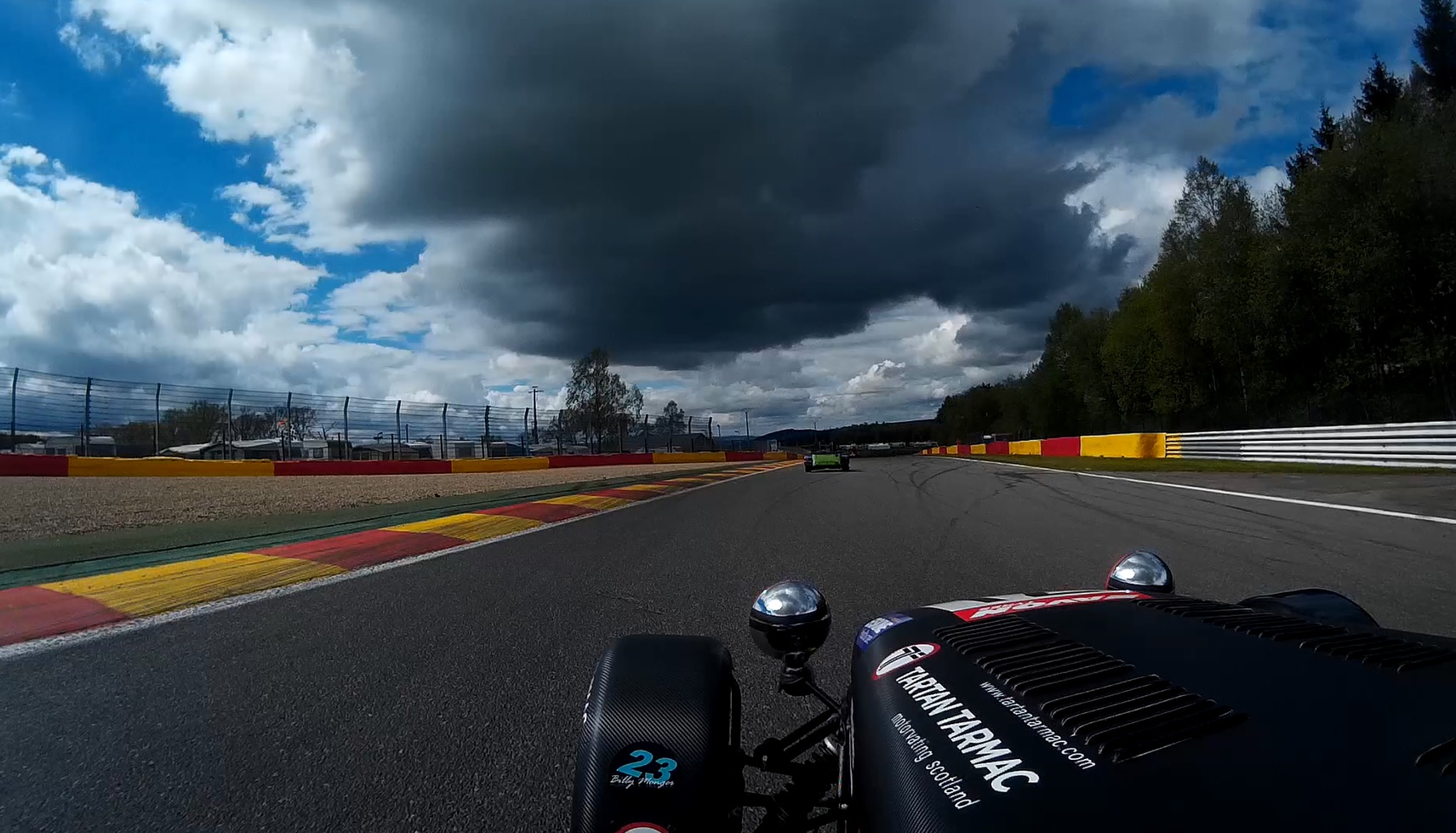 A lap later, I got absolutely mugged on the fast Blanchimont section again and started going through the "my car's down on straightline speed" conspiracy theory, but then realised that I was making a poor job of the last slow corner, the double right hander, Curve Paul Frere, before Blanchimont. Again, this is something I should have worked out the day before. I got my assailants back on the next lap, one through Blanchimont and the other under braking to the Bus Stop chicane.
I then exchanged tows with one car for a lap or so, but after finally getting past him and a spinner further up the road, I found myself running 25th with cars from 23rd through to 13th all in a close train right in front of me. Tantalising.
I got two more under braking on the Kemmel straight. I was up to 23rd.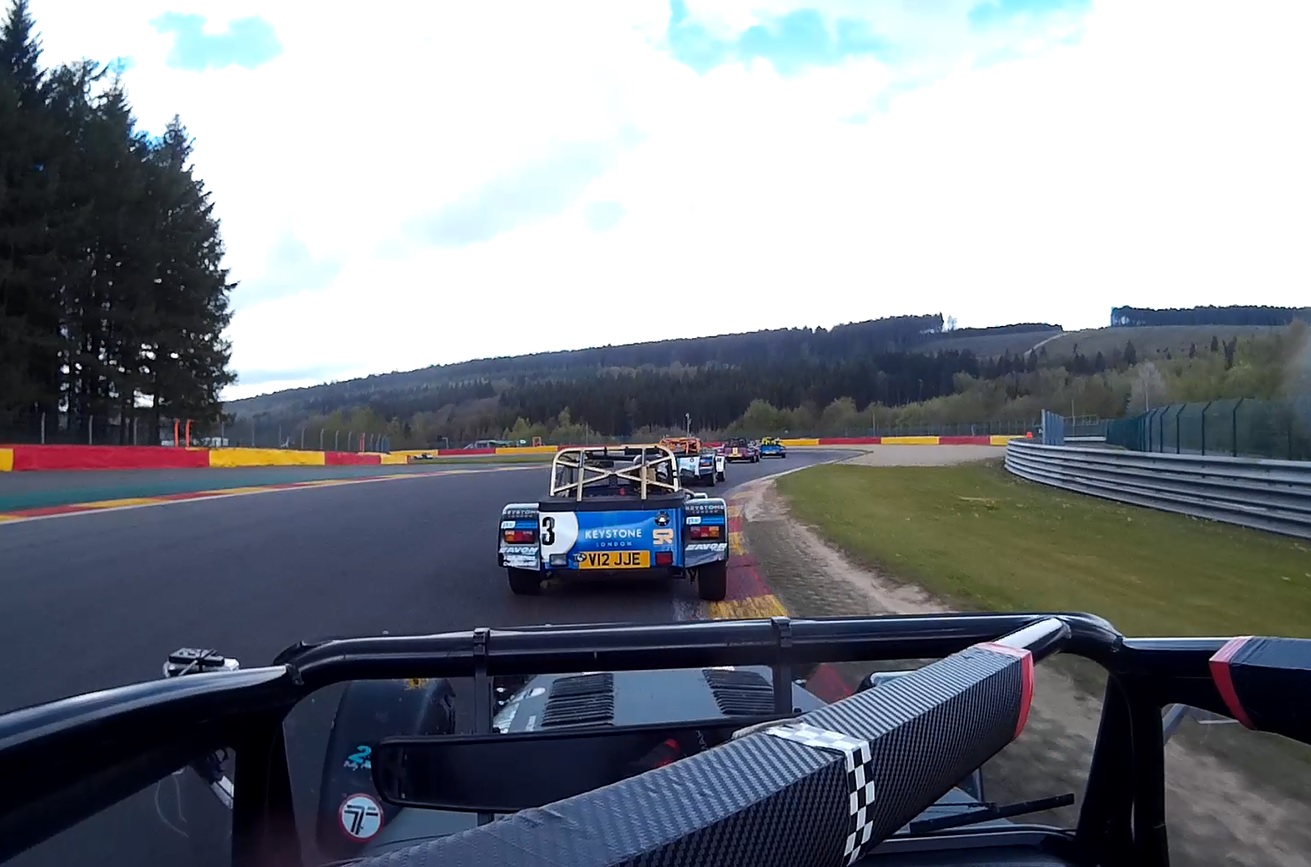 I closed right in on the 22nd placed car at Fagnes and…..and…..and…..the rain hit.
It was like choreagraphed stunt driving. Three cars spun in front of me and two sped by as I dodged those facing the wrong way in front of me. I was 22nd.
Then another car reacted somewhat over-positively to seeing a green flag, put his foot to the floor and spun. I was 21st.
By this point I was starting to back off in the wet conditions and lost a place to a braver soul at the Bus Stop. 22nd.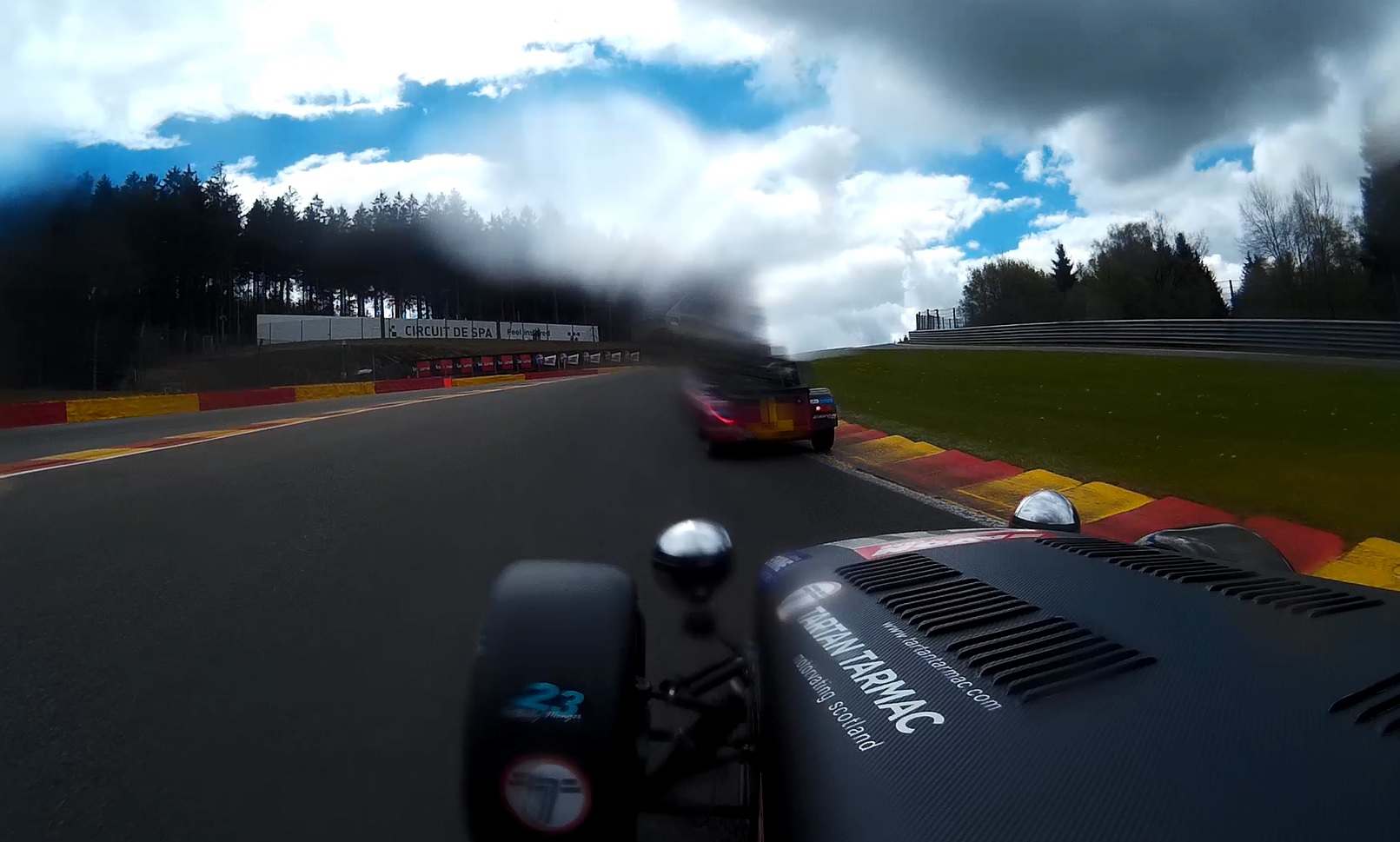 Then the braver soul went too deep and ended up really wide at Rivage. Yes! This is a chance!
Oh dear. I would appear to have forgotten that being off-throttle, off-camber, on the racing line under fresh rain isn't the best plan. Round I went. I had the presence of mind to realise when I was past the point of no return and gave it some gas to encourage the car to get around 270 degrees before rejoining, but I had lost two places. At that stage I decided to concentrate on getting to the end of the race in one piece and remembered that there would be grip OFF the racing line. If only I had thought of that sooner.
I finished 24th having had sight of a much higher placing, but still having had a whole heap of fun.
Having learned a few things about braking points and the exit into the fast final sector, I had put in a much better lap time of 3:04.1.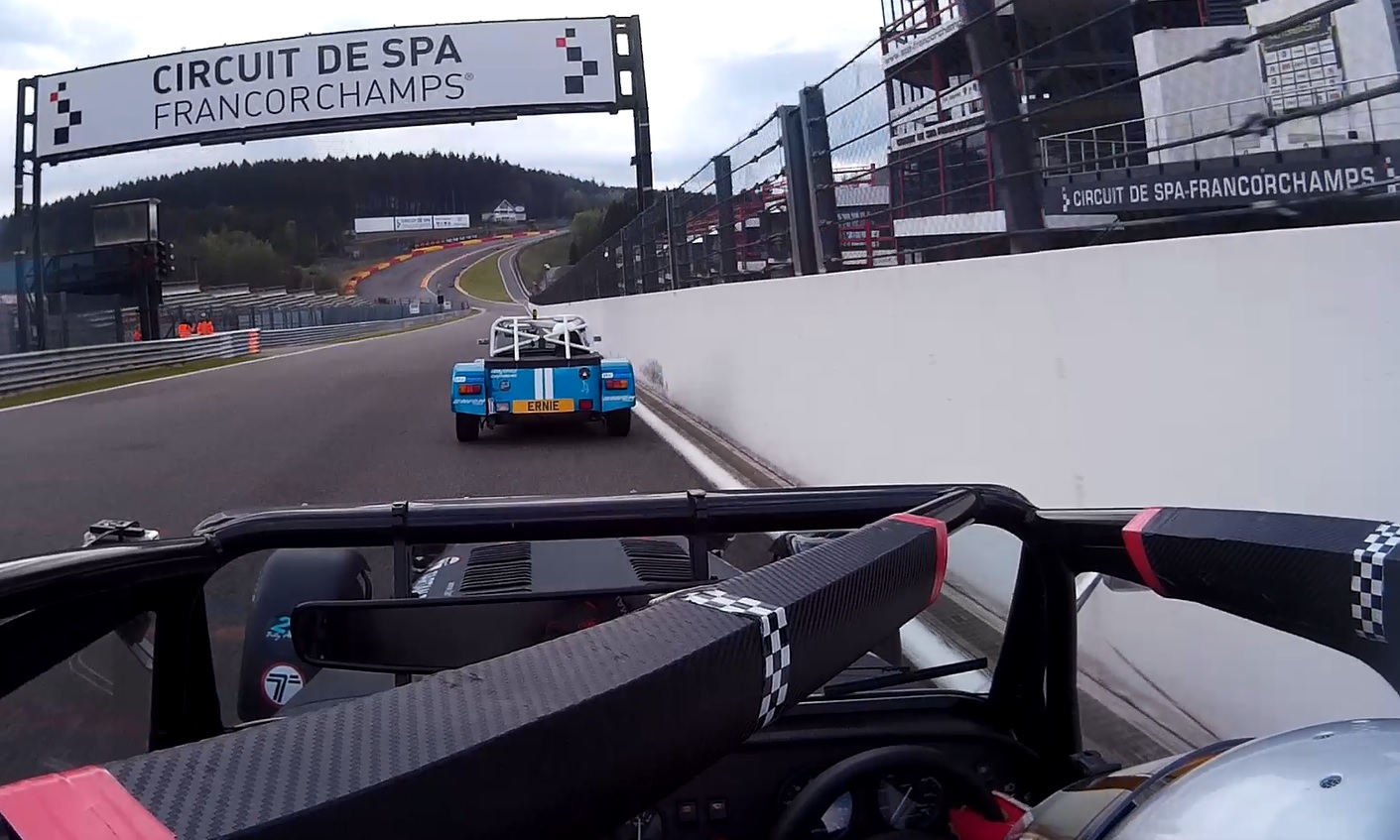 Race two was the next morning and thankfully it was dry. After another good start, I crawled my way up the field and was having a great battle with car number 11, driven by Mark Roberts, for 18th place, swapping places several times, before having a high speed comedy moment at Pouhon and then finally getting too smart for my own good on the brakes into the Bus Stop. I finished 21st with my fastest time of the weekend of 3:03.9.
You can watch the video highlights and lowlights of race two by clicking on this link.
Next weekend we're off to Brands Hatch. Barely 5 corners and a sub-1-minute lap time. That should be quite the contrast and there will be no excuses about not learning such a short track.
As usual, thanks to Reep Scotland, Knockhill Race Circuit and Dreadnought Garage for their support.
Also, thanks to Jon Bryant from SnappyRacers.com for some of the pictures. Here's the two opposite sides of the same moment between Jon and me at La Source.