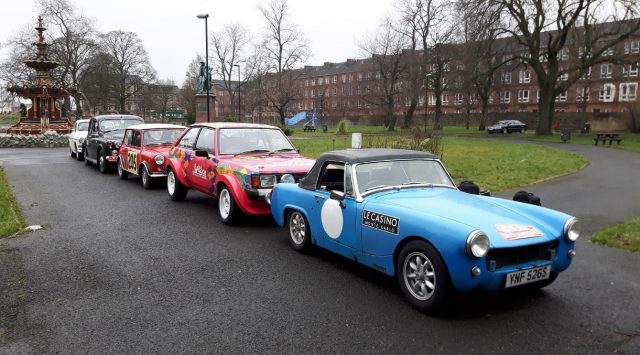 Roll up, roll up! It's time for one of Scotland's best but least known about classic car events; the Rallye Monte-Carlo Classique.
This is definitely one that every classic car owner should aspire to taking part in at some point. What could be more amazing and rewarding than turning up on Monte-Carlo having driven there in your own piece of history?
These are some of TT's friends who are taking part or supporting this year:
If you are looking to go along and enjoy the show then here are more details from the organisers:
The clock is ticking to the start of the 2017 historic Monte Carlo Rally when up to eighty cars will be flagged away from the centre of Paisley.
It's the fourth time the town – which is bidding to be UK City of Culture 2021 – is the only British start point out of seven European cities including Stockholm, Lisbon and Barcelona, for the 1300-mile trip to the South of France.
A stunning range of classic cars will leave the start ramp outside Paisley Abbey at 6pm tomorrow (Wednesday January 25th) in three separate categories.
The Historique class is being run for the 20th year and is restricted to car models which competed in the Monte Carlo Rallies between 1955 and 1980. It will take place over eight days on open public roads with the cars and crews undertaking a series of fourteen demanding test stages in the mountains of southern France.
Included in the line-up will be an ex-BMC works Mini Cooper S which competed in the Monte Carlo Rally 50 years ago, finishing 6th overall in the hands of rally legend Paddy Hopkirk. It will be driven by Scottish rally enthusiasts Pat Haley and Mike Hyrons. Also taking part will be a rare and original 1978 Ford Escort RS 2000 which had previously been on display in a car showroom in Wales.
The Classique event is for older cars from as early as 1911 to 1980 and follows the same route to Monte Carlo but does not include any test stages, the goal simply being to finish in Monte Carlo after checking in at a series of control points on the way. Among the cars in this category are a 1930 Austin 7 Ulster open 2-seater sports, a 1960 Rover P4, affectionately named "Cuthbert" which spent its early life in South Africa, and a Sunbeam Stiletto, which was built nearby at the Linwood car plant and looks as good as it did when it rolled off the production line in 1968.
Once again the event will also feature the popular Monte Heritage Runs which will follow on from the full-scale events and will take in a series of short classic routes in Scotland.
Last year a crowd of more than 10,000 gathered in the centre of Paisley with the magnificent backdrop of the Abbey to wave off the crews in a party atmosphere with lights, music, street food and pyrotechnics…..and working with staff from Renfrewshire Council and volunteers from many motorsport clubs in Scotland, the organisers expect this year's start to be even bigger and better.
The entertainment starts at 4pm. Full details can be found at:
http://www.paisley2021.co.uk/news/get-your-engines-running-for-the-monte-carlo-rally/
Final preparations are now being completed and Douglas Anderson, the UK co-ordinator and the man responsible for bringing the Monte back to Scotland in 2011 believes this year will be the best yet.
He said: "This year's Monte Start has all the ingredients to make it a unique mid-winter festival which is guaranteed to lift the spirits of all the folk from Paisley and beyond who come along each year to enjoy the wonderful carnival atmosphere."
Douglas will also be doing the trip to the Mediterranean in his MG Midget which will run ahead of the group as the official opening car. He joined some of the entrants who'll be heading off on Burns Night as they proudly posed with their cars in the shadow of a statue of the Bard in Paisley's Fountain Gardens. Against the striking backdrop of the park's A-listed ornate Victorian-era fountain was Paddy Hopkirk's Mini, Cuthbert the Rover and a branded Paisley bid for UK City of Culture 2021 Sunbeam which will also be making the run to Monte Carlo.
The event is being supported by Renfrewshire Council. Provost Anne Hall said: "We are thrilled to be welcoming the Monte Carlo Classic Rally back to Paisley for the fourth year in a row.
"Hosting such a truly international event as this is really helping to put Paisley on the map ahead of the town's bid for UK City of Culture 2021 being submitted in a couple of months.
"Paisley Abbey always makes a fantastic backdrop for the spectacle of these classic cars setting off for France.
"The people of Renfrewshire have given the event great backing in previous years as they turn out in their numbers to wave them off and I am sure they will again – I'm looking forward to being part of another memorable night."
Tomorrow afternoon, the cars have to undergo strict scrutineering checks to make sure they comply with the Rally's regulations. Among those casting a careful eye over the cars will be apprentices at GTG Training in Glasgow.
Ian Taylor, Group Operations Manager at GTG said:"It's wonderful to once again have the Monte Carlo Rally cars here. Our apprentices look forward to working with the cars which gives them fantastic, hands-on experience. We wish all cars and drivers taking part this year the very best of luck".