The DS5 is an intriguing proposition and I was looking forward to testing it more than I should be for a diesel executive hatch with a badge that isn't star, propellor or cat-like. So I was expecting to be desperately disappointed as a result, but in truth I wasn't. It's nearly great.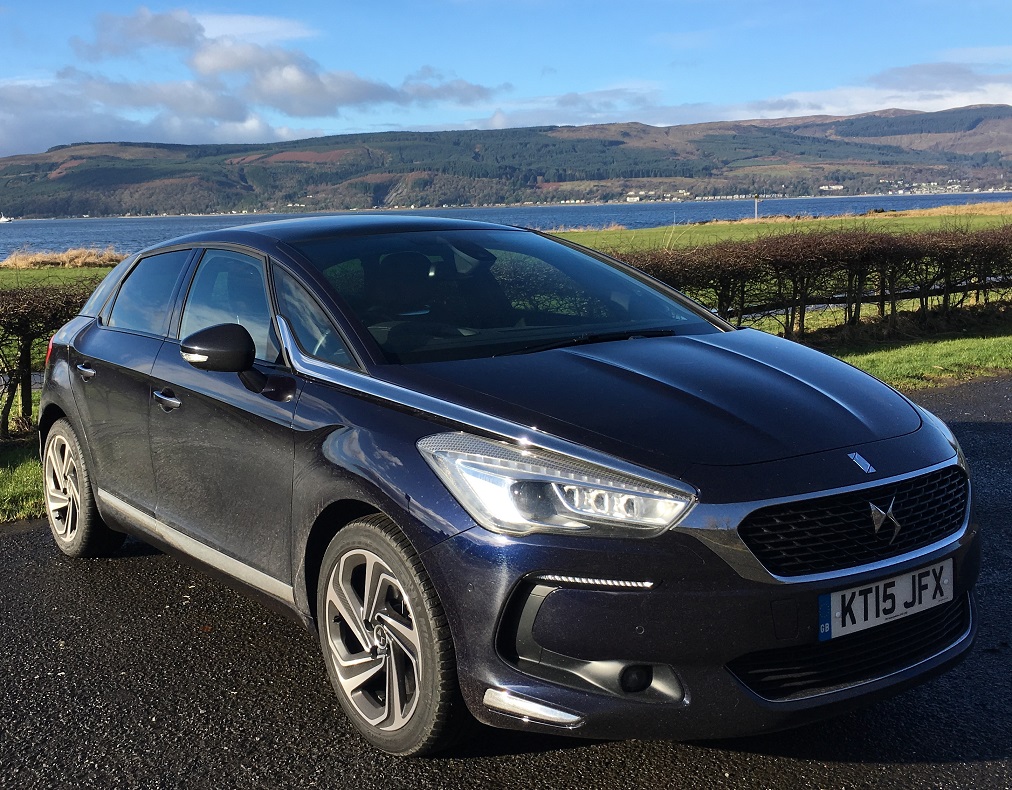 Looks
This is a good looking car in my opinion. It is different, in a tradition that you would expect from a manufacturer like Citroen, who of course are not DS in the same way that Toyota are not Lexus and Nissan are not Infiniti.
When my colleague came to hand the car over to me I was genuinely impressed when it swung around the corner. It really suits a dark metallic colour and, thus far, DS are achieving the whole "upmarket brand" idea. I've since seen the car in white and a light silver and my advice is…..stick to the dark colours.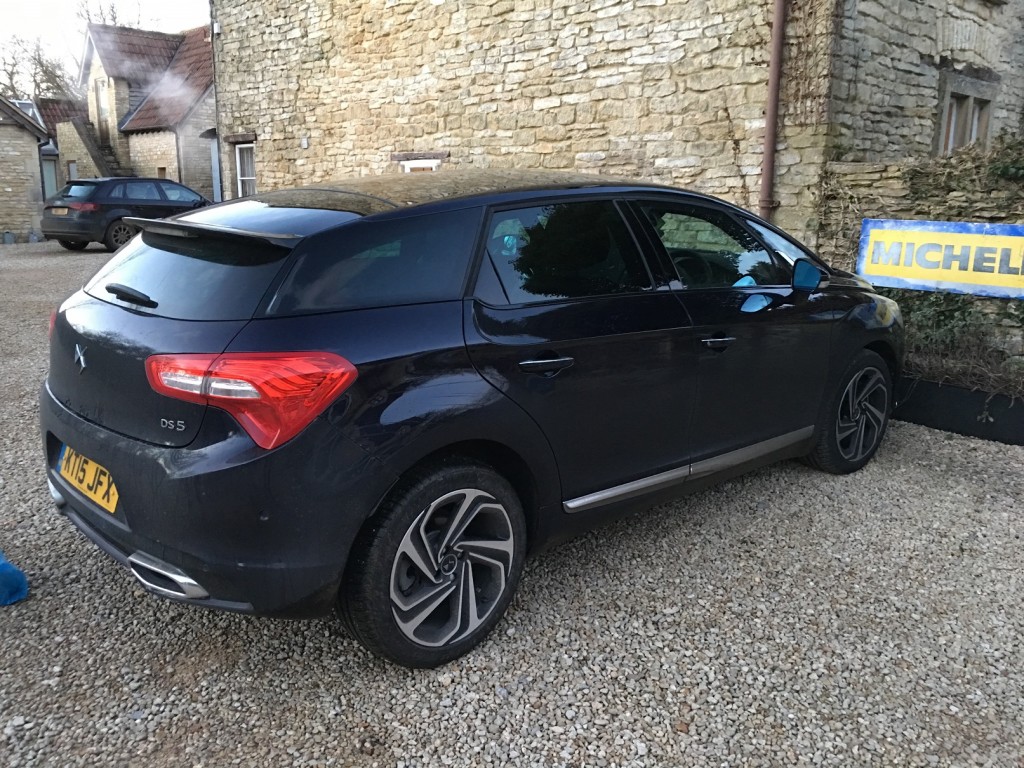 I think the designers have walked the line between "different" and "weird" very well, keeping the car looking smart and classy as well as being unlike the competition.
The crazy multiple panel sunroof is a nice touch, but that's a lot of electric blind motors, controllers and switches to fail one day!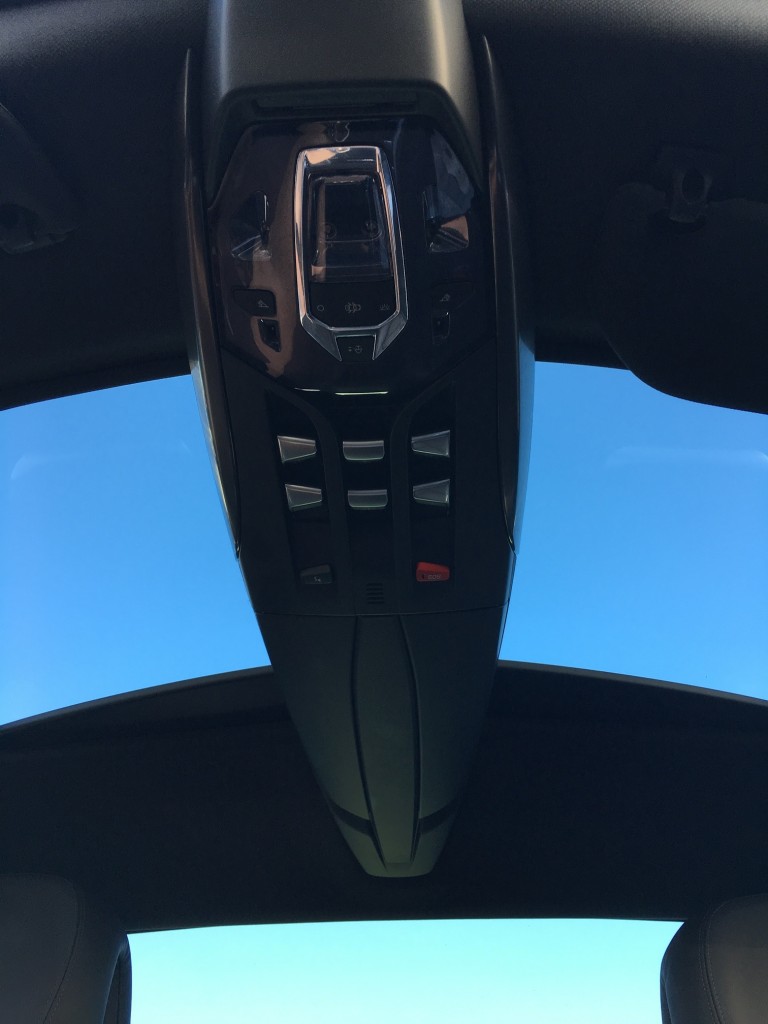 Interior
The good news continues inside. This particular car benefits from the blue/black leather trim pack at £1,390 and the metal effect interior trim finishes at £200. That last one is £200 well spent because some of the other materials are just not quite good enough. However, with the £200 invested, the car is a lovely place to be. The switchgear is all shiny and interestingly designed, without being daft. The overhead control panel feels very aerospace.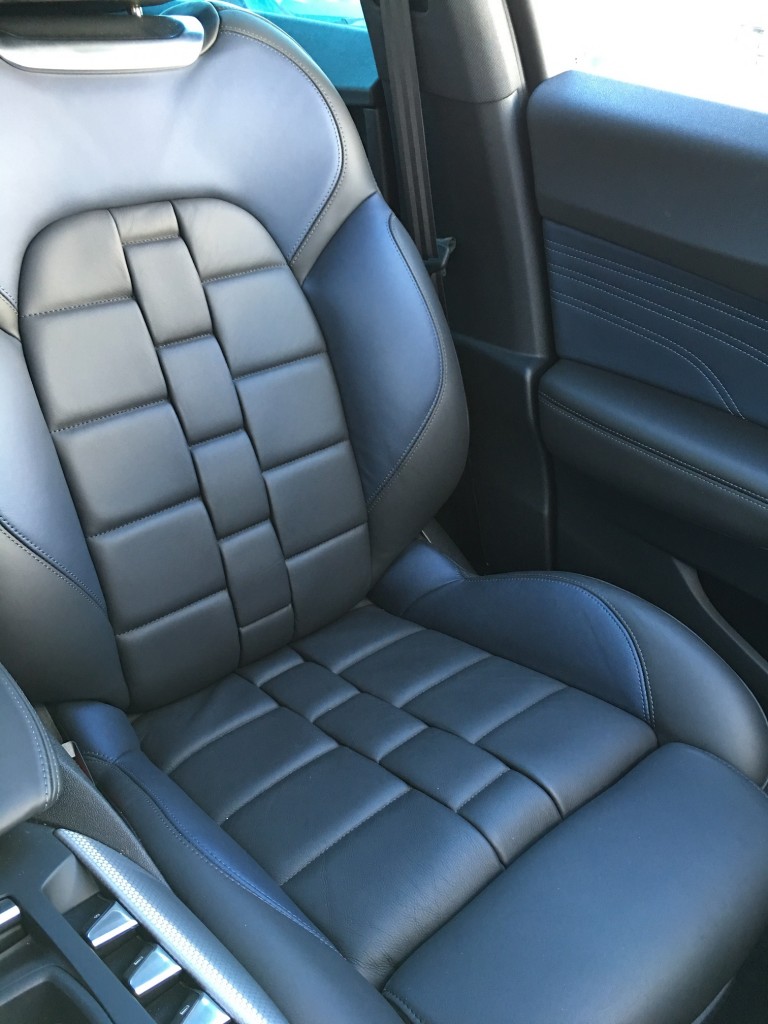 The seats look great. I spent many hours and hundreds of miles in them and found them to be extremely comfortable too. The adjustable seat heating and powered lumbar control are very handy but I have to say that calling the extra button that makes the lumbar cycle in and out a "massage" feature, was a little cheeky.
So far, we're still keeping up with the "executive" theme.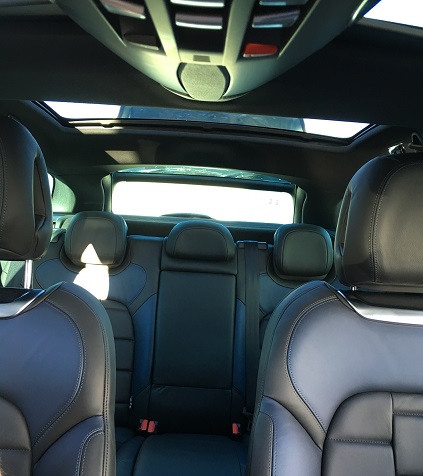 Most of the controls are easy to use. There is a big touch screen. The audio system is very fine indeed. The wheel and gear lever are well sized and the pedals are appropriately spaced. There are no stupid ideas in the driving control department, so the car is easy to drive and not at all annoying.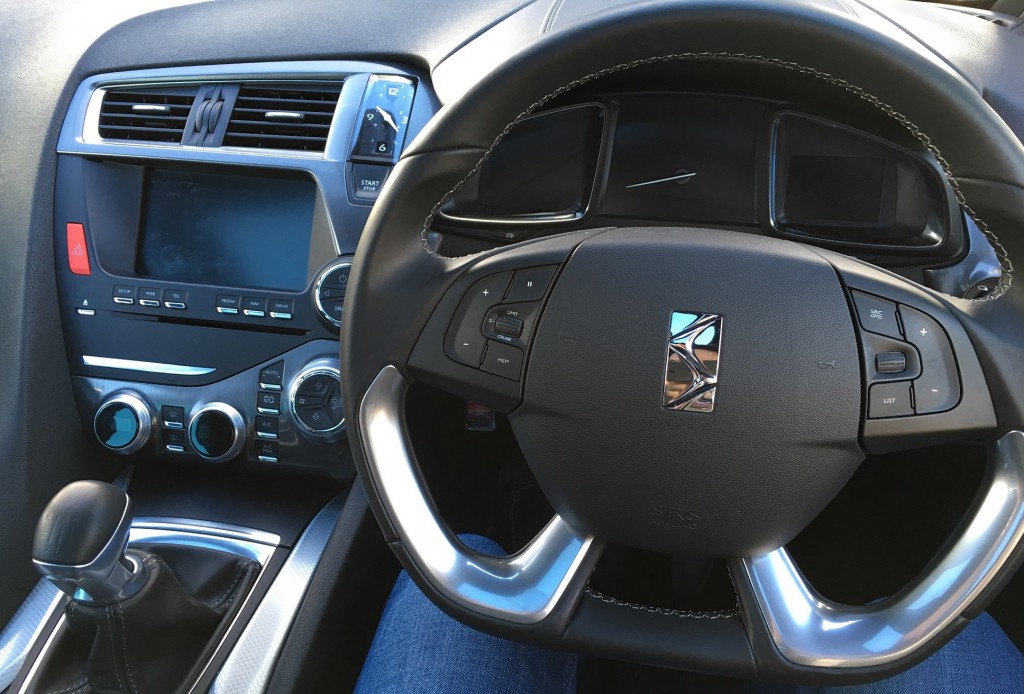 Things start to slip a little now. The clock on the dash is a very deliberate styling statement and I applaud the desire to be stylish but I need a clock that I can tell the time on at a glance and I don't need to lose quite so much dash real-estate. Trying too hard there.
The steering wheel is good but the wheel-mounted controls were too far inbound for my thumbs. I found myself having to take my hand almost completely off the wheel in order to bring my thumb over to the button or jog-wheel in question. Nearly…..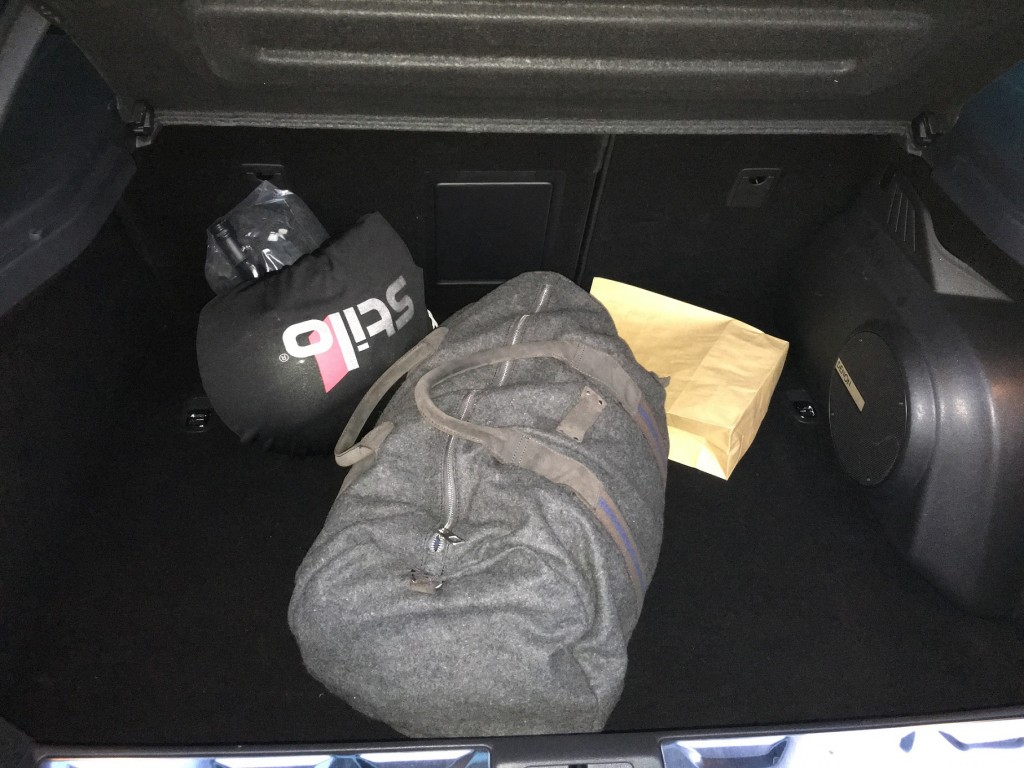 The boot was perfectly adequate and didn't lose all its space to an overly sloping tailgate. It's genuinely useful. I was slightly disappointed (bear in mind this is a £30k executive car) to find I was getting dirty fingers opening and closing the tailgate. I think an automatic opening/closing feature would be well deserved.
Back inside, I'm going to have to have a pop at the sat-nav selection. I have tested two MPSA group cars recently and they had the same sat-nav software which would not let me enter a postcode and was not sufficiently responsive to let me quickly type in an address. I could feel a BBC Chewin' The Fat style "Aaaaaaaaahhhhhh" moment brewing every time.
….which brings me to cup-holders. For goodness sake, this is supposed to be an executive sector car intended to whisk important feeling people great distances up and down our motorway network to important looking meetings. These people need coffee. There is but one cup-holder for the DS5 driver. It is in the door bin. That's fine. It is rendered completely useless for anything bigger than a double espresso by the overhanging speaker. That's not fine. At this point, I simply don't care that it is a Denon speaker.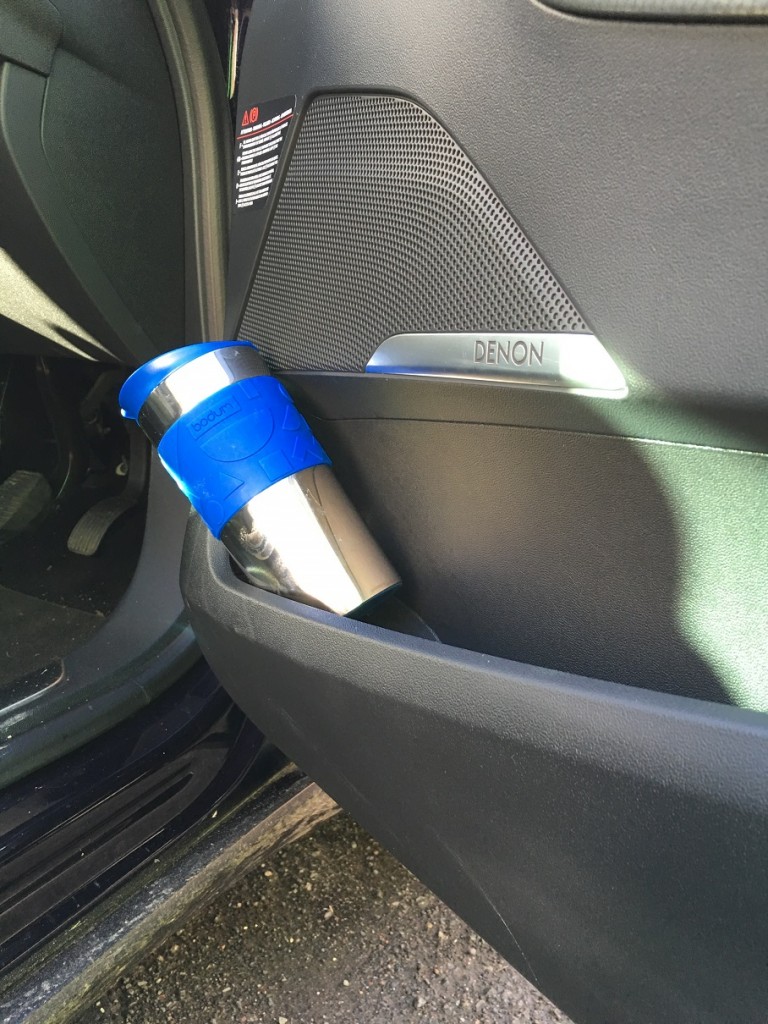 This car also had the £300 Colour Head Up Display option. It works well. The typeface used on the display, and on the subsidiary display to the right side of the main binnacle is a really clear, easy on the eye, classic London Underground-ish font. Why the designers then decided to make the two main read-outs on the binnacle, including the speed, look like something out of the original Battlestar Galactica series is beyond me. Styling going a little too far again.
Driving
Reasonable marks for the DS5 here. The BlueHDi diesel engine has great mid-range torque and its not intrusive in that range. It is very well suited to the car's intended purpose. Above 4,000 revs, it gets rough and you are no longer gaining much, so its better to keep it in the torquey middle range. Throttle response is good.
The chassis is really quite communicative and the steering also gives reasonable feedback. It's not a sportscar, but its quite enjoyable on a cross-country run. Two criticisms have to be made. The car copes well with smooth roads and irons out small imperfections really well, but you really know about it when you hit the larger motorway scars and it doesn't have to be a full-blown pot-hole to grab your attention. I would have to question the lateral control department too. I found myself rattling off the side supports of the seat more than I was expecting.
It is a front-wheel drive car and if you treat it like a sports-car you will soon find those limitations, but that's not what the car is about.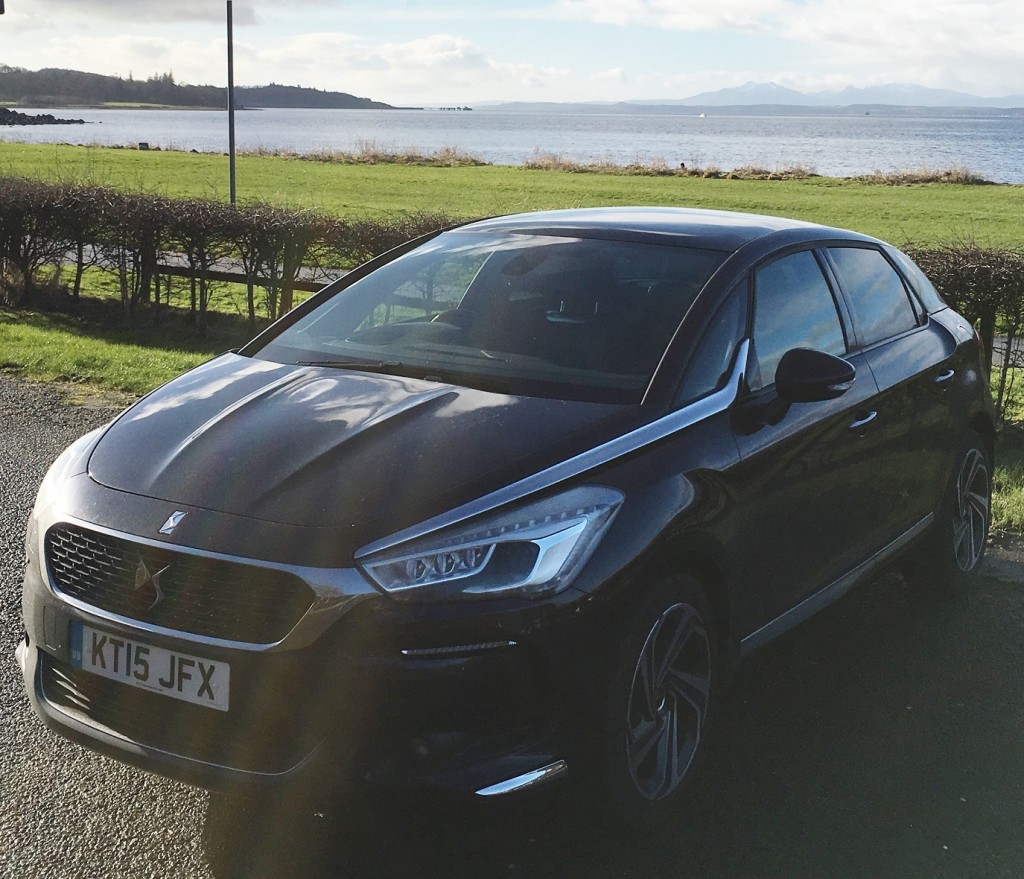 The car feels quite snug and classy, but when negotiating narrower streets and spaces the visibility to the front corners doesn't give a lot of confidence. The big double A pillars take a little getting used to.
The following pictures are of course completely intended to show the corner visibility….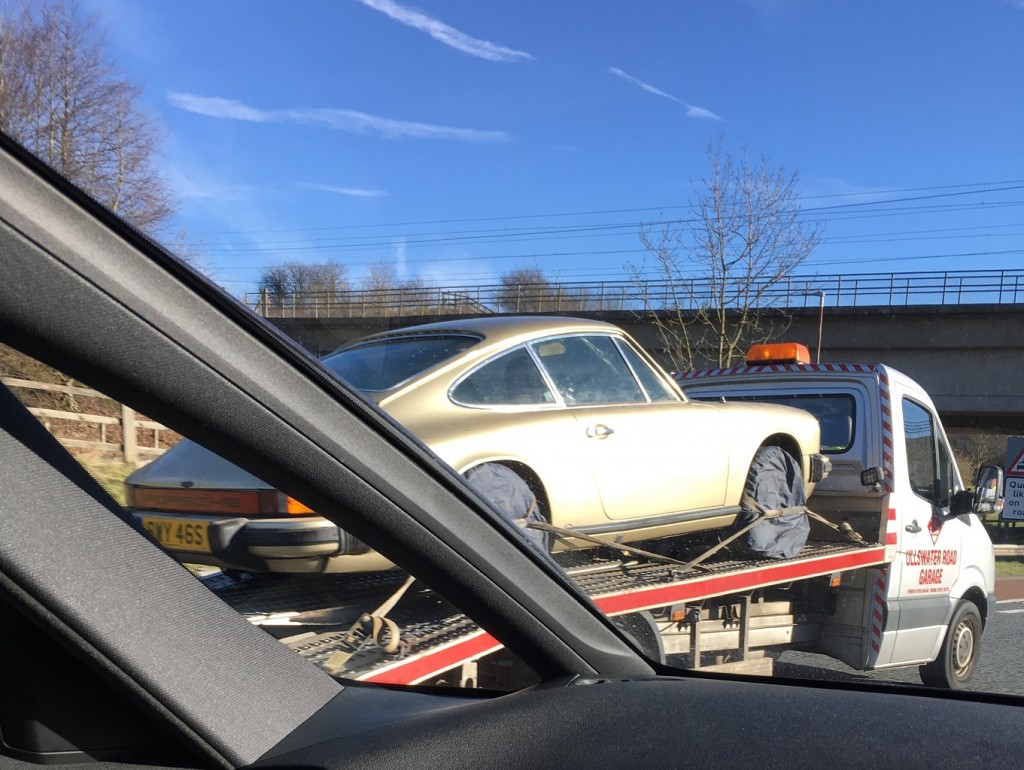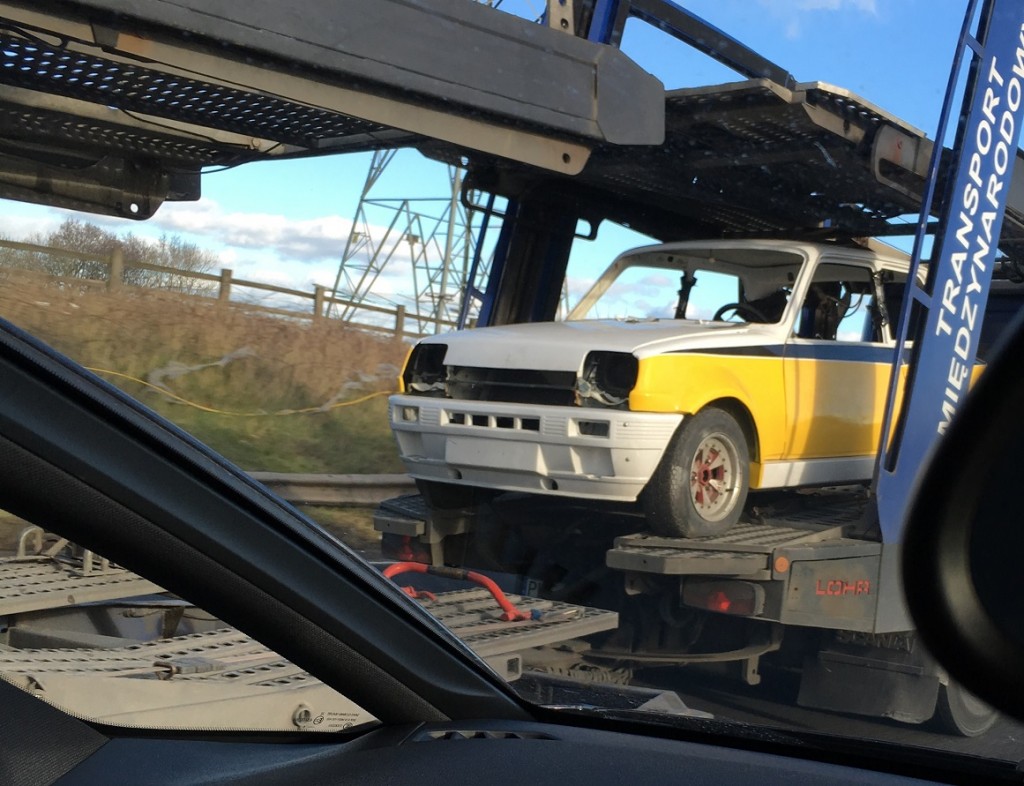 Those pictures were taken on a long motorway run where, behaving myself and not having to worry about the nearest traffic police, I achieved 46 mpg over several hundred miles, someway short of the official figures. (Yes I did realise it was a six speed)
Summary
Nearly great. I think if you are determined to have something different and particularly if the probable resale advantage of more established executive brands isn't your primary concern, then this would be a credible choice. If you are a bit of a cross-country warrior, then the car might not be up to all your dynamic demands. You could end up in an A4 or 320d, but you'll have to invest more cash up front to achieve the same levels of trim and it won't be quite as special as the DS.
The marketing spend to set up DS as a separate superior brand must be huge, so I think they should consider throwing some money at some of the low hanging fruit. The world will be looking for easy reasons to dismiss the separate brand as just a con, so I think DS need to be more careful with some of the easy stuff, like materials and ease-of-use issues.
It was nearly great and certainly very interesting.
PRICE: £29,800 (£33,340 as tested)
ENGINE: 1997cc Turbocharged Diesel Direct Injection, 6 speed manual
POWER: 150hp
TORQUE: 370Nm
PERFORMANCE: Top speed 127mph 0-62 mph 10.9 secs
CONSUMPTION: 68.9 mpg (combined)
CO2: 105 g/km
TT Rating:

Comments
comments