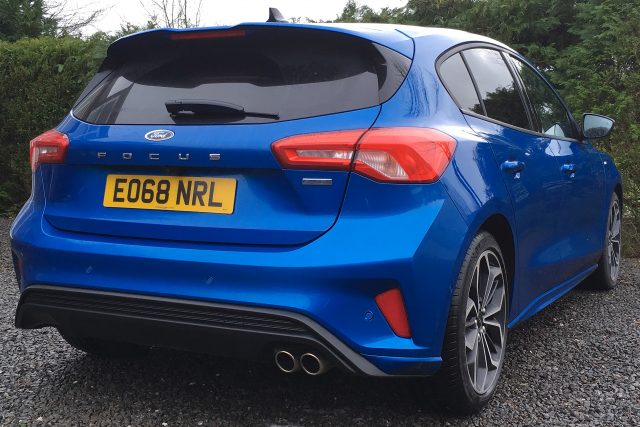 The 'C' segment (that's medium size cars to you and me), is one of the most competitive categories of the entire UK automotive marketplace. Top of the sales charts is the ubiquitous Volkswagen Golf but the Ford Focus is close behind, and has held a regular place among the best of class throughout its twenty one year production run.
When the Focus was first launched, it was a huge step forward compared to the outgoing Escort, both in terms of how it looked and more importantly, how it drove. So how does the new fourth generation Focus fair, and does it continue the trend of being one of the best driving cars in its sector?
Design is subjective, and although the latest Focus isn't as distinctive as the 1998 original, it's also not as visually challenging as the current Civic or as facsimiled as the Golf. It's a clean, modern design and overall I think it looks great, if not a little anonymous, possibly increasing the chance of it being mistaken for a rival brand. I'm also a big fan of the optional 'Desert Island Blue' paintwork – a pleasant change from today's usual monotone choices of black, white & grey.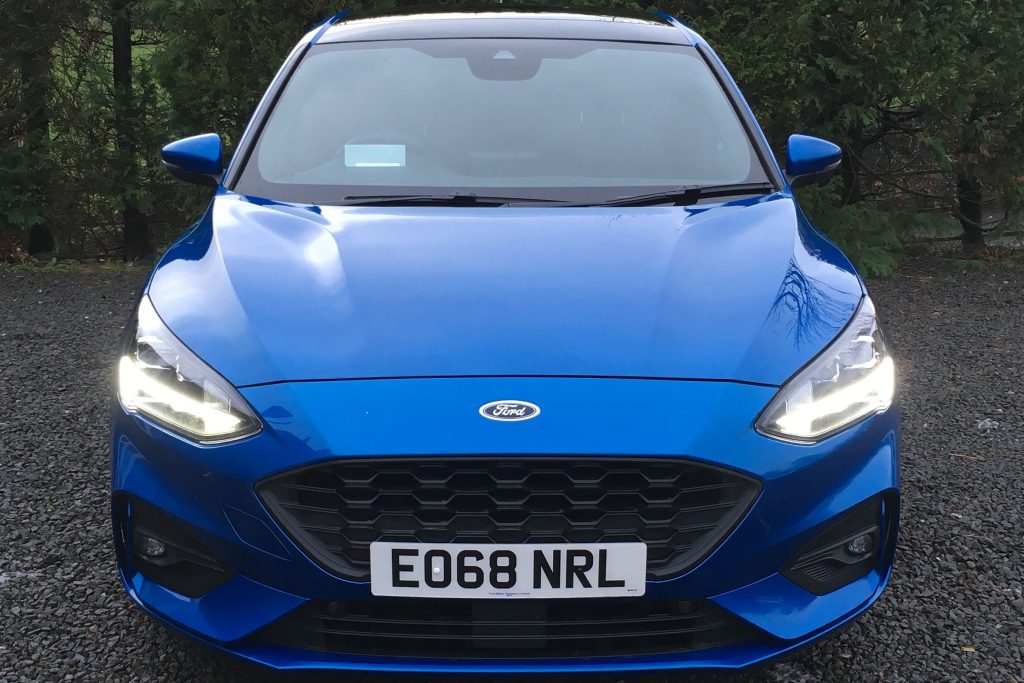 The new Focus is available in a huge range of trim, engine and transmission permutations, but this ST-Line X had a bit of a surprising spec. Thanks to the fitting of both a diesel engine and an automatic gearbox, it's sporting lite credentials felt somewhat diluted. However, power train aside, this fourth generation Focus drives as we've come to expect from the previous iterations – and that is very well indeed!
On startup there's no hiding from the fact that there's a diesel up front, and a pretty grumbly one at that. Quiet it's not, and that continues at lower speeds where it feels too agricultural, however up the pace a bit and it becomes less noticeable. What does then become apparent is the chassis, which as we've come to expect from Ford's mid range hatch, is excellent.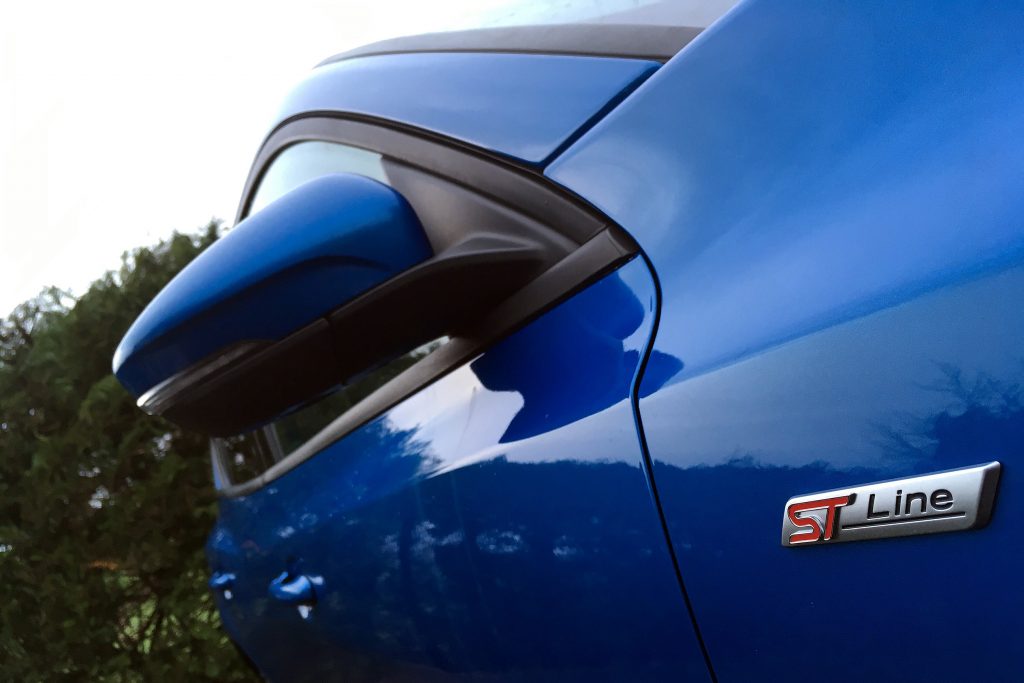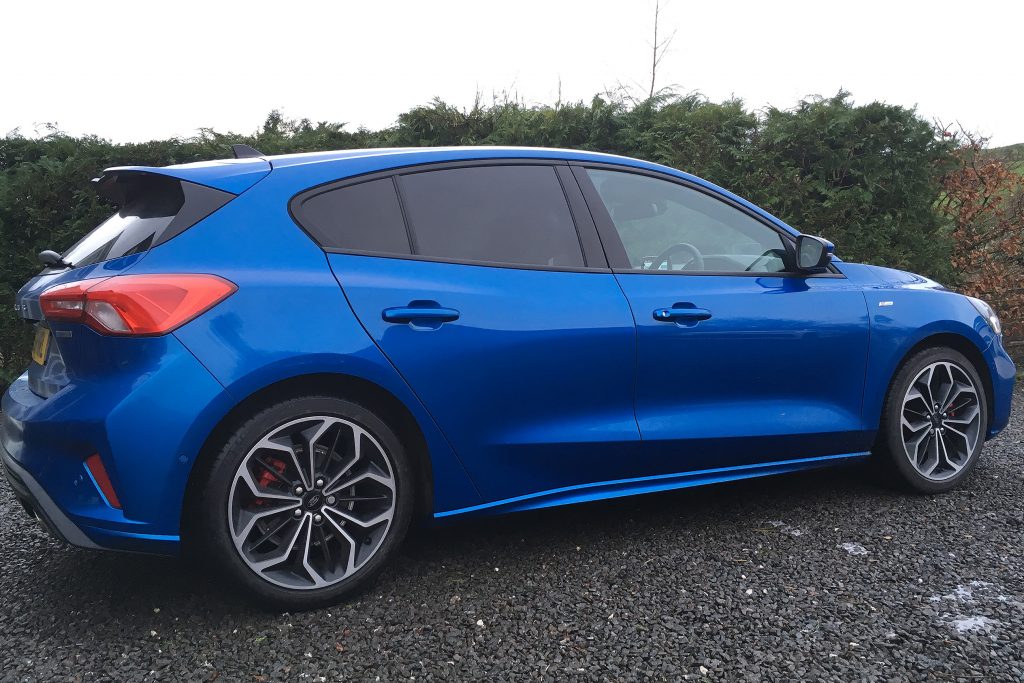 Ride quality in this ST-Line X model is reasonably firm (partly due to the usual larger rims & lower profile tyres), but it's not uncomfortable and the Focus absorbs the bumps and ruts of our pot hole ridden roads pretty well. Handling, steering and grip are great and as good as anything else in the class – if not better. Given a decent stretch of road, you can hustle it along with some proper enthusiasm and the composed chassis just soaks it up. More importantly, it's good fun and not a case of competent but dull! The eight speed auto gearbox is smooth and does a decent job at being in the right gear most of the time but occasionally the engines lack of power/torque can result it in being caught out. Being an XF owner, I liked the Jaguar style rotary gear selector, though I did manage to knock it out of Drive by mistake while crawling in traffic on the M8!
Driven with a bit more zeal, the 1.5 litre diesel engine becomes a wee bit smoother and less clattery, but ultimately it just isn't very refined and feels under powered. It's also not particularly economical either, returning an average of just under 45 mpg while on test. Given that, surely one of the petrol engine options makes more sense? I'd go for the 1.5 litre, 180 bhp Ecoboost please with the six speed manual.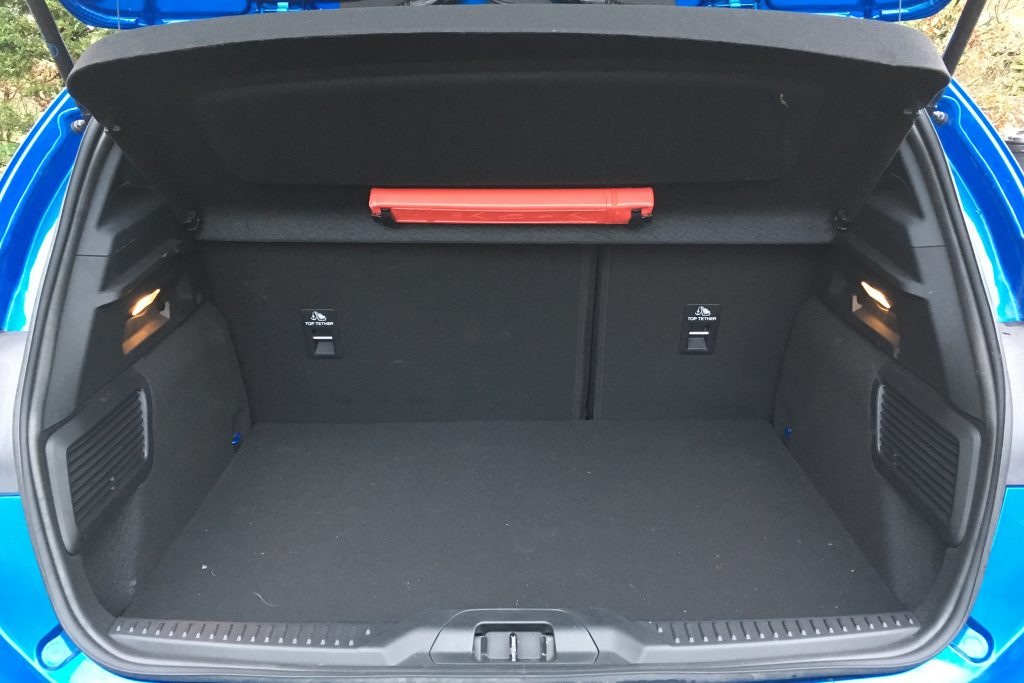 Inside, it's generally all good news. Ergonomics and quality of materials are both a noticeable improvement over the previous generation, with most surfaces feeling satisfactory, if not quite 'premuim'. Passenger room, front and rear, are both good and standard equipment levels are high, but as expected on a press car plenty of options had been fitted.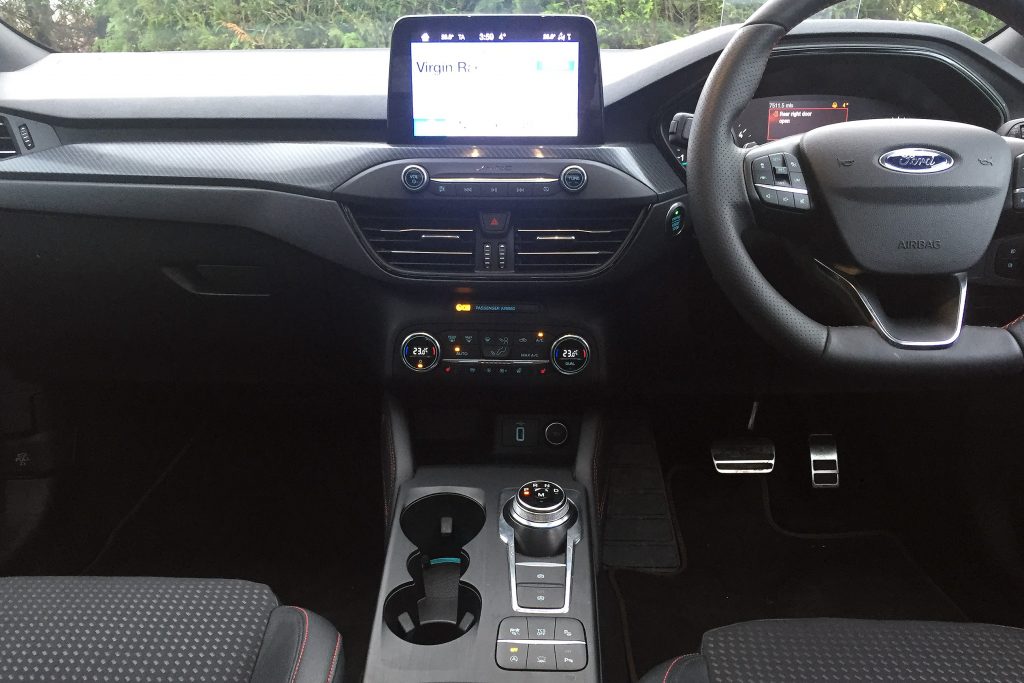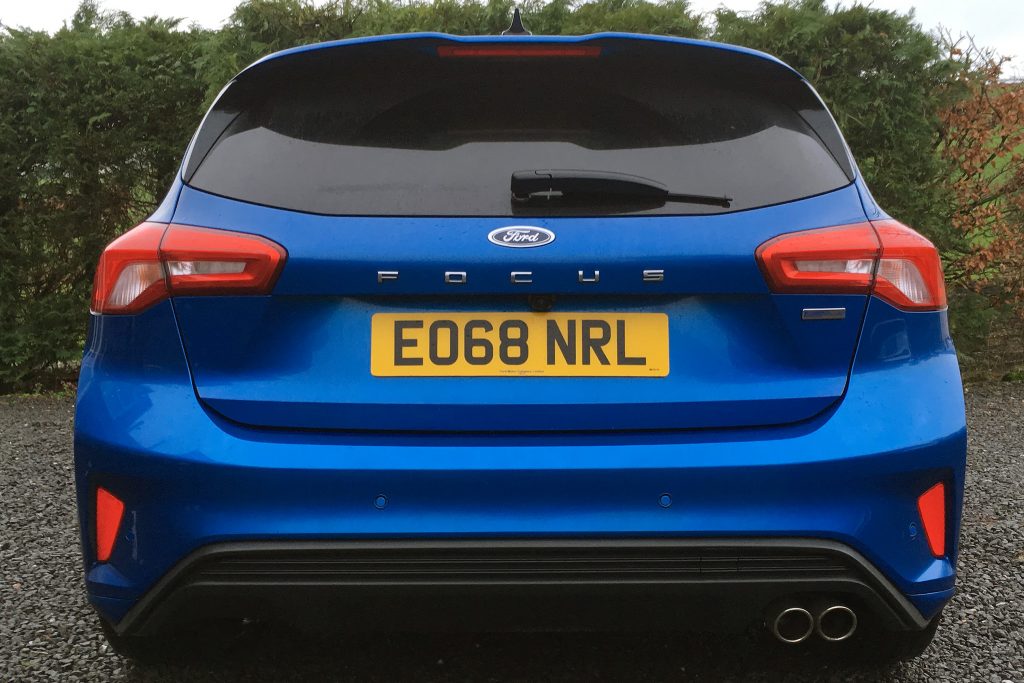 Exclusive colour paint (£700); B&O Audio (£550); Panoramic Roof (£995); Convenience Pack (£500); Head-up Display (£400) and Driver Assistance Pack (£500) all adding towards the £4000 worth of extras! I'm generally not a massive fan of systems like automatic wipers/lights, lane assist etc. but I have to admit the Auto High Beam (part of the Driver Assistance Pack) worked uncannily well, flicking between dipped and main beam perfectly every time. Ford's Sync 3 infotainment system is adequate rather than great, with the touchscreen being a bit cluttered and some simplification of the user interface design would be beneficial – however, that could be said of many rivals also.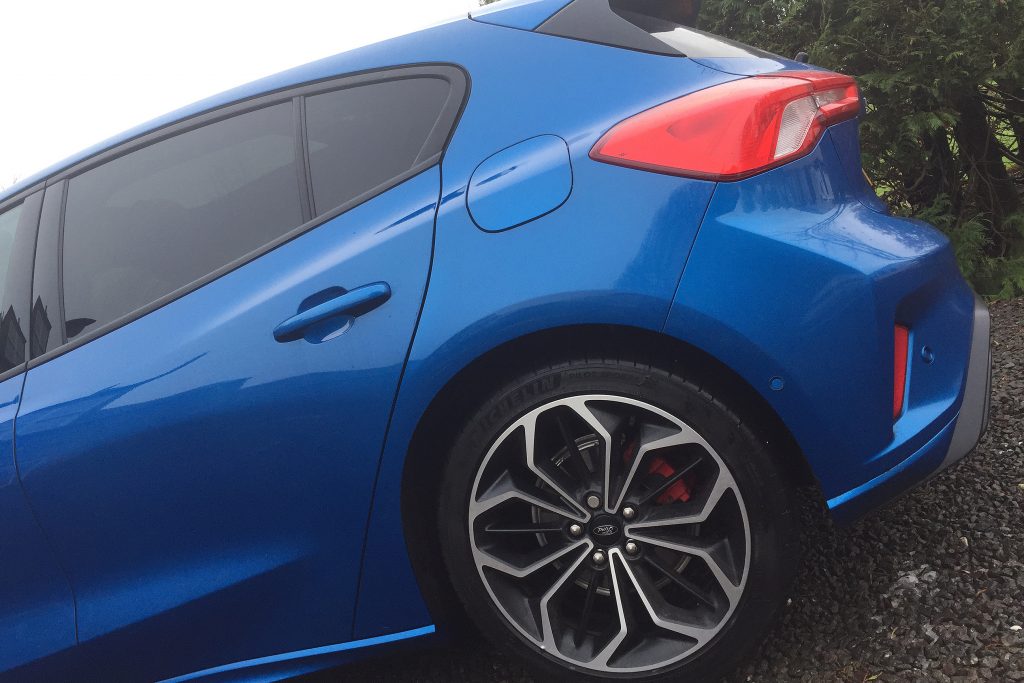 Overall this fourth generation Focus retains the kudos of being one of the best driving cars in class, but this particular variant probably isn't the one to go for. The combination of that engine, mated to an automatic 'box and the relatively high price due to the large number of options (a Golf GTI isn't much more) means there are better alternatives within the Focus range. However, choose a better engine and be careful which boxes you tick, and the you'll have a decent, fun to drive, family hatch.
Ford Focus ST-Line X
PRICE: £26,800 (£31,345 as tested)
ENGINE: 1.5 litre, 4 cylinder turbo diesel, 8 speed automatic
POWER: 118 bhp @ 3600 rpm
TORQUE: 221 lb ft @ 1750-2250 rpm
PERFORMANCE: Top speed 120 mph; 0-62 mph 10.2 secs
CONSUMPTION: 51.4 mpg (combined); 44.5mpg (on test)
CO2: 116 g/km
TT Rating: