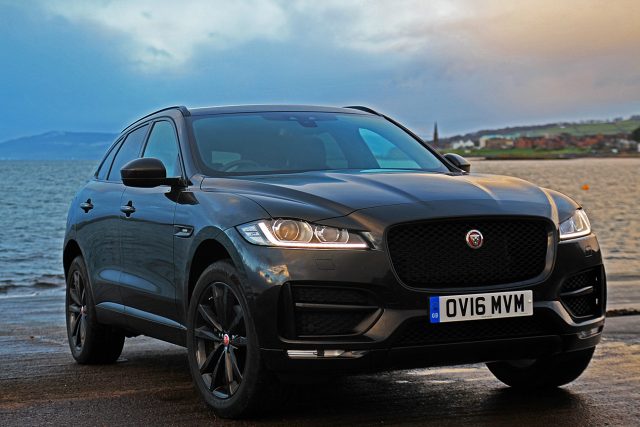 We can be a fickle bunch when it comes to what is considered 'cool'. Scotland's own Harris Tweed is a prime example of this. It's probably fair to say that until recently the traditional hand woven fabric was considered to be more 'Miss Marple' than 'must have'. However, the last few years have seen it undergo a distinct revival, and it is now very much back en vogue.
One of the key factors to this success has been diversification, and the car industry is constantly looking to do the same.
Jaguar is also a brand which has gone through periods of varying image. During the 60's and 70's it was undeniably cool thanks to the success and desirability of the E Type and mk2. Less so in the 80's and 90's when their cars were more often perceived as a bit 'pipe and slippers' – with the exception of Edward Woodward aka The Equalizer of course, in his black XJ6! Quality and financial issues didn't help their cause either. However, the last decade or so has seen Jaguar turn things around in a big way, both with the quality of their products, and the resultant sales. The second generation XK, XF, new XJ, F Type, XE and now the F-Pace – it's an impressive résumé and Jaguar are undoubtedly back on form, possibly the best they've ever been?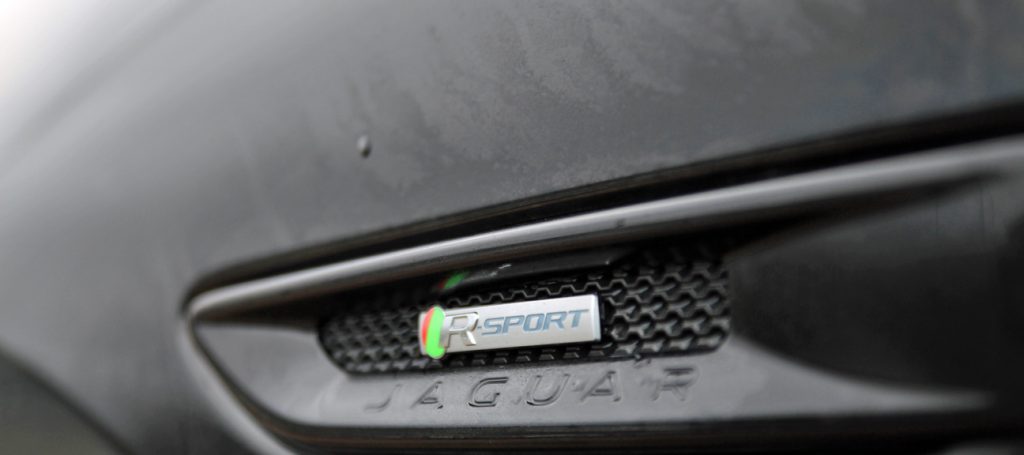 The F-Pace SUV is a departure from Jaguars usual market place but it shouldn't come as a surprise. Back in 2002, Porsche caused a bit of a stir when they launched the Cayenne, enthusiasts up in arms at the thought of one of the most established sports car marques moving to the dark side and making an SUV. Now though, it is accepted that sales from this increasing segment, allows manufacturers to bank roll the stuff folk like us are really interested in. Therefore it's not surprising that others want a share and Bentley, Maserati and Jaguar have all recently joined the bandwagon.
Is there a better looking SUV than the F-Pace? I don't think so (and the Bentayga certainly isn't a contender for that accolade). Ian Callum has produced another cracking design. It's hard not to be impressed by the looks, especially considering the F-Pace's sizable dimensions, yet it still looks distinctively Jaguar. The black on black gangsta spec of the R-Sport spec test car might not be to everyone's taste (I'd give the black wheels a miss) but it's an imposing looking thing and I had nothing but positive comments on its appearance.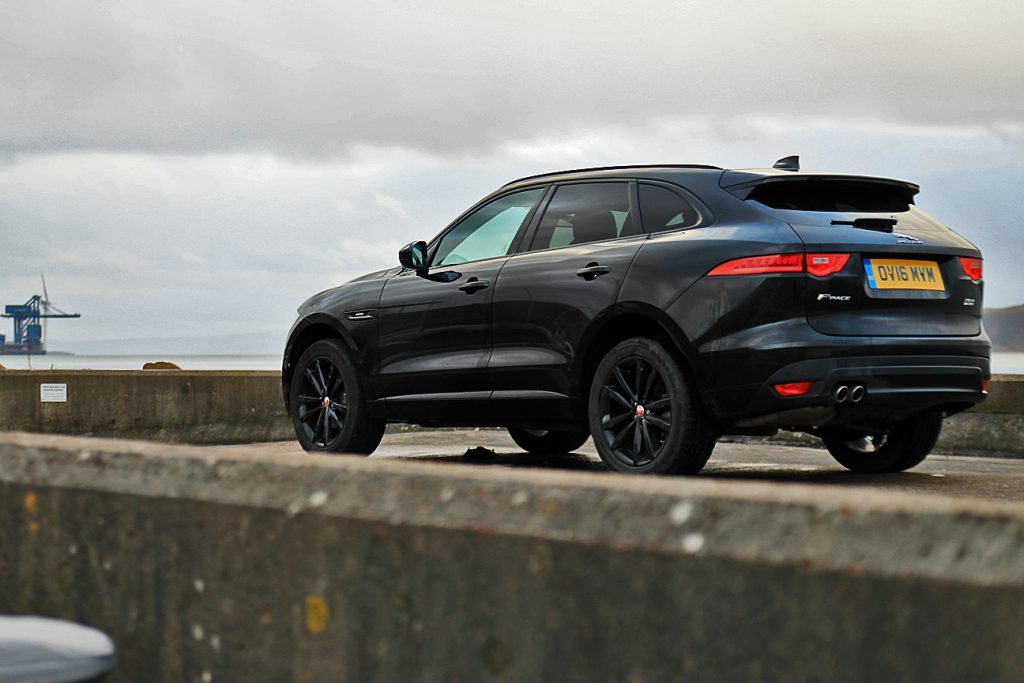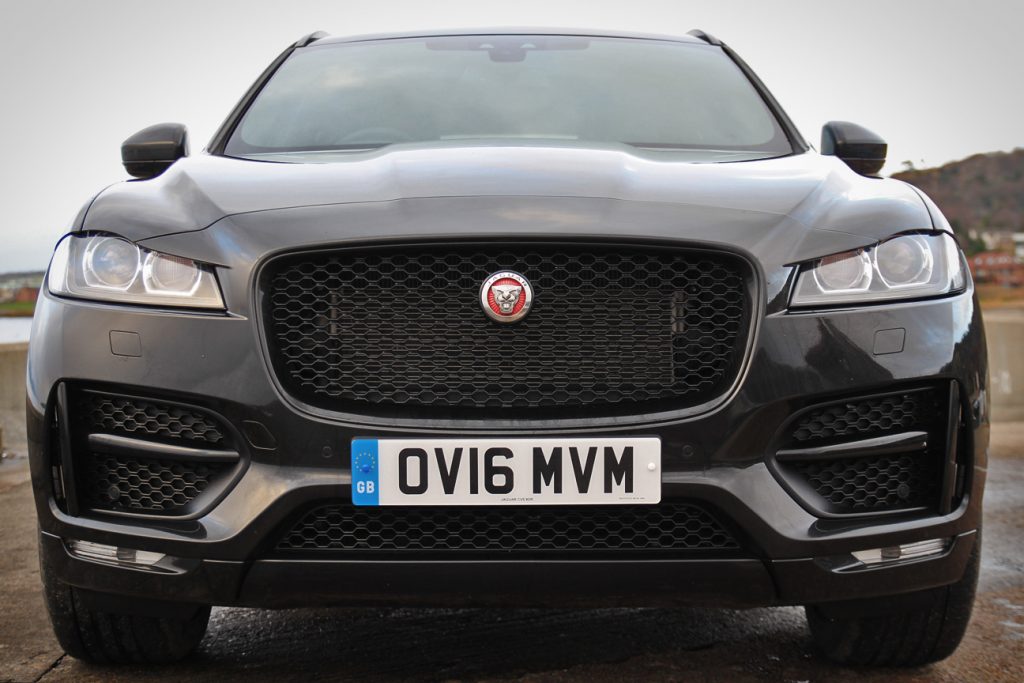 Inside, it's business as usual if you're familiar with the XE or XF, with a lot of shared switchgear and a simple, modern design. The infotainment system works well and is much improved over the previous generation with decent smart phone integration. There are a couple of negatives although. The window switches are placed too high and are awkward to use and some of the materials feel a little cheap and not quite up to expectations of a premium brand. As well as looking good, the interior is also practical, with plenty of interior storage, decent size door pockets, rear USB sockets & power points. The boot is a great size too with lashing points, hidden storage compartments etc. although the rear seats don't fold completely flat and there isn't an option for a third row of seats.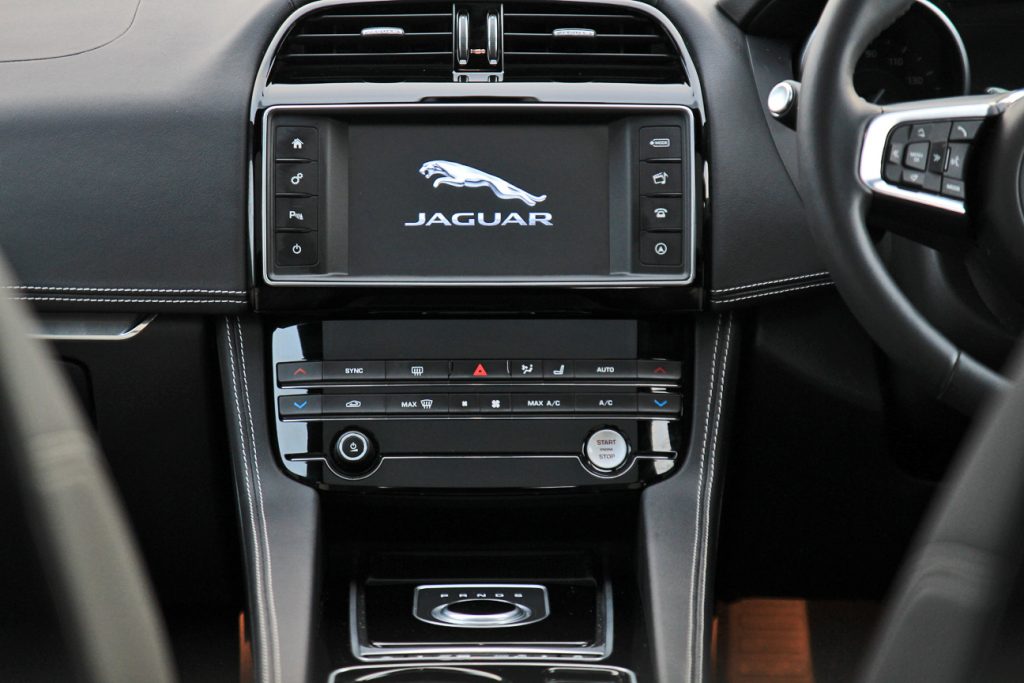 One of the best attributes is the driving position, you sit low and it feels much more like a saloon car rather than a typical lofty 4×4, which makes it feel much more of an involving drive. It's spacious too with a decent amount of room front and rear, despite the sporty lines. The rear seats are a tad firm and overall it's not quite as roomy as the Ford Edge we recently had on test.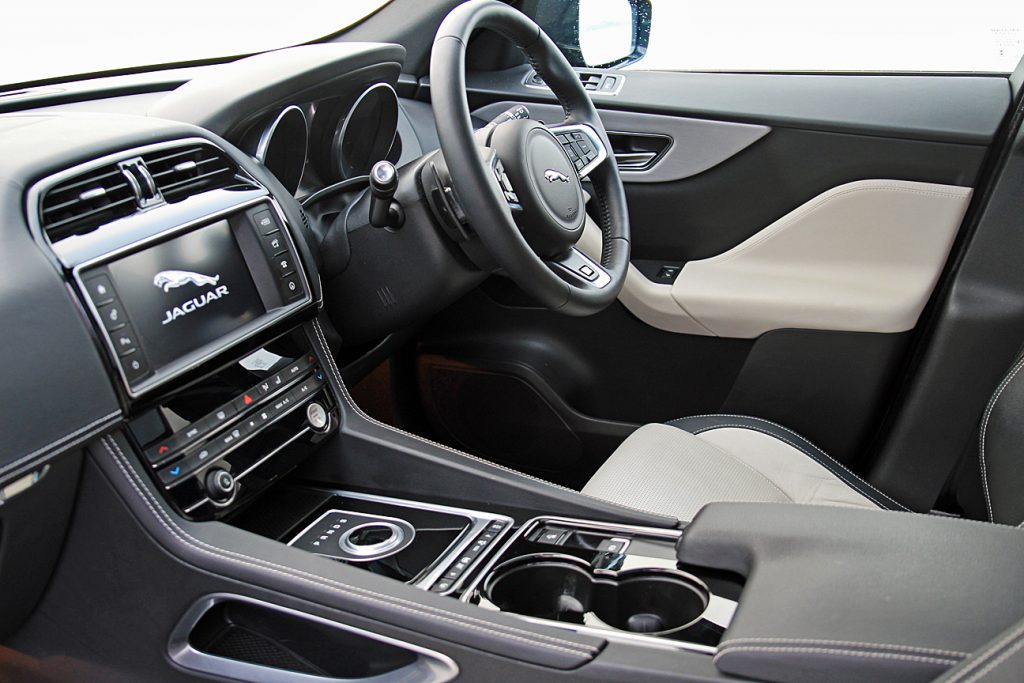 The F-Pace also shares its platform and some suspension components with its siblings, which is no bad thing and it is reflected in how it drives. On a spirted hoon along a twisty B road with Dynamic mode engaged and the gearbox in Sport mode, it was way more fun than a 2.0 litre diesel SUV really should be. I was genuinely surprised as to how fun and effective it was at making progress. It almost felt like a hot hatch on steroids. In short, Jag have nailed the handling. The steering is well weighted, turn in, balance and grip are all excellent and although four wheel drive, power is predominately sent to the rear unless required when it is redirected to front.
There are a few grumbles though. The low speed ride can feel a bit fidgety and not as cossetting as you might expect from a Jaguar. That may be due in part to the optional 20 inch wheels, and it does improve with speed but overall it drives extremely well, especially for an SUV.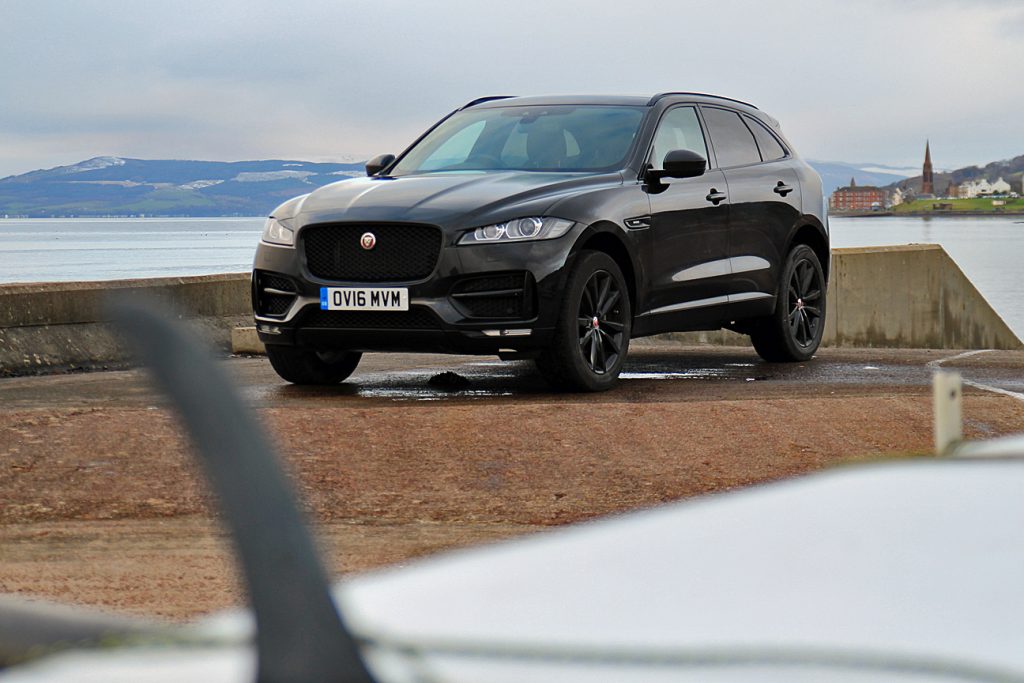 The least successful element of the car is the engine. A two litre, four cylinder, 180 bhp diesel, one of three options, the other two both being three litre V6's (a diesel and a supercharged petrol). While there's nothing inherently wrong with the two litre unit, it just feels lacking and has to be worked harder, and is more intrusive than ideal which seems a bit out of character. One of the larger engines would be much more in keeping with the car, but no doubt the two litre will be the main seller.
There are no issues with the gearbox, which is the ubiquitous ZF eight speed unit. Shifts are fast and smooth, occasionally it gets caught out and has to drop one gear more than you'd expect, but I suspect that is due to the smaller engine's torque and an ECU programmed for economy resulting in some premature upshifts.
General refinement levels were also a wee bit lower than I expected, with more road/tyre noise than an equivalent saloon – this was apparent when I got back into my XF daily (3.0 V6 diesel) which felt noticeably more refined and hushed. That said, I really liked the F-Pace, as well as being practical, and spacious, it looks fantastic, and is great fun to drive, which isn't something you can say about many SUV's. Looks like Jaguar's winning run continues…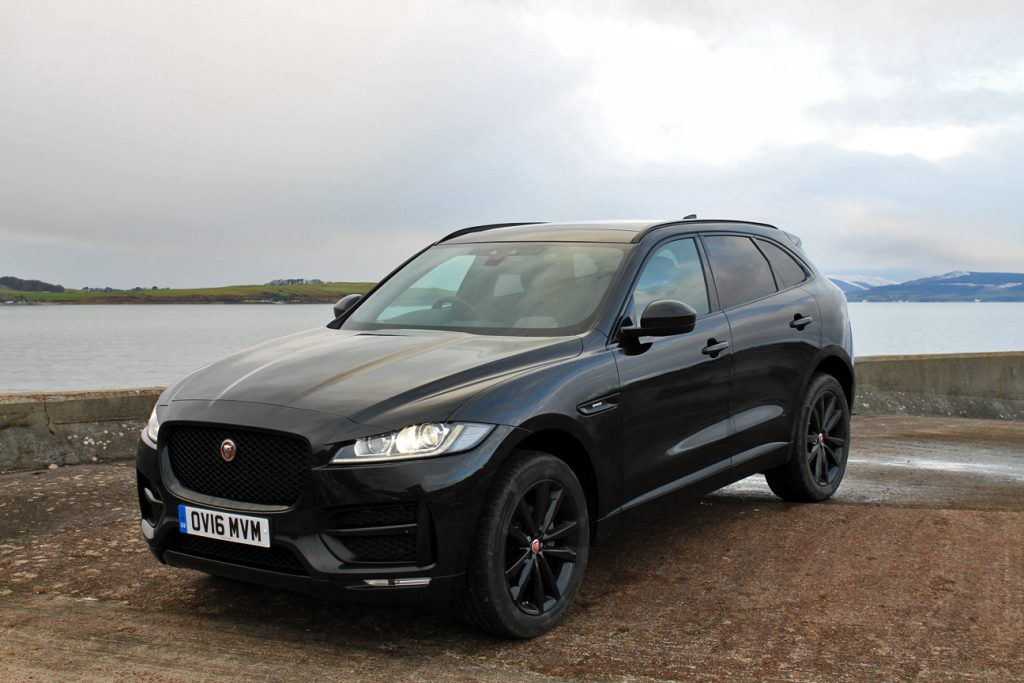 Jaguar F-Pace R-Sport
PRICE: £41,210 (as tested £45,980)
ENGINE: 2.0 litre, 4 cylinder, diesel
POWER: 178 bhp
TORQUE: 318 lb ft
PERFORMANCE: Top speed 129 mph, 0-62 mph 8.2 secs
CONSUMPTION: 53.3 mpg (official combined)
CO2: 139 g/km
TT Rating: