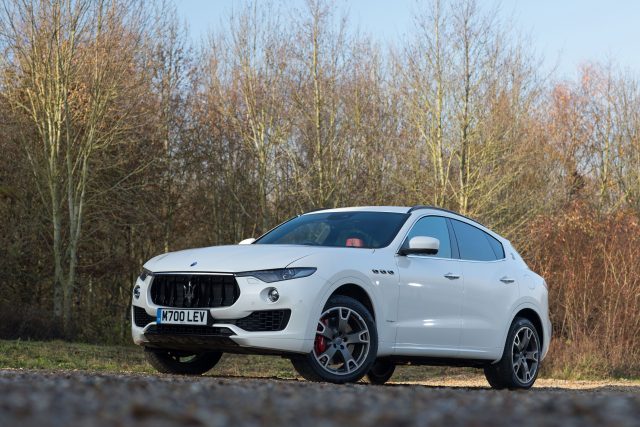 When TT's resident Maserati owner, Lee, couldn't attend a recent test drive event organised by the marque, I was only happy to take one for the team. To be fair, driving the latest models from one of Italy most evocative manufacturers, along the side of Loch Lomond wasn't exactly going to be a hardship. Even better, being the good bloke he is, Lee suggested I take his lovely Maserati 4200 along. Result!
After digging it out of storage, burbling away on a fast tick over while coming up to temperature, the V8 (with a slightly tweaked exhaust) sounded fantastic, and provided the perfect way to arrive. Parked up next to its younger sibling, the Gran Turismo, the 4200 looks compact, and like Wagon Wheels, as if it has shrunk over the years.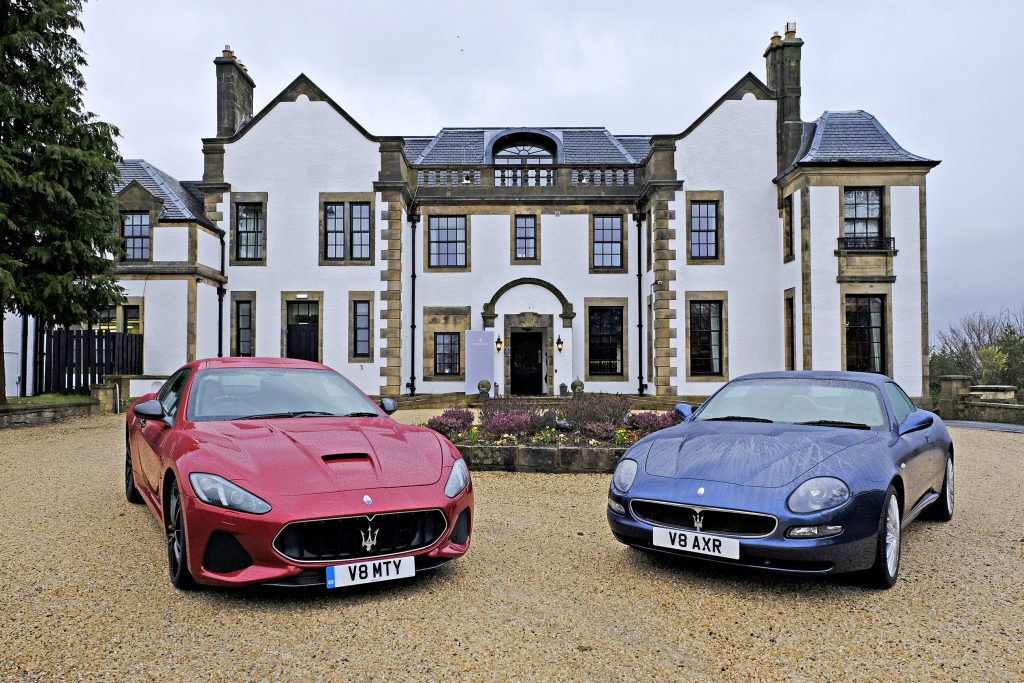 The preceding briefing, highlighted some interesting facts: 100% of production still takes place in Italy, including at the original 1939 factory in Modena; Petrol engines are manufactured a stone's throw away, in Maranello, by Ferrari (that's my kind of outsourcing); And nearly 60% of the luxury car segment comprises of SUV's sales – and that figure is increasing. With that last statistic, like it or not, it's no wonder that so many of the traditional sports/super car manufacturers have jumped on to this increasingly overloaded band wagon. Which now includes Maserati, who have high hopes for their first SUV, the Levante.
The latest part of Maserati's expansion in the luxury car market (increasing their model range to five), is controversial for some as the move takes the company away from their GT roots and into the ubiquitous 4×4 market. Heresy or financial genius, time will tell, but it's worked for Porsche in the past.
When initially launched in the UK, it was only available with diesel power but thankfully the 2018 revisions include the introduction of a Ferrari developed V6 petrol engine, and obviously that's the one we opted to drive (well you would wouldn't you). After deciding on the engine, buyers have the choice of two trim levels – GranSport or GranLusso. These take either a sporty or luxury approach to the design and interior trim respectively, however the drive train and chassis are identical for both specifications.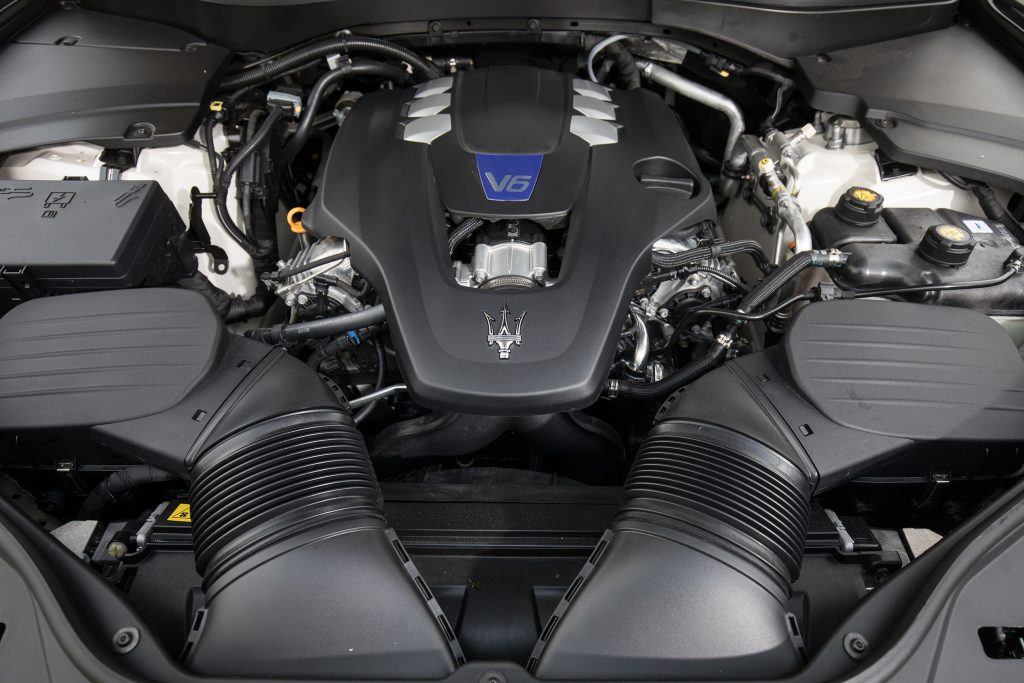 Design wise, there are the obvious family styling cues and overall I think it works reasonably well. Efforts have also been made to boost its sporting credential's (never easy with an SUV) with class leading drag and centre of gravity figures. It has the usual lofty SUV view but also benefits from a nice, low seating position which helps to give it a more driver orientated feel. With the Levante S, Maserati is trying to blend luxury, performance and practicality. Not an easy task but one which it largely achieves. The interior has a luxury air about it with the majority of surfaces and switch gear being high quality (especially the large aluminium paddles for the eight speed ZF gearbox). All of which contributes to a feeling of exclusivity helping separate it from more mainstream rivals. Infotainment has also been improved for the 2018 model year and the dash has a clean, uncluttered design.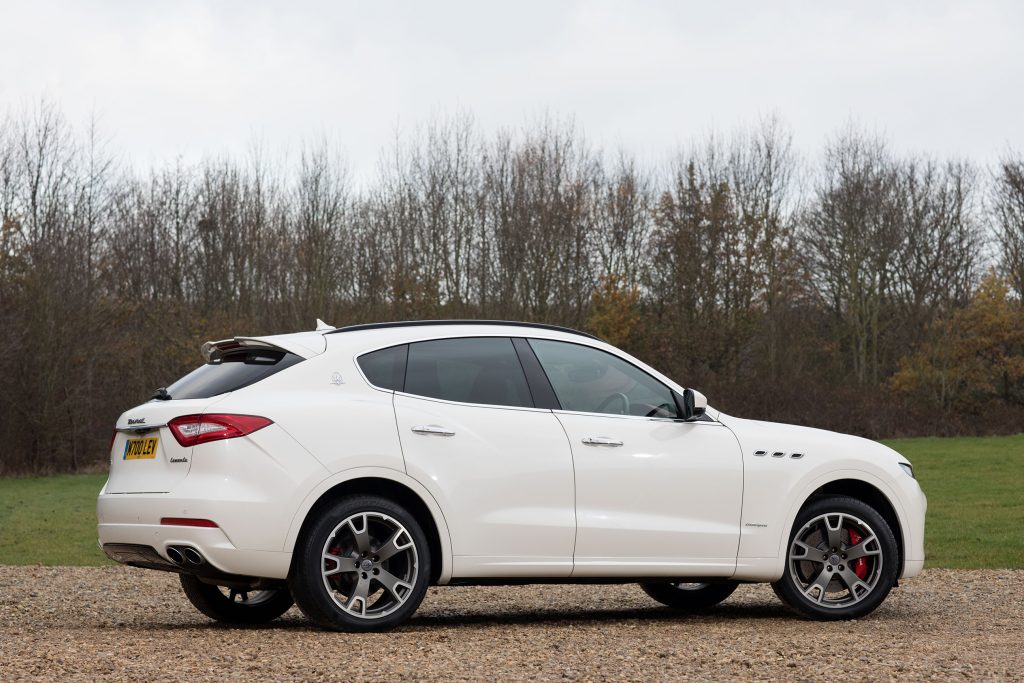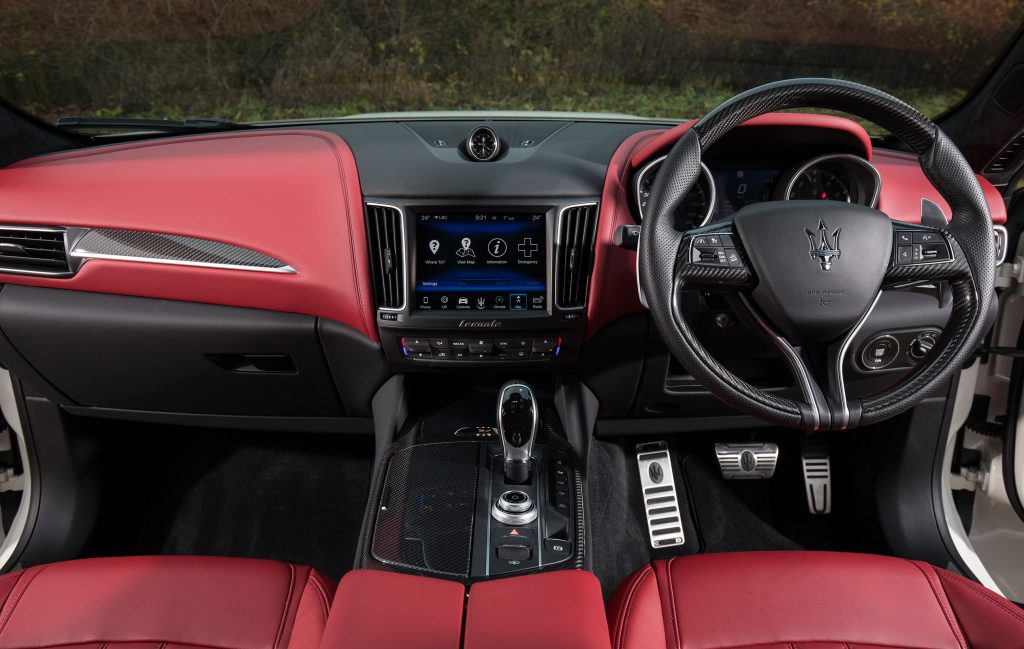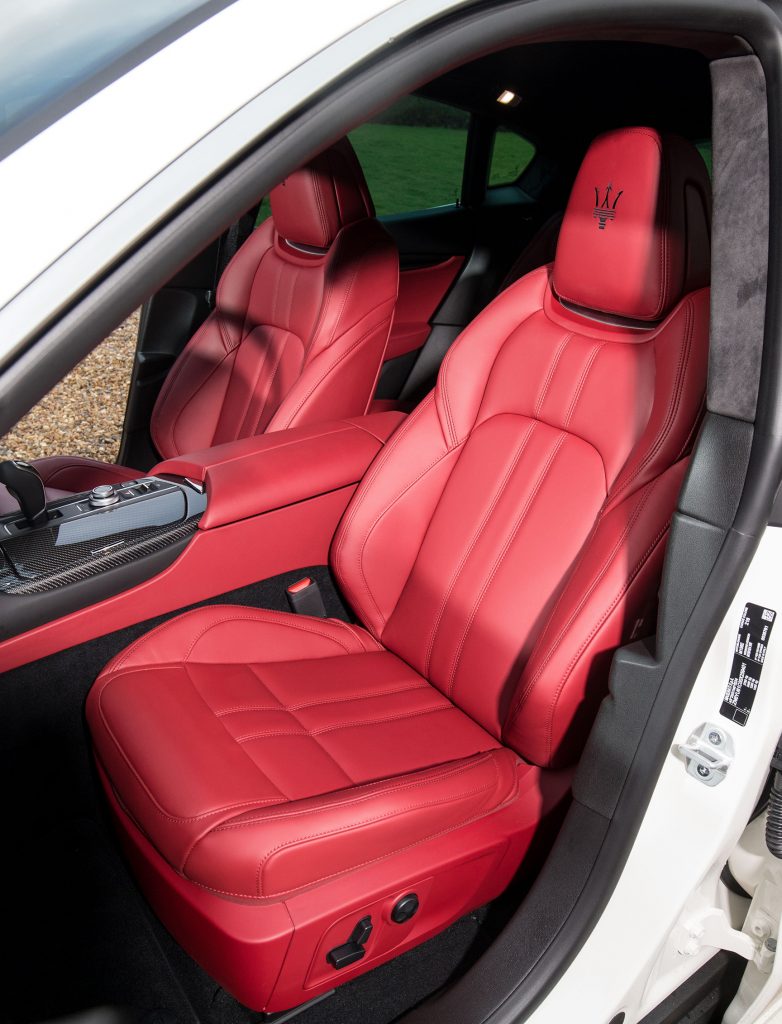 Standard air suspension combined with switchable drive modes also help the Levante S fulfil multiple roles, with it noticeably taking on a more performance orientated edge when in sport mode. The 8 speed automatic gearbox isn't as quick to shift as a dual clutch but it's smooth and responsive. Handling is sure footed and competent if not thrilling. It can effortlessly cover ground as quickly as you'd want in the real world (in petrol engine guise at least), whilst maintaining a decent level of comfort. Opting for petrol instead diesel inevitably pushes up both the purchase and running costs, but it is much more in keeping with the Maserati image, and delivers a significant performance increase. Figures for the 3.0 litre twin turbo V6 are 430 bhp, 0-62 in 5.2 seconds and 164 mph flat out. As expected with an engine from Ferrari, it sounds the part too (especially when in Sport mode).
Given the target market, it's reasonable to expect that the trickiest off road challenge the average owner will face is a muddy car park at the local equestrian event or some overly aggressive speed bumps. As such I expected the 'off-road' section of the road test to be pretty tame. However armed with height adjustable air suspension, adaptive dampers, permanent four wheel drive, torque vectoring and a limited slip differential – the Levante S proved to be much more competent off road than expected.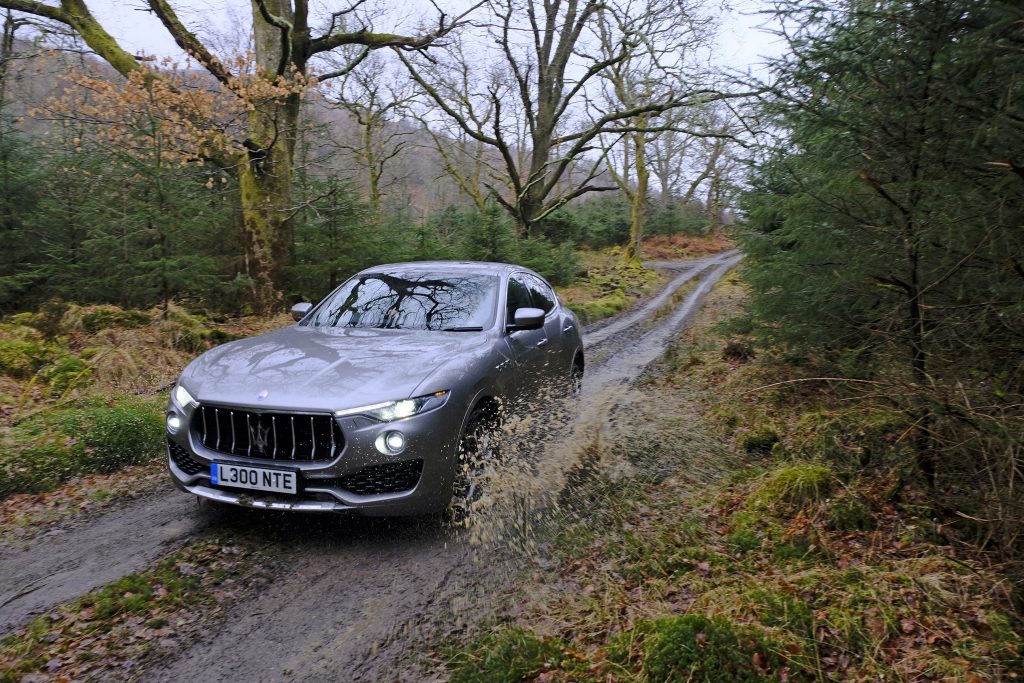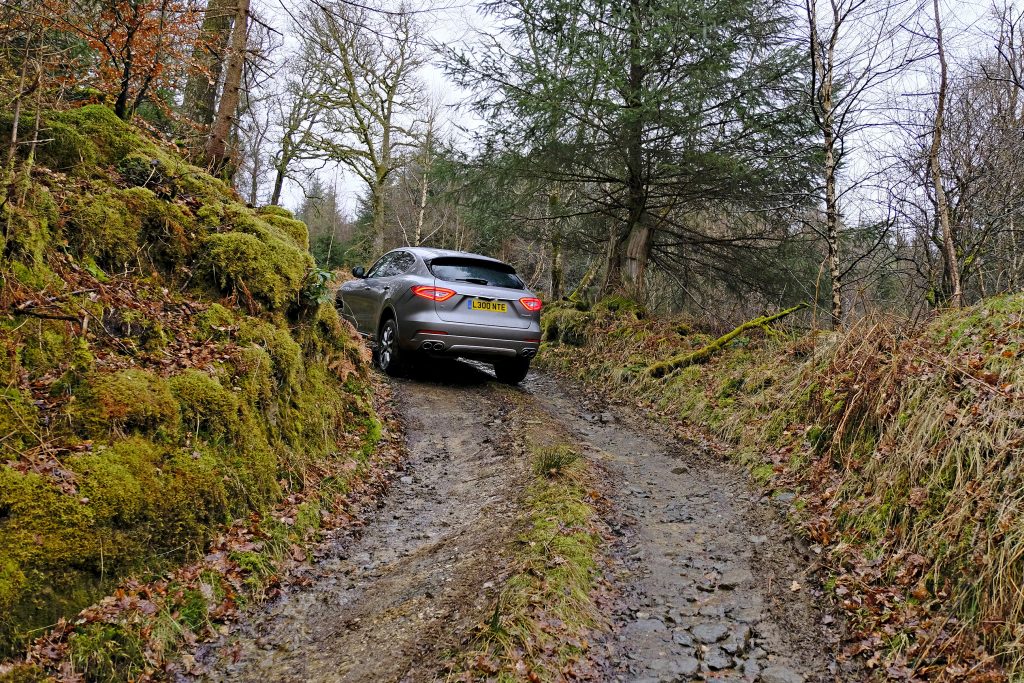 The test forest track was steep, muddy, badly rutted (more so than it looks on these photos), with some not insubstantial rocks dotted along it for good measure, and it was all no problem for the Maserati. Sure, the route wouldn't have exactly challenged a Defender, but the way in which the Levante S just dealt with it was notable. Likewise when we were heading back down, it's variant of a hill descent control worked well and kept the car under control at all times. Despite me wincing more than once in anticipation of hearing the noise of metal meeting rock, it was completely drama free. Impressive stuff. Buyers will be able to sleep easy knowing they can attend the gymkhana without worry.
Overall the Levante S does a decent job at covering the luxury, performance and practicality bases, all with a dose of style. Some competitors might be cheaper or faster but the addition of the petrol engine and exclusivity that comes with the Maserati brand help to make a strong package.
Maserati Levante S GranSport
PRICE: £76,995 (£91,839 tested)
ENGINE: 3.0 litre, 6 cylinder petrol, twin turbo, 8 speed automatic
POWER: 430 bhp
TORQUE: 580 Nm
PERFORMANCE: 0-62 5.2 seconds, top speed 164 mph
CONSUMPTION: 25.9 mpg (combined)
CO2: 253 g/km
TT Rating: