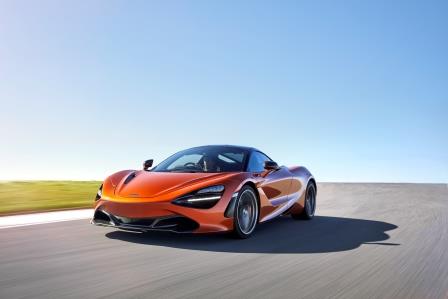 Let's get straight to the important bits…

Technical specification
Engine configuration M840T engine, 4.0-litre twin-turbo V8, 3,994cc
Drivetrain layout Longitudinal mid-engined, RWD
Power PS (bhp/kW @ rpm 720 (710/537) @ 7,500
Torque Nm (lbs ft) @ rpm 770 (568) @ 5,500
Transmission 7 Speed SSG
Suspension Independent adaptive dampers, dual wishbones, Proactive Chassis Control II (PCC II)
Brakes Carbon Ceramic Discs (F: 390mm R: 380mm)
Wheels (inches) Front: 9J x 19; Rear: 11J x 19
Tyres F: 245/35/R19 93Y (XL); R: 305/30/R20 103Y (XL)
Length, mm (inches) 4,543 (179)
Wheelbase, mm (inches) 2,670 (105)
Height, mm (inches) 1,196 (47)
Width, with mirrors, mm (inches) 2,161 (85)
Width, mirrors folded, mm (inches) 2,059 (81)
Width, without mirrors, mm (inches) 1,930 (76)
Lightest dry weight, kg (lbs) 1,283 (2,828.5)
DIN Kerb weight, kg (lbs) [fluids + 90% fuel] 1,419 (3,128)
Luggage capacity Front: 150l; Rear: 210l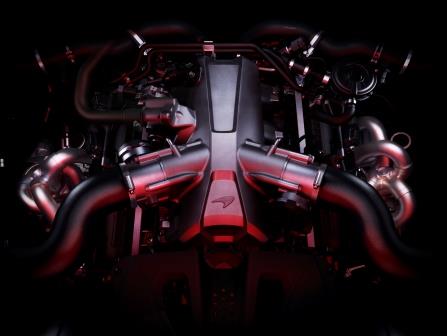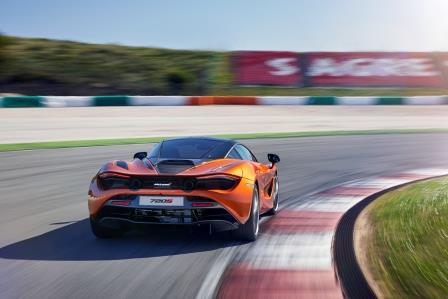 Performance data*
ACCELERATION
0 -60mph 2.8 seconds
0-100 km/h (0-62mph) 2.9 seconds
0-200 km/h (0-124mph) 7.8 seconds
0-300 km/h (0-186mph) 21.4 seconds
0-400 m / ¼ mile 10.3 seconds
Maximum Speed 341km/h (212 mph)
200 – 0 km/h (124mph – 0) braking 4.6 seconds/117 m
100 – 0 km/h (62mph – 0) braking 2.8 seconds/29.7 m
EFFICIENCY
CO2 emissions [NEDC] 249 g/km
Fuel consumption – EU mpg (l/100km)
Combined
Urban
Extra urban
10.7 l /100km
15.8 l /100km
7.9 l /100km
* All figures subject to confirmation. MPG (UK/US) not yet available.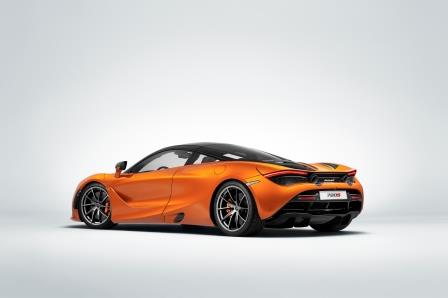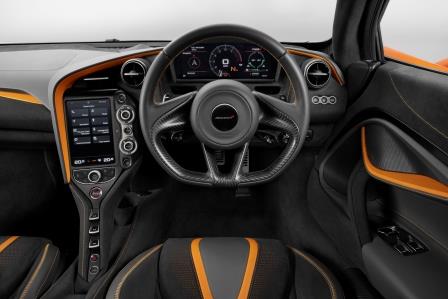 The new McLaren 720S had made its global debut today (March 7) at the 87th Geneva International Motor Show, introducing the second-generation of McLaren's Super Series and simultaneously raising previously accepted limits of performance in the supercar sector.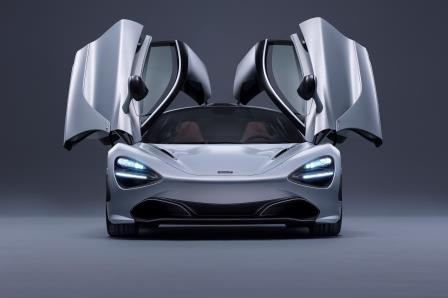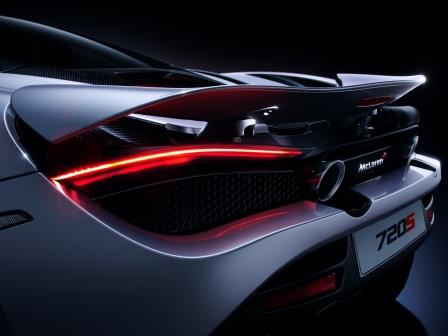 McLaren have issued a series of six press releases since January, each accompanied by an image or film containing a numerical reference – and it can now be revealed that 1 x 2 x 3 x 4 x 5 x 6 equals 720…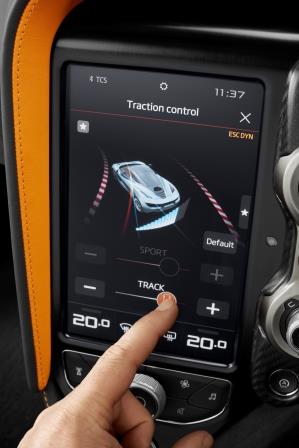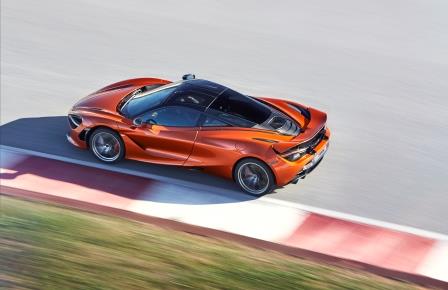 The new 720S is lighter, faster and even more dynamically capable than its McLaren 650S predecessor, with an increase in interior space. Sophistication and a breadth and depth of abilities that will engage and exhilarate the driver. One glance at the 720S identifies it as a bold reinterpretation of McLaren's design language; rooted in aerodynamic principles, the beautiful form has nothing superfluous about it. The key points in the design of the new Super Series is the absence of radiator intakes on the side of the car; this function is carried out instead by the unique 'double-skin' aerodynamic form of the dihedral doors, which channel air to the high-temperature radiators that cool the mid-mounted engine.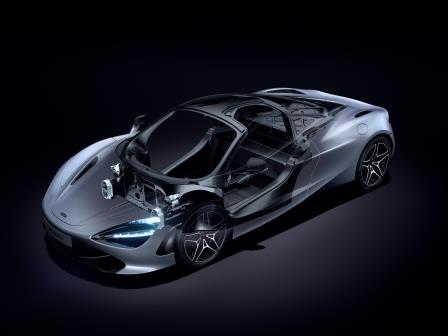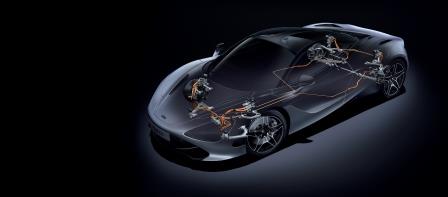 The new M480T engine powering the 720S continues the lineage of McLaren's twin-turbocharged V8 engine series. The 4.0-litre engine, which has 41 percent new part content compared to the 3.8-litre engine that continues to feature in the McLaren Sports Series, generates a maximum of 720PS and 770Nm of torque.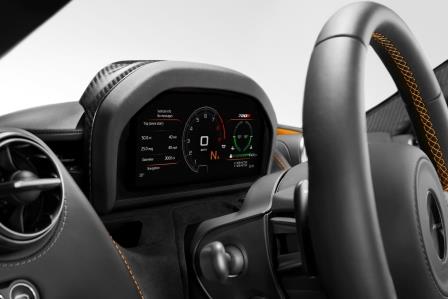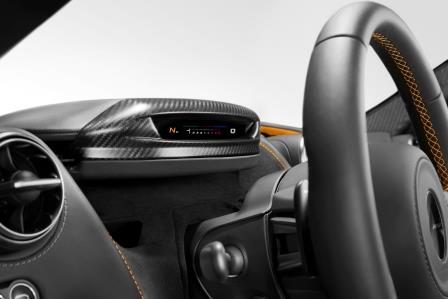 Three grades of specification are offered, with Performance and Luxury trims extending above the standard level, all complemented by a range of option packs.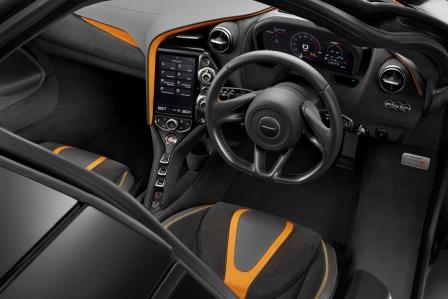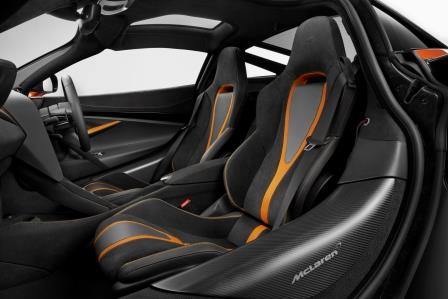 So what's the bottom line here, how much? Well they start from from £208,600.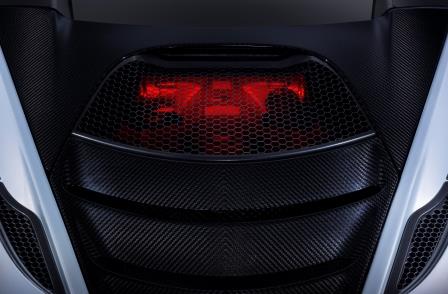 Deal or no deal?
Comments
comments