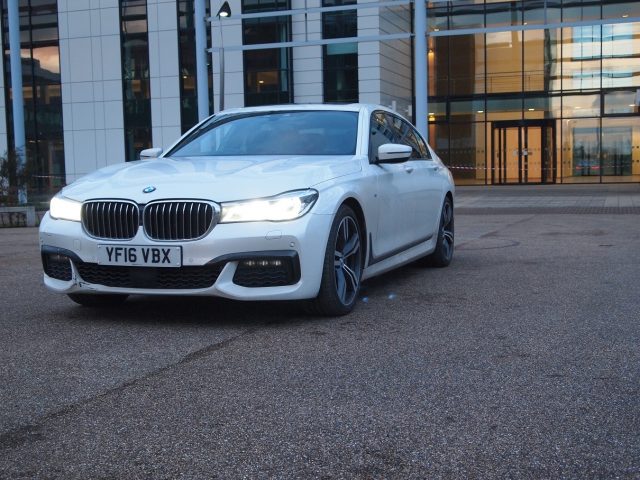 Why have cotton when you can have silk? Why have steel when you can have carbon core?
When you're shopping at the very top end of the luxury saloon market then you expect the best of everything from construction materials to leather quality and technology, and for this sixth generation BMW 7 Series everything has been cranked up a notch to try and compete with the ubiquitous Mercedes S Class. Have they managed it?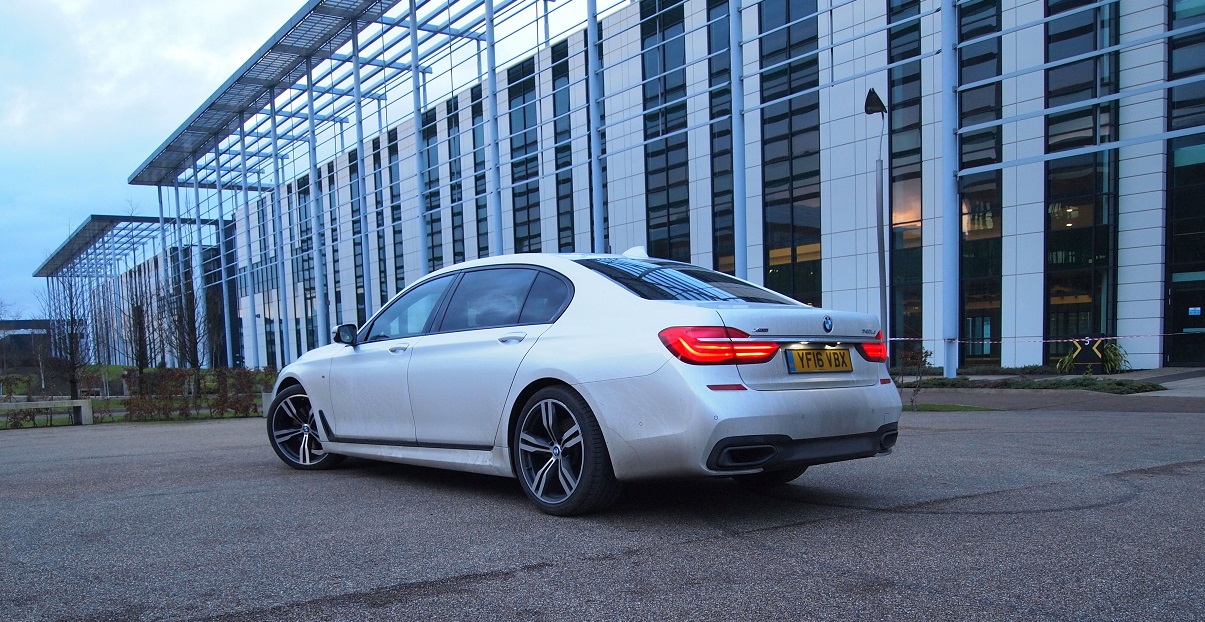 BMW has always been the driver's choice and so in trying to compete with Mercedes they're trying to balance driver enjoyment with making the rear passengers feel like they are cocooned in luxury – no easy task.
The car we had on test was probably the pick of the range but one that you'll see least of because of the £79k ticket price (£104k with options, the 740Ld xDrive M Sport. This means that the cars has the 3.0d engine, but in the quicker state of tune, it's a long wheelbase, four wheel drive and it has some choice M Sport parts.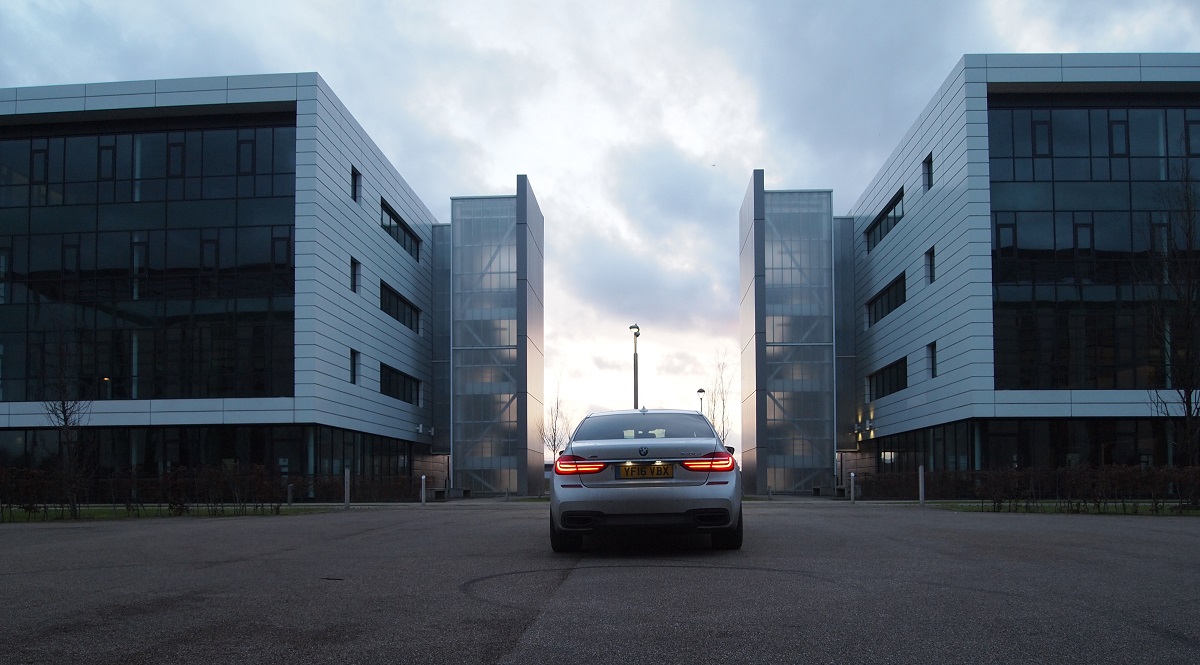 At 5.2m long the 740Ld is an imposing vehicle up close and more than fills a standard sized supermarket car park space.  Move slightly further back and it falls foul of the same design problem adopted by Mercedes and Audi – all their cars look very alike. For most non car people the 7 Series will be mistaken for a 5 Series and this seems a real shame to me.  To compound this, the test car here was in Mineral White which seems a better choice for a fleet car 5 Series than a near top of the range 7. Never mind because although the design might not stand out, I think the current BMW design is very crisp and definitely a step up on the current Mercedes 'melted' look.
Step inside the 740Ld, either front of back, and you know right away that you're not in a lesser BMW.  Options well ticked mean we have Black Exclusive Nappa leather, Fineline Black wood, high gloss w/ Metal effect interior trim, Sunblinds for side and rear windows, heated (inc steering wheel and arm rests) and massaging everything, Sky Lounge panoramic glass sunroof, TV Screens and a tablet to control them and  Anthracite Alcantara headlining. It's a VERY nice place to be and for those of us not used to frequenting exclusive country clubs, a step up from pretty much anything that you are used to.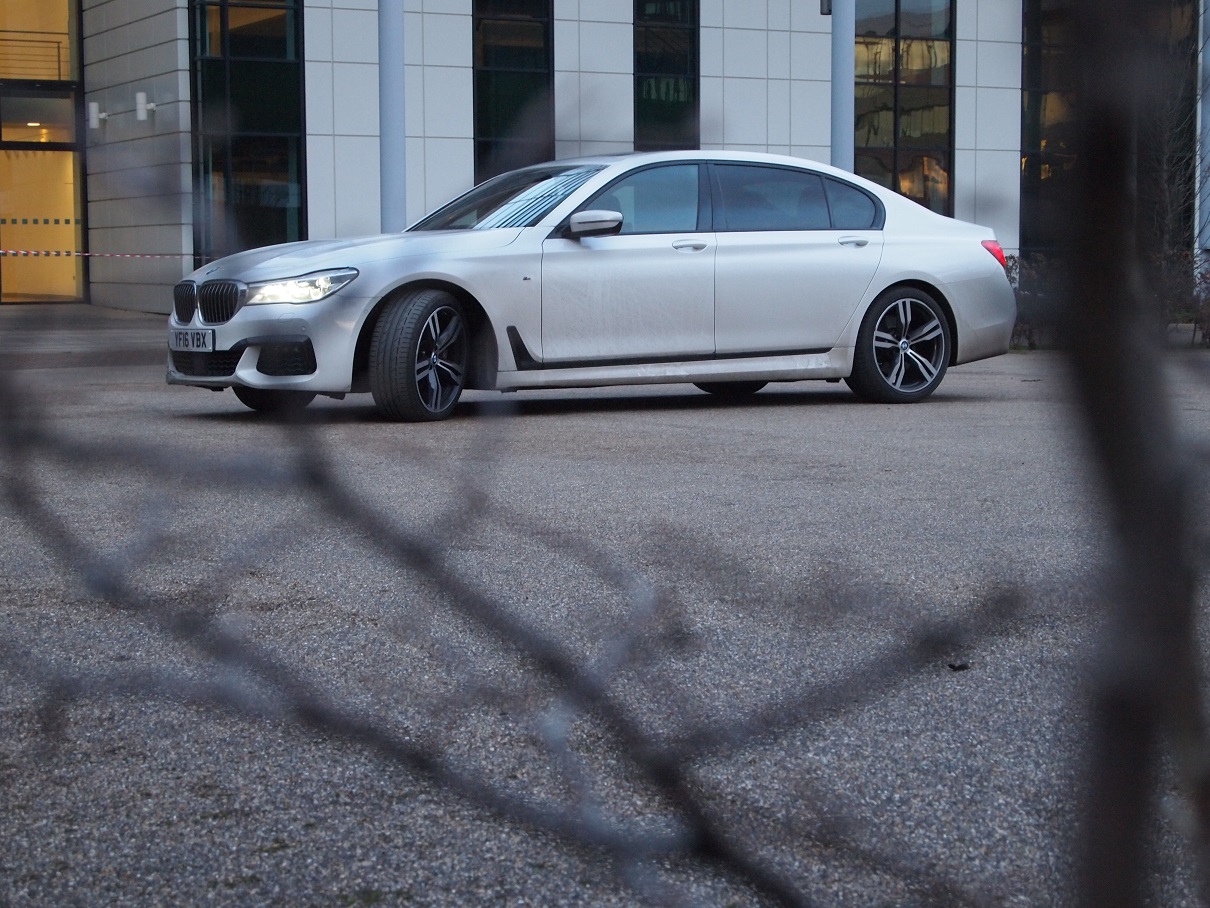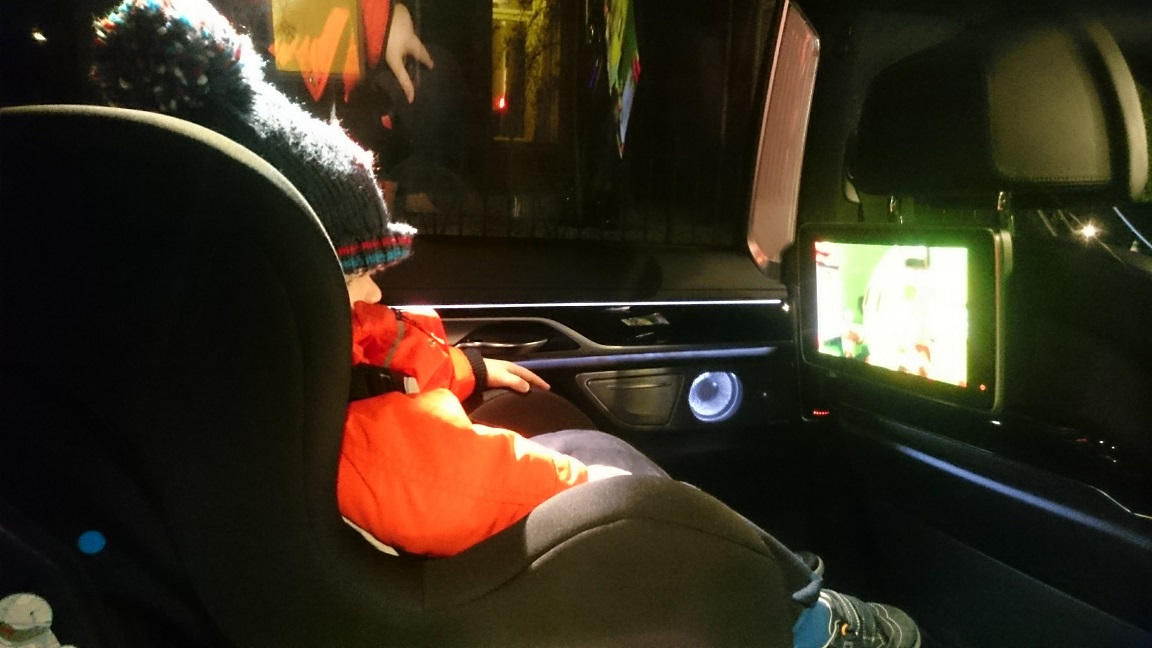 The only thing that I immediately noticed that the car was missing inside was the proper smell of expensive leather. BMWs of old have it and Rolls Royce and Bentley still have it. Is this a sign that BMW aren't really using the best of materials or have they deliberately removed the smell in the manufacturing process?
Spending a full week with the car and going for a few longs runs means that I had time to try out plenty of the toys, including the £3,700 Bowers & Wilkins Diamond surround sound system. The B&W system sounded excellent, as you would expect, and is a real step up from your normal car stereo or even the '10 speaker' upgrades you get in many cars these days. That said, for that amount of money you'd get a much, much better sounding home stereo and I do wonder how much you appreciate these top end systems. Only a long term test of one will answer that question!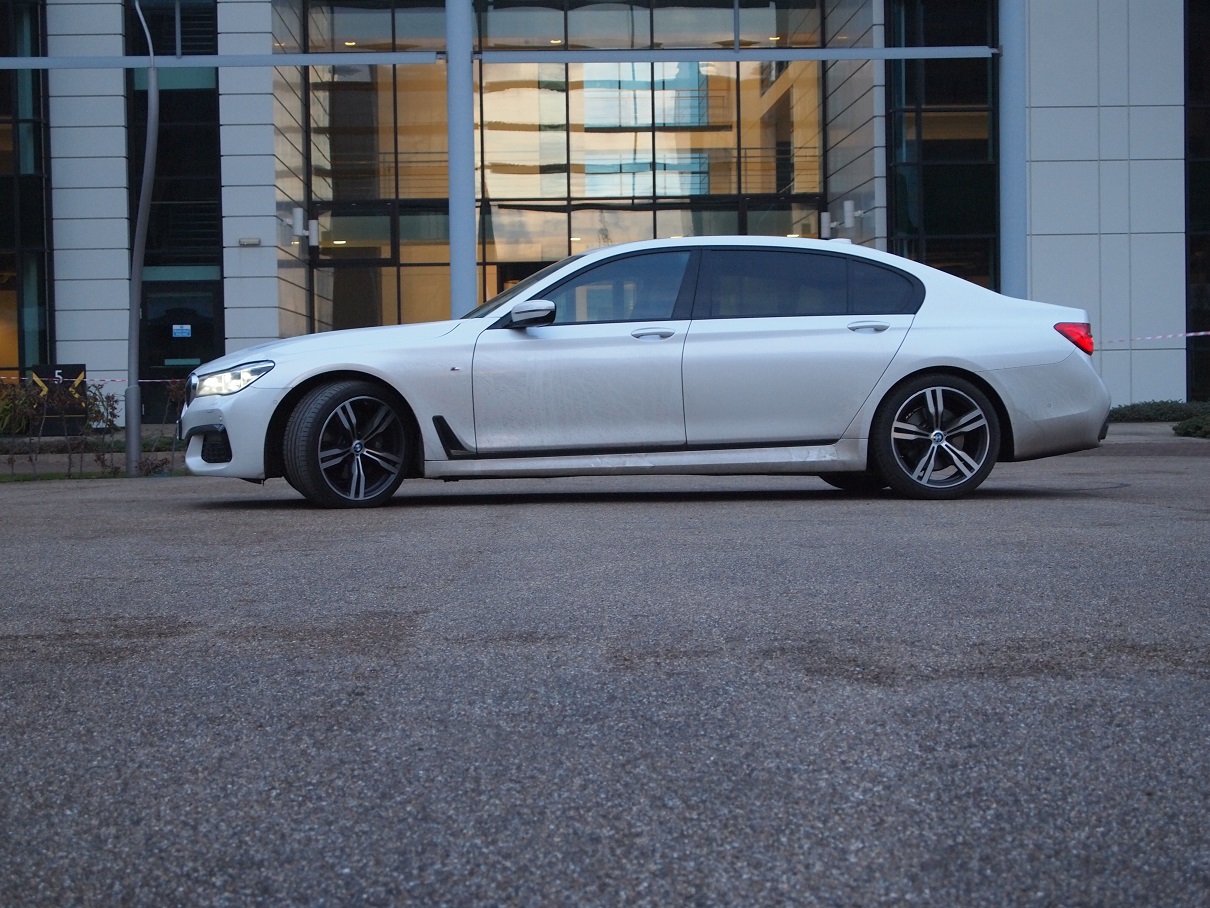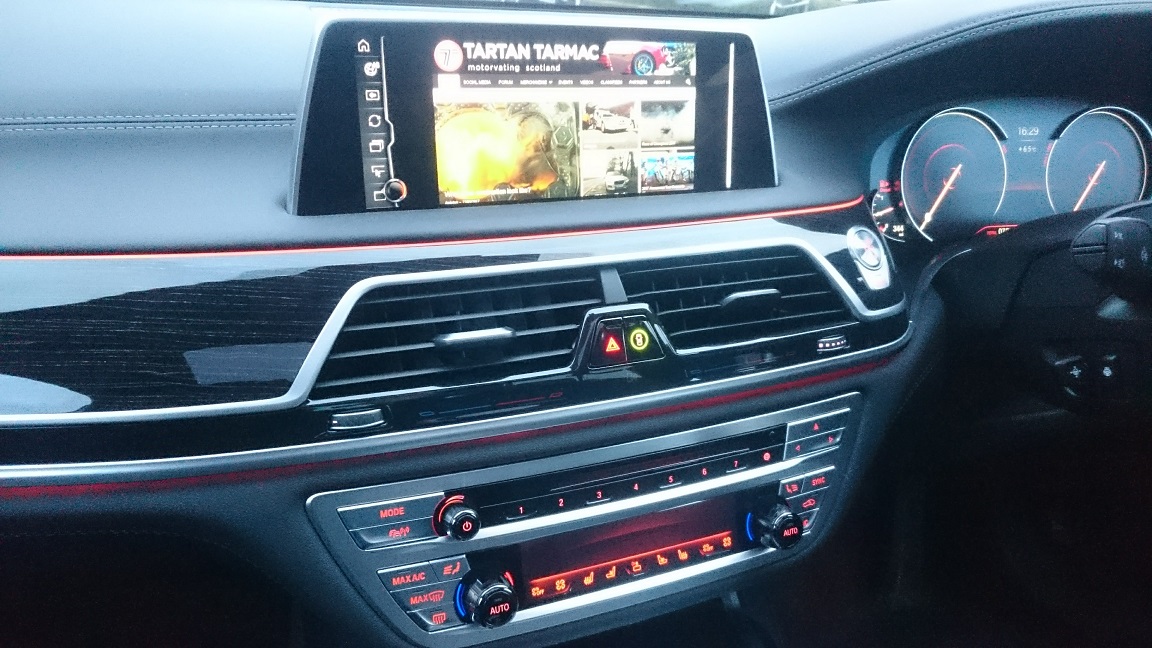 Sitting in the rear with the seat reclined, massage function on, watching a movie while wearing the included Bluetooth headphones, I can't think of a better way to travel long distances while not at the wheel.  Yes there are even more luxurious rear seats available like in the Rolls Royce or a LWB Range Rover but these come at a considerable premium to even this 7 Series. With all the rear blinds closed I don't think you'd ever need more that what's on offer here.
Jump behind the wheel I really wanted to find out whether the 740Ld was still a drivers car or whether you were better off staying in the back. Right away you can't really hide the size or weight and even with 'Carbon Core' saving a reported 125Kg in weight it's still not a sports car – and nor should it be. The big 7 Series is happiest when cruising on the motorway or on a flowing A road where power/torque (315bhp/502lb ft), comfort and high speed stability are more important than steering feel and dynamics. That's not to say that you can hustle the 740Ld through some twisty sections of road, just that it's not a hugely satisfying thing to do.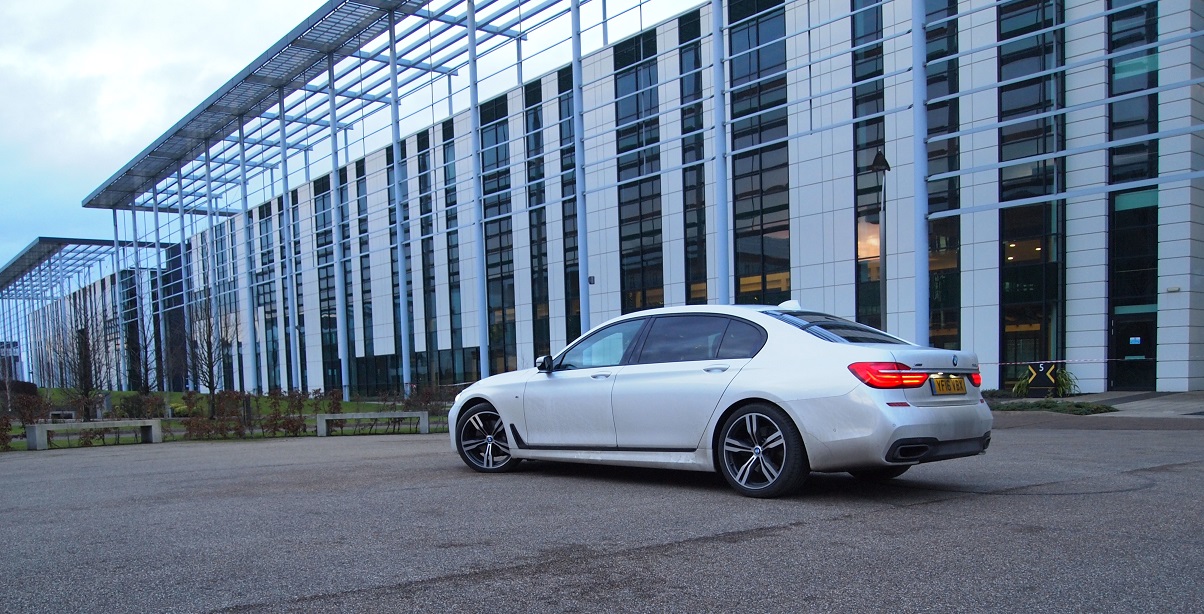 One extra worth mentioning on it's own (there are so many that you'd get bored if I described them all) is the £2,400 worth of BMW Laserlights. These are without doubt the best headlights I've ever tried in a car and make driving at night a much more relaxing experience. The price makes them almost unjustifiable but if you get them as part of a deal then they are a massive bonus.
As mentioned, with a week of driving the car I wanted to get to grips with all the technology and this didn't prove easy. One thing that Tesla seem to have got right with their massive central tablet is that all the car's controls are located there and there's no hunting around for buttons. This is very much not the case with the BMW and as a result there were a few options that I never noticed until more than half way through the loan – the heated steering wheel control being one of the more obvious ones.
This car had the optional Gesture Control but the only one I ever used, and showed off to all passengers I had in the car, was turning up and down the stereo volume by twirling my hand in front of the controls. I did actually find this quite good but I still have no idea what other options there were or if they are any use! Another option that I only found on my last day with the car was Deezer subscription which seemed hidden below the countless options in the menu system. Honestly, this car either needs to go through a major simplification process for menus and options or you need taken through all of the toys on offer. It's not that things are hard to use (especially when compared to the terrible system in the current Mercedes models), it's just that you are unlikely to find them when you just jump in the car and drive to where you want to go.
Getting back to the question of whether you'd choose the BMW over the Mercedes and it's still not a clear answer. For drivers, even without testing the equivalent LWB S Class, the 7 Series is around 200Kg lighter and this will be massively noticeable. The BMW is newer and has more advanced technologies on offer with their tablet and rear screen configuration so for many it will come down to whether you want opulence with the Merc or the futuristic BMW. As an overall package I'd say the BMW pips the Mercedes.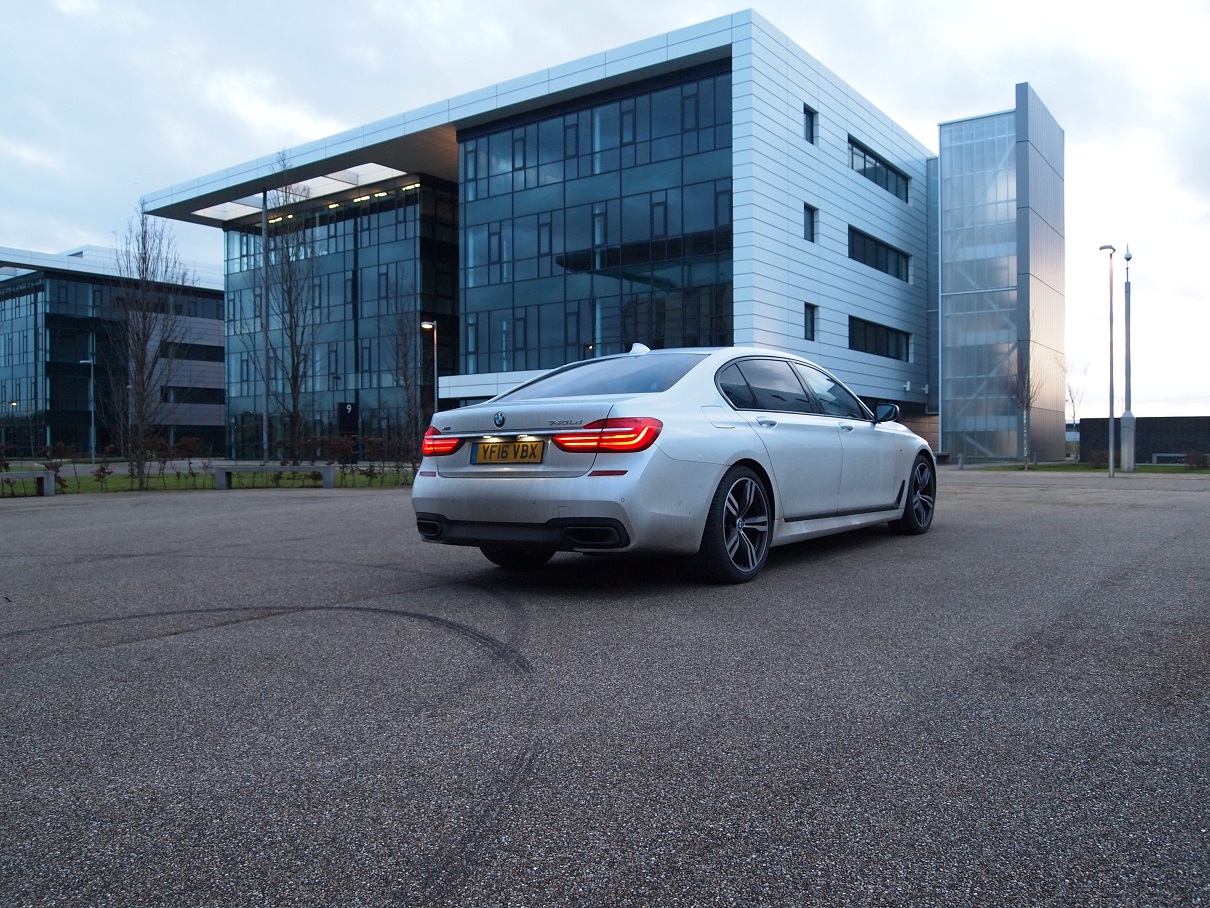 PRICE: £79,100 (as tested £104,030)
ENGINE: 3.0 l twin-scroll turbocharged I6 Diesel
POWER: 315bhp
TORQUE: 502lb ft
PERFORMANCE: Top speed 155 mph (limited), 0-62 mph 5.3 secs
CONSUMPTION: 52.3 mpg (official combined)
CO2: 142 g/km
TT Rating:

Comments
comments