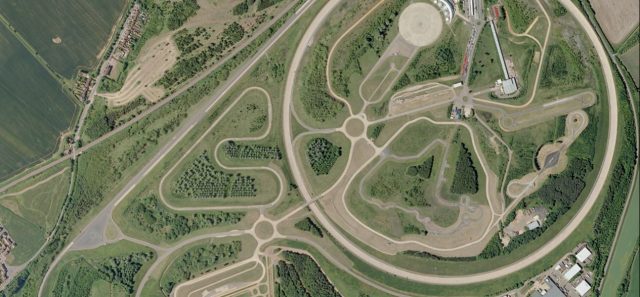 Here's some numbers for you – In 2016 there were 38 million vehicles on UK roads, over 85% of those were cars, 2.5 million new registrations and 8 million second hand sales. It seems we are a nation of car lovers. A few weeks back we took a trip down to the Millbrook Proving Ground to join the Society of Motor Manufacturers and Traders (SMMT) test day to check out this years new models and future second hand bargain buys. As the new kids on the block, Colin & I were given the opportunity to blether on about the day so here's my bird's eye view. You can read Colin's thoughts on the day by clicking here.
But with over 150 vehicles available, how to choose what to test?
With a damp start to the day an open top made perfect sense! First up, something a little bit different – a rare opportunity to have a leisurely drive in a cherished Series 1, part of Land Rovers heritage fleet. I could almost have stopped there and then, as anyone that knows me knows of my big weak spot for Series and Defenders. What it lacked in creature comforts – no seat belts, no door handles, a fold down windscreen, and a bag for a glove compartment – it made up for that with tonnes of personality and history. Yes my foot slipped over the flat clutch every gear change, but the torquey engine really didn't need its gears changed much anyway. I could almost have just driven off and pootled (very slowly) the 350 miles home … except for the small matter of Roger the owner who was sitting beside me.
But with the sun starting to put in an appearance, there were other soft tops to try. Both the Audi TT RS and the R8 V10 Spyder held the road brilliantly and the R8 V10 gave that satisfying giggle factor from the noise of that v10 reverberating along Millbrook's hill circuit. Both cars were capable and easy to drive in either auto or with flappy paddles. You could make your choice based on your bank balance (and how much you love the sound of a V10 behind you – for me, ALOT!) – £62k for the TT or around £140k for the R8.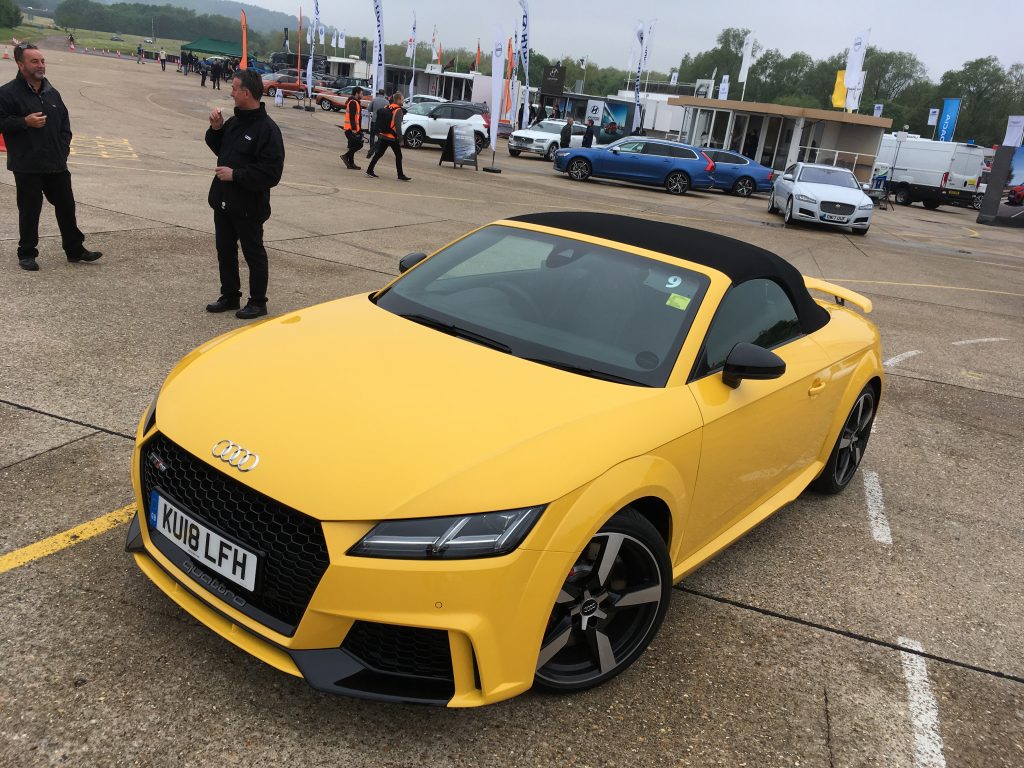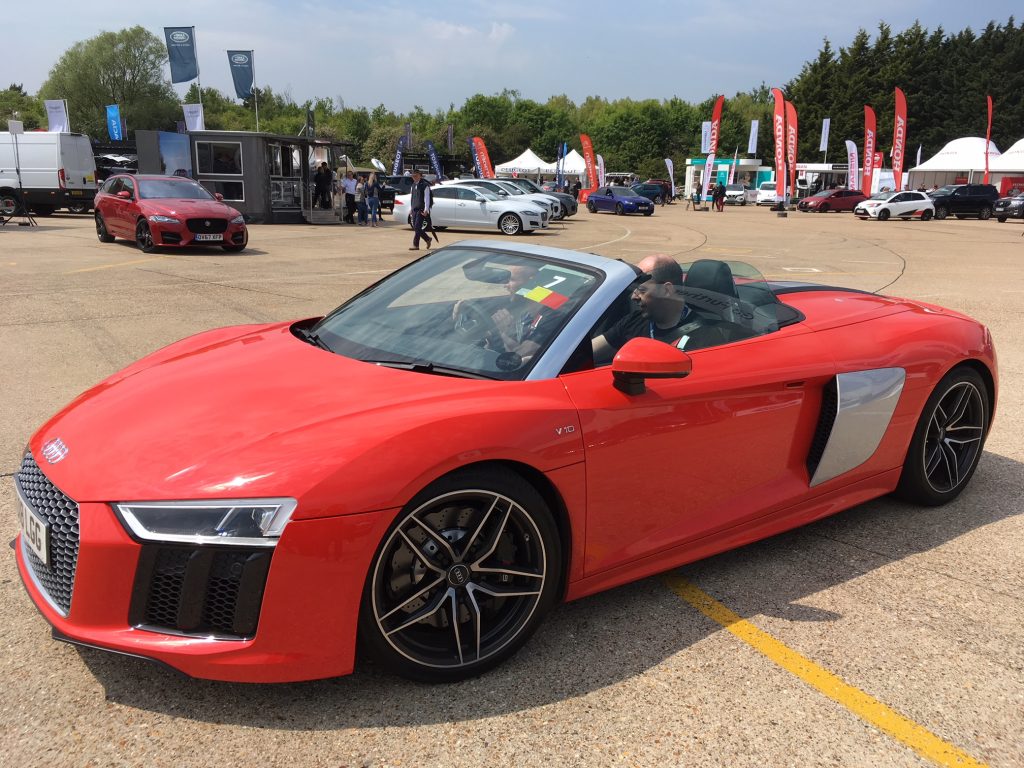 Next up a CLS 450 as I wait for a fast blatt in the Mercedes AMG GT-R. The engineering behind the CLS 450 is impressive, seamlessly moving from petrol to electric when in eco mode (which wasn't that often but it did have to be tested!) and for a big comfortable executive car not bad on the twisties. But this was just the aperitif before the main meal – the AMG GT-R with its amazing soundtrack. Somewhat disappointingly not a car I could ever own and drive in anger as the combination of the bucket seats and being a wee bit vertically challenged (ie small) meant I couldn't quite get close enough to the peddles to be comfortable. At least that would save me £100k and I'd just have to settle for the AMG GT S instead!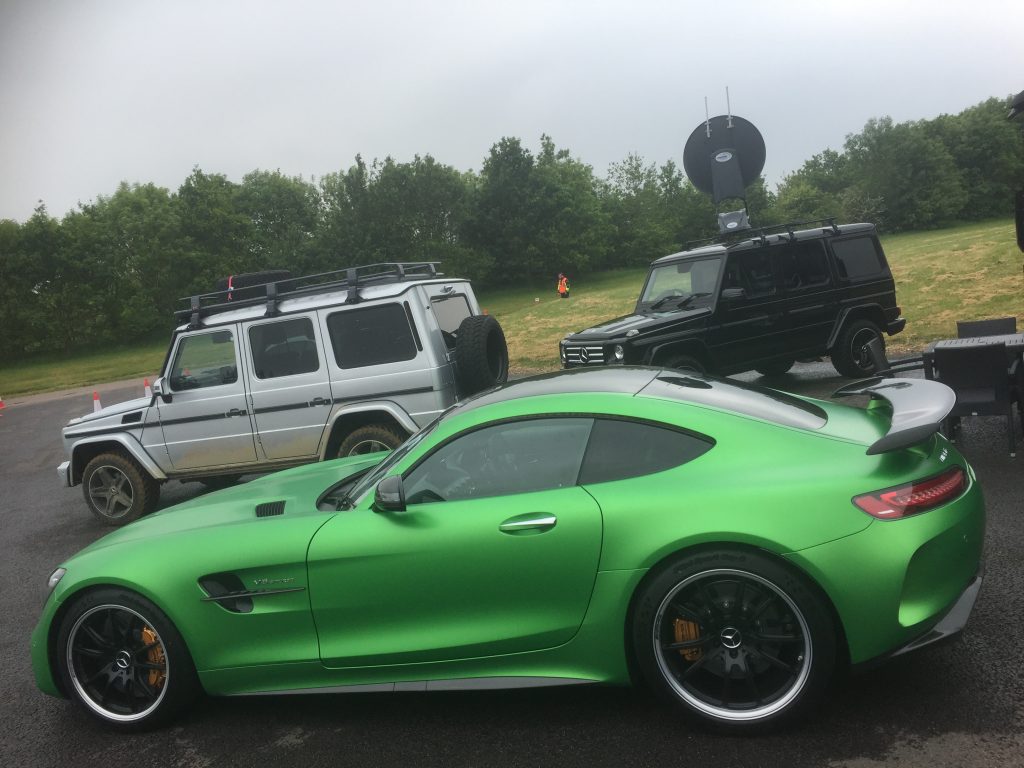 But enough of the dreams of sports cars, time to get a bit more real with the budget. The £16k 1.0 litre GTi Up! was fun on the twisties and way more spacious inside than its outside proportions suggested. But I didn't get a proper chance to test it out, as despite Olie's call not to bend anything, a puncture part way round the course meant it was abandoned by the side of the road, so I moved on to the Hyundai i30N.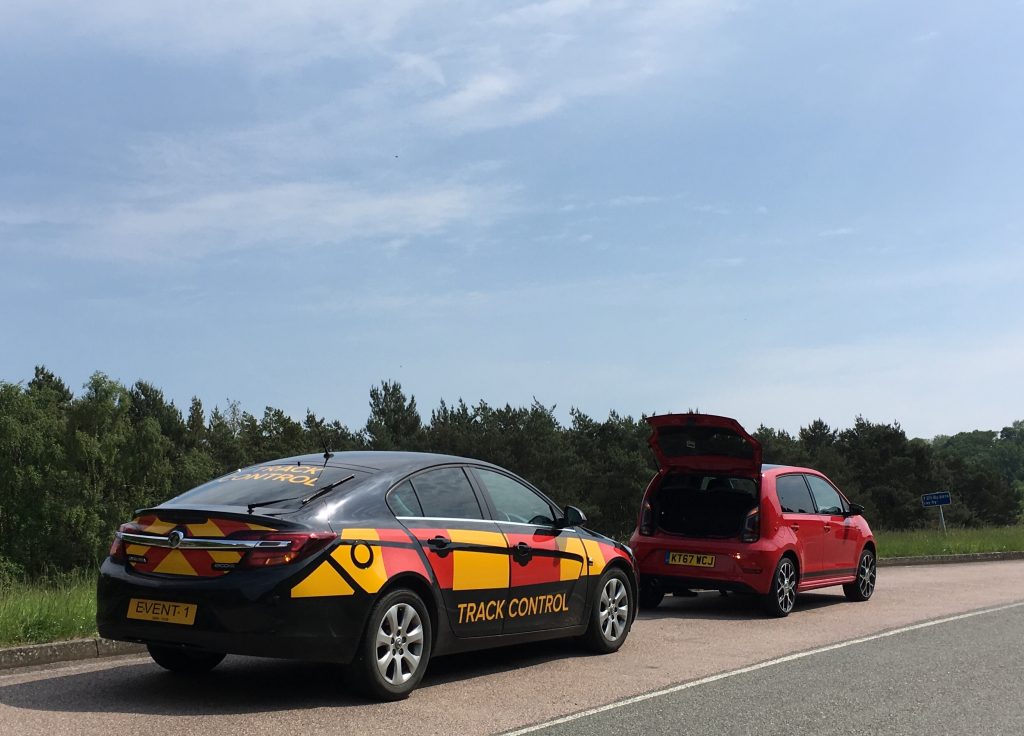 As most of us are, I am probably a bit of a car snob, and I never really thought I would actually enjoy a drive in a Hyundai, but times are changing and the i30N has stepped away from being a utilitarian means of getting from A to B. It has squarely planted itself in the hot hatch market. It felt like a real contender to a Golf GTi or Focus ST. The i30N was one of my surprises of the day.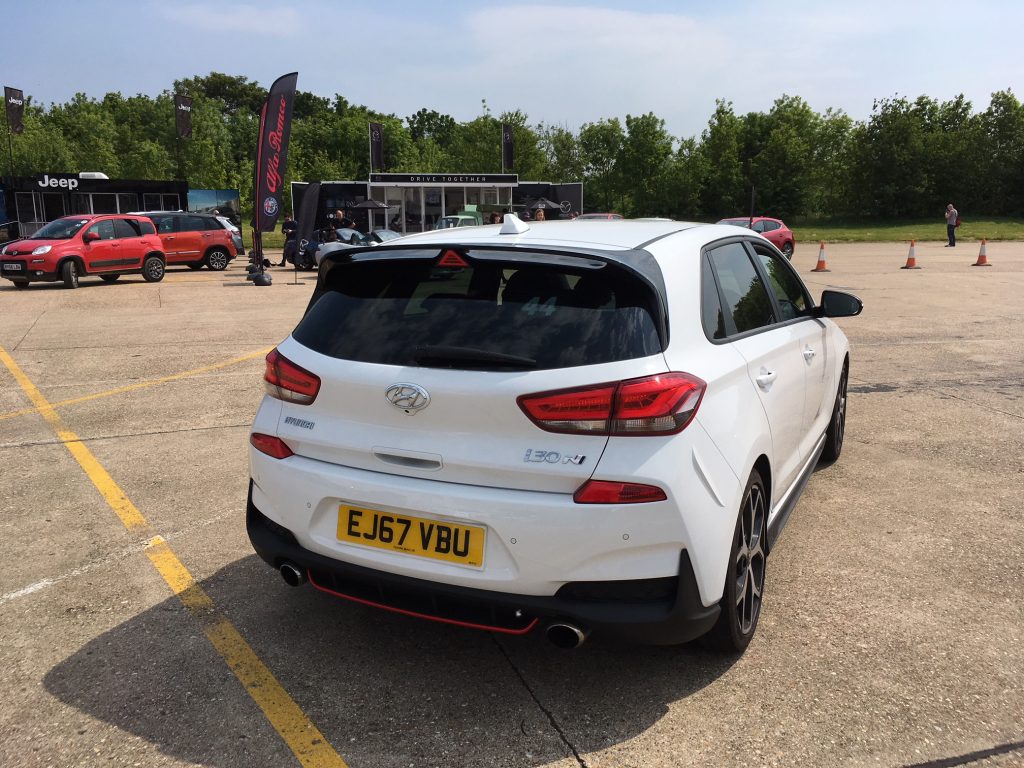 Another was the LC 500. A lovely place to be, refined, comfortable and immensely capable. I was really looking forward to testing it. But I walked away a bit 'meh'. Couldn't quite put my finger on it (maybe as a grand tourer it wasn't suited to Millbrooks hill circuit in quite the way the R8 was?) but for that money and based on just 15 minutes hill track test drive I'd rather drive the TT RS.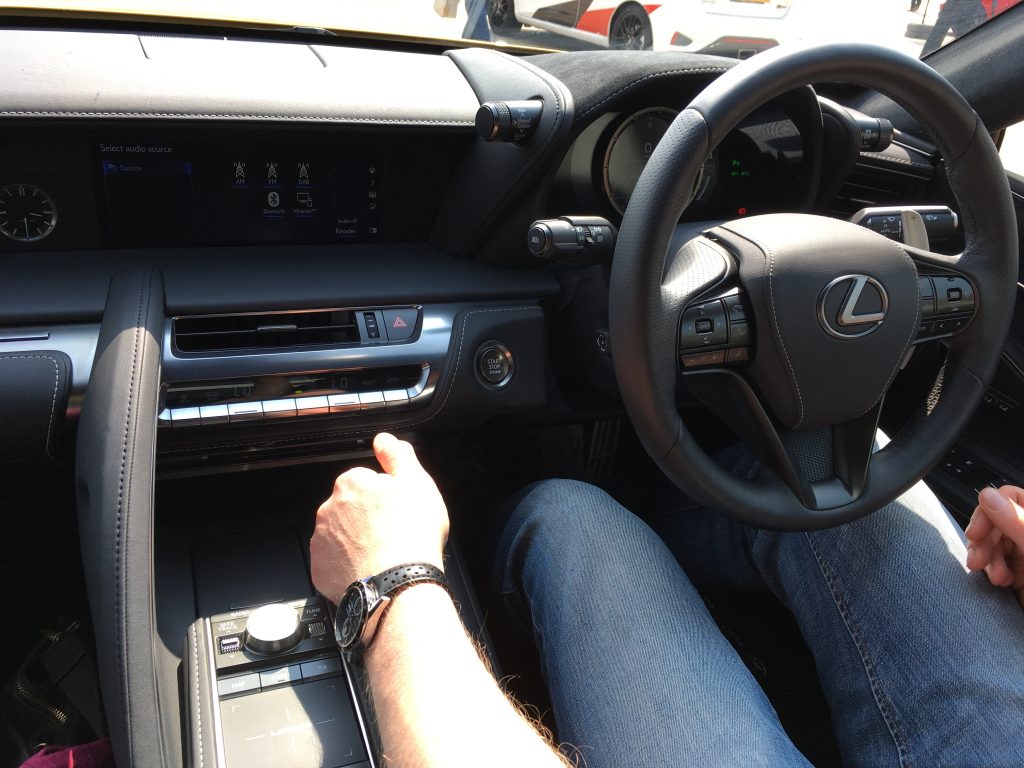 Next up – the Honda Civic Type R… Now here is a car that is begging to be driven hard!
It is of the genre that brings out the real NED in you – as you sit down, turn everything up to R, a spell is cast and you just have to accelerate hard and fast – and it is a right laugh! I have never really liked the look of the Civic Type R but from the inside it was a great place to be, and the car just seemed to be built for hooning around a test track. There was also a brand new factory conversion there, finished the night before – a Type R pick up with two Honda lawn mowers in the back…. if you run a lawnmower business maybe, but otherwise probably best to stick to the normal hatchback. After the Land Rover (of course) this might even have been the car I enjoyed most during the day.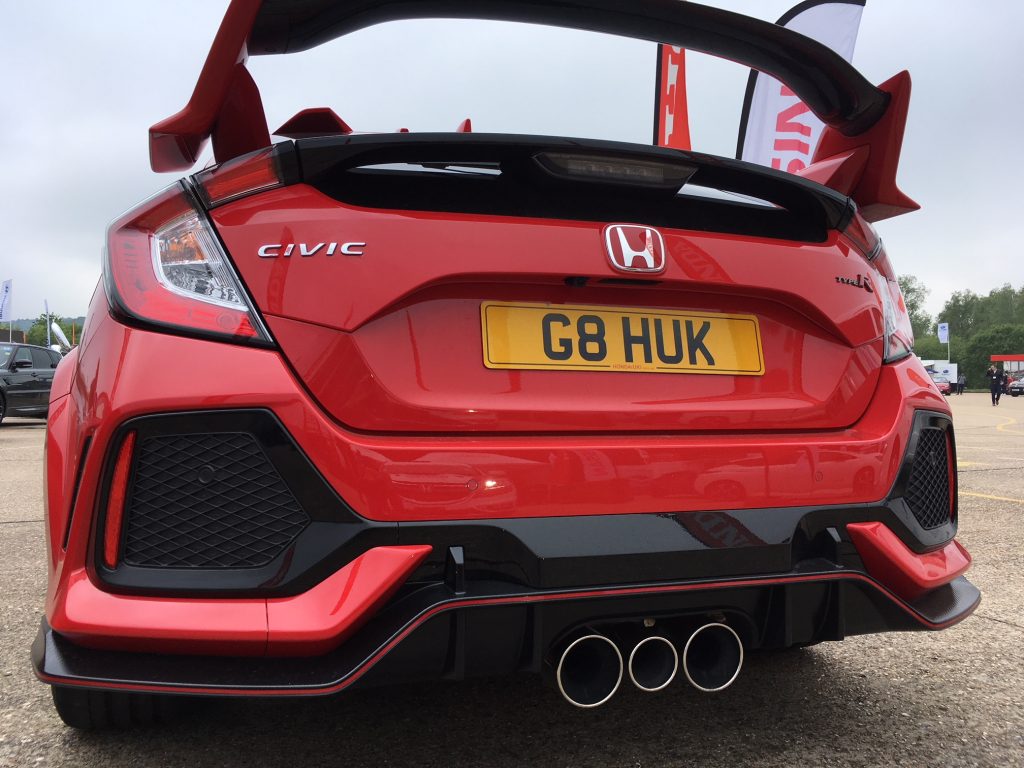 The other surprise was the Guilia. This should have been so much more than it ended up being. It lacked personality and poke. I didn't even capture a photo of it I was that disappointed.
The final car was a super short shot in the I8. The dihedral doors make it a real experience. One of my ambitions is to own a car with unconventional doors before I die – like Lambourgini's scissor or McLaren's dihedral doors – and the I8 could be firmly added to that dream list. Whilst being vertically challenged was a problem in the AMG GT-R, it was definitely a benefit for getting in and out of the I8 as there isn't that much entrance/exit room . I would definitely like to have a longer test drive in this car.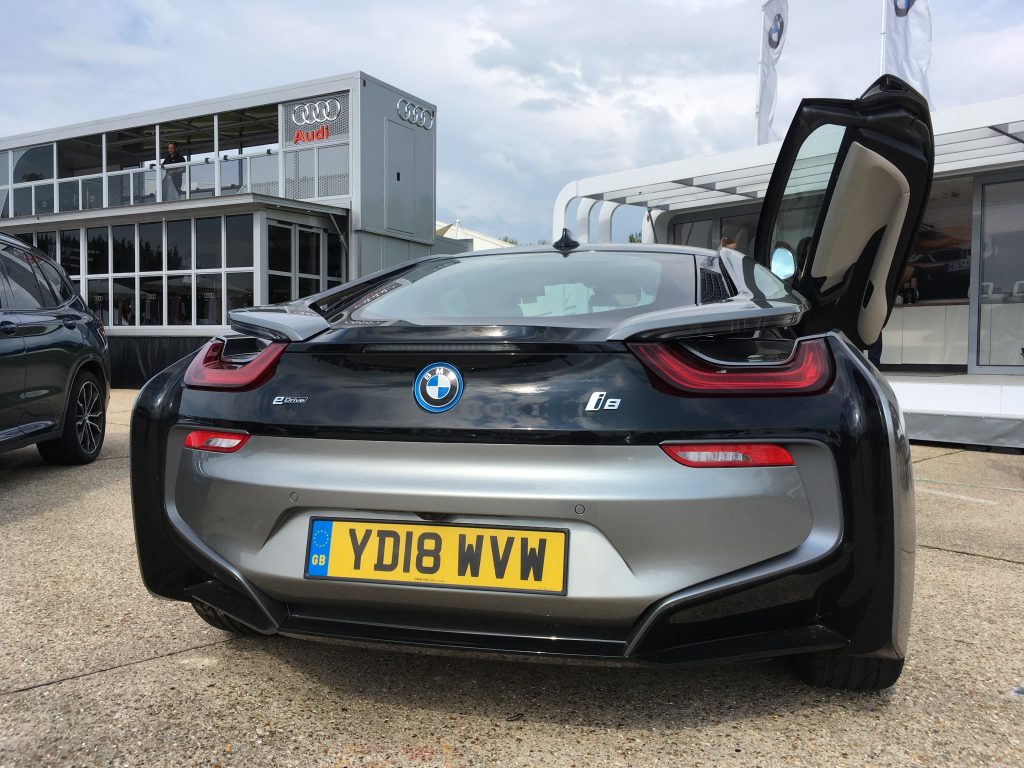 If I had to choose across the day I'd have the Series 1 for nostalgia , the Type R for hooliganism and giggles, and R8 V10 Spyder for that sound (which of course shares its engine with Lamborghini's Huracan – did I say I love Lamborghini's??!).
It is not always logical why we like a car – it is a personal thing, the fit, the feel, the noise, the emotion. So if you are considering a new car this year which would you choose from our short test drives?