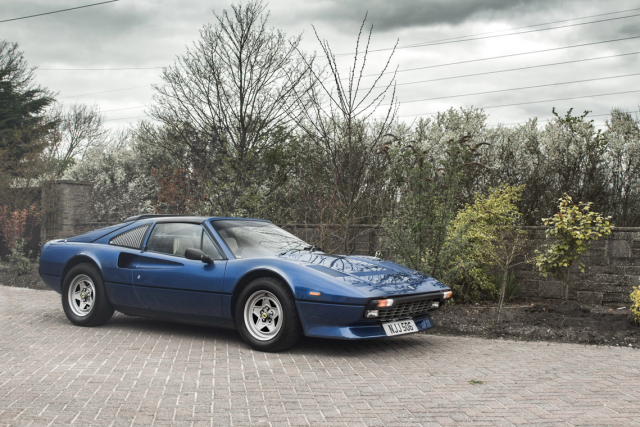 I'm a self-confessed classic car auction dreamer. Usually I'm looking at £10k Bentleys and wondering; would it fit up the drive and could it really be used as a sensible family car without incurring wallet crippling costs (yes and no)?
The other thing I like to browse through is the curios that sometimes appear in auctions. They are usually mad creations by very skilled enthusiasts where they've stuck a BMW v8 or a Toyota 2JZ engine in something that it really shouldn't fit into. Very rarely however, you get something really extreme like a V8 Ferrari with a V12 shoehorned in.
This Ferrari 308 GTS QV soon to appear at Silverstone Auctions fits the bill perfectly:
"A very unusual 1985 Ferrari 308 GTS QV, that houses a 4.8 litre, 4-cam, Ferrari V12.
This right-hand drive 308 GTS QV was delivered new to Maranello Concessionaires, Surrey on 8th March 1985 and was ordered in the rare colour combination of Metallic Blue Chiaro with a white leather interior piped in blue. Factory options included a deep front spoiler and air conditioning.
However, its first owner was rather disappointed with the car's power output. The somewhat unorthodox solution was for Nigel Hudson, then at Nigel Mansell's Ferrari main dealership network, Emblem Sports Cars, to engineer and squeeze a brand-new Ferrari 400 series V12 engine into the bay. This work was carried out to a very high standard and was completed in the late 1980s, creating what is believed to be one of just four known 308s worldwide that boast a V12 Ferrari engine.
Commenting on the car, sales manager at Silverstone Auctions, Will Smith, said: "The results from the creation of this car are quite astonishing. The 4.8 litre, 4-cam, Ferrari V12 is known affectionately as 'Nigel's Flyer' and must be seen to be fully appreciated. It is something very special indeed."
The current owner found the car in 2013, following a ten year stint in dry-storage, and it was then decided it would return to Nigel Hudson to undertake a two-year, no expense spared re-commissioning. The engine, gearbox, brakes and suspension were all taken apart and inspected by Nigel. New parts were fitted where necessary and according to the vendor, "the car drives beautifully." The leather interior and carpets were left original and unrestored.
Estimated at between £50,000 and £60,000, included in the sale are the original books, manuals, unused jack, tool kit and a comprehensive history file. There are eight previous MoT certificates, six stamps in the service book and bills and receipts from Nigel Hudson for all recent works.
Will added: "Only 233 right-hand drive, GTS 'QV' models were ever produced and they are considered by many to be the most desirable of all the 308 variations and the addition of a V12 makes the car even rarer. Silverstone Auctions always enjoy a car that represents something slightly different or left field. This 308 V12 offers its next owner exclusivity, classic 80s styling and lots of power."
For more auction dreaming follow this thread on the TT Forums
Comments
comments