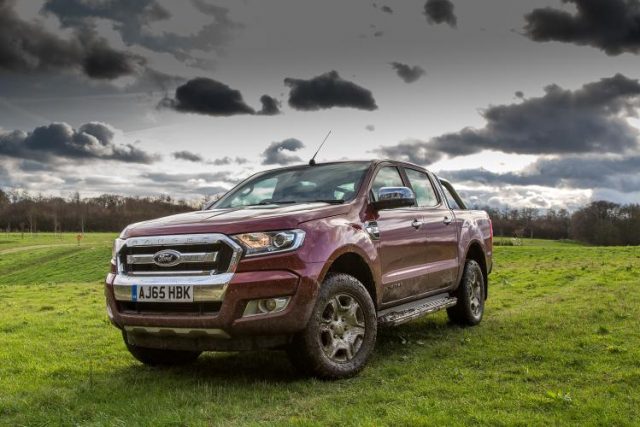 From what I've seen out on the roads there are two kinds of people who buy pickup trucks: workers who need the rear load bay and the off-road + towing ability and company directors who take advantage of the tax benefits. I am neither of those and yet I still love the cartoonish proportions of a nice pick-up and the slightly American connotations.
The particular pick-up that we had from Ford was the Ranger Double Cab Limited 4X4 and sits below the top of the range Wildtrak. For those really looking to live the Yankee dream, and pretend you're in a F-150 Raptor, you'll need to order a Wildtrak version in either Blue or Orange. If that's still not enough there are tuning companies like DERANGED who will bling out Ranger so much that you'll need to change your name to Hank….or should that be Dmitry?
Our Ranger was a bit more of a low key affair but still included some touches of chrome to let you know that it's not just a workhorse. These cars need to double as personal/family cars on evenings and weekends so they really need to look good enough and the Ranger manages this. Personally I wish Ford would just make the Ranger a downsized F-150 but I'm sure there are a dozen internal reasons why this won't happen.
Jump inside the Ranger and it's a bit more basic and work like. Yes there are leather seats and the media unit you'll recognise from other Fords but there are a lot of harsh plastics. Not that we shouldn't expect this as there are acres of surfaces inside the Ranger and covering them in nice materials would have a massive upward effect on the reasonable price tag of £30,449.64 (inc Vat).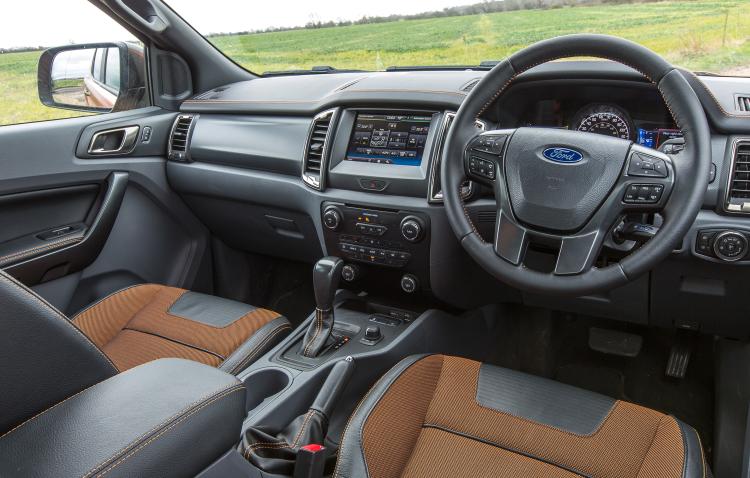 All good and as expected so far but once you start the engine you might think you're in a Transit van or even an old Defender. That's because the 2.2 diesel Duratorq is the same one you'd find in the van and the old 4X4 and it hasn't been in a Mondeo since 2007!
While the engine moves the big truck along at a decent lick, it really does lack some refinement. I'm not expecting it to be smooth and silky but it's not a pleasant sound to accompany the 89th rendition of Wheels on the Bus that your toddler demands you play.
I've not driven or heard the 3.2 I5 that you can get the Ranger with but if I was spec'ing the car it would be the one for me. 197bhp/347lb ft five-cylinder > 160bhp/258lb ft four-cylinder.
Out on the roads the Ranger drives well for a pickup and seems a bit more civilised than the last Mitsubishi L200 that I drove. Motorway cruising is refined enough and it can handle a B road with more pace than you might imagine. I've not tired Nissan NP300 Navara with its multi-link coil-spring suspension to know how much of an improvement this makes for day to day driving but those who use their pickups for towing suggest this isn't useful improvement.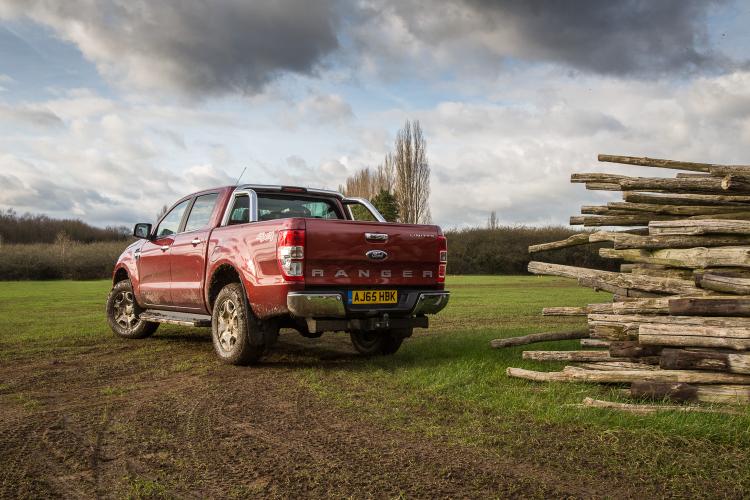 Overall I liked the Ranger and the image it portrays. It won't be everyone's cup of tea but then not everyone would fancy living with a pickup truck as their daily transport.
PRICE: £30,449 (£31,229 as tested)
ENGINE: 1998cc, 4 cylinder, diesel
POWER: 160 bhp
TORQUE: 258 lb ft
PERFORMANCE: Top speed 109 mph, 0-62 mph 12.8 secs
CONSUMPTION: 35.3 mpg (offical combined)
CO2: 209 g/km
TT Rating: 

Comments
comments