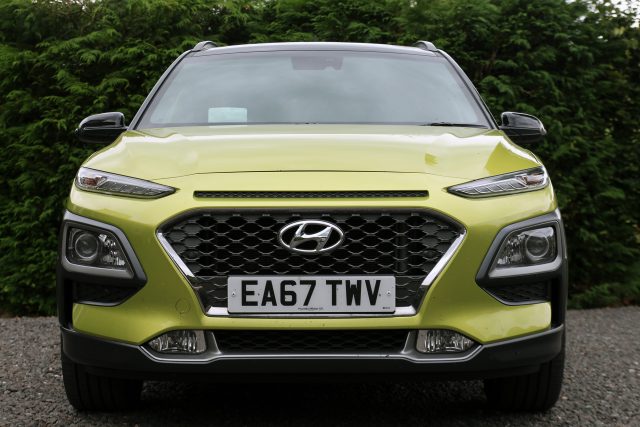 All the press car list said was 'Hyundai 1′ and Hyundai 2'. Naturally, everyone at TT was hoping one of these anonymous Koreans would end up being the i30N, one of the most talked about hot hatches of 2018. Even from just a brief drive at Millbrook Proving Ground back in May, I reckoned it was the real deal. However, when the first of the pairing did indeed turn out to be the N, I couldn't help but feel a little disappointed. Not because I wasn't looking forward to having it for a week, but because another member of TT was its allocated custodian! As well as being convinced of the i30N's credentials, I was also pretty sure that there wouldn't be two i30N's on the rota, meaning the keys to 'Hyundai 2', which were coming my way, would be to something a little less exciting. Still, beggars can't be choosers…
The Kona is another addition to the seemingly ever increasing compact SUV/crossover market, and while it doesn't carry the same petrolhead attraction, it too, will no doubt prove to be an important car to Hyundai. It continues the push by Asian Manufacturers towards bolder, more distinctive styling and while some elements might be considered overly fussy, I reckon it's a sharp looking thing, and certainly not a 'blink and you'll miss it' design. No doubt aided by the less than subtle hue of the Acid Yellow paintwork.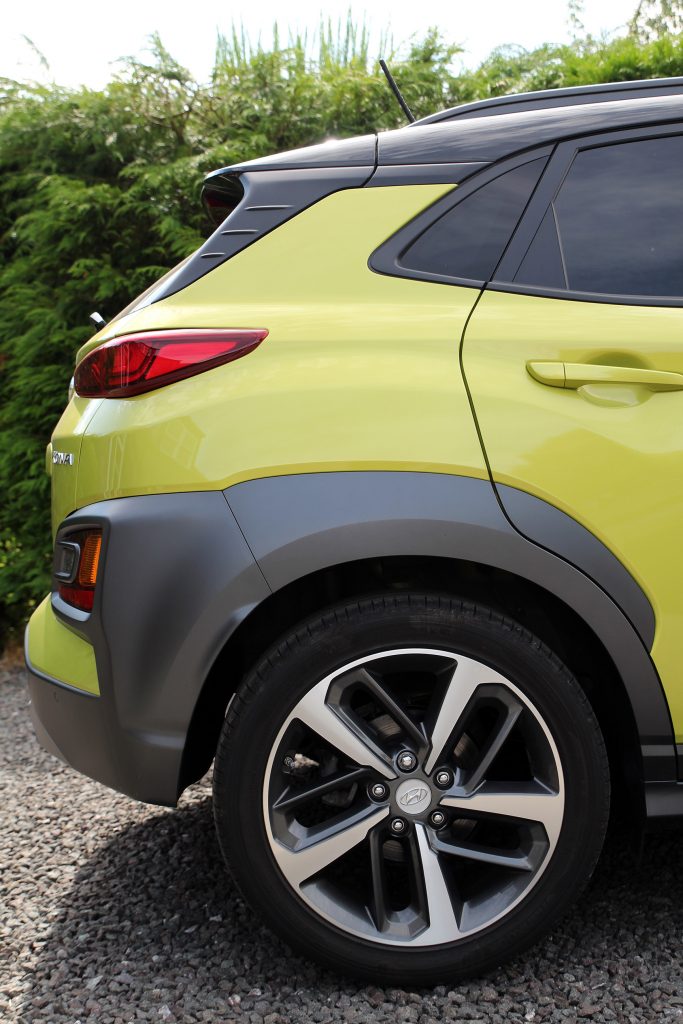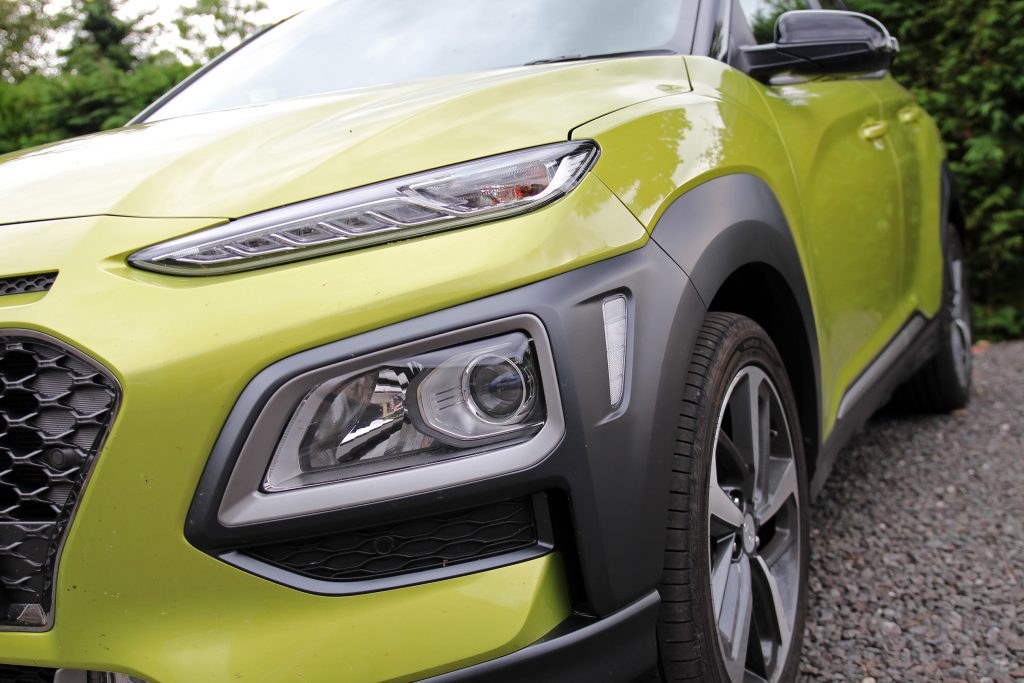 Inside, it's all a bit less adventurous, largely being a sea of black, saved by some contrasting yellow/green details and stitching. Some of the plastics are a bit hard and scratchy but it feels solid and is well screwed together. Where it does score highly is equipment, especially in this Premium SE model. Heated/cooled seats, heated steering wheel, DAB, Apple Car Play, Sat Nav, head up display, keyless entry/go, blind spot monitoring, parking sensors and reversing camera are all standard.
The infotainment system is also impressive, being both intuitive and responsive. The large, hi resolution screen is of the 'stuck on' design, rather than integrated in the dash, but if it works for the likes of Mercedes then I guess we can't mark down Hyundai.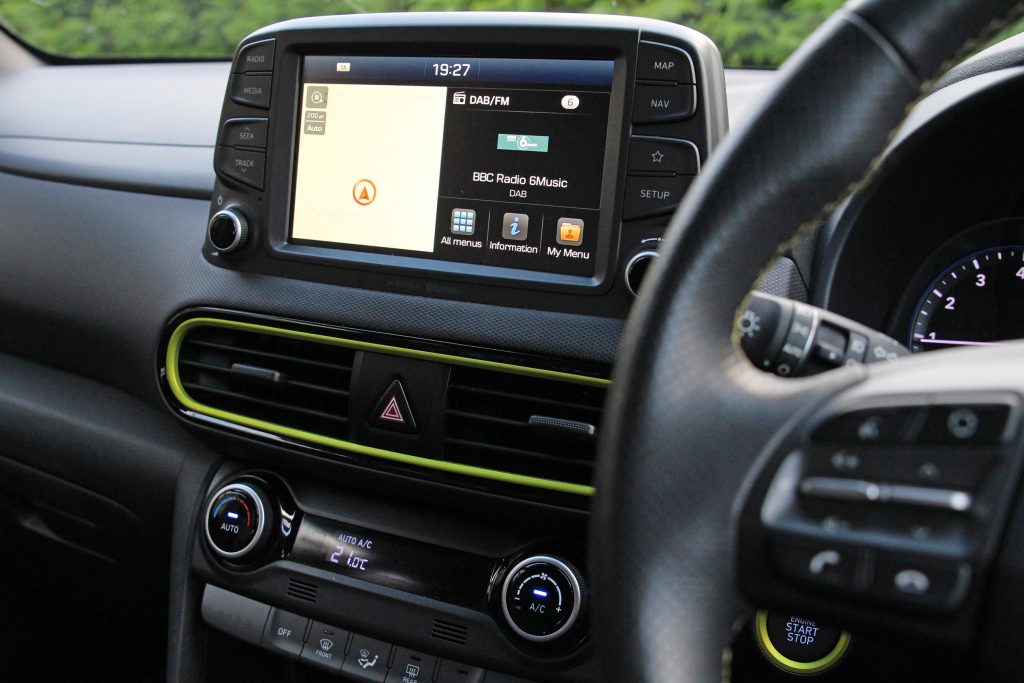 The driving position is comfortable with plenty of room up front at least. Rear passengers might struggle though if the driver is taller than average. The boot is smaller than some competitors but the split folding rear seats fold flat if required. The Kona is available in five trim levels and two engines options (both turbocharged petrol's). A two further power units are due soon, a diesel and an all electric Kona.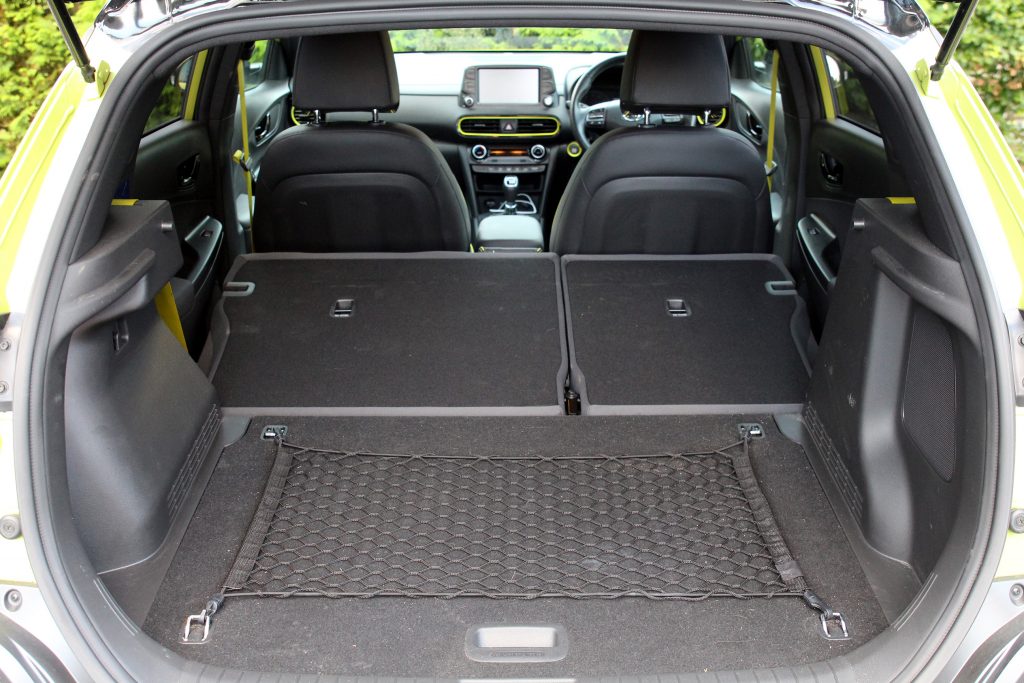 If we're being honest, the way the Kona drives probably isn't the most important factor for the average potential purchaser, with the all-round package and value for money being more so. That's not to say it doesn't drive well, it's just not particularly engaging. You can punt it down the road at a reasonable pace considering its relatively lowly 120 bhp and elevated centre of gravity, but it's more competent, than memorable. You don't get out thinking 'that was fun'. The ride is also more firm than cosseting.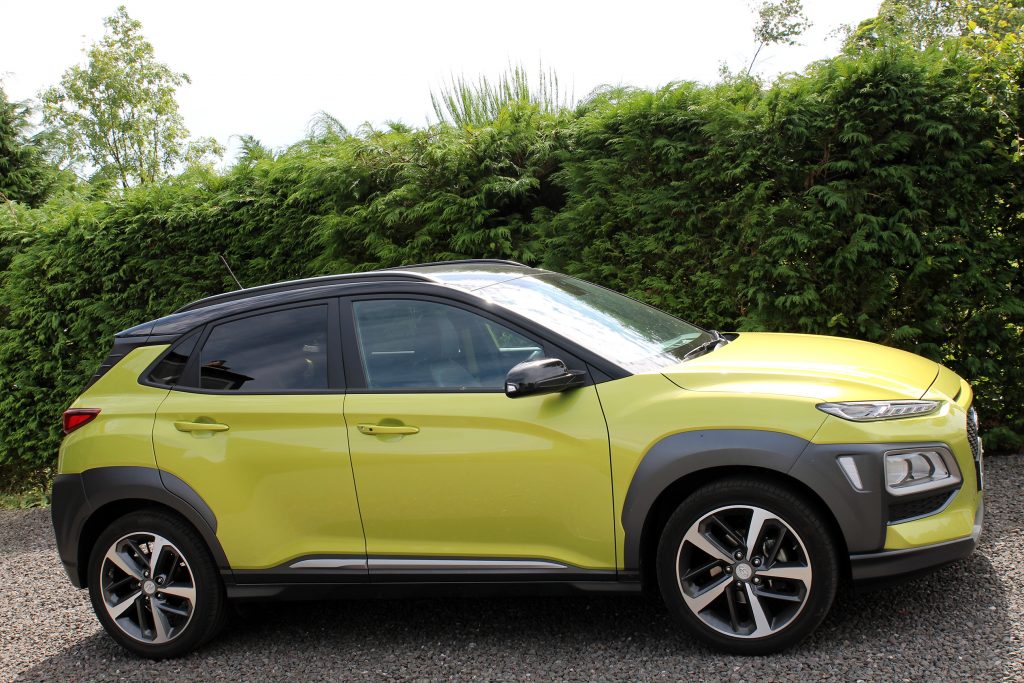 The ongoing trend for engine downsizing is in evidence, with just a 1.0 litre, 3 cylinder turbo charged engine to pull the Kona along. It does an OK job but it's not very smooth or quiet, and has a fairly narrow power band, lacking low down torque. Below 2000 rpm, before the turbo has woken up, you can feel its diminutive capacity struggling. The gearbox also isn't the slickest, preferring not to be rushed. A 1.6 litre, turbocharged petrol is also available, which I suspect (unless fuel & emissions are absolutely paramount), would be a better choice. There's also a fair bit of road noise, particularly on certain surfaces, and while the decent stereo can offset that to a degree, overall its refinement levels are a bit below par.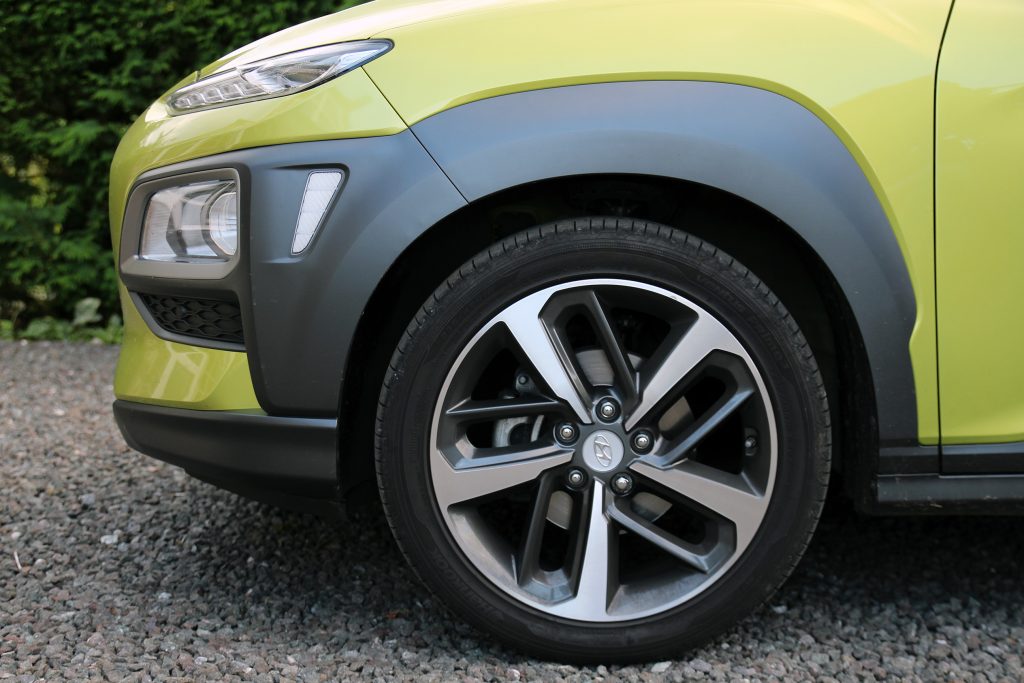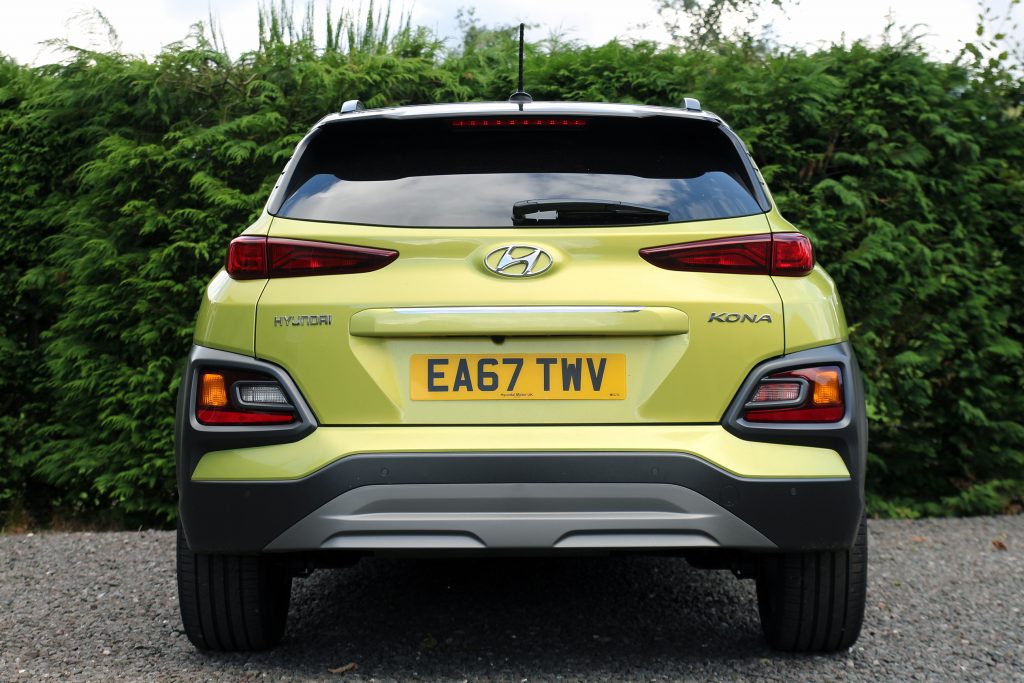 Overall the Hyundai Kona plays the averages, doing most things reasonably well, while not really excelling. It's a competent but ordinary package, but one which is (in this specification at least) well equipped, and comes complete with an impressive five year, unlimited mileage warranty. Whether it can afford to be average in this increasingly busy segment Hyundai will have to wait and see.
Hyundai Kona Premium SE
PRICE: £22,430
ENGINE: 1.0 litre, 3 cylinder turbocharged petrol, 6 speed manual
POWER: 120 ps @ 6000 rpm
TORQUE: 172 Nm @ 1500-4000 rpm
PERFORMANCE: Top speed 112 mph; 0-62 mph 12 secs
CONSUMPTION: 52.3 mpg (combined); 42 mpg on test
CO2: 125 g/km CO2
TT Rating: