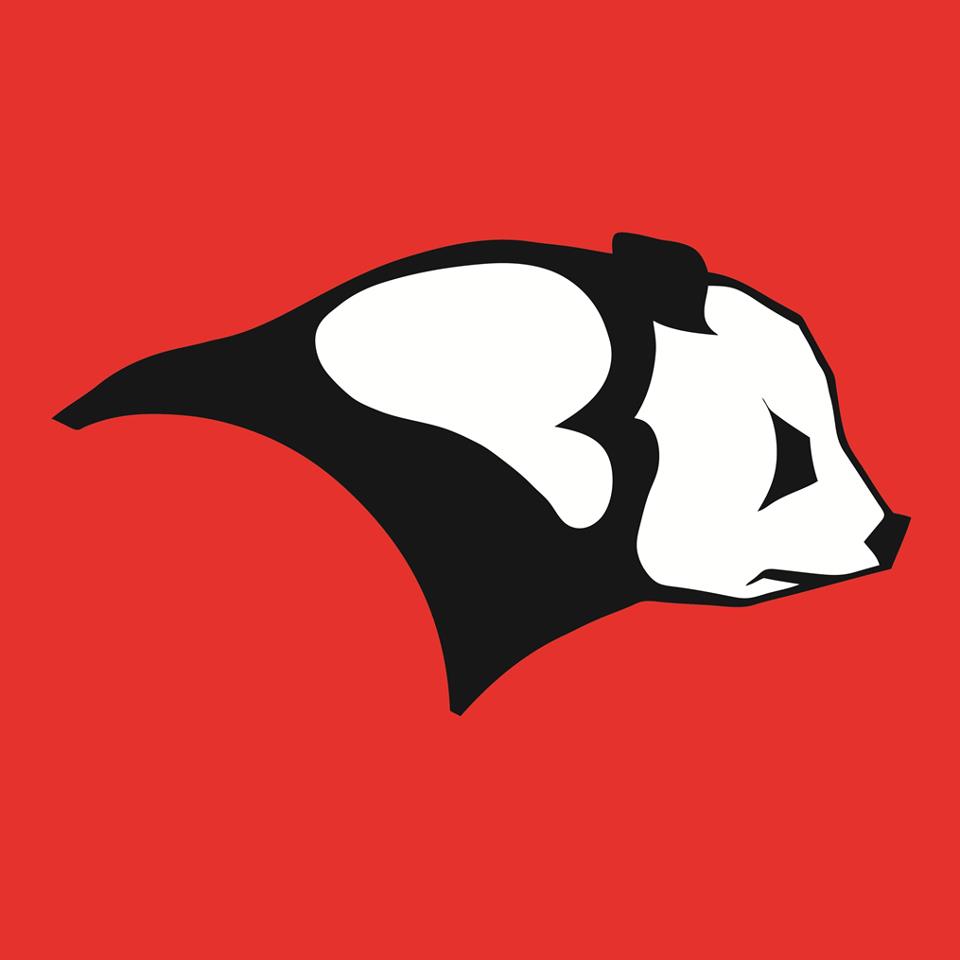 When we interviewed Paul Luti a little while back we asked him who else we should be interviewing for TartanTarmac – he told us to go and speak to Hamish from Panadmonium Racing so that's what we did!
Like most people who first hear about Pandamonium Racing we checked out their Facebook page and were immediately impressed by the very cool panda logos….but what's it all about?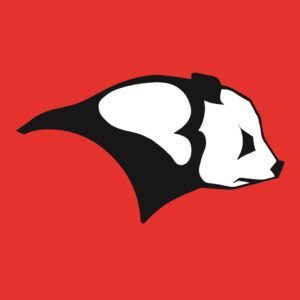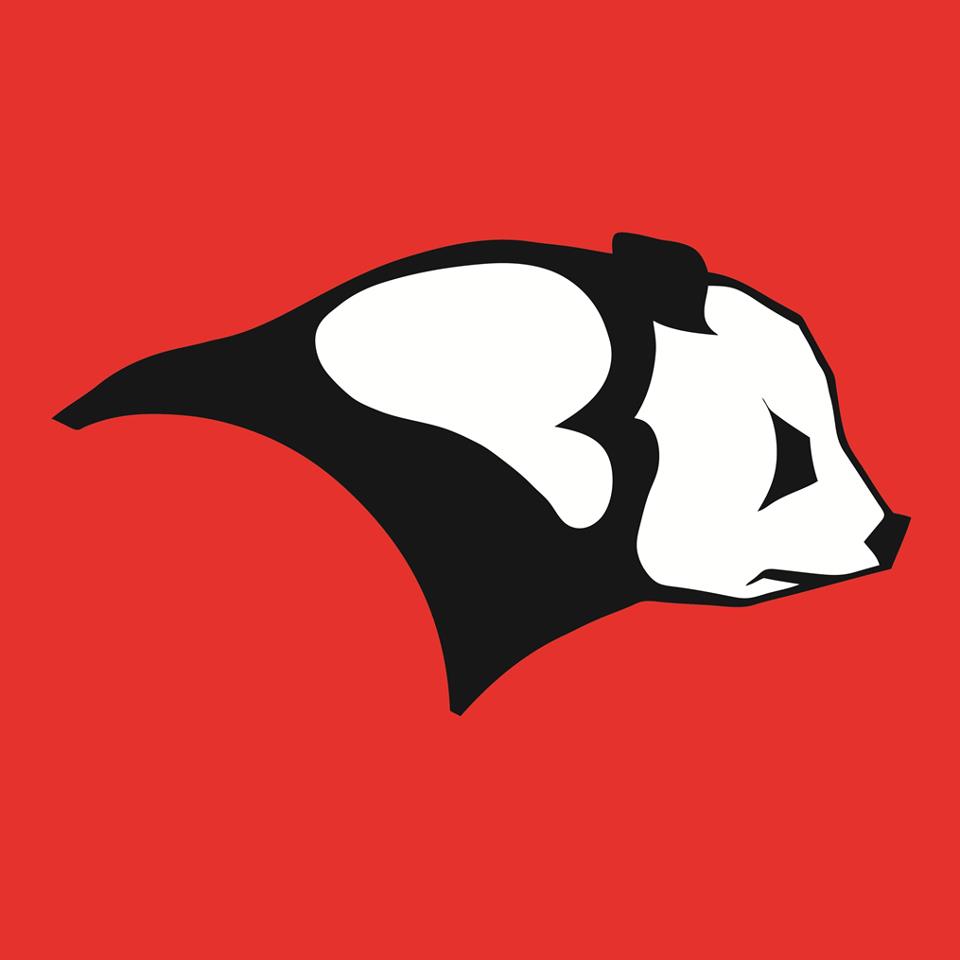 1) Where did the name of the team come from?
The name Panda basically stands for P and A which in turn stands for Parts and Accessories.  Our family business supplies motorcycle parts to the UK trade and when we began racing as people began to find out we supplied motorcycle parts more and more asked if we had access to car and motorsport parts.  We felt that perhaps there was an opportunity to start a company which was purely focussed on supplying the motorsport and performance car market.  From that, Pandamonium Racing was born.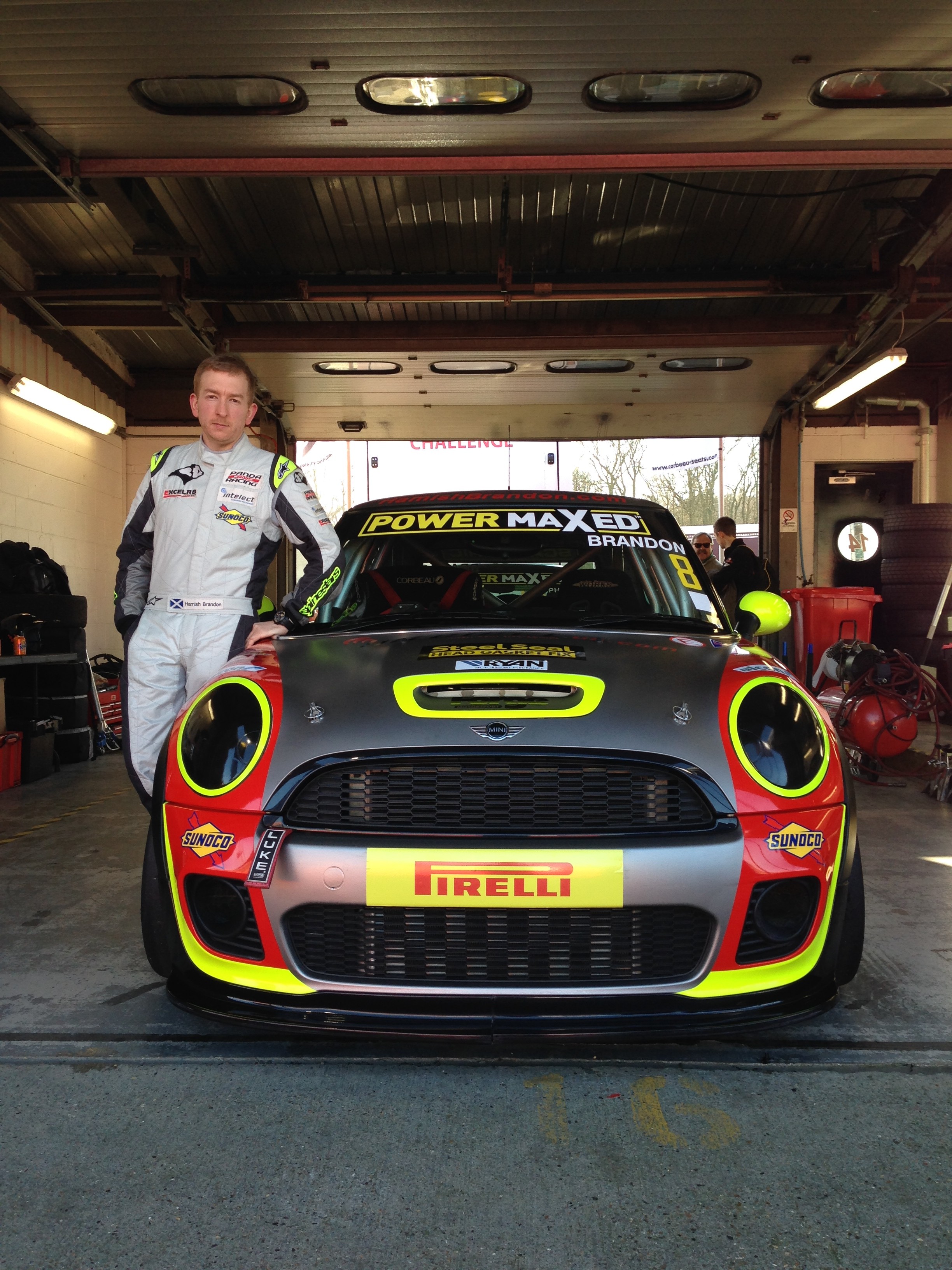 2) What is your first memory of watching motor racing?
My Dad was never a 'football' dad, rather than kick a ball around on a Sunday he and I would be sat watching the F1 on TV.  Then as I grew up he was involved with motorcycle racing through some of the products the family business sold… I used to get away with him to the watch the British Superbikes or the British round of MotoGP, some great times.
3) Do you remember the first time that you raced? What was it in?
Sure do, it was at Knockhill in the Scottish MINI Cooper Cup… I haven't come from a karting background, I went straight into saloon cars, nothing like getting thrown in at the deep end.  Its definitely been a steep learning curve.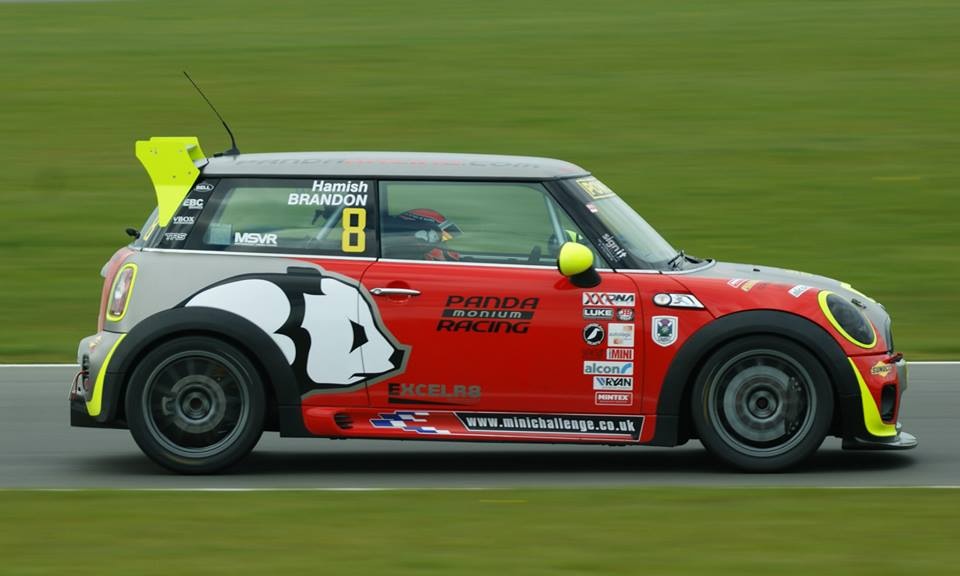 4) What achievement are you most proud of to date?
Last season (2013) in the MINI Challenge, Cooper Class… it was my first season in a national championship.  The car was similar in power to the Scottish MINI, although the tracks and slick tyres were new to me.  We had a bit of a slow start from lack of testing but by the 3rd meeting we were up to speed and had a mega consistent season finishing runner up in class and the overall championship.
5) What's been your worst moment when racing?
My first ever race which was at Knockhill.  There was contact between a couple cars ahead of me and as I exited McIntyres (or Scotsmans) one of them was travelling backwards across the track. I didn't even have time to lift off and hit the side of their car head on pretty hard.  Fortunately I was wearing a HANS device, but even then I was a bit sore for a couple days after it.  Car was a mess though unfortunately.  Luckily the other driver was fine too but it was a real 'welcome to racing' moment for me.  Glad to say it didn't put me off, if anything it gave me more confidence as I'd got my first accident out the way!
6) What is your ultimate ambition within the sport?
This year I have to be really focussed on getting up to speed with the JCW, so that's my main priority.  Longer term though endurance  or GT Racing is my main ambition.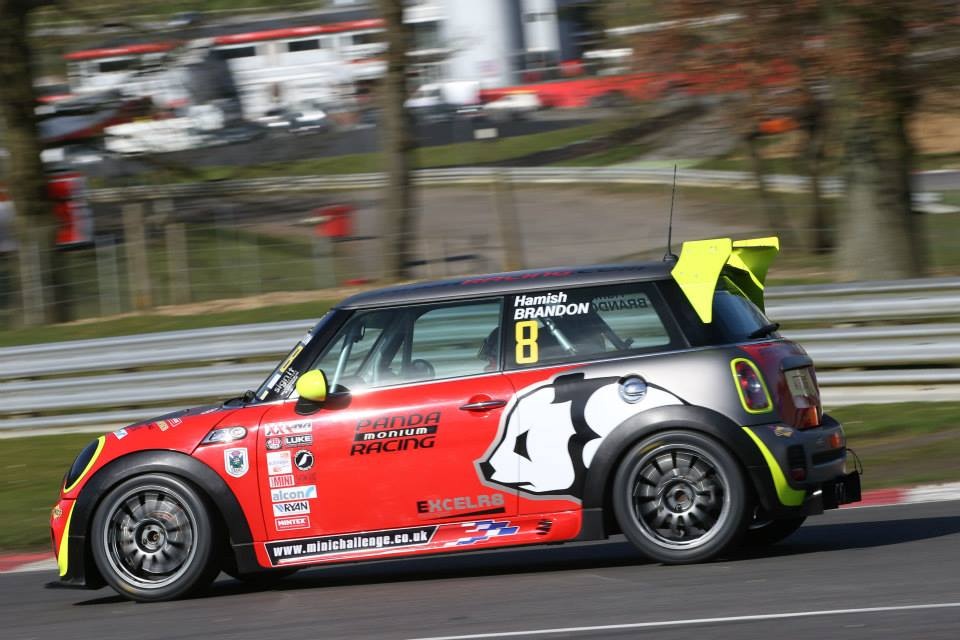 7) Who is your favourite Scottish racing driver?
Has to be Jim Clark, especially with his connection to the Scottish Borders.
8) What's your favourite driving road on Scotland?
Normally when I'm driving its up and down the motorway which gets a bit tedious.  Although its always a good feeling to get off the M6 at Carlisle heading for Hawick.  You know you're nearly home when you get onto the A7.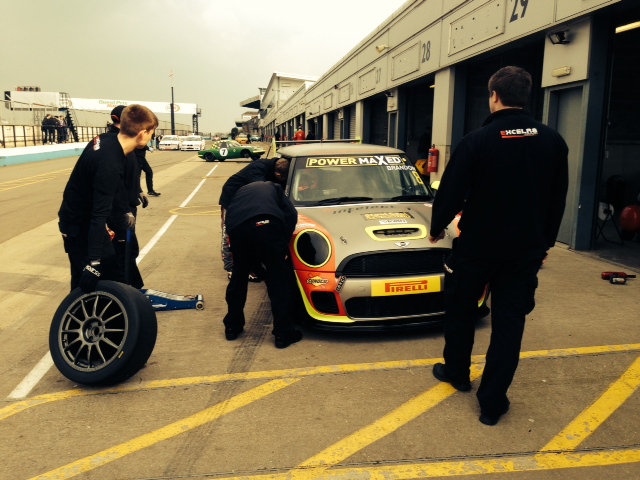 9) Do you find that it's difficult to get sponsors with being based in Scotland?
I think its extremely difficult in general, no matter where you are based.  In reality and in my opinion, I see very little benefit for businesses simply sponsoring a driver such as myself at club level racing.  Ultimately any support or help will most likely come from people or business you already know and who perhaps want to help you out because they like you, want you to do well and they are part of the success with their support.
With Pandamonium Racing we are trying to tackle things a bit differently.  The whole point of Pandamonium Racing is to sell and distribute the products we use when racing.  Our ethos is we will only sell high quality products that we trust and are prepared to use ourselves.  For example one of the products we distribute is Bell Helmets, I wear Bell, I trust the product 100% and therefore I'm happy to recommend the product to our customers.  As a company we also try to only distribute one brand of a particular product type… therefore, as we sell Bell, we wouldn't add another helmet brand to our range, we are very much loyal to the brands we use and sell.
We've built up a very good selection of products and would like to think our customers trust us and appreciate the advice/recommendations we offer.  If we can expand and grow the business, whilst still offering great service and trying to save our customers some money then this will ultimately also help them fund their racing activities.
10) What advice would you give to someone who is looking to get into racing?
Take your time looking at all the options, get along to some meetings of the different series you are considering.  Don't be shy in speaking to competitors, ask them about the series, speak to the organisers as well.  Try to learn about all the options you fancy so you can make a more informed decision.  Also, think about what you want to achieve, how far you want to go… is the racing a weekend hobby or do you want to progress as high up the ladder as possible?  I try to work on a 3 year programme.  For example, last year, we planned to do 2 years in the MINI Challenge Cooper Class, then step up to the JCW Class in the 3rd year.  However, we had a good season last year, so felt we needed to step up to JCW Class this season.  We're still working on a 3 year plan though, just amended slightly, so looking at 2 seasons in JCW and if that goes well stepping up to the new Gen 3 MINI the year after.
11) Tell us a bit more about your current racing car?
It's a BMW MINI Cooper S (R56) which Excelr8 Motorsport (the team who run us in the MINI Challenge) built at the end of 2013 for us.  It's a big step up for me this year, up to now all I've raced is a MINI Cooper, first in the Scottish MINI Cooper Cup, then last year in the MINI Challenge.  The car has loads more power with the 1.6 Litre Turbo unit and the brakes are phenomenal.  Absolutely fantastic to drive though.  It's going to take a bit of time to get used to it but each time in the car it tends to give you more and more confidence.
12) What is your current favourite road car?
Really loving the Audi R8… seen a few on the road and they look fantastic, but not too over the top.
13) What is your favourite racing circuit?
I'd have to say Oulton Park.  Set in stunning scenery, it's a real mixture of types of corners, ups and downs.  It almost feels like you're racing on a country road… one minute you're out in the open and the next you are driving with trees either side and very little run off, it's a great buzz.  Snetterton has the best bacon baguettes though… Highly recommended!
14) This question is from Olie, he's like the TT equivalent of Chris Harris; Can I try your car?
Haha… Possibly, but from the passenger seat only though.
Big thanks to Hamish for taking the time to answer our questions and for hopefully scaring Olie in the future. Here's a little clip of him racing and we wish him the best of luck for the season ahead!
Excelr8 Motorsport – Brands Hatch Media Day 2014 from Chris Lovelock on Vimeo.