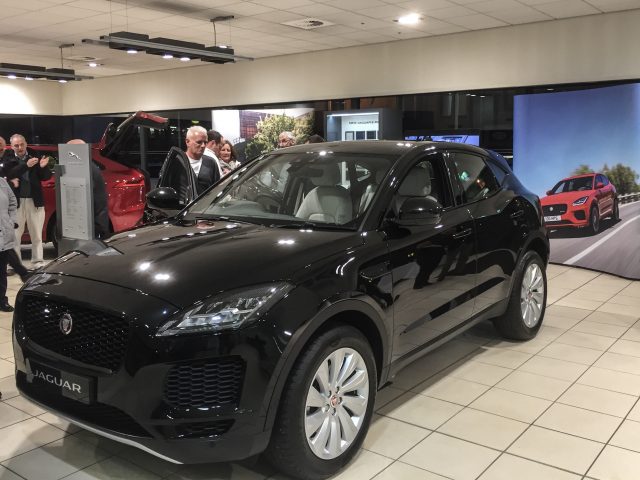 Last week we went along to Taggarts Jaguar in Glasgow for a preview of Jag's new smaller SUV – the E-Pace. The F-Pace has been a huge success for Jaguar – the fastest selling car in the company's history (click here to read our review of the F-Pace, so like it or not, it undoubtedly makes finance sense to try and capitalise on the continuing popularity of SUV's. Hopefully some of the profits will get siphoned off to Jaguars skunk works dept, SVO (Special Vehicle Operations) to help develop more cars like the F-Type SVR!
First up, I've seen a few comments online presuming (understandably due to the 'E' nomenclature?) that the E-Pace is an electric or hybrid vehicle – it isn't. At launch it is only available with traditional combustion engines (diesel & petrol), although with Land Rover bringing out a hybrid Range Rover, some of that technology will no doubt filter down to other Jaguar Land Rover products. Jaguar's main focus on the electric vehicle market will come with the all electric I-Pace, scheduled to be launched during the second half of 2018.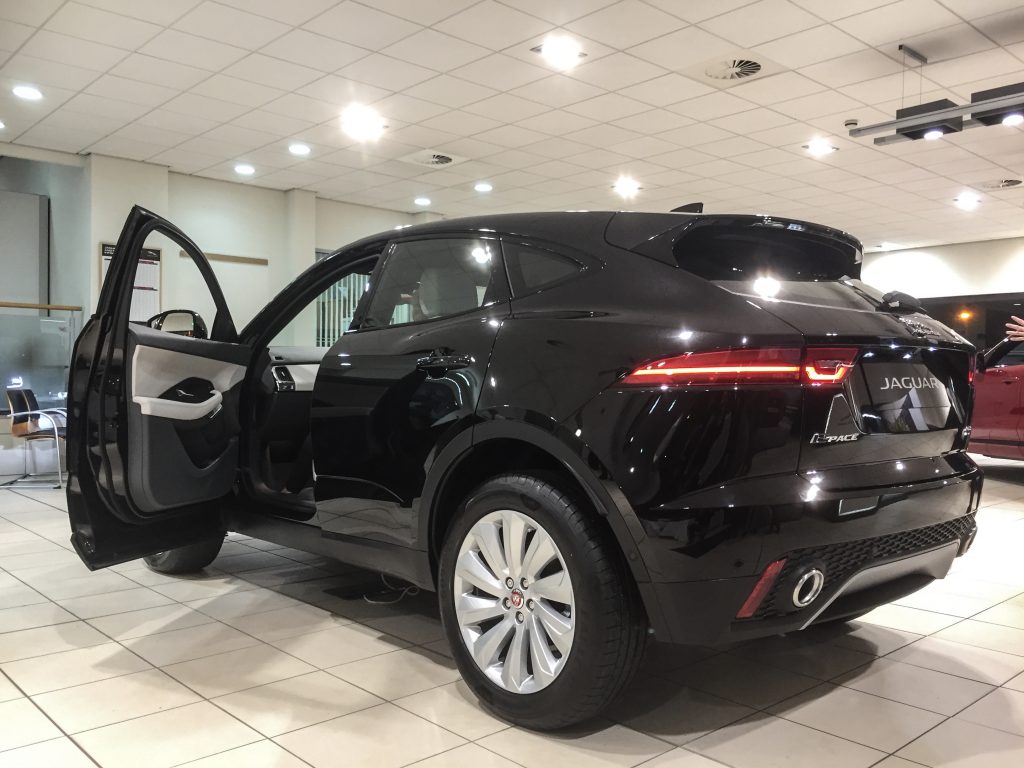 Anyway, back to the E-Pace… As SUV's go, it's a compact thing, based on the architecture from the Land Rover Discovery Sport and positioned to rival the BMW X1 and Audi Q3. The front & rear overhangs are very short and inside is reasonably roomy considering its size (boot space is larger than an X1), while rear headroom isn't compromised by the sloping roof line. The are obvious styling cues from the F-Pace and F-Type, and it all looks very Jaguar.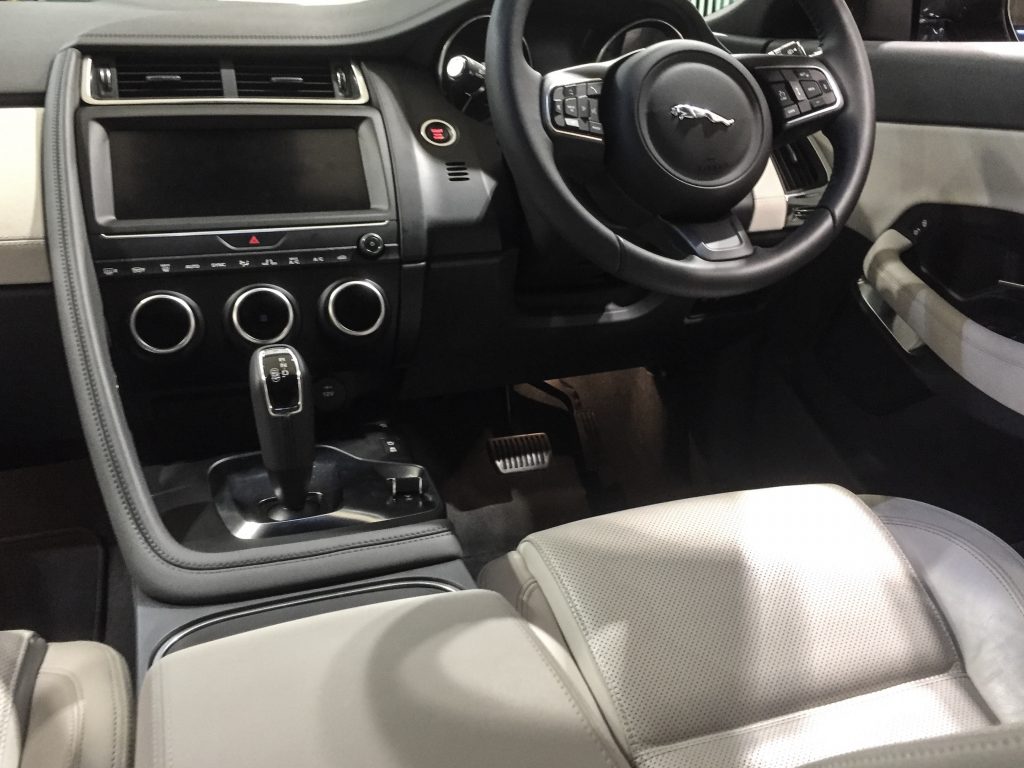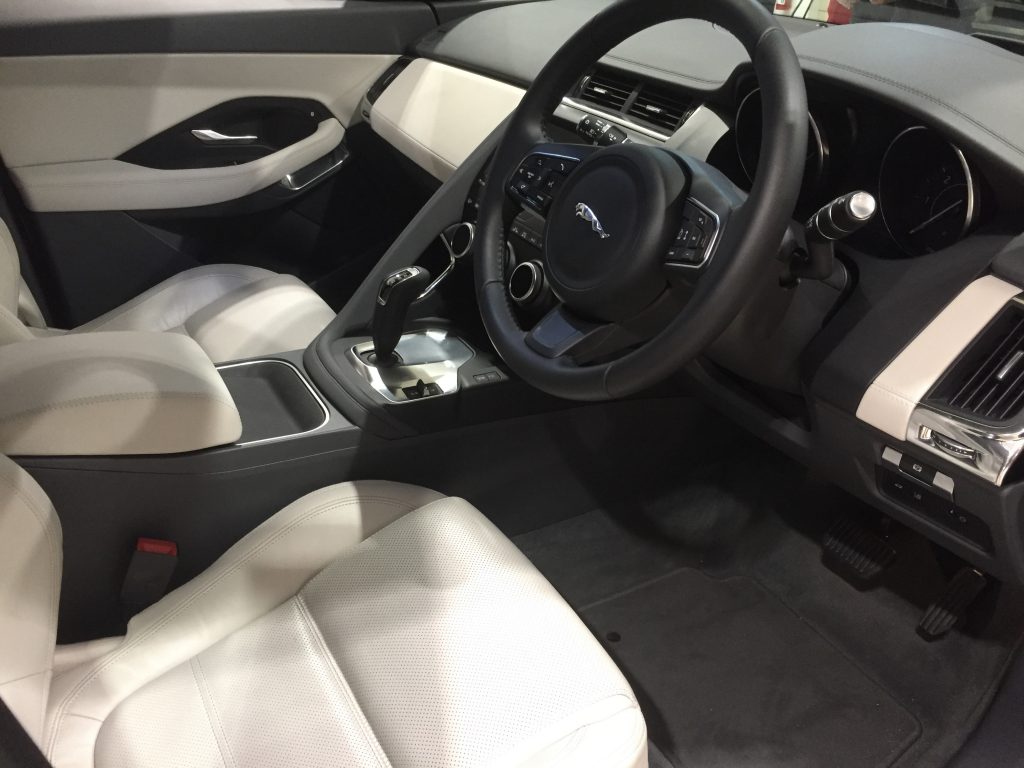 There are two derivatives, E-Pace and E-Pace R-Dynamic. The latter has various cosmetic (but no mechanical) modifications to give it a more sporty appearance. Additionally, for each of these, there are S, SE and HSE trim levels. All are four wheel drive apart from the entry level model when fitted with the 150PS diesel, which is front wheel drive only. Unlike the F-Pace which is predominately rear wheel drive, the E-Pace by default sends the majority of its power to the front wheels unless it detects that all wheel drive is required.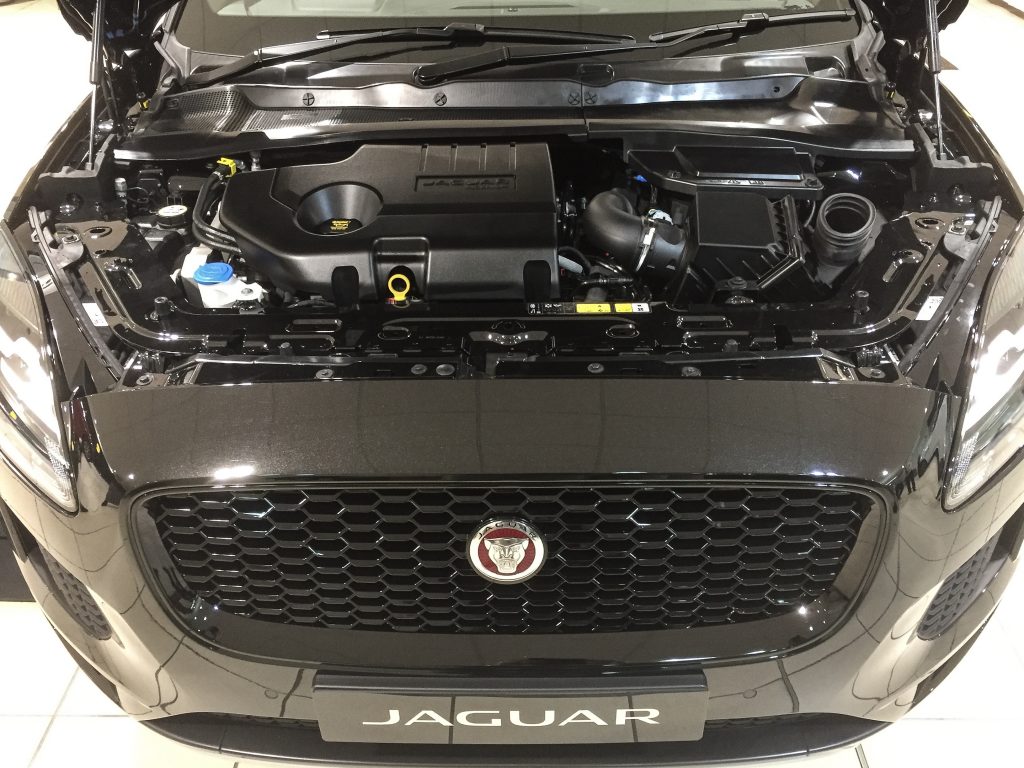 Engine options include 150, 180 and 240PS 2.0 litre diesels or 250 or 300PS 2.0 litre petrols – all turbocharged. The 150PS & 180PS diesel are available with a choice of manual or automatic tranmissions (9 speed ZF), while the rest of the range are automatic only. All models include a 10′ touchscreen for the infortainment and there are four drive modes – normal, eco, dynamic & rain/ice & snow.
To be honest, I don't think the example on show at the preview event showed the design at it's best, and an R-Dynamic variant, with a few choice options would give it a much more stylish/aggressive look, but you can play with the online configurator to find your ideal spec.
Prices start from £28,500 and we're looking forward to seeing if it drives as well as it's big brother.
P.S. If you haven't seen Jaguar's world record E-Pace launch stunt with Terry Grant here it is…