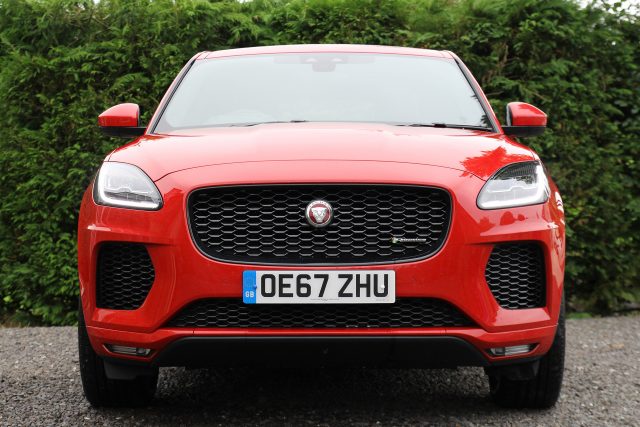 We were heading to the wedding of the year – not the Windsor one but an equally fine event at Kings College, Cambridge, and I was excited to have Jaguars E-Pace (First Edition P250 AWD) on test for the weekend road trip. This is a vehicle that should equally be at home eating up the 750 mile round trip motorway schlep whilst also holding its head high amongst the Cambridge elite and fancy old architecture. Would it prove to be a refined, classy vehicle fit for purpose for such an event?
I like the styling of the E-Pace. It has attitude. It isn't just a pumped up version of another model in the range built, nor is it a miniature version of the daddy F-Pace. Much like other manufacturers Jaguar are cashing into the current SUV craze, and this one looks the business. That continues inside, with the very black interior mirroring the exterior black pack. It is lifted by the red stitching (sorry, must give it its proper name ….First Edition ebony windsor leather with flame red twin-needle contrast stitching!) and further lightened by the full size panoramic glass roof. There are a number of cool styling cues from the F-Type too, both inside and out.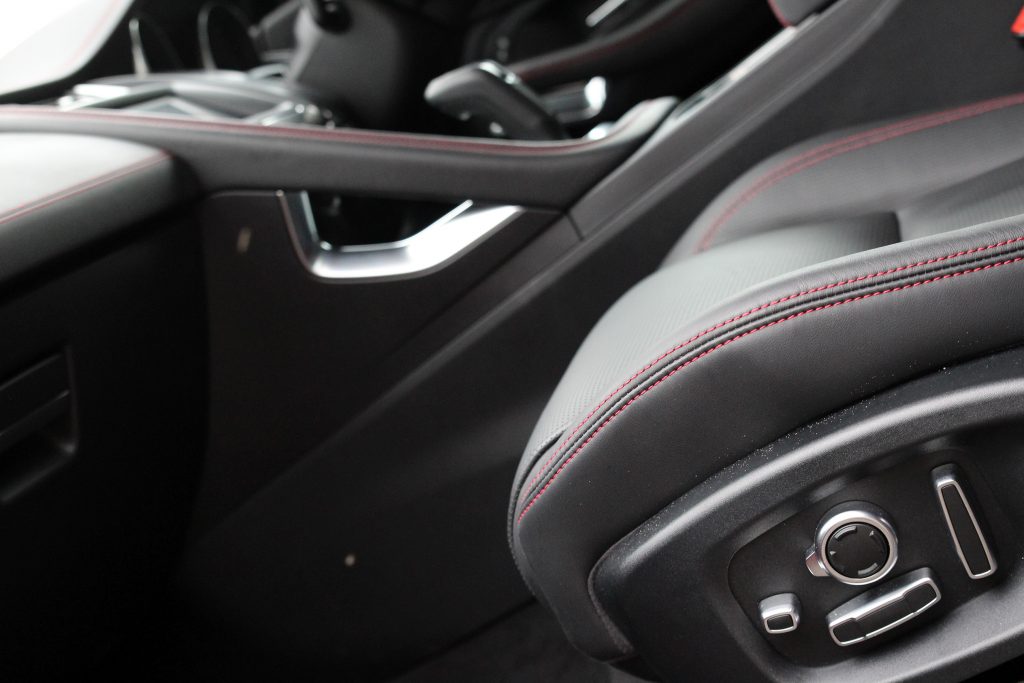 Call me old fashioned but I quite like simple controls, and prefer physical buttons rather than touch screens. When driving I want to be able to focus on driving and not wade through screens of stuff to change radio channel or turn up the heating. The Jaguars controls are largely successful, being mostly intuitive and not too fussy to use. Now, with our winter climate, and certainly with leather, I admit I am a sucker for heated seats. But tell me this… are they so important in a vehicle that there should be four different ways to switch them on? Well, I don't think so. We just need something simple and obvious. However, the boffins at Jaguar think differently. The E-Pace has obvious traditional heated seat buttons just below the screen, but it also has the option on the climate control dials. But this obviously isn't enough! They can also be turned on/off through the seat icon on the touchscreen. Even that isn't enough. There is a fourth way – under the 'extra features' screen. Stop – enough! Four options for heating car seats? Really? There have to be other things more important to driving that would be worthy of engineers time more than heated seats?!
And there is. Such as a smooth driving experience.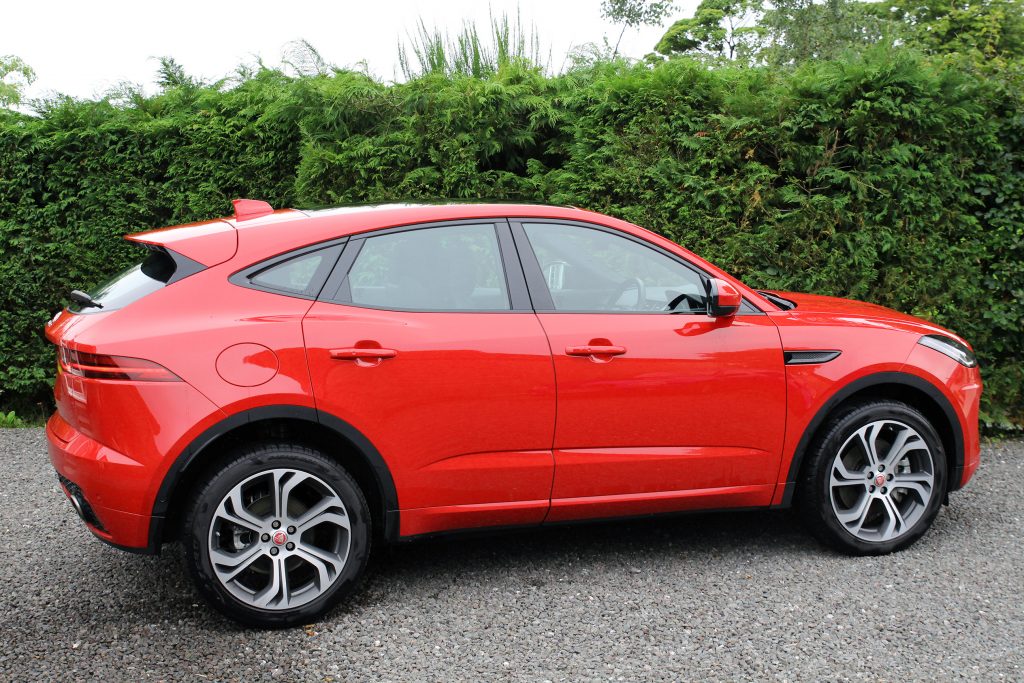 We were not even yet on the M8 on our 750 mile trip and the E Pace was annoyingly searching up and down its nine gears to find the right one. A touch of right foot pressure or the slightest change of incline invoked a gear change. Even changing into Dynamic mode rather than Eco made no noticeable difference to its gear hunting. When in doubt, flat out right? So I tried putting my foot down to make use of the 250 PS, and yes being an SUV you don't expect it to be the quickest (weighing in at 1830 kgs it's bizarrely heavier than its big brother), but I certainly didn't expect what happened. It was like a lazy teenager being asked to do something – first questioning 'Do I really have to do that?' before eventually knuckling down to it. A real pause, search, kick down and then accelerate. Like a swimmer taking a gulp of air before heading under water.
I expect much more from the engineers at Jaguar and this laziness in the auto gearbox and the multitude of gears really ruined the whole driving experience for me, and we'd only just reaached the M74. It was starting to feel like it was going to be a long trip. On top of that it was raining and one of the wiper blades needed replaced – rasping on every sweep, sounding like an old man snoring.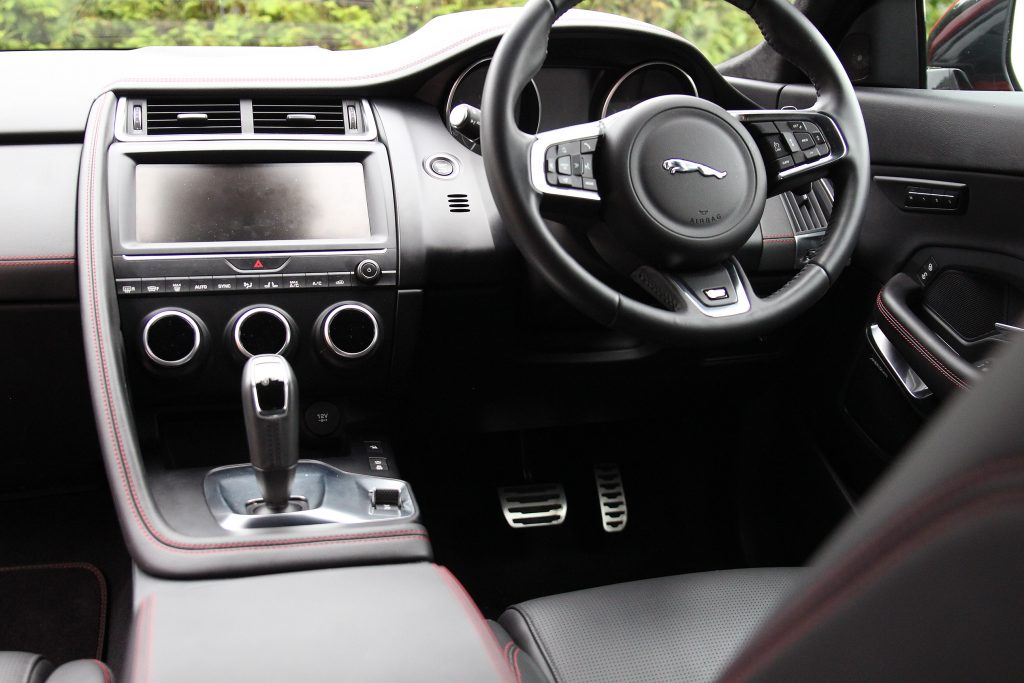 Time to see what the stereo can do to help pass the miles and drown out the rasping wiper blade. The stereo is fab.u.lous. A 380w Meridian sound system that seriously pumps out the tunes. And as with most new vehicles includes a DAB radio – perfect, let's get a bit of Radio Six Music for our road trip. Of course there is more than one way to select a radio station. Whilst I could have used the on screen radio controls, as a test car I felt obliged to try the voice controls. As clear as I could, with my dulcet northern accent, I recorded and tagged 'Radio Six Music'. Simple. Next to request the radio station and we are cooking on gas. Err, not so fast my dear.
On my first attempt it tried to ring 6880.
Then it tried to ring 6881.
Next it turned into Heart FM.
And finally, obviously feed up listening to my patient request, it decided to switch the audio off completely!
Just us, the sulky adolescent gearbox, the grumpy wiper blade and many more miles still to go. This was not quite the road trip I had been looking forward to.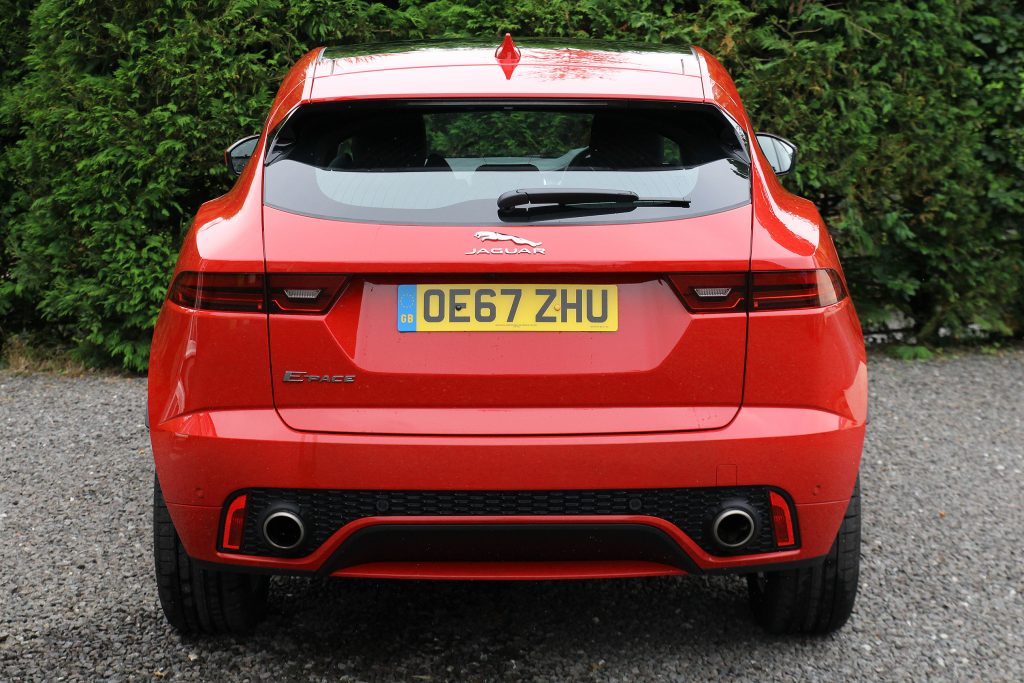 And on top of all that were the Great British summer road works. Once past Preston the motorway was a patchwork of average speed camera 50 mph zones, fixing damaged roads and upgrading to smart motorways. It felt like the majority of the trip was within roadworks. At least it gave a chance to test the Adaptive Cruise Control with Queue Assist and Lane Keep Assist. Not bad though the transitions as cars moved in front of us could have been a bit smoother.
Some time and a ridiculous number of roadworks later we reached Cambridge. The baby SUV certainly fitted in amongst the wedding parties, tourists and classical architecture of this famous university town – as I would hope of a 50 grand car. The starting price is circa £28k, but First Editions come fully loaded with 'unique design details' such as the 20" 6 split-spoke alloy wheels with Satin Grey Diamond Turned finish, branded metal treadplates and carpet mats. I was also unreasonably bemused to discover the puddle light shadow of a Jaguar and cub – denoting the E-Pace being the 'cub' to the F-Pace parent. Neat design touch.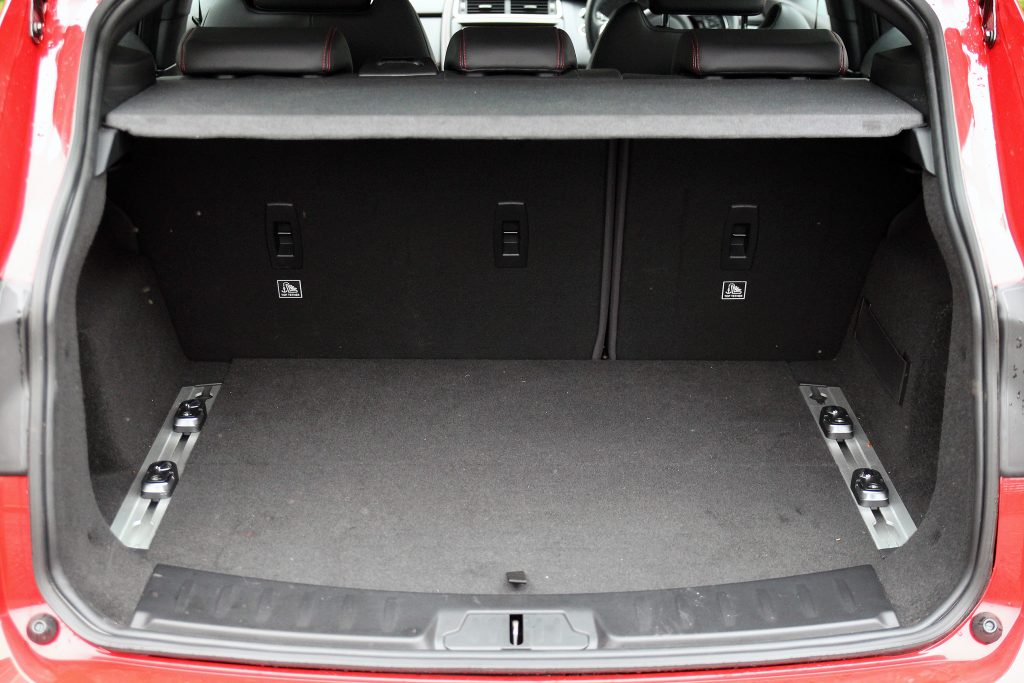 On economy the E Pace didn't do too badly for a big heavy, turbocharged petrol engined car. It averaged 34.5 mpg over the 750 miles. Perhaps this is the up side of that huge number of gears – keeping the revs down to eek out the best possible consumption.
Jaguar's webpage says of the E Pace … "Agile handling, head-turning good looks, and outstanding practicality – this is the very essence of E‑PACE. Features include all-round exterior LED lighting, state-of-the-art Driver Assistance systems and a 10" Touchscreen that delivers rich audio-visual infotainment." Whilst I agree with the good looks and rich audio-visual infotainment, I cannot agree on the agile handling – which to me is THE essence of driving.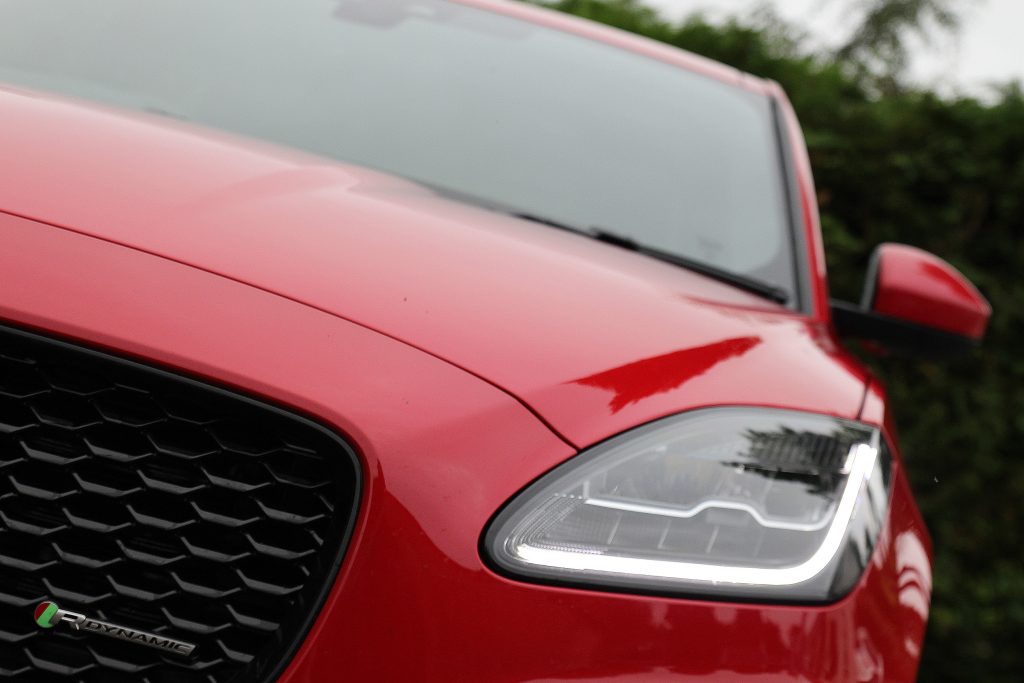 Overall I was disappointed – in their attempt to jump on the growing SUV market Jaguar seem to have given up on some of the things you would expect of a Jag. My £12k 2011 Jaguar XK feels more refined, smoother and more 'premium' than the E Pace.
The E Pace is OK, but just OK, and not as special as I would expect of a Jaguar, who can do so much better. Come on Jag – give us something worthy of the marque please.
Jaguar E Pace First Edition
PRICE: £48,115
ENGINE: 2.0 litre, 4 cylinder turbocharged petrol, 9 speed automatic
POWER: 245 bhp
TORQUE: 365 Nm
PERFORMANCE: Top speed 143 mph; 0-62 mph 6.6 secs
CONSUMPTION: 36.7 mpg (combined)
CO2: 174 g/km
TT Rating: