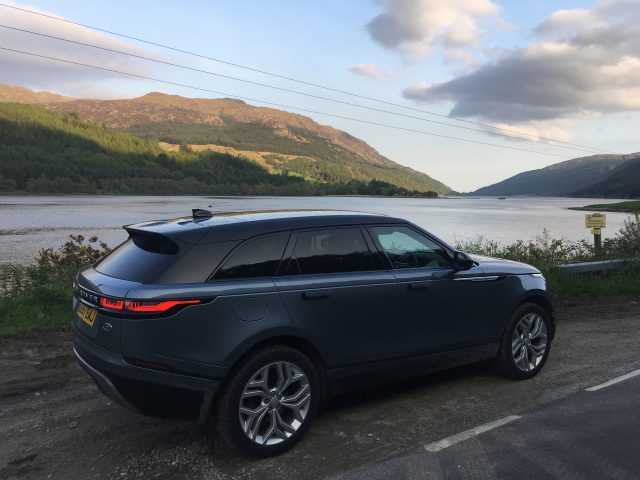 Front grill colour sensitivity. That's my ground-shaking phrase to set this article apart from other Velar reviews. I'm rather late in posting this, having experienced the car some weeks ago, but since then I have spent countless hours on the motorway and I keep noticing them. I have to say that the car's looks are very much affected by the colour of the front grill. It's the difference between merely noticing it……and seeing it coming towards you from the very edge of the horizon.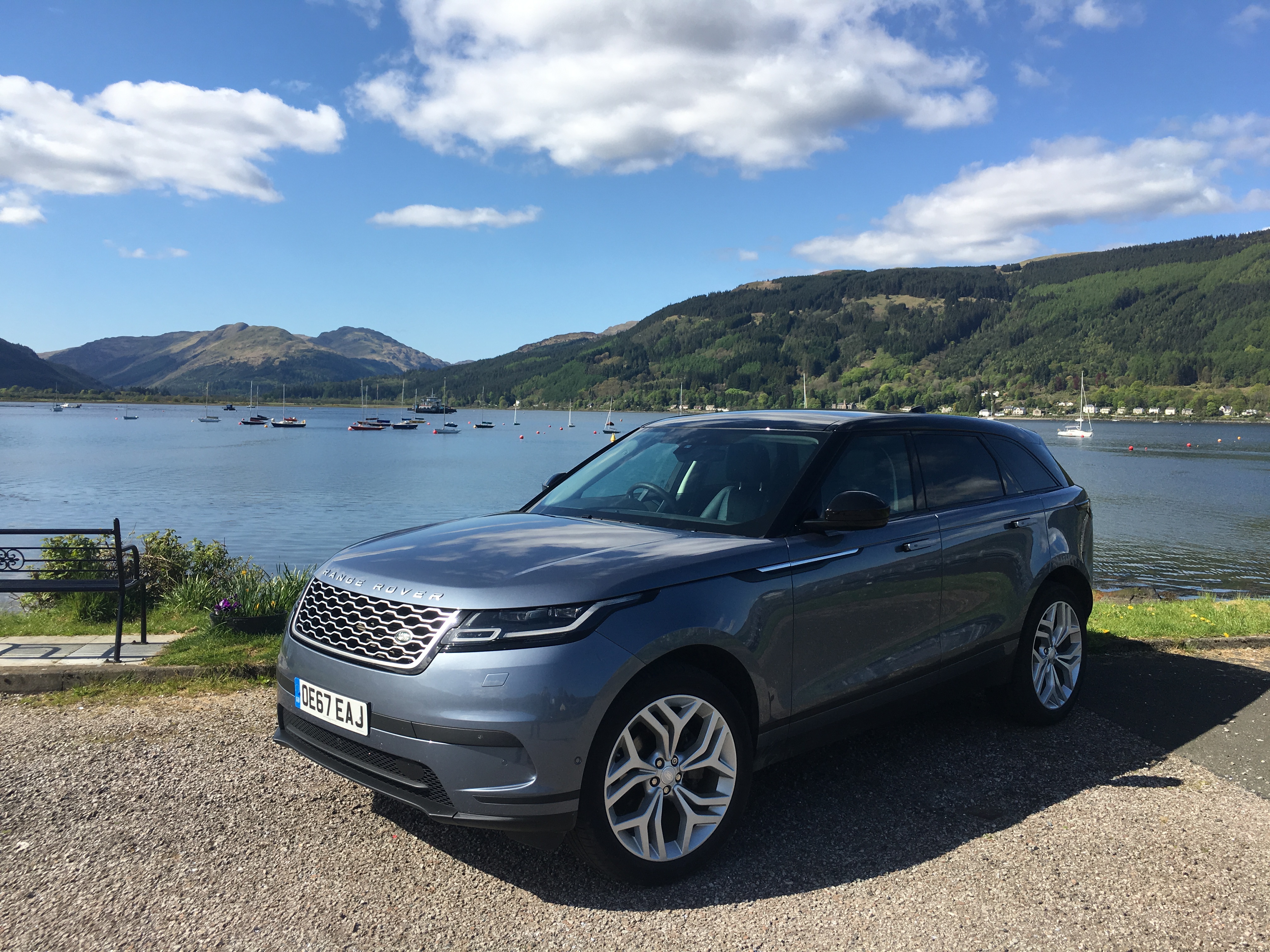 Buy the car in a colour and front grill combination that, unlike this press car, doesn't make the already proud nose any prouder……..please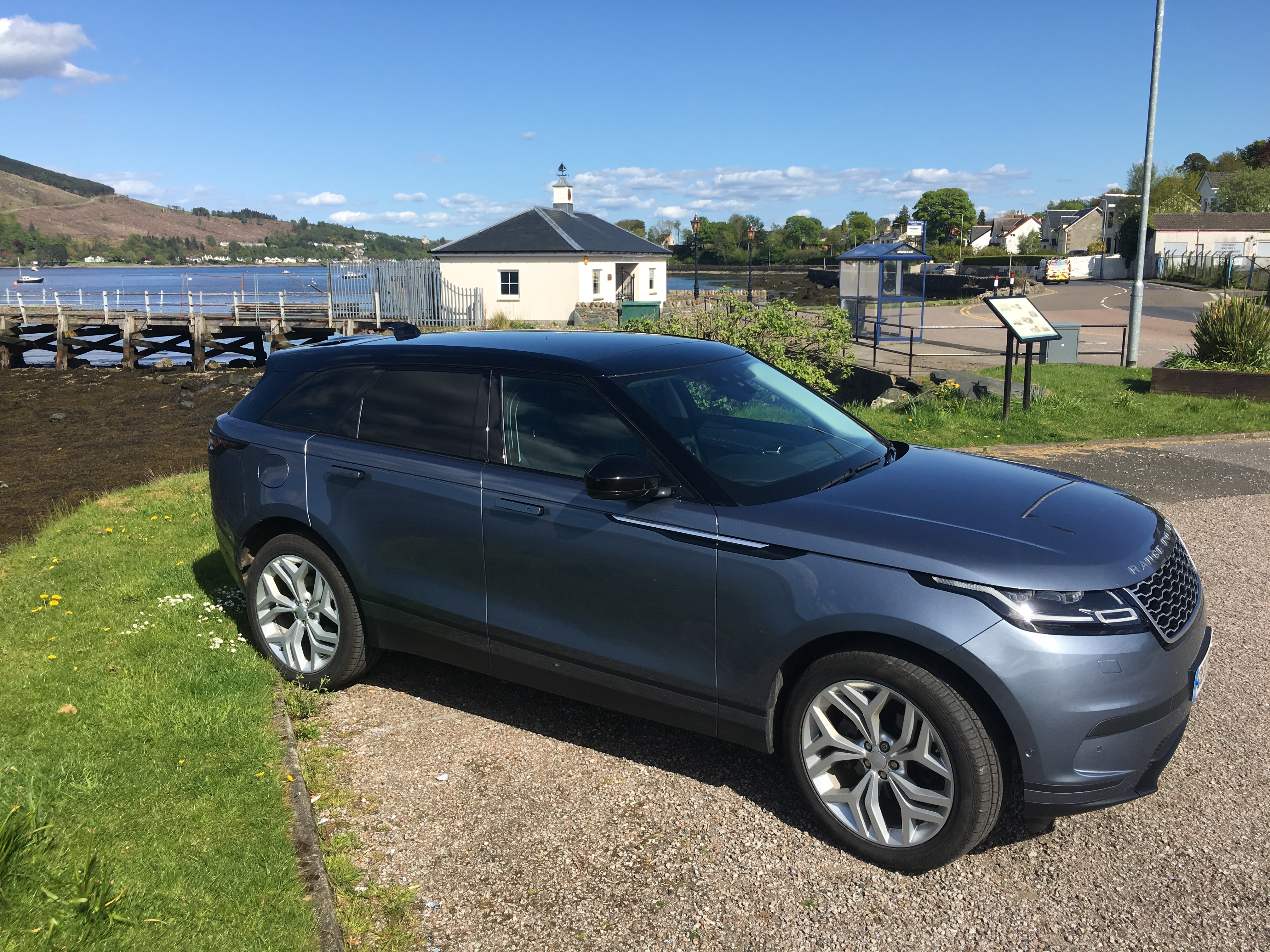 You'll notice that I do say "Buy the car…". Some readers should. It's a lovely car. It will be the right choice for many people.
For starters, as you might expect for a Range Rover, especially a £65,000 one as this press car was, it is a fine place to find one's self.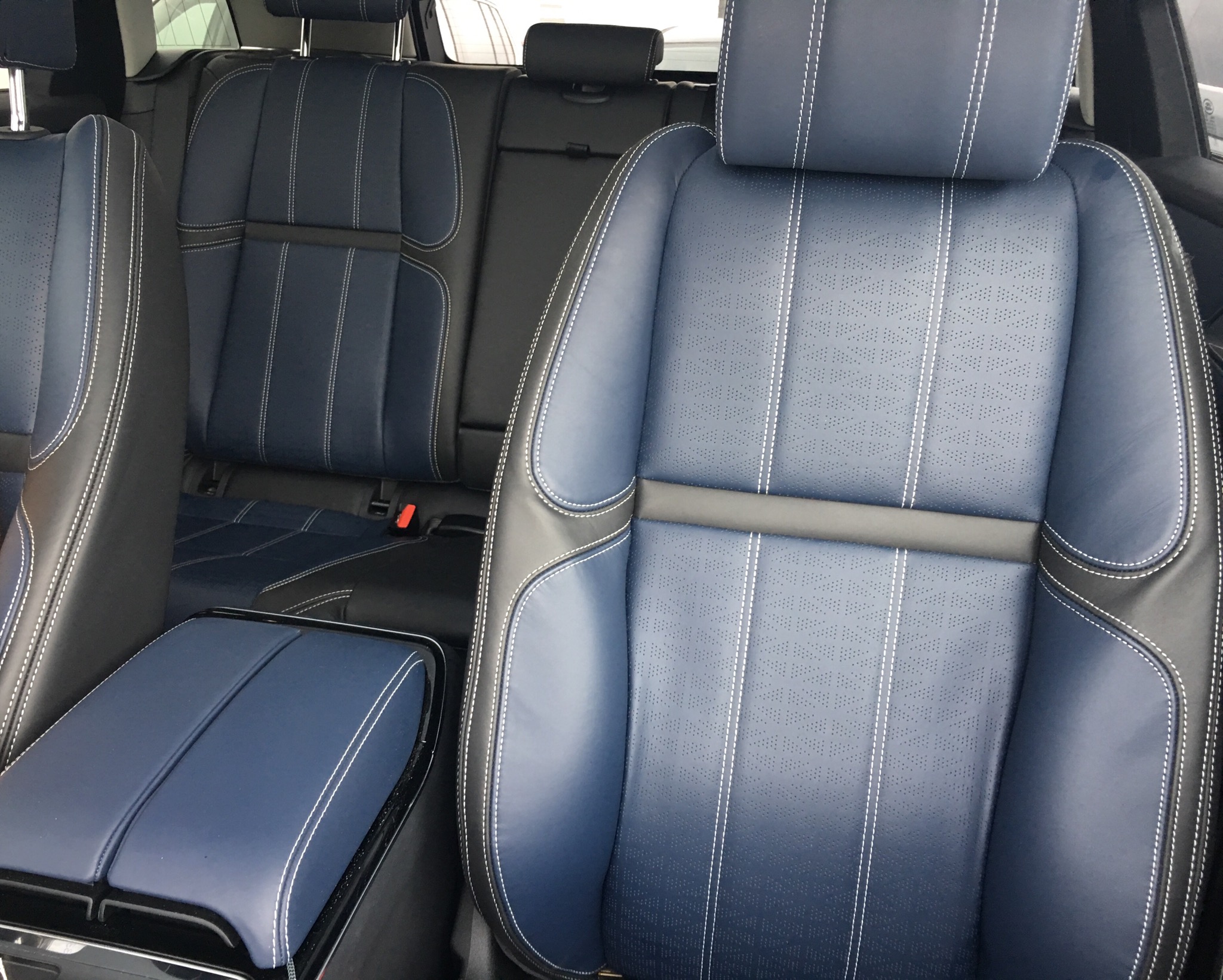 The 20-way adjustable, cooling seats on this car were blooming marvellous on a hot day. If I had many hot driving days heading for meetings in my life, I would want those…a lot. The massage option, on the other hand, was a strange sensation and not such a must-have. The seats were very supportive and comfortable without motors moving the cushions about.
The materials were mostly top notch. No obvious cheap and nasty bits to remind you of mediocre platform roots or to ensure you don't forget there are superior models in the range.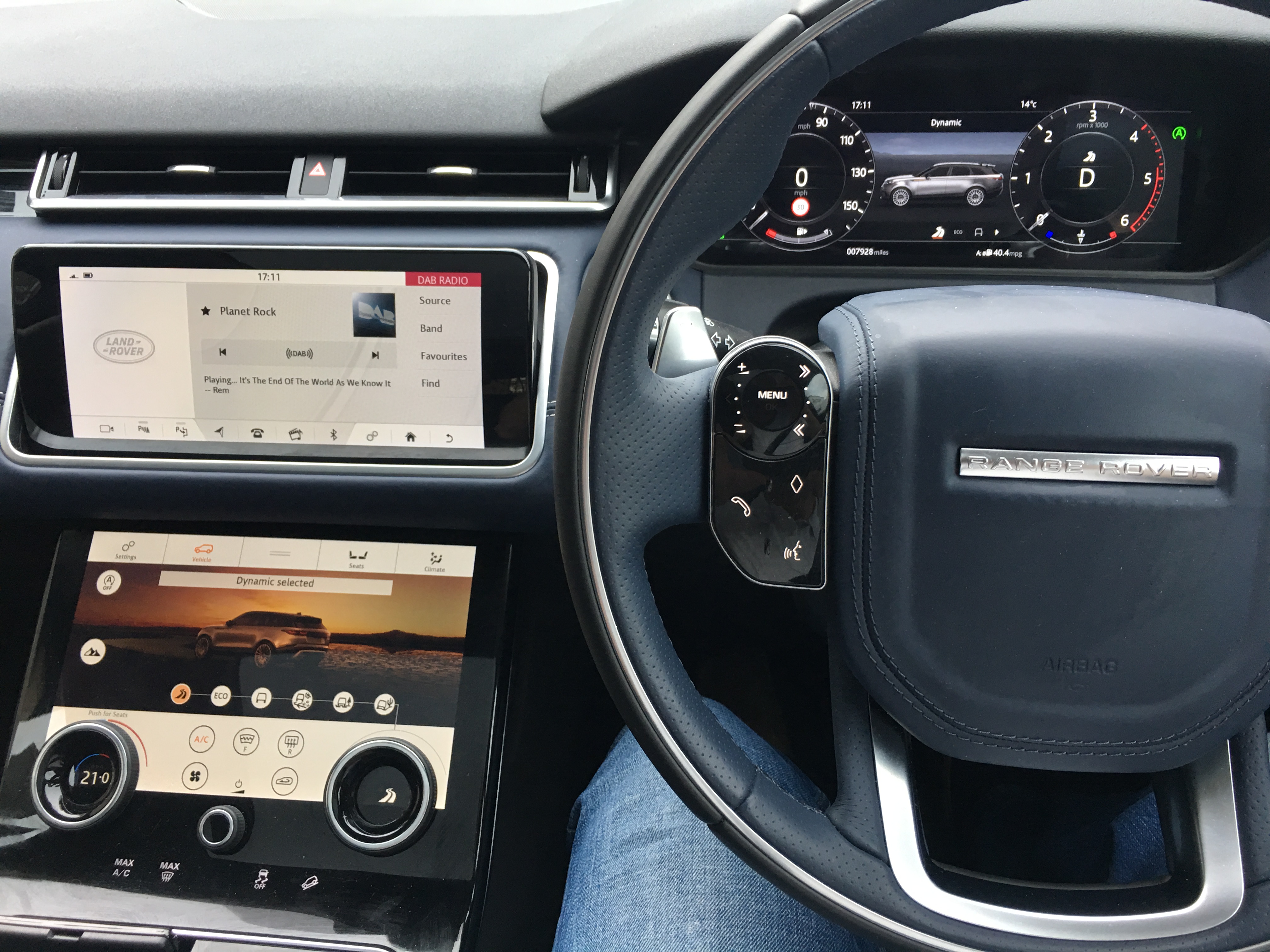 As a driver or front passenger, you feel you are in a proper Range Rover. It's not just the appointments either. The car feels substantial. Other upmarket-but-low-to-middle-range cars, Range Rover Evoque included, can feel a bit inadequate. The Velar feels Discovery solid.
As you can see from the above image, there is no shortage of touchscreen luxury either. This takes some getting used to. Which screen to look at and how to work the menus wasn't immediately obvious, but when it's your own car, it's something you learn, so I won't deduct marks. The system is fully featured.
However, someone in the software department needs a kick. Look again at the image above. Acres of screen are available and yet they are employed to show me…
– a Land Rover logo, in case the Range Rover one bang in the centre of the steering wheel gives me delusions of grandeur
– a picture of the car I know I'm in, right in front of my face lest I forget
– an even more glitzy brochure-style image of the car I know I'm in, to my left, presumably in case my passenger needs convinced to buy one
– and finally, in the middle of a huge expanse of free space that could be showing me other station options or alternative media sources, the name of the radio station I'm listening to.
Did the marketing department strive to differentiate the expensive new derivative by giving it an acre of touch screens for show, without thinking through their use?
What an opportunity lost. Hopefully there has been a highly animated software team stand-up meeting and they are sprinting just as fast as they can to a more useful delivery.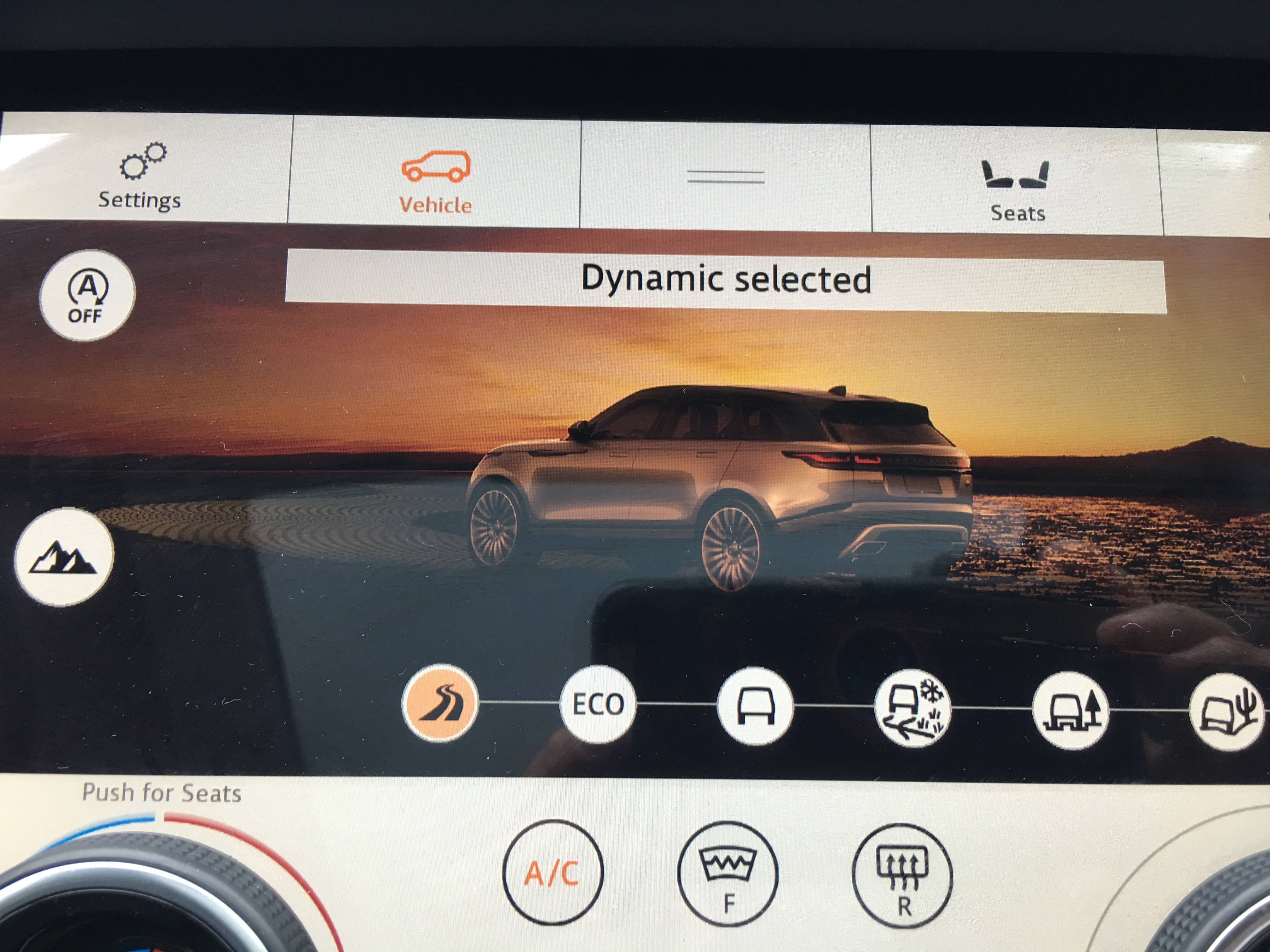 Switching subject to more conventional windows, and back to the "this feels posh" theme, the window line of the car is also very high, making you feel wrapped around and encapsulated. It's a nice feeling and adds to the sense of substance. It took a little getting used to when positioning the car, particularly in parking manoeuvres, but I'm happy to chalk that up to "things real owners get used to" again.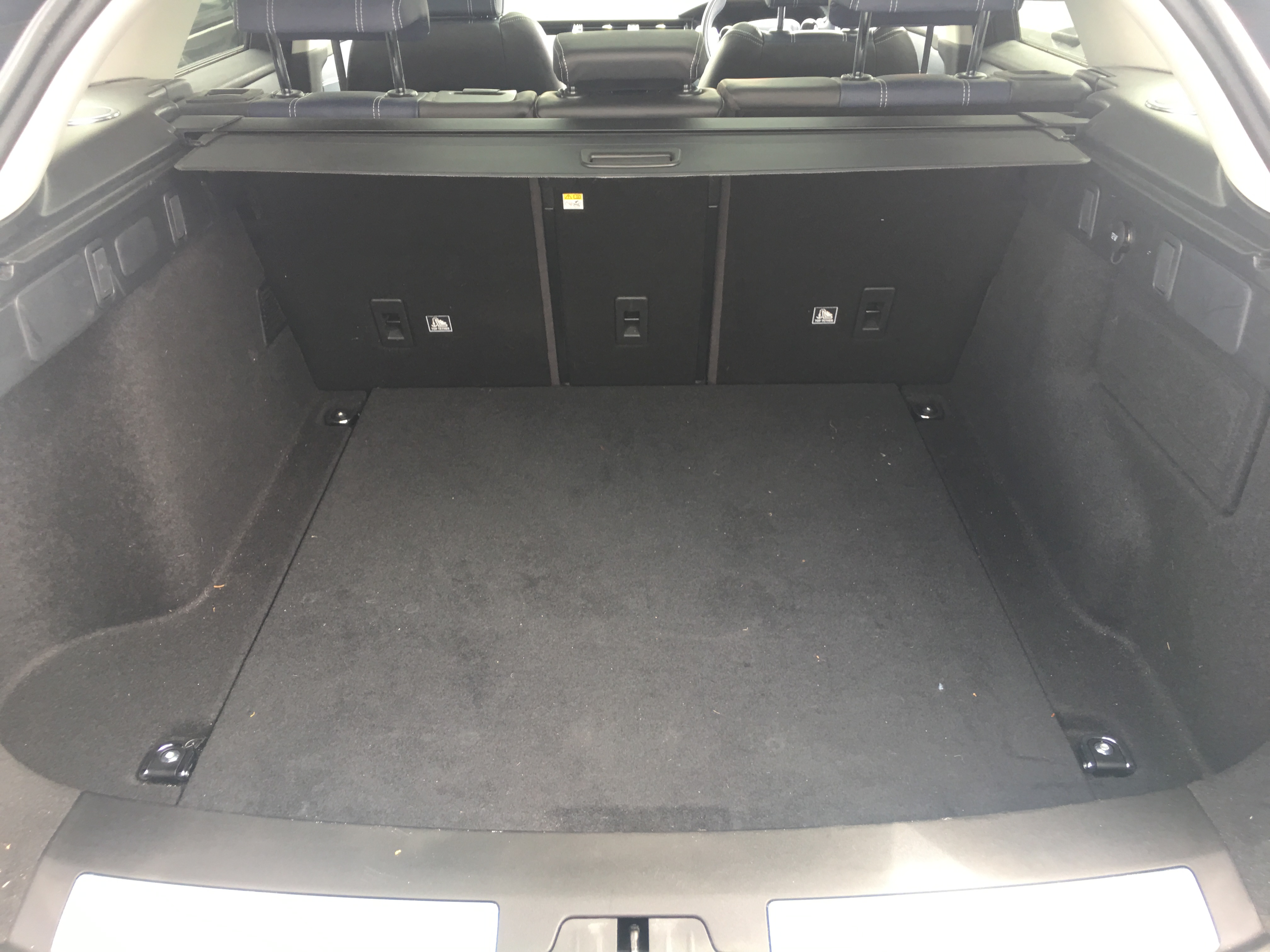 The car might be thought of as an extra model made up "because they could", but Land Rover has some way to go to have a range as vast and confusing as some German luxury brands, and the Velar does fit into its place in the range. As well as feeling much more solid than the Evoque, the Velar also has a considerably more practical boot.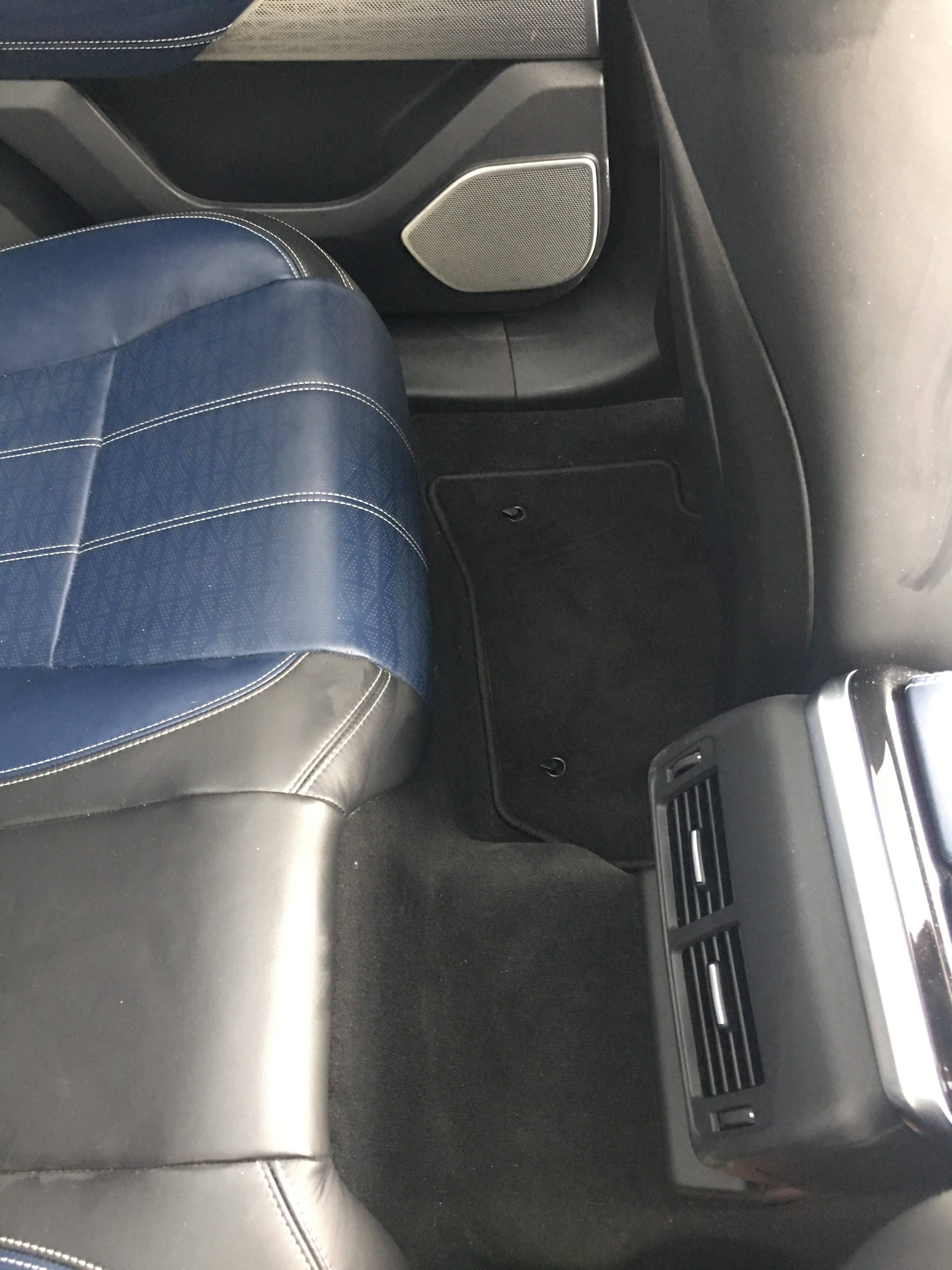 Compared to models further up the range, rear seat room, for example, is merely "fine". If you have long-legged passengers and want better than "fine", or have a regular 5th occupant, then buy a Sport or the full monty Rangey – I hear them suggest.
On the road, the Velar does its main job of cruising around in extreme comfort, very well indeed. It is smooth, quiet inside, and in this turbo-diesel guise, has plenty of go. The twin-turbo engine feels much more than a 4 cylinder. It is very impressive.
If you select the dynamic chassis mode and the sport gearbox mode, it can deliver a pretty engaging drive too. It doesn't suddenly feel Lotus Elise light, but it lets you know what the road is doing to the wheels and it changes direction quite well, while perhaps still feeling a little hefty.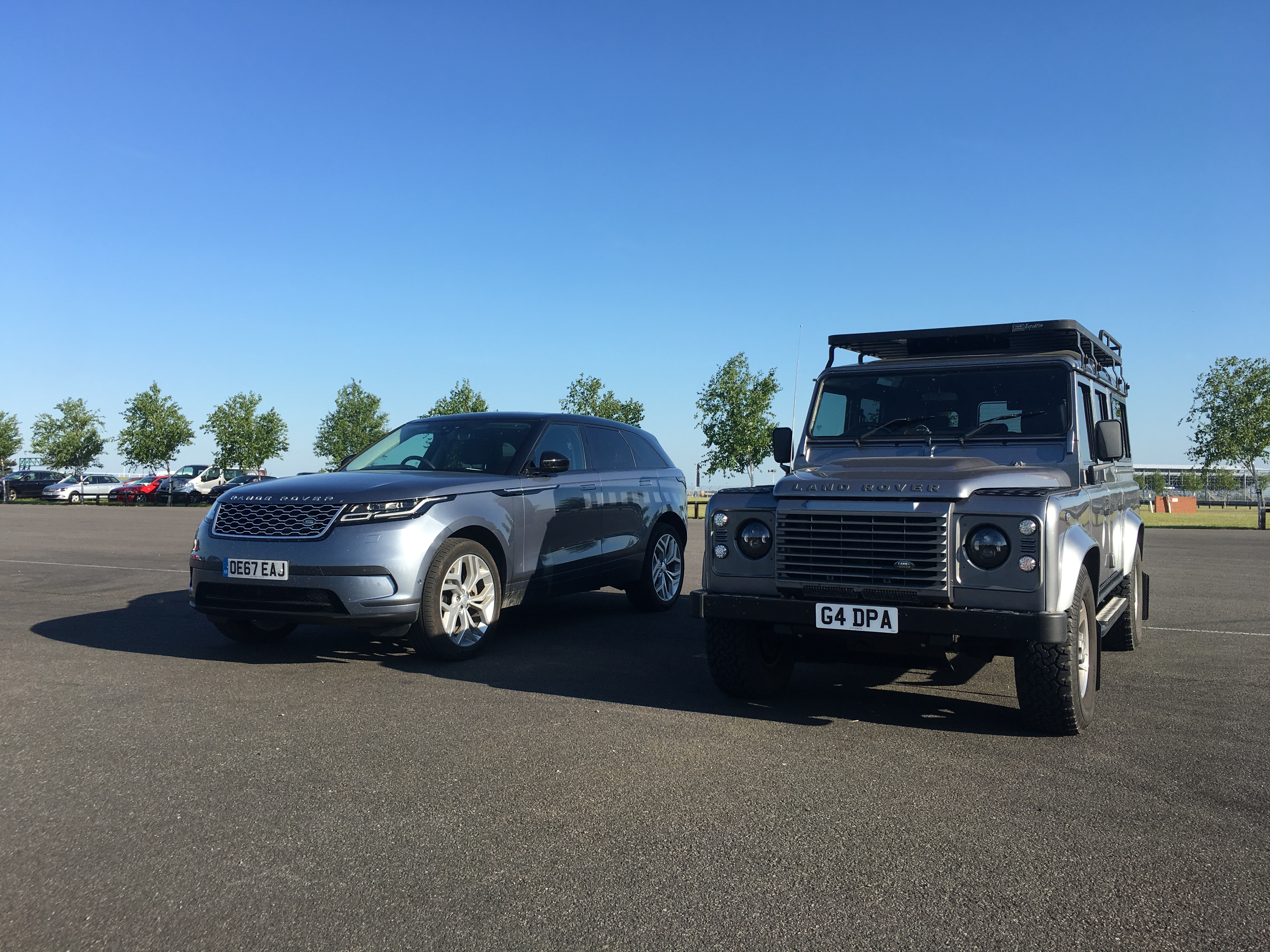 Price is an issue. This press car had a very high specification and consequently came in with a price tag of £65,000. It has a 4 cylinder diesel engine. Those two facts don't easily sit together in my head.
Furthermore, when one day I stopped and stepped outside the running car to close a gate, I got a chance to hear the engine noise from the outside. "£65k for a car that sounds like a flippin' hackney cab??? NO WAY!!" – was my reaction.
However, hope was restored when I noted that Velar prices start from £44,000. You can pay that for a far smaller BMW X2 or Audi Q2, so I shouldn't judge it based on the press car uber-spec price. Off I trotted to the Land Rover new car configurator page. "I'm sure I can specify a nicely enough equipped, acceptably sounding petrol variant for a much better price" – I thought.
The result was £63,400. Foregoing the panoramic roof and the wilder excesses of the multi-media system upgrade options didn't save me as much as I had hoped!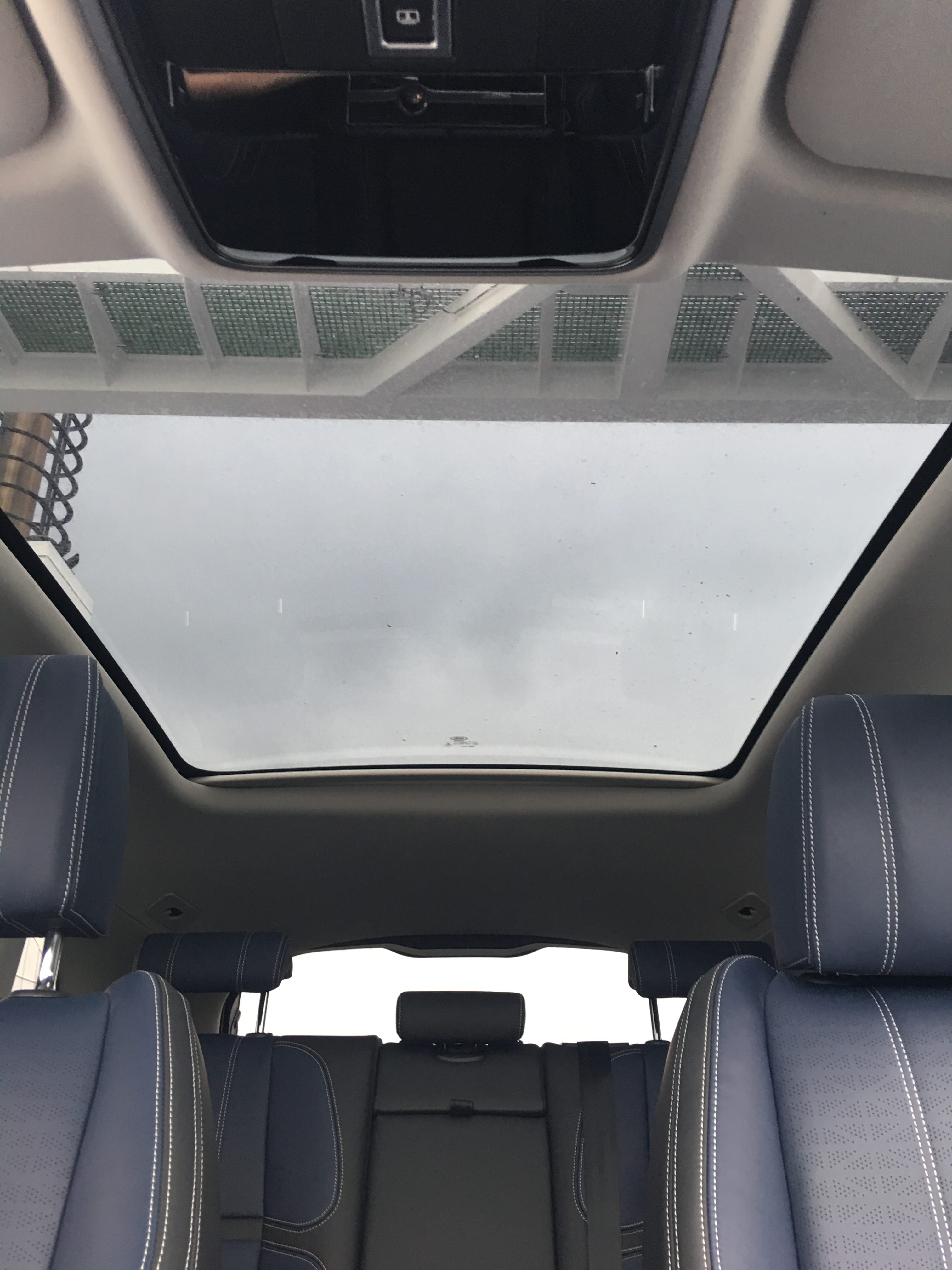 So, who is the Velar for? Like the £40k BMW X2, you can get hold of that sort of size for a lot less money, or get a lot more space for the same price. So, like the X2, you buy the £50-60-ish-k Velar if you don't need something any bigger and you are going to spend enough time in it to merit the extra cash over similarly sized competition such as a Volvo XC60 or Skoda Kodiaq….or money's not the issue and you just fancy one.
The occupants of the Velar will move about in refined, hi-tech comfort and the driver won't be frustrated at the helm. She or he may even have some fun. Everyone involved, or at least the two in the front and two in the back of no-more-than-average leg length, will arrive at their destination in the best possible condition and in considerable premium-branded style……provided you select the right colour of grill.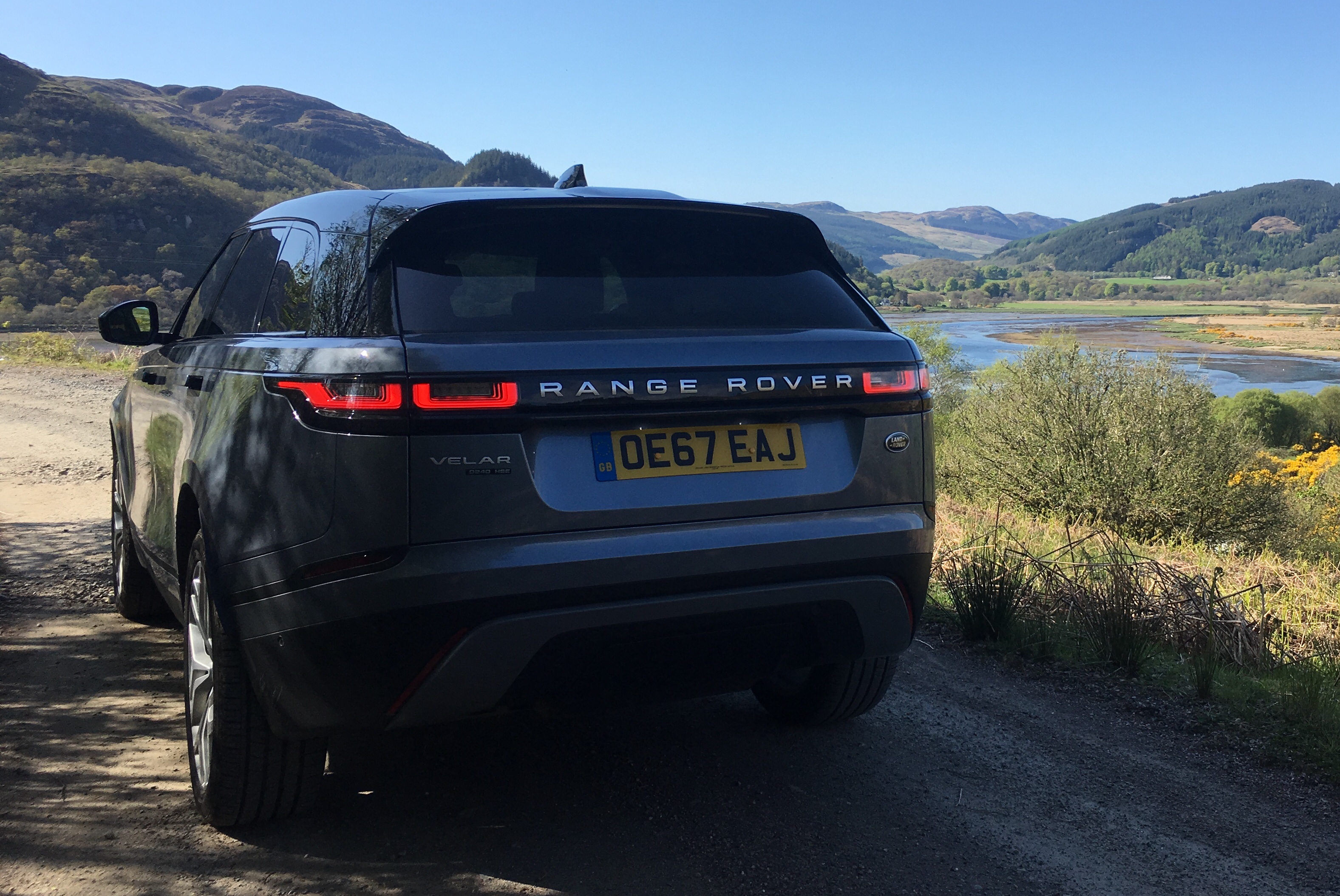 Range Rover Velar HSE D240
PRICE: from £64,160
ENGINE: 2.0l 4 cylinder twin turbo diesel
POWER: 240 hp
TORQUE: 500 Nm
PERFORMANCE: Top speed 135 mph, 0-60mph 6.8 secs
CONSUMPTION: 48.7 mpg (combined)
CO2: 154 g/km
TT Rating: