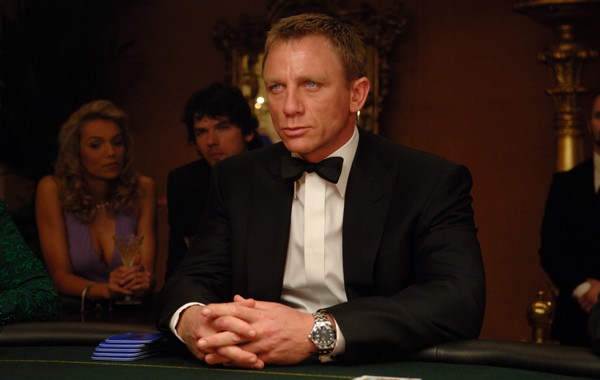 As some of you may or may not know here at 
Edinburgh
 Watch Company we're all about cars and watches, (mostly watches, of course) and so, we do our best to attend as many motoring events in Scotland as possible. Saying that we're proud to be partners with Tartan Tarmac, a partnership which we feel works perfectly, they bring the cars, we bring the watches. Everyone is happy.
With attending these Tartan Tarmac events, we are always mindful of the audience. We feel that we understand most car and watch guys and so, prior to any event, we will do our best to replenish our stock with special timepieces with Tartan Tarmacers in mind. On the event day, we will always bring a selection of hand-picked, interesting and special pieces, all watches we think best suit the occasion.
Alongside the partnerships between watch brands and car manufacturers such as Jaeger- LeCoutre and Aston Martin, IWC and Mercedes, Hublot and Ferrari (Previously Girrard-Perregeaux and Ferrari) etc, we've found some of the most popular watches to be the James Bond Omegas and I think I know why; we love cars, we love watches, why? We like Gadgets. Bond is an icon and is the definition of "cool". Who doesn't want to own a Bond watch?  I sure do.
With this in mind, we've just taken in a very special and limited-edition James Bond Omega, which I will get to later, first I'd like to educate you on what watch James Bond himself has been wearing for the past 20 years.
Every couple of years we are treated to a new James Bond movie. Young and old look forward to seeing what kind of daring duty Bond must fulfil, which Bond girls are featured, what type of villains we will see, what car he is issued and of course, what type of gadgets and accessories he gets his hands on.
We're always most excited to see the latest Bond watch of course. (We're also graced with limited edition Omega models to celebrate the release of a new film).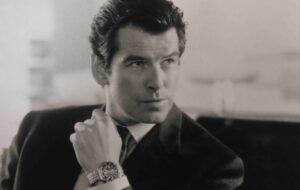 The Omega Seamasters worn by James Bond
Ever since the birth of Bond we've seen interesting timepieces however since 1995, it's always been Omega. Everyone recognises the blue dialed Omega Seamaster as the iconic 'Bond Watch', however, in more recent years, Bond has been experimenting with various models throughout the Omega range. We'll get to that in part two of this blog, for now we're talking Seamasters.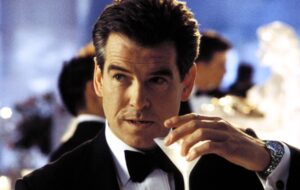 As any Omega and/or James Bond fan would tell you, the collaboration between the two "brands" started over 20 years ago. The two movies starring Timothy Dalton were, let's just say, not particularly successful. The producers realized that they had to shift gears and adapt to the different times the early 90's brought. They redesigned the character of James Bond and teamed up with several major global companies; Aston Martin, BMW, Ericsson and last but not least, Omega.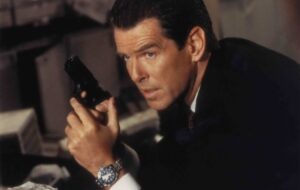 A persistent rumour is that someone close to (or related to) Omega or Swatch Group offered – besides the official partnership – a 7-digit amount to have the famous "Nice watch. Is that a Rolex?" (and Bond replies: "Omega") quote in the Casino Royale (2006) movie script. Whether it is true or not, we don't know, but it did the trick in any case.
Golden Eye
The first instalment of this collaboration was with Golden Eye in 1995. The story was built using those Bond clichés we know and love; space technology, Russians as bad guys and a Roger Moore-type suave, Pierce Brosnan. As I'm sure you'll remember, in this film Bond was first seen driving the very beautiful Aston Martin DB5, a car we can all appreciate I'm sure. To equal that, throughout the movie he is seen wearing the Seamaster Quartz Professional 300M. A Stylish watch to match Bond's personality. This was the building block of one of the greatest commercial partnerships in history.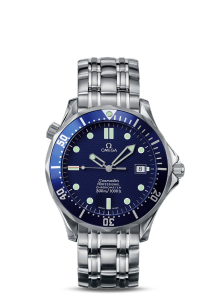 Tomorrow Never Dies
Just 2 years after the first of the Pierce Brosnan-era movies, United Artists (the studio behind the franchise) were ready to amaze us with yet another picture, Tomorrow Never Dies (1997), by this time Bond upgraded his quartz to the Omega Seamster 300M Automatic Chronometer: a truly outstanding, future classic watch. Again, I'm sure you'll remember the very special BMW 750Li which was used in the film, issued proudly by Q with technology that we're seeing in cars today, GPS navigation and the ability to drive it from your mobile phone. The only things we're missing are the self-deploying machine guns and passenger ejection seats (probably for the best).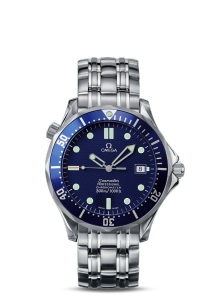 The world is Not Enough/ Die Another Day
In the third (The World Is Not Enough, 1999) and fourth (Die Another Day, 2002) movies there were no upgrades, James Bond was still wearing his trusty Omega Seamaster 300M. However, he did have a very striking BMW Z8 
in the film, driven by Bond until being sliced in half by a helicopter equipped with tree-cutting saws in Azerbaijan, unfortunately.
 Die another day was another epic display of horsepower (nothing like a Tartan Tarmac breakfast meet) however still very impressive especially towards the end with the Aston Martin Vanquish and the Jaguar XKR battling it out on the ice whilst being chased by a giant light/ laser beam. 
Casino Royal
11 years later, Casino Royal (2006) gave the story of Her Majesty's Secret Agent yet another twist. Daniel Craig was chosen to play the new James Bond and brought a completely different attitude to the screen. Craig is more of a Connery-type muscle guy versus the sharply dressed businessman like Brosnan. This new beginning also meant a new watch and a new car. Screen time was split between the Omega Seamaster 300M like the previous models but now with the Co-Axial escapement and the larger 45.5mm diameter Omega Seamaster Planet Ocean on a rubber strap. The Planet Ocean was a new addition to the Omega family and matched Craig perfectly. When James Bond dressed up for a poker game he was seen sporting the smaller, classic 300M but when he was taking care of business, he required a tool watch. The Planet Ocean proved to be that rugged watch and became a worldwide success for the brand. More on this to come.
Throughout the film Bond is seen driving a variety of cars, however the two most important ones are the Aston Martin DB5, which Bond wins playing poker and of course the Q issue Aston Martin DBS – A very elegant and stunning car, perfectly suited to Bond with all the gadgets he needs.
Quantum of Solace
Quantum of Solace (2008) was the title of the next Bond movie but it could have been Casino Royal Part 2. The villain is different, the car is the same, but the story continues… Bond is seeking revenge with his Omega Planet Ocean and Aston Martin DBS.
There are more films to mention however we'll get to that in part two of this blog.
https://youtu.be/YMPWqj0XDhM
Summary
Throughout the years the Bond cars have varied but for 20 years the Bond watch was the Omega Seamaster, it's not until recent years that more Omega models were introduced into to the Bond scene.  That's saying something about Omega. The Seamaster is an iconic watch, known for its association with one of the coolest brands in history.
If you're looking indulge this Bond watch desire, then take a look at this:
A tribute to the infamous partnership, number 593 of 10007, the limited-edition Omega Seamaster 300m Quantum of Solace. This stunning watch comes with a stunning black dial with "007" on the bottom of the second hand and is in mint condition, unfortunately, it doesn't come with a laser and it can't break bulletproof glass, however, It hasn't had the life of a bond watch, thankfully. It's case size is 41mm making it just the right size for anyone.
Here at 
Edinburgh
 Watch Company we're always on the lookout for interesting timepieces and the Bond limited edition watches are simply ones we just can't refuse. If this isn't the exact Bond watch for you, then let us know which one is and we will do our best to source it. For now, we'll look out for some new and interesting timepieces and we'll see you at a breakfast meet again soon. 
http://www.edinborghwatchcompany.co.uk