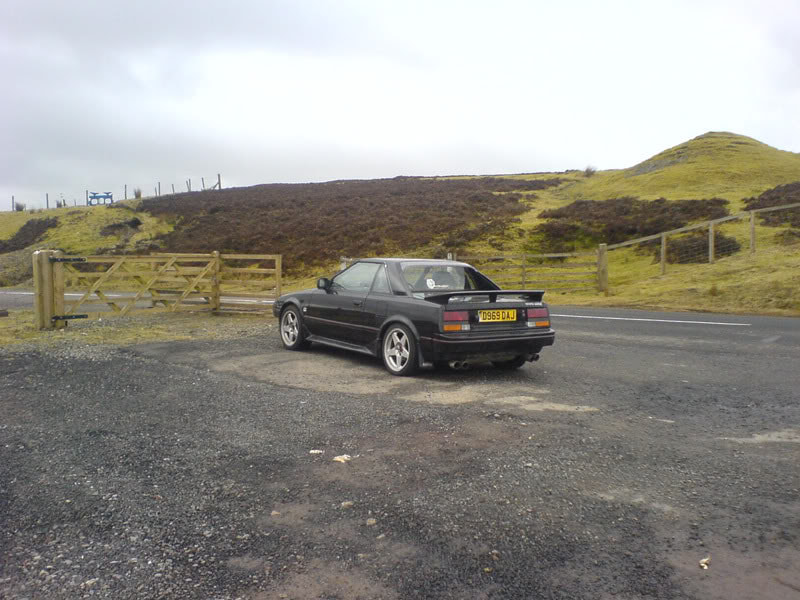 You would think that this would be the simplest of articles for us to write about. On the one hand, it is very easy to remember special cars that you've lived with and became part of your family. Misty memories of seasons in the sun, soaking up miles of twisty tarmac. On the other hand, it's painful looking back, like remembering an old dog you had to take outside and shoot in the face. Breaking down atop a mountain makes for just as interesting a story when you finally make it to your B'n'B/tent/hotel. Focus on the good times!
Pouring back over my hooning career (always been more into modifying and driving than polishing for shows) there's a few cars that stood above the rest. Nothing to do with expense or speed ultimately, all to do with the right steed for the right journey. I'll start off with my 1986 Mk1a Mr2. Chronology is for watches…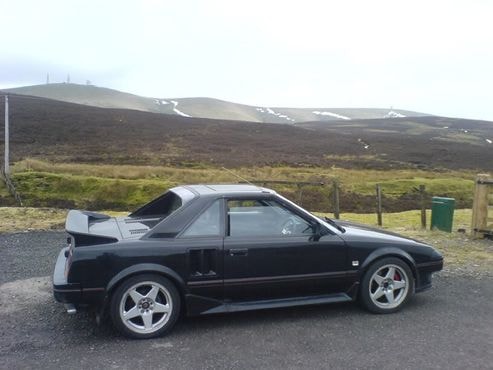 Black Bob, as he was affectionately known, was a metallic black wedge of 80's Mr2 that I picked up as a rolling shell having been previously converted to run a Camry V6. My job at the time was creating exactly these crazy vehicles but it was a deal too good to pass up on. The engine and box were built and ready to go before the shell arrived. The whole conversion was installed and on the road in a week of late nights at the garage.
Power train wise, this was a 3.0L 3vz-fe from the aforementioned Toyota Camry/Lexus GS300, lightly ported heads, lightweight flywheel and bolted up to an S54 transmission. A tried and tested combination that gave us 190ish bhp, 190lb/ft torque in a car that weighed in around 1,050kgs. They didn't quite set the heather alight but they made a song and dance trying to all the same. Anyone who's owned an Mr2 will tell you it's a fun place to sit with the rear weighted layout attempting to haul you in a pirouette if you take liberties mid corner. Respect the compromised McPherson strut layout on the back, uprate your subframe bushes and learn to steer with your right foot. Essentially it's the perfect way into RWD life. The V6 simply amplified the operating revs that you could play around in.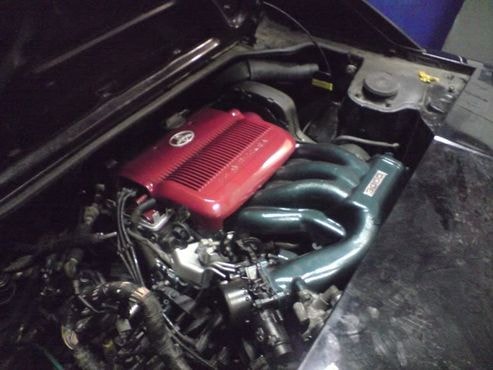 The car came with Koni suspension all round. Uprated Mk2 rear calipers and discs, ST165 front calipers from a Celica were added along with a turbo ARB. All the ingredients were there to lift the everyday car into a tarmac toy. The Azev A's made it over from my previous Mk1 V6. They are just perfect for the looks of the wedge body.
What the engine also gave you was a soundtrack that turned heads. We sourced a Skytune exhaust from Belgium and being the obnoxious neighbour that I was I plumped for the 88dB version. It would have been rude not to. Boy did that thing have lungs. It was somewhere between a 74 RSR and a Stratos…in my head at least. One of my favourite runs was a solo blast down through the leadhills. As I approached the big opening with rolling hills on either bank (if you know the road), there was a group of fellow petrolheads who had set up camp and had heard me approaching from a few miles away. The road straightened out and I could see 2 of them starting to wave, assuming something was wrong I slowed down until they began goading me on, faster, louder. Oh well, if I must. I've never taken part in a competitive rally but that day, in the sunshine, playing to the gallery, I WAS Markku Alen on the Monte. They were probably hoping for something a lot more exotic but we all came away smiling by the time I was off to hunt down the Dalveen Pass.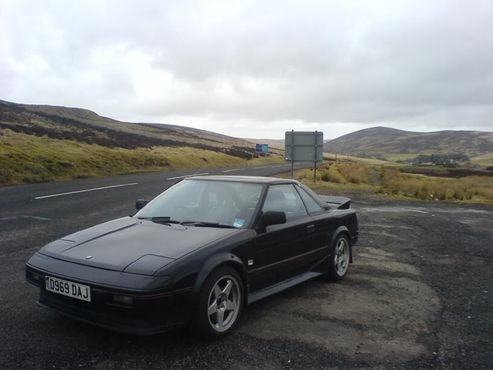 Another memorable trip involved the legendary Highland Hoon. The exact year escapes my booze addled memory but it was around 2010. My father decided to join us as we travelled up around the highlands en masse. I'll spare him the blushes but a single track road just north of Applecross and being at the front of the group didn't mix well. The next part of the run was, as you'll have guessed, the Beallach Na Ba. The steepest climb on the isles, going all the way from sea level, up through the clouds. There I am, sliding the car around hair pins with all the ham fisted grace of a bonobo chimp and my old man holding on for dear life next to me, someone somewhere whispers…"rally god". That's what i heard. What was actually said was "F#*k me, look at the temperature!" just as we pulled in at the top of the climb. Who'd have thought the little car would get so hot so far up a mountain. The expansion tank gargled over and Black Bob wet himself. We were the last up the hill. We had no water in the car. At least there was plenty of very large puddles dotted amongst the grass and deathly drops. Let him cool, topped up with Peckham Springs finest and below 90* he stayed all the way home later that afternoon where he was treated to fresh coolant and some TLC. You take the good with the bad.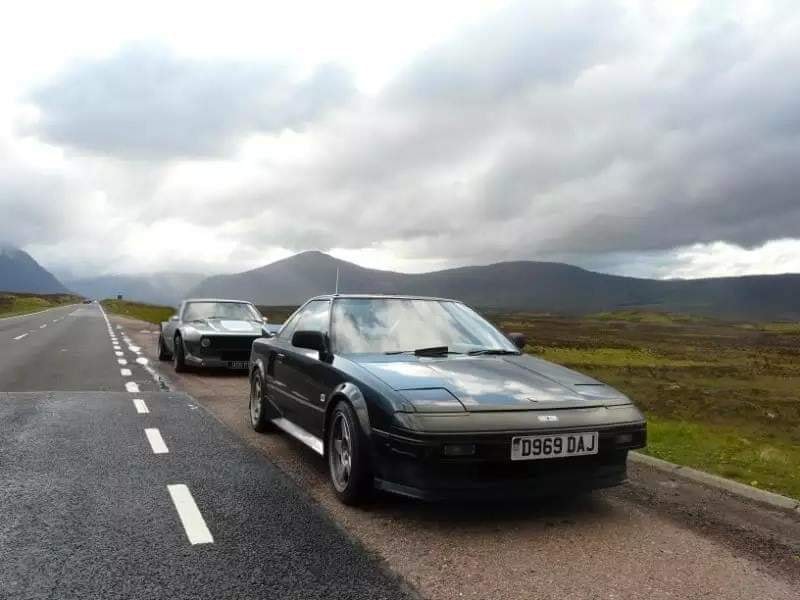 I loved that car for the way it made you feel. There was a long list of things that could have made it faster, smoother, safer but it did everything I wanted of it and more. It wasn't even that rusty! Mk1a's (up to '87) seeming to be made of stronger stuff than the Mk1b's. It still looked good the day I sold it, albeit with a crunchy second gear synchro and a good few miles on the odometer.
Why on earth did I sell something that gave me that many smiles? The attraction of a younger model. Black Bob Jnr followed which i'll go into for the next in the series.