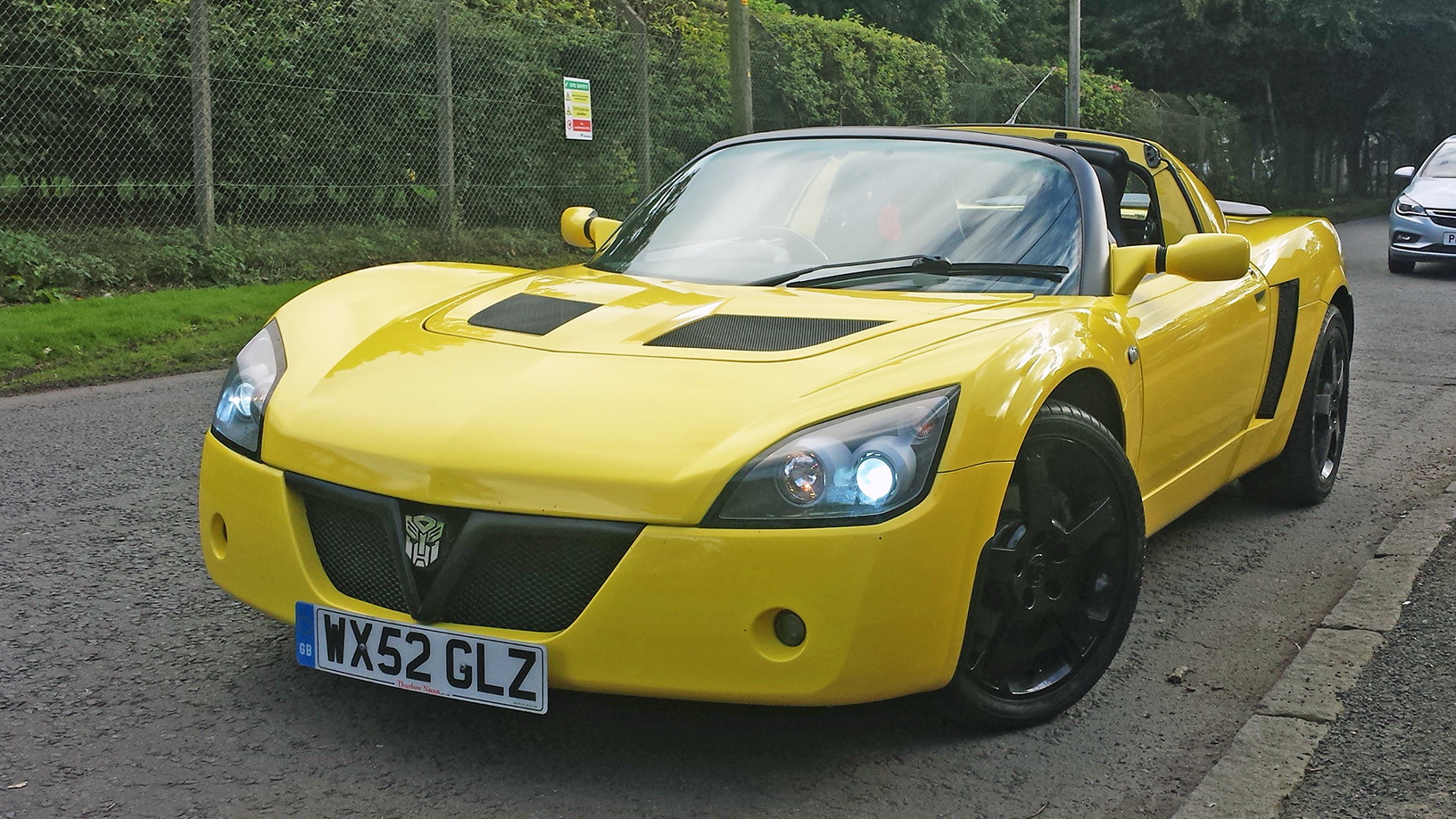 Owner:
Matthew Macconnell
What's the car?
The car is a 2002 Vauxhall VX220 (Lotus Type 116). The Car is also called 'Sting' (due to the bumblebee black and yellow look!)
When & how did you come to buy it?
I bought the car almost completely blind in September 2016 from a specialist (Jon Seal) in Wakefield. I had only seen photographs, and of course the description in the ad, but buying from a trusted dealer was the way I wanted to go. I test drove a blue Elise S1 before buying my VX but I just didn't gel with that particular car for some reason. I then looked at a few Porsche's but deep down I knew I really wanted a VX220.
I always wanted a Yellow VX220 in particular, but couldn't quite find the right one as quite a few had either been written off or suffered damage in some way. I saved for quite a long time to build the funds for the correct car, I was working away from home full time, staying in a tiny caravan on a farm. One morning, I opened up my phone, jumped onto the web and spotted a beautiful Yellow VX220, exactly what I wanted, with ideal mileage and being sold from a well known specialist in Wakefield. I called him up, reserved the car and asked for it to be brought to my home address on a transporter! The deal was made and the relationship begun. The car was delivered and I was so excited. Everything was spot on, it had been fully serviced, looked after well and I was officially in love with it!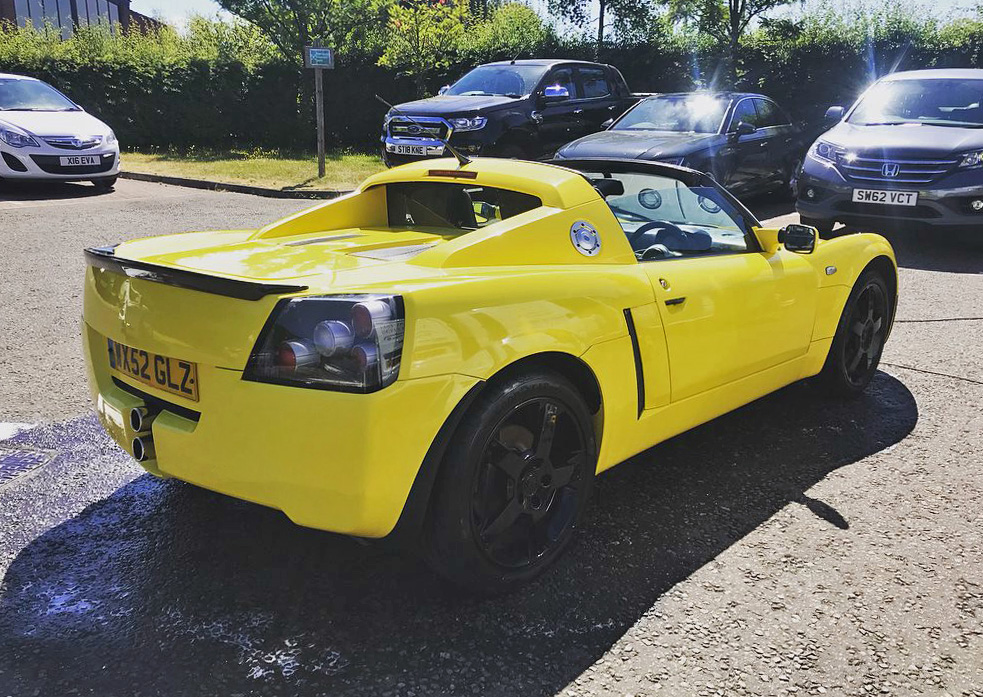 What was your previous car?
My Previous car was a 2007 Daihatsu Copen 1.3 in silver!
Anything you wish you had known before buying?
The paint can suffer from osmosis if not carefully treated, but other than that the car is everything I had hoped it would be after being a dream for nearly four years.
Has it had any modifications?
The car has had the following mods:
Interior: The car has been fully carpeted inside by the previous owner to reduce road noise. It's also got a carbon fibre dash inlay, carbon fibre gear lever, and alcantara door cards.
Exterior: Lip spoiler, black windscreen surround, hard top (not always fitted), and black wheels.
Engine: TMS stage 2 package (includes remap, full K&N air intake, breathing mods and exhaust). It did have a Miltek exhaust I believe, but this was removed before I got the car.
Suspension: Bilstein shocks, Eibach springs, Spitfire toe links.
Tyres: Eagle F1's.
What do you love about it?
I absolutely love nearly everything about it! It gets a lot of attention being yellow, and people always like a photograph. It handles absolutely spot on as the previous owner had the geo setup correctly. It accelerates very well, you can take the roof off on a good day, and it only weighs 870 Kg, so can be thrown around corners with confidence. It also puts a massive smile on my face when I drive it, and each time it feels like an event. Even peering out of the living room window looking at it just makes me smile.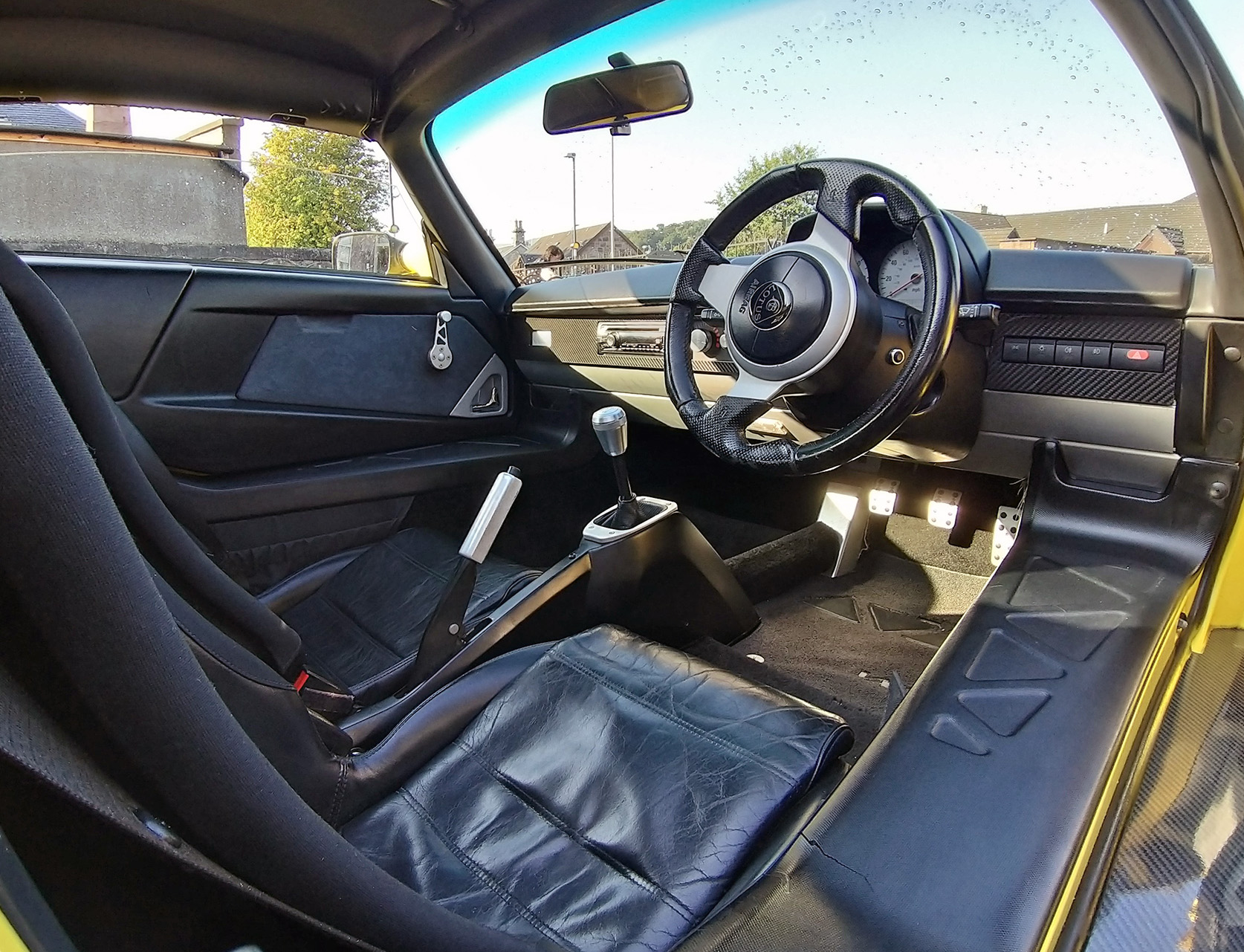 Anything you dislike about it?
Probably getting in and out! Some motorway drivers don't seem to see you (even though it's yellow!), but other than that I just adore it and can't fault it.
What are the running costs like?
Running costs are actually not bad with servicing from a good garage costing around £350 – £400. Fuel Economy is around 30 mpg if you drive it well, and the price of a 17″ Eagle F1 is pretty cheap these days.
Any future plans for the car?
Future plans include:
A full Stainless exhaust fitted
Precat removal
2.4 inlet manifold
Ported and polished throttle body
Maybe different cams
Retrimmed steering wheel
And possibly some more carbon fibre parts!
What memorable drives/road trips has it's been on?
To be honest, I haven't been on many! I've driven through the Lake District which was just superb, and we often go through the Trossachs. But we are planning to go to Monaco very soon with the car and hopefully experience some of Germany eventually too.
What's next?
Hopefully either an Alfa Romeo 4C Spider or a Lotus Exige Sport 350.