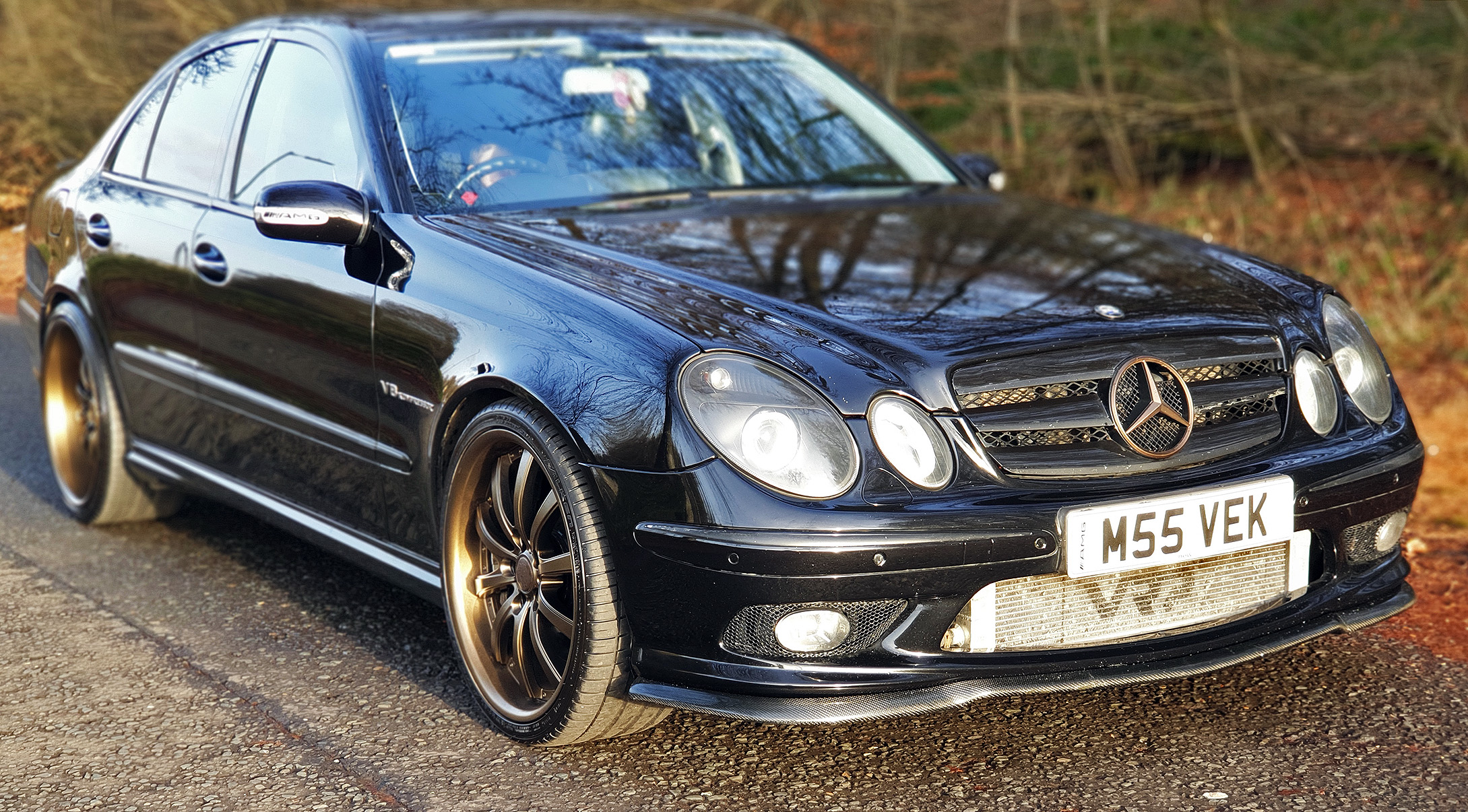 Owner:
Mark Johnston
What's the car?
The car is a 2004 E55 AMG with a 5.4 litre supercharged V8.
When & how did you come to buy it?
I have owned the car for over 7 years now. I initially wanted to get an V10 M5 and all the research I was doing was also bringing up the E55. I fell in love with the AMG within a few weeks, and had to travel south of the border on a few occasions to find the right one for the budget I had set myself.
What was your previous car?
I had a brief spell with a MK1 Audi TT 225, but found it too small compared to my previous Mondeo ST220, so it was time to go back to a big car.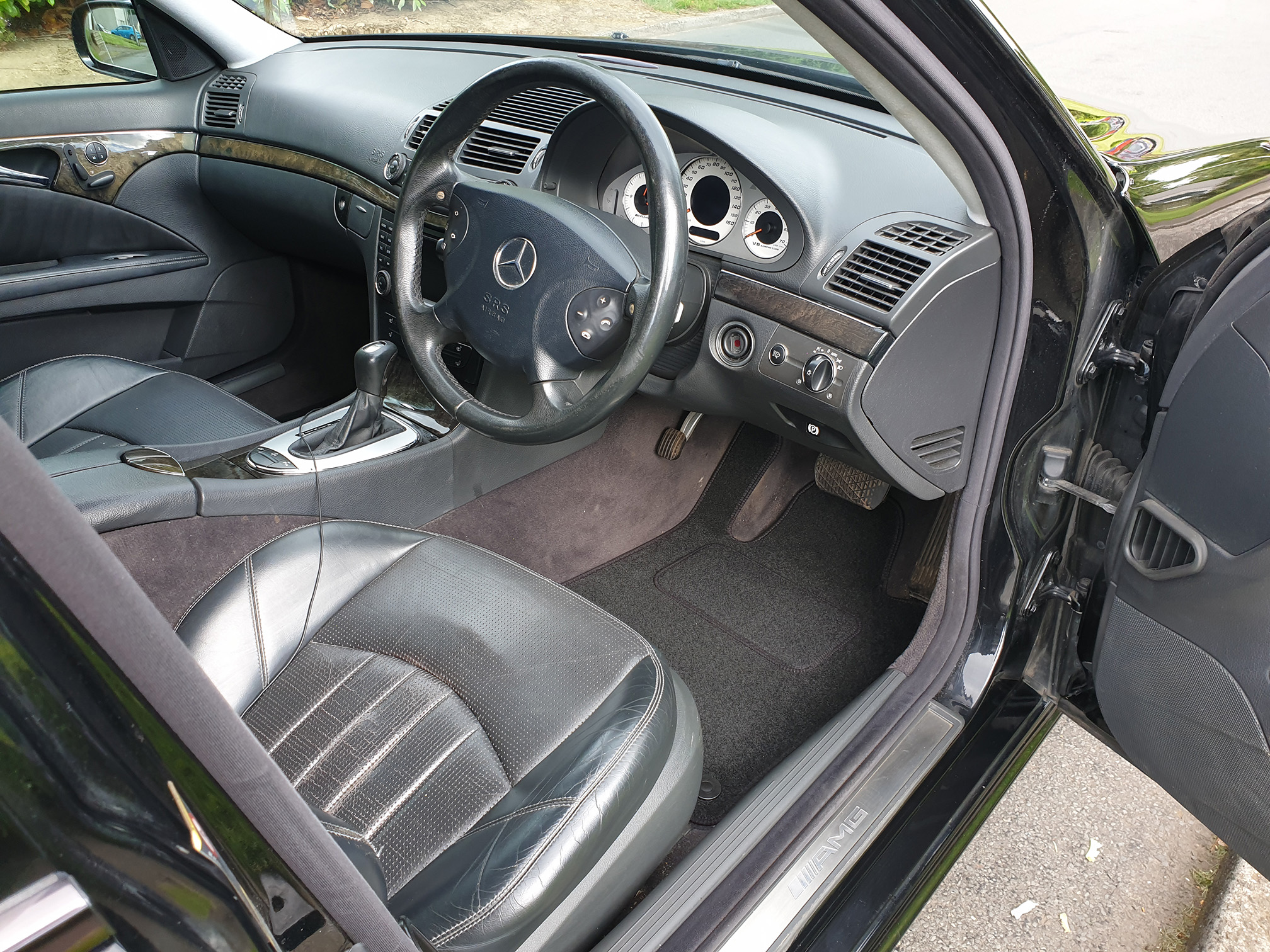 Anything you wish you had known before buying?
The E55 suffers from air ride issues that I had not really looked into. However I have been able to sort these issues myself without any garage bills. Also the supercharger inter-cooler water pump is known to fail. This has since been upgraded twice now.
Has it had any modifications?
The car has had a few modifications. On the outside there are some subtle carbon fibre add-ons front and back. The car is stage 2+ tuned. This consists of smaller supercharger pulley, a belt wrap kit to reduce slippage of the belt, larger injectors, intake filters, Eurocharged exhaust headers, x pipe and no boxes. It has been mapped by Eurocharged USA, and to help keep the intake temps low it has upgraded inter-cooler water pump, a larger front mount inter cooler and the supercharger cooling has it's own split circuit from the engine cooling. Power is 479bhp from factory with it now running approx 620bhp.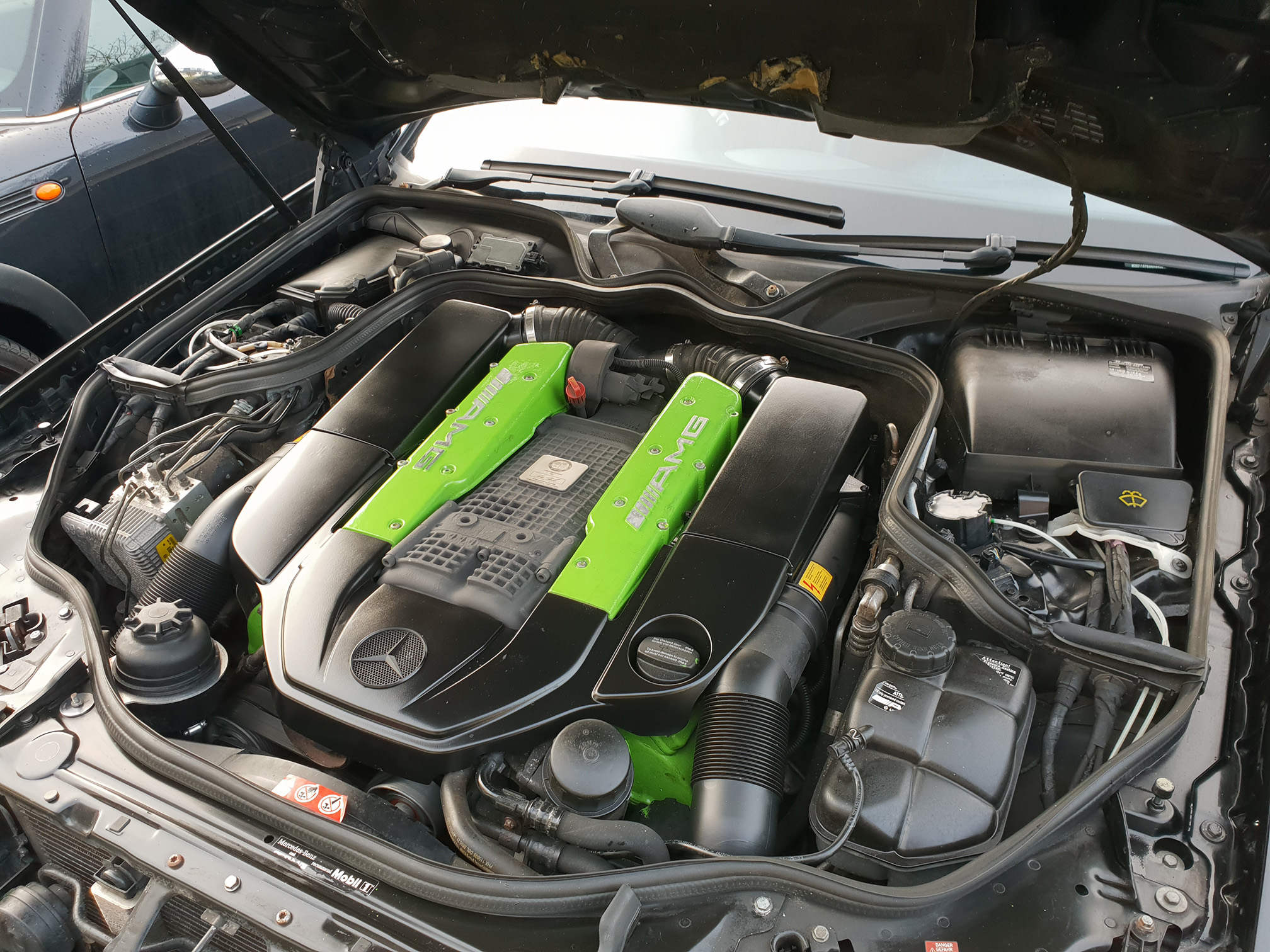 What do you love about it?
It has to be the noise. The V8 straight piped sounds awesome although not sure my neighbours would agree! I also love the stance with the big wheels.
Anything you dislike about it?
She is getting on a bit. During the last few months some bubbles have started to appear on the rear arches. The ride is pretty harsh with the low profile tyres but it's a compromise between looks and practicality.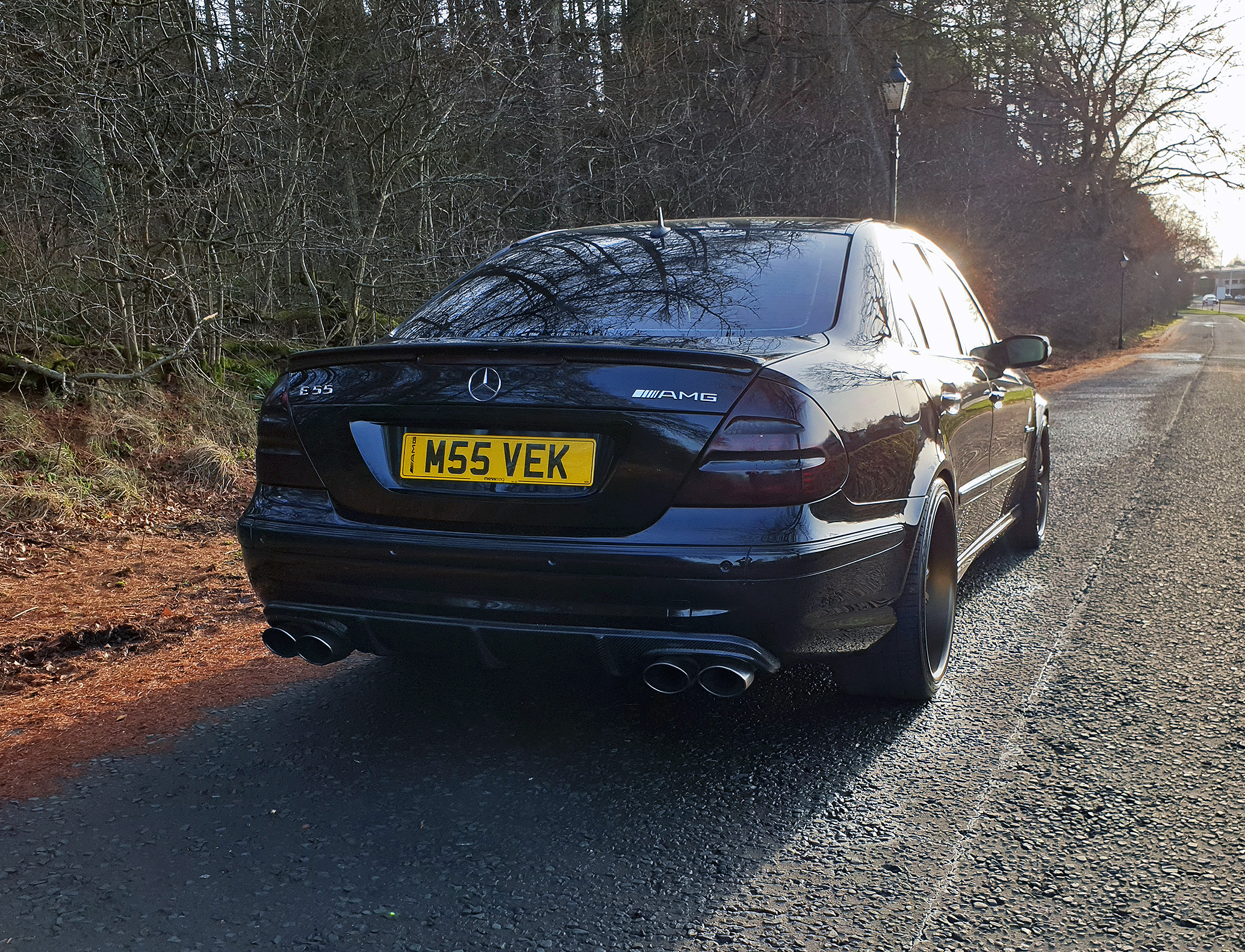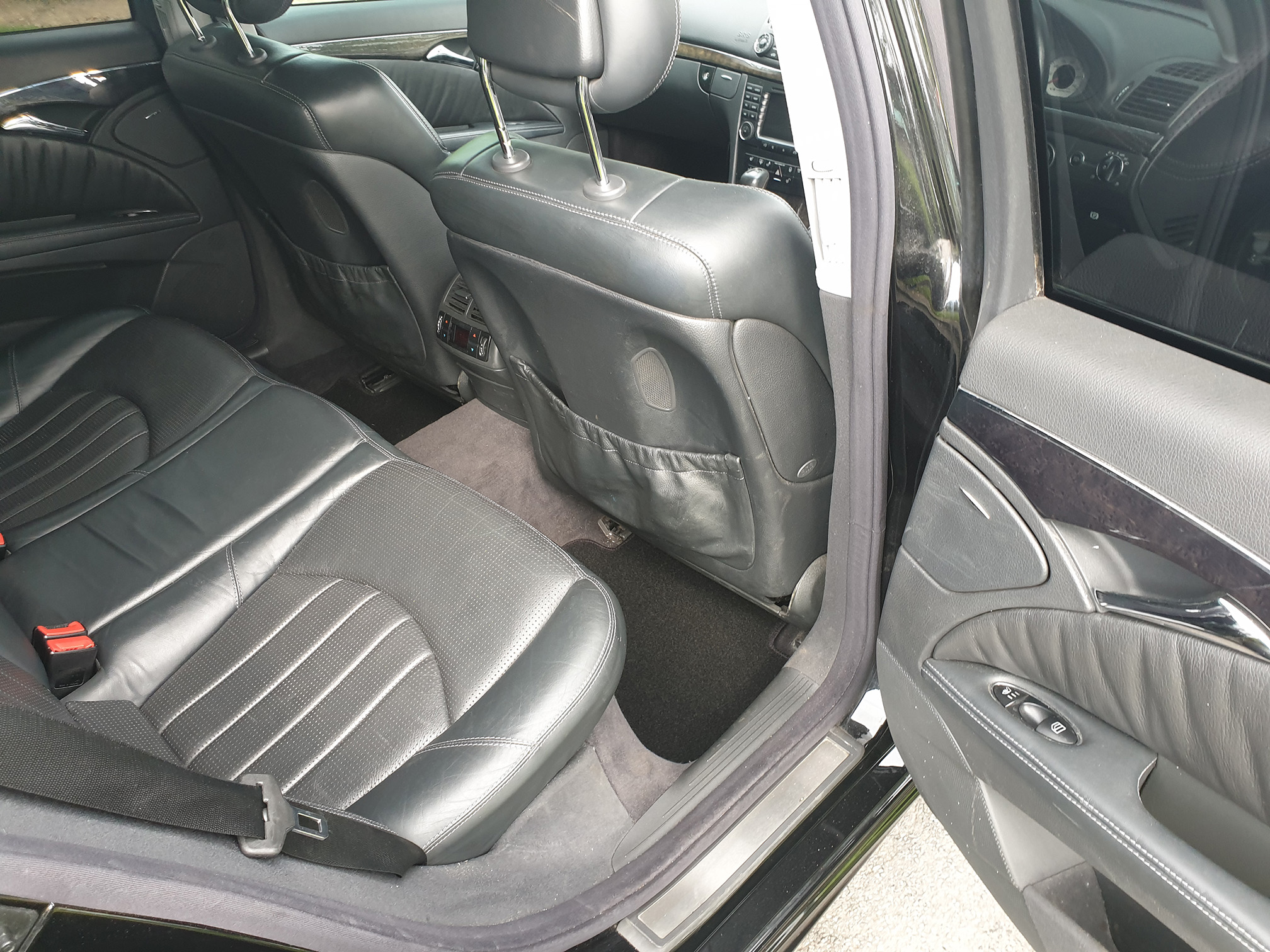 What are the running costs like?
It is pretty thirsty. In town mpg is probably about 14 with approx. 22 on the motorway. If driving hard will go down further! Tax is £250 ish for the year and insurance isn't too bad as I've got plenty no claims.
Any future plans for the car?
No plans for the car other than the cosmetic touch ups on the arches. I might refresh or change the wheels.
What memorable drives/road trips has it's been on?
Not really had any proper road trips to speak of. I have been out on plenty runs, up and down to Inverness, over to Skye, Oban, Applecross etc. I hope to do the NC500 soon although I've recently got into motorbikes so it will be a toss of the coin to decide what to take.
What's next?
I have no plans to move on from the E55, however I would like something a bit more modern. I need to convince the wife to let me buy another AMG that she can use as the daily driver.