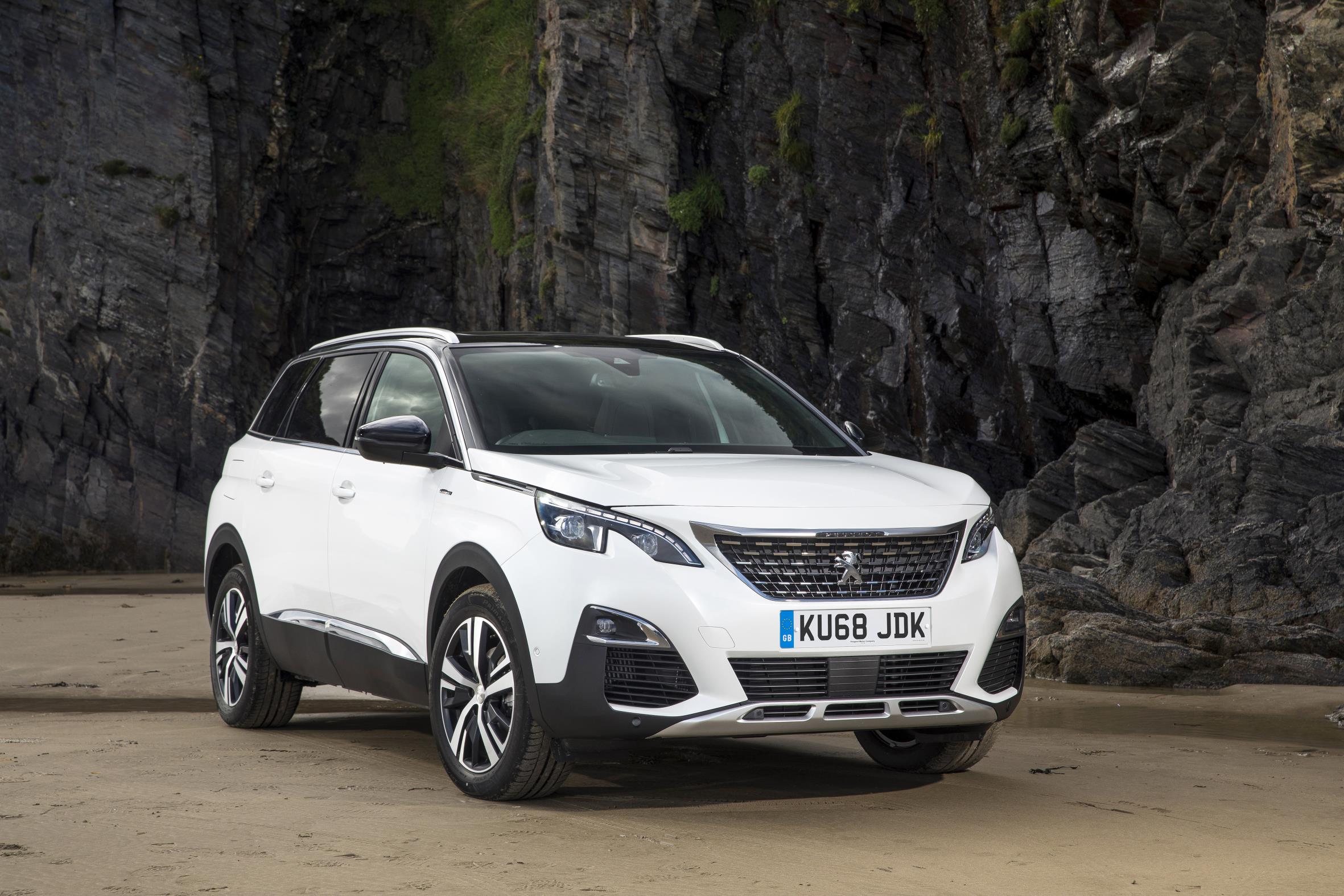 What is it the French do better than anyone else when it comes to motorcars? Style, that's what they've brought to the table and Peugeot has been at the forefront of this since their inception. Over the years they have produced some stunning cars, some great performance cars and a few oddities along the way.  From the looks of the Peugeot 202 Cabriolet in the 1930s, the performance of the 205 GTi in the 1980s and more recently the RCZ R, now Peugeot have turned their attention to the burgeoning SUV market where they have been winning awards with their 2008, 3008 and this, the 5008.
What is it:
It's Peugeot's full-sized, seven-seat SUV and replaced their old and unpopular people carrier.  Based on the smaller Peugeot 3008, the 5008 has a larger body to squeeze the extra seats in and does a good job at combining MPV practicability with SUV curb appeal.
While we'll talk about rivals later, the 5008, and it's smaller siblings, have rescued the Peugeot line-up from sales oblivion to a real competitor in the marketplace. The stylish design and SUVness have also allowed it to be sold in China, the world's biggest car market. They even have a factory in China to supply this market.
With the style credentials being apparently taken care of, what we wanted to find out was whether it was actually a good option as your family wagon…
What does it compete with?
While the 5008 is a big step forward for Peugeot, it's not exactly competing in an easy marketplace.
The Skoda Kodiaq, Nissan X-Trail and Kia Sorento all have their own unique sales appeal and the 5008 does not have an easy job to attract the family buyers who will want these types of cars. However, with the Kia and Nissan both starting from £28k the 5008, for under £26k, has them licked. The Skoda Kodiaq starts from just under £25k, but the 5008 has better equipment for entry-level models and so still steals a march here.
Comparing the three for looks, the Nissan and Skoda look a bit more rugged and SUV like where the Peugeot 5008 still has a bit more style which should again appeal to the family buyers.
What does it look like?
We've already talked about style, but the 5008 does a good job of hiding some of the size required to fit in seven seats including three proper, individual seats, in the back. The front end borrows greatly from Peugeot's 3008 and this works well here.
In GT Line trim, the 5008 looks well finished, although maybe not enough to compete with the premium marques, it's certainly more stylish, and that will count for a lot with some buyers. For those forced into 7 seater ownership, the decision is to either go value or premium, but Peugeot offers a middle ground of something that just looks a bit different – very rare in today's motoring industry.
Interestingly, the 5008 manages to stand out in a crowd of 7 seat SUVs by actually having the least rugged and off-road inspired design (along with being the least suited to actually going off-road). Perhaps we will go full circle and the people carrier design of old will once again become popular?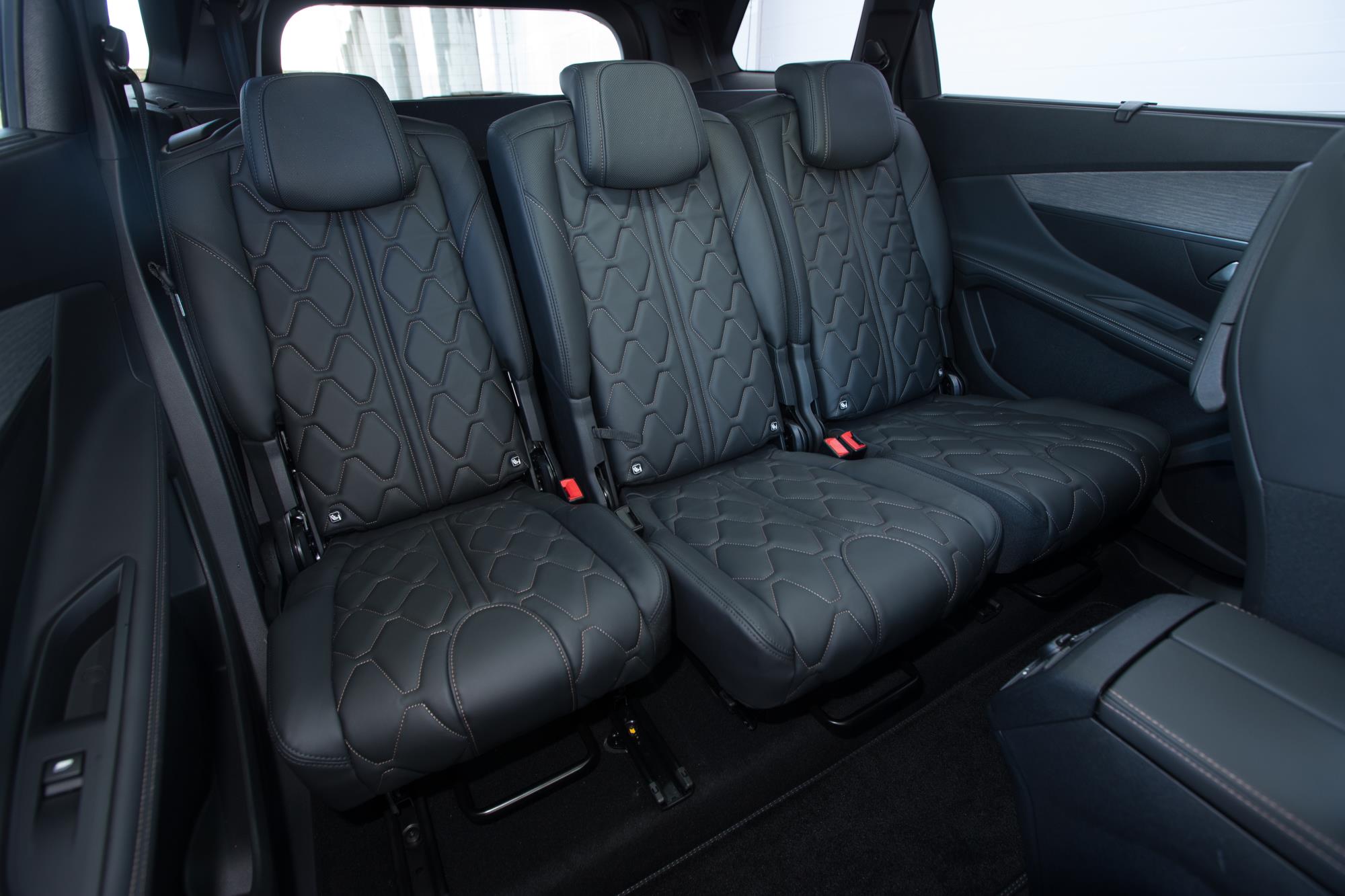 What tech is it packing?
For a car that looks very modern inside and out, the 5008 in GT Line trim does not disappoint when it comes to technology and gadgets.
Even starting with a base model you get quite a lot of kit for your money like Peugeot i-Cockpit (12.3″ digital display with 8.0″ capacitive touchscreen), three 12v sockets, signature rear LED lights and the family-friendly feature of three iso-fix points in the second row of seats.
Upgrading to the GT Line trim gets you some interesting additions like the "Peugeot i-Cockpit Amplify" which changes the interior lighting and fragrance (we're not joking!) in order to change your mood between "relaxed" and "boost", the later of which must be intended for rally drivers? This feature was not extensively tested, but it is a nice feature in modern cars to be able to change the interior colours. How these kinds of features will fare when the cars are 10+ years old will be interesting to watch for.
Away from lighting and smells, this trim level upgrades lots of the touch points in the car with better materials to things like "mistral 'Imila' leather effect and cloth seat trim with Aikinite 'double stitch detail" which do really add to the appeal of the 5008 and make it a better place to sit than the equivalent Skoda or Kia. You also get tray tables on the back of the front seats which is a useful feature that most manufacturers seem to forget about
As well as adding tech features such as Apply CarPlay, Android Auto and 3d nav with speed camera subscription, the GT Line also adds wireless charging.
On the exterior, as well as extra bits of trim to make the big SUV look more sporty (sports bumper, extra badges and fake chrome exhausts) you get full LED headlights with scrolling front indicators and puddle lights on the wing mirrors which display the Peugeot lion emblem.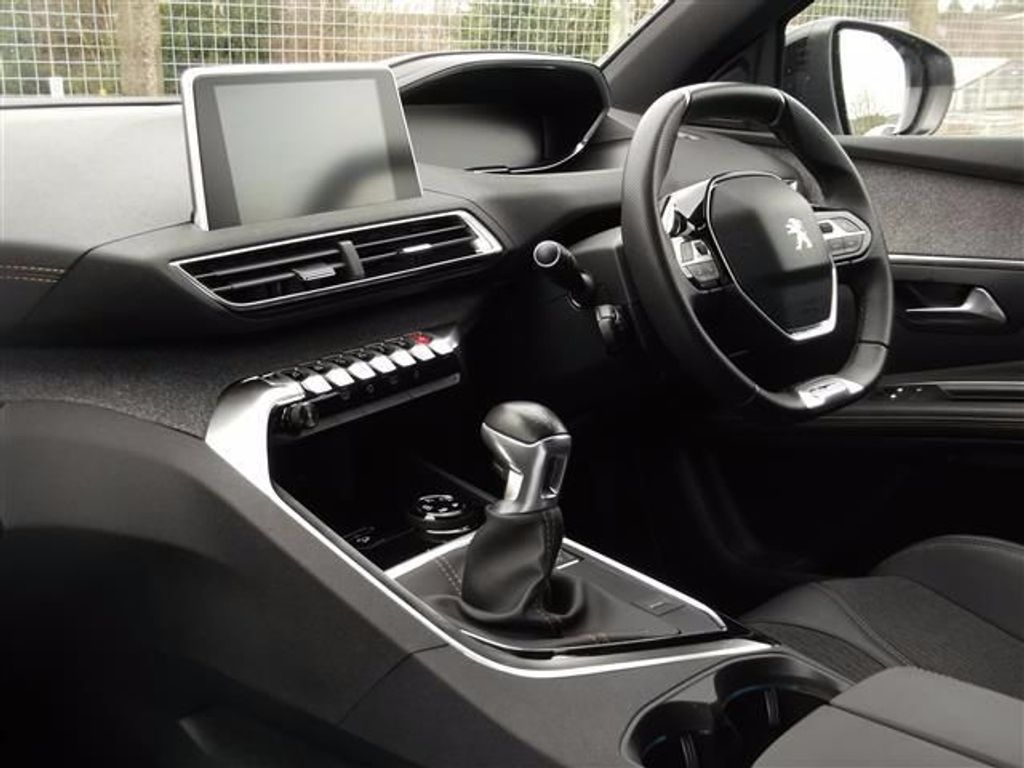 What's it like to drive?
Would you ever have thought it was a good idea to combine a seven-seat SUV with a tiny 1.2l petrol engine? Neither would we, but it's not anywhere near as bad as you might think.
With only 130 bhp it should feel really slow, but the wizards at Peugeot have made the 5008 feel like it can shift quick enough for most around town driving. Pulling away from junctions it never feels lacking and you can shift quite quickly through the 6-speed manual transmission. Where it does feel more lacking is pulling on to motorway junctions where you feel like you really need to wring its neck to get up to 70 MPH.
We never had the chance to test the 5008 with 7 people, but we do suspect that if you fully load the car regularly then you'd probably want to go for the 2.0 diesel option.
What the tiny petrol engine does have over the diesel option is that it's light and means that the 5008 GT Line feels reasonably agile on a cross country trip. You're never going to overtake anything faster than a tractor but with an empty road ahead, its enjoyable enough for this kind of car.
Is it a nice place to spend time?
With a lovely modern interior that's been upgraded with some nice materials, easy to use switches and a decent size entertainment screen, the 5008 GT Line is a great option for those who spend plenty of time carrying the family about.
For parents, it feels classy and has lots of ways to keep you entertained, while for the children there's lots of space in the back and they will love having tray tables (sometimes it's the simple things in life that entertain the most).
Should you buy one?
There are very few cars on the market that offer three iso-fix points across the second row of seating and if you need this option then you should at least consider the 5008.
For everyone else who sometimes carries more than 5 people, or who just wants the extra space of this sized SUV, the big Peugeot is definitely worth a test drive. Those who are most interested in a classy interior with creative design and nice materials will prefer the 5008 to its equivalently priced rivals and even lower specified cars from Audi, BMW and Mercedes – it really is that nice.
If you're looking for more driving thrills then you need to look elsewhere, but expect to pay a big premium if you're looking for something this big which is also fun to drive. The 5008 is a good compromise in this regard has carved out its own segment of the market.