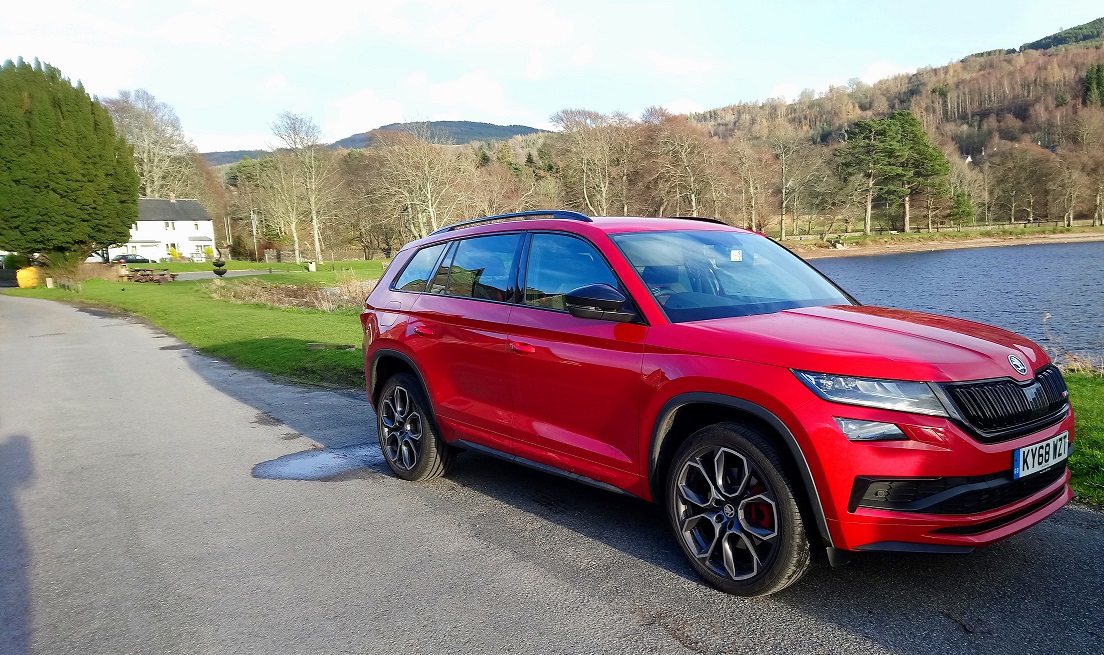 The march of progress from fast estate cars to fast SUVs is nearly complete with Skoda now offering their seven-seat Kodiaq in vRS form.
Yes, the Kodiaq vRS comes with a 2.0l diesel engine and no option to switch to the petrol version seen in the Octavia, but will this put off many buyers? We don't think so.
Among petrolheads, there's quite often disdain shown for cars like the Kodiaq vRS with statements like "a fast estate car would be much better to drive" and "big SUVs are rubbish to drive so why would you want to pay more for a faster one" but with sales figures keeping going up in this marketplace, we're glad that Skoda has given us a performance model.
Back in 2018, Skoda started to build demand for its fastest ever seven seater by sending Sabine Schmitz round the Nordschleife in 9 minutes and 29.84. Although a bit ridiculous, as nobody is ever likely to take their Kodiaq round the 'ring, this is a seriously impressive time for such a large, heavy and high riding vehicle.
As much as this kind of testing and performance has been lambasted by many motoring journalists including James May and the Grand Tour presenters, if you want a seven-seat car that also gives you some entertainment when you're not ferrying children to football practice or taking the grandparents out for Sunday lunch, this kind of record is going to get your attention.
So what is a Kodiaq vRS and is it worth a hefty price tag of £43k?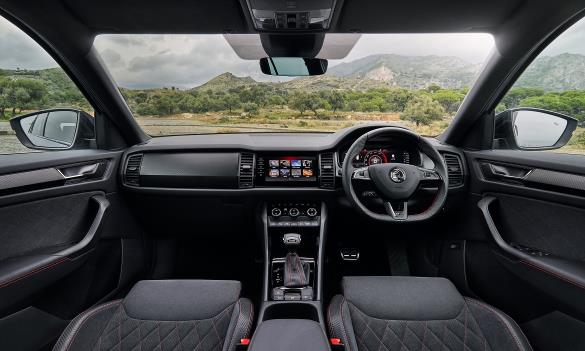 With the vRS model, Skoda has used the bi-turbo version of their 2.0l diesel engine which puts out 237bhp and an impressive 500Nm of torque. This is mated to their seven-speed DSG transmission and will propel the big SUV from 0 – 62 in 7 seconds.
On its own, this isn't enough to justify the huge price tag, but Skoda has also thrown the options list at the Kodiaq vRS, as well as some more trick components.
To make such a big car entertaining to drive, but also civilised when it needs to be, Skoda has given the vRS a dynamic chassis setup which allows you to flick between comfort and sport versions. Flicking into the sportiest setting firms up the suspension enough to make it handle a flowing A road with plenty of pace.
While away on a family trip with the Kodiaq (where all seven seats were put to the test) I managed to escape for a quick blast from Aberfeldy over to Kenmore and then on to Killin where the vRS really impressed while having a play with some of the locals. You're always aware of the weight and high centre of gravity, but this only really comes into play when the bends get tighter or you really start to work the brakes. Do this, and you are reminded that 1880kg is a lot more than the average hot hatch (the Octavia vRS is only 1,335kg).
The big vRS really impressed in one area where you'd imagine it to be terrible – sound. While for anyone standing outside the Skoda it sounds like your average taxi, from the inside the sound generators made it seem, to my ears anyway, more like our family Volvo D5 with its 5pot burble. Skoda calls this "Dynamic Sound Boost" and while it's not something I'd usually prescribe to, it works really well in this scenario.
While passersby might not be impressed by the 4 cylinder diesel soundtrack, they will most likely be impressed by the Kodiaq vRS's looks. The 20" alloys really fill the arches and make the model stand out as a vRS, while the massive chrome exhaust exits give a more aggressive look from the rear. Inside the Alcantara sports seats are very comfortable while offering lots of support when you get a chance for some spirited driving.
All of this makes the Kodiaq vRS looks like quite an appealing prospect, but there's one big problem…the price.
A Kodiaq 2.0 TDI 190PS Sportline with 7 seats costs £37,870 vs £42,895 for the vRS. While down on power, the Sportline still gets Alcantara seats and 20" alloys, so most people on the School run will still be impressed.  You can even get a petrol version of the Sportline if you want to avoid the black stuff and don't mind a hit in the MPG figures.
This leaves us with a bit of a dilemma for a car that we really enjoyed. If you want a really quick Skoda you can get the Octavia vRS or the 272PS 4×4 version of the Superb, and if you want quick enough performance and 7 seats you can get the 190PS Sportline. You really need to be committed to owning a fast SUV for the Kodiaq vRS to make sense, but for those who are it'll be an enjoyable and fun place to spend time.
Skoda Kodiaq vRS
PRICE: £42,895
ENGINE: 2.0 BiTDI
POWER: 239PS , 500Nm
PERFORMANCE: Top speed 136 mph, 0-62mph 6.9sec
CONSUMPTION: 44.1mpg mpg (combined)
CO2: 167 g/km CO2 (WLTP)
TT Rating: