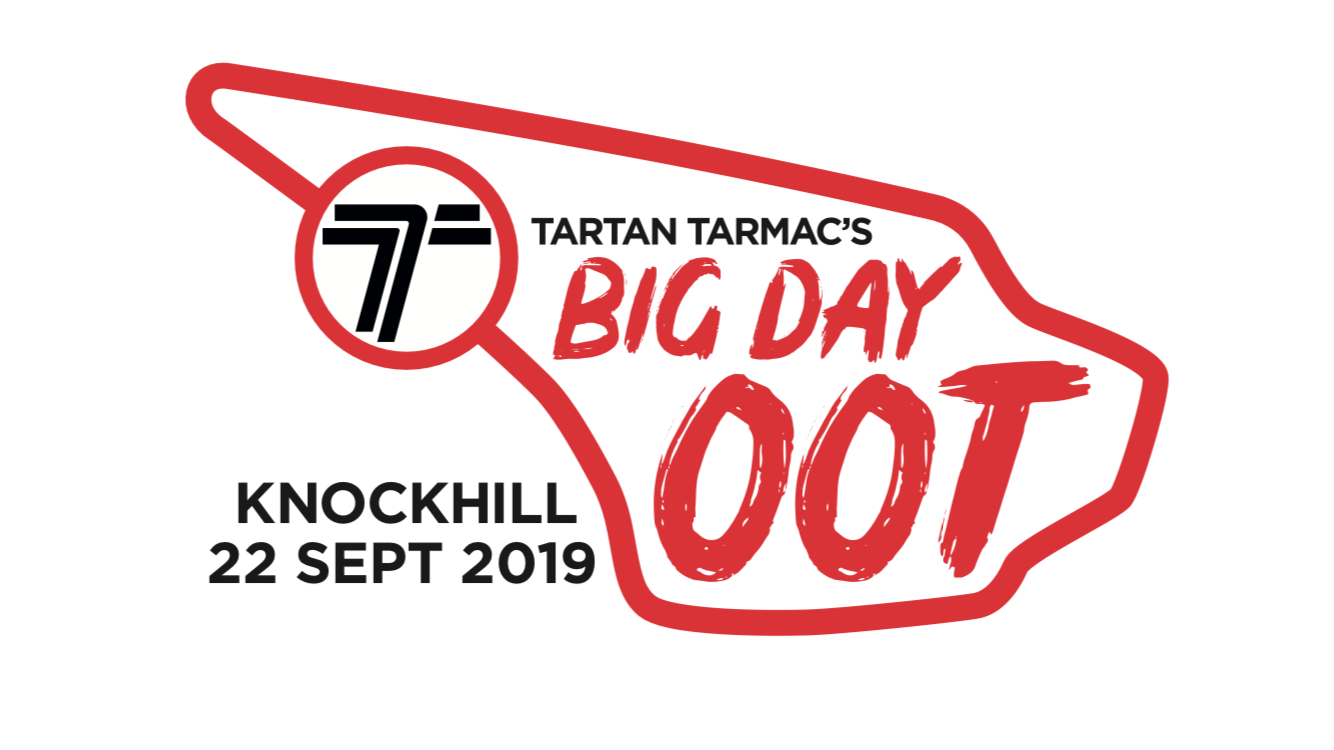 Tartan Tarmac are delighted to have teamed up with Knockhill Race circuit to deliver an event day, the likes of which has not been seen before at the race track on Sunday 22nd September.
The "Big Day Oot's" aim is not only to reinvent a track day and show, but it will combine numerous elements on and off track that will entertain all members of the family. With live music including internationally acclaimed Dirty Harry headlining, we will also have Chery Red 53 adding an American Rockabilly spice to our American car show as well as spectacular track and stunt action to wow all!
Add in a demo by a Footwork Formula One Car, World Stunt Driver Kevin Carmichael and an amazing Bike v Car drag race (subject to weather), the Big Day Oot promises to live up to its billing as a great day out with a difference.
As part of this fantastic family event, we'll be hosting our traditional Show & Shine event – open to all showcars and with a fantastic selection of prizes on offer from AutoSmart, We Restore Alloys and Knockhill. This competitive event is also a great social gathering for those that appreciate the beauty of cars! We're expecting to see a wide range of showcars from hot hatches to high-performance sportscars, with showcar bookings now open to the general public.
Here is just some of the amazing content confirmed so far:
• Track time for a great range of sports, super and Hot Hatch cars alike. Always great fun and very entertaining to see the mix of cars on track
• PATH – Porsche at the Hill – a special display and feature of one of the worlds premier sporting brands.
• American Car Feature – back for a second year, Knockhill will have more chrome and fenders than ever as an impressive collection of American cars from the 60's, 70's and 80's will be on show.
• Music from Cherry Red 53 to add a Rockabilly twist to the American twist to the American car gathering
• Colin McRae Rally Car feature – we are honoured to be displaying a number of Colin's cars that took him on his road to winning the 1995 World Rally Championship
• M Sport Feature – see a gathering of the iconic M Sport range from BMW
• Hovercraft display – see a static display of a hovercraft that will attempt to cross the Bering Strait later this year.
• Car v Bike Drag Race – which is faster off the line, a supercar or a superbike? At this event, you will find out!
• Scottish Motorsport Zone – want to start competing, marshalling or officiating at motorsport events? Well we will have a display of most Scottish motorsport disciplines so you can ask all the questions you want from each branch of the sport.
• LIVE MUSIC – a first for Knockhill, we will be hosting a series of bands playing live to entertain and to dance along too headlined by DIRTY HARRY PLAYING LIVE – Back by popular demand, the headline music act is one of the worlds top Blondie tribute bands – Dirty Harry. The band have appeared after our BSB and BTCC events before and were a huge hit playing all the number one tracks and many others made famous by Debbie Harry and her band Blondie.
• KEVIN CARMICHAEL STUNT SHOW – Kevin will entertain all with his dazzeling car skills as he piroets his cars on a 5p piece and wows all driving on two wheels.
• Footwork Formula One Car demo – see and hear the raw power of a genuine Formula One car with an awesome Judd V10 engine tear up the tarmac at Knockhill.
We are now able to take bookings for track time (options of Saturday evening 5pm – 7pm, Event Day track time, or both the Saturday evening and Sunday sessions together) via https://www.knockhill.com/…/tartan-tarmac-track-day-21-22-S… This track time can be booked via this link or by phoning 01383 723337
To either book your car as a show car (charges apply)or just purchase general admission tickets, then please use the links on this page