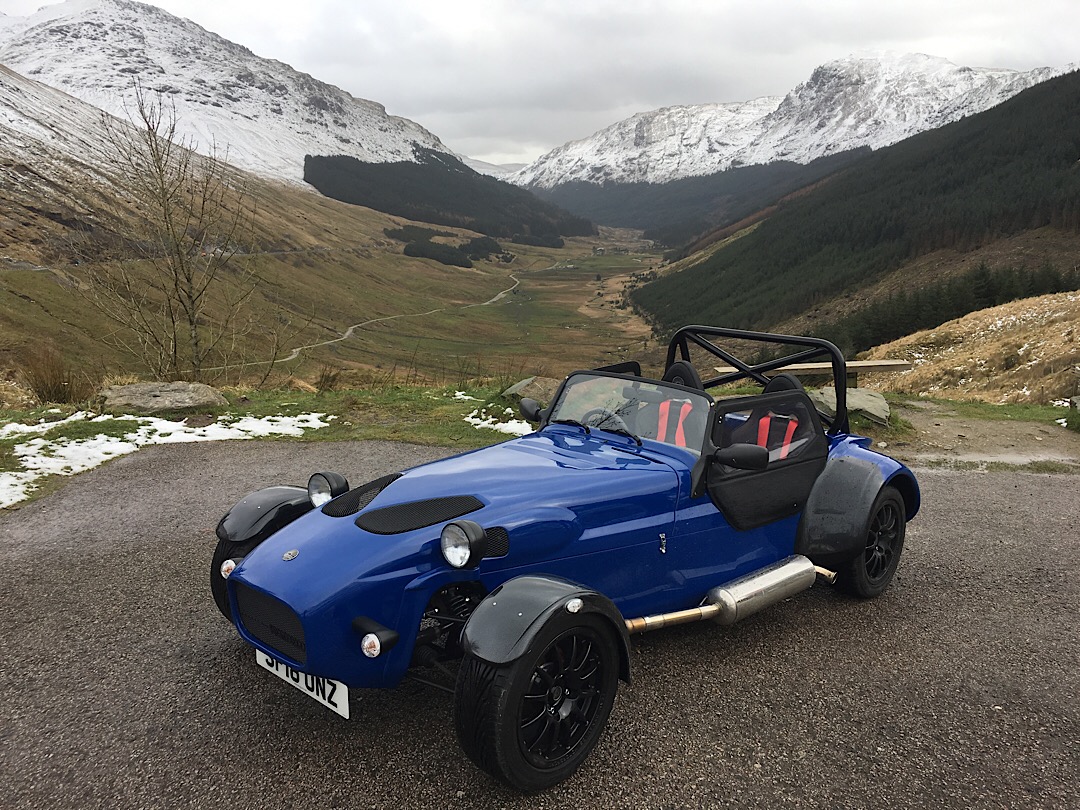 I was so interested in getting behind the wheel of a Westfield that I even agreed to do it before the winter weather was over.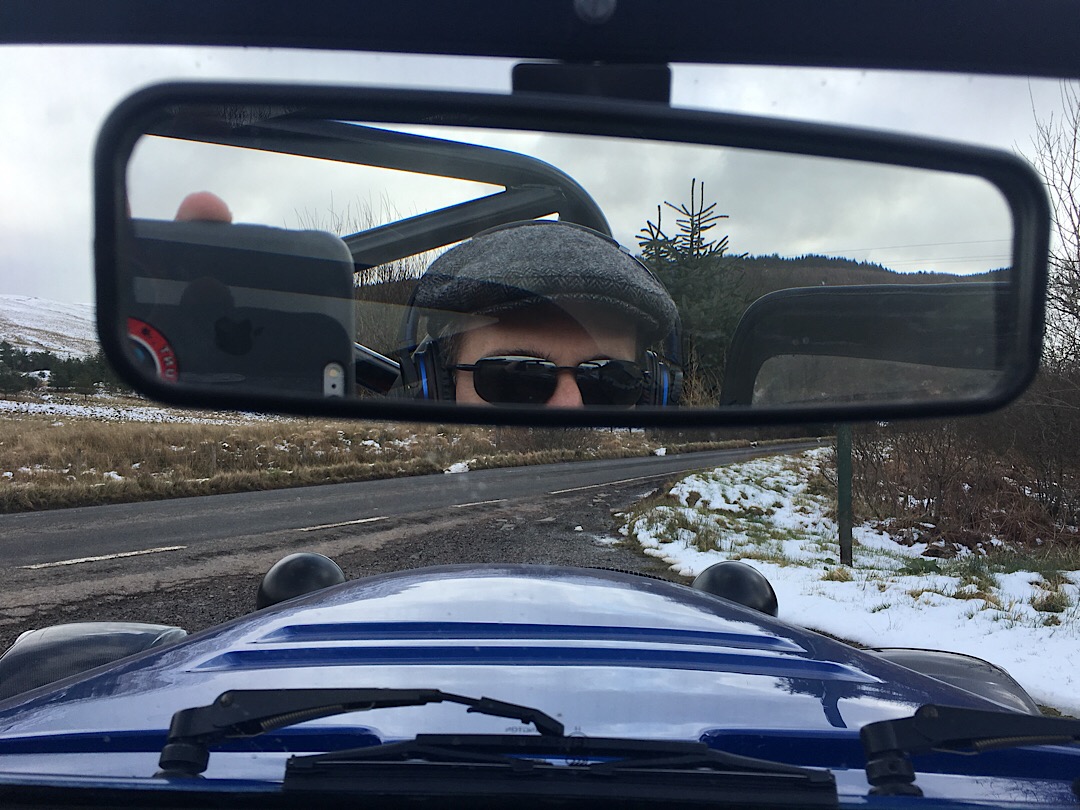 So I put on my standard Lotus-7-based-car kit….
sunglasses to stop the flies and spray getting into your eyes
hat to keep your head warm
noise cancelling headphones to do what they are designed for but critically, to also keep yer hat on yer heed
…
and off I drove into the bright but wet Argyll roads.
I was then so caught up in the racing season that it has taken me until September to write up the experience. Dear oh dear.
However, the memories were distinct (and notes were not lost) and the late August and early September weather has been so wet that it's been a good time for catching up. Hopefully the perspective of a Caterham owner on a Westfield will be of interest. I wonder if either company will still speak to me afterwards?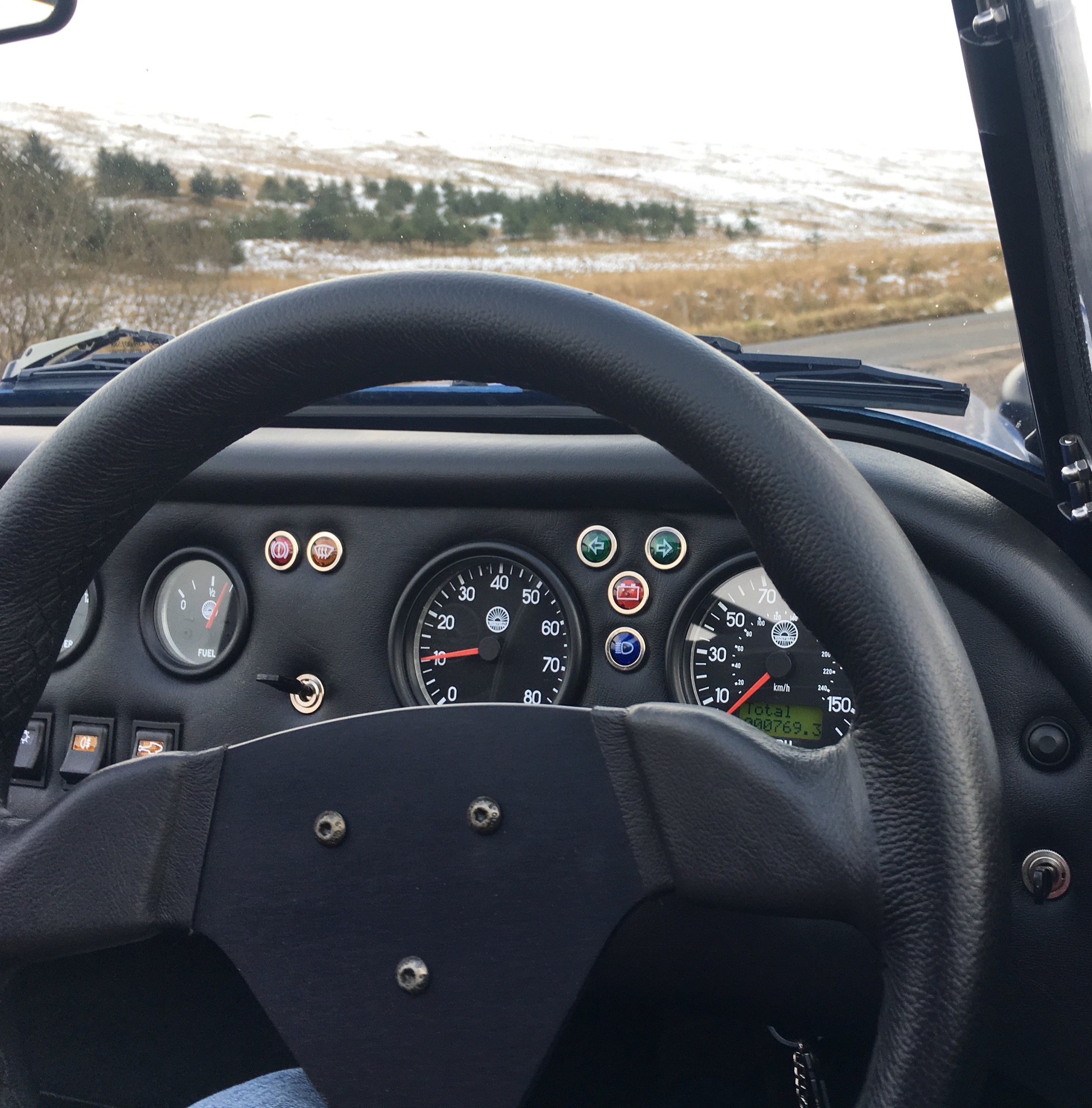 Inside
As these things go, the Westfield is a nice place to be. You feel less crampt than in a Caterham and there is a sense of more "heft" to the car, unsurprisingly so as there is about 100Kg in it depending on exact models. On the road, this is a good thing, because the Westfield is still a long long way into "small nimble 7-based weapon" territory.
There are other touches that are to be applauded. The dials and switches are either the same items as in a comparable Caterham (high end Caterham models have funkier dashes) or, where they differ, I think I prefer the Westfield items, such as the dials on this car, which were very clear and very good looking.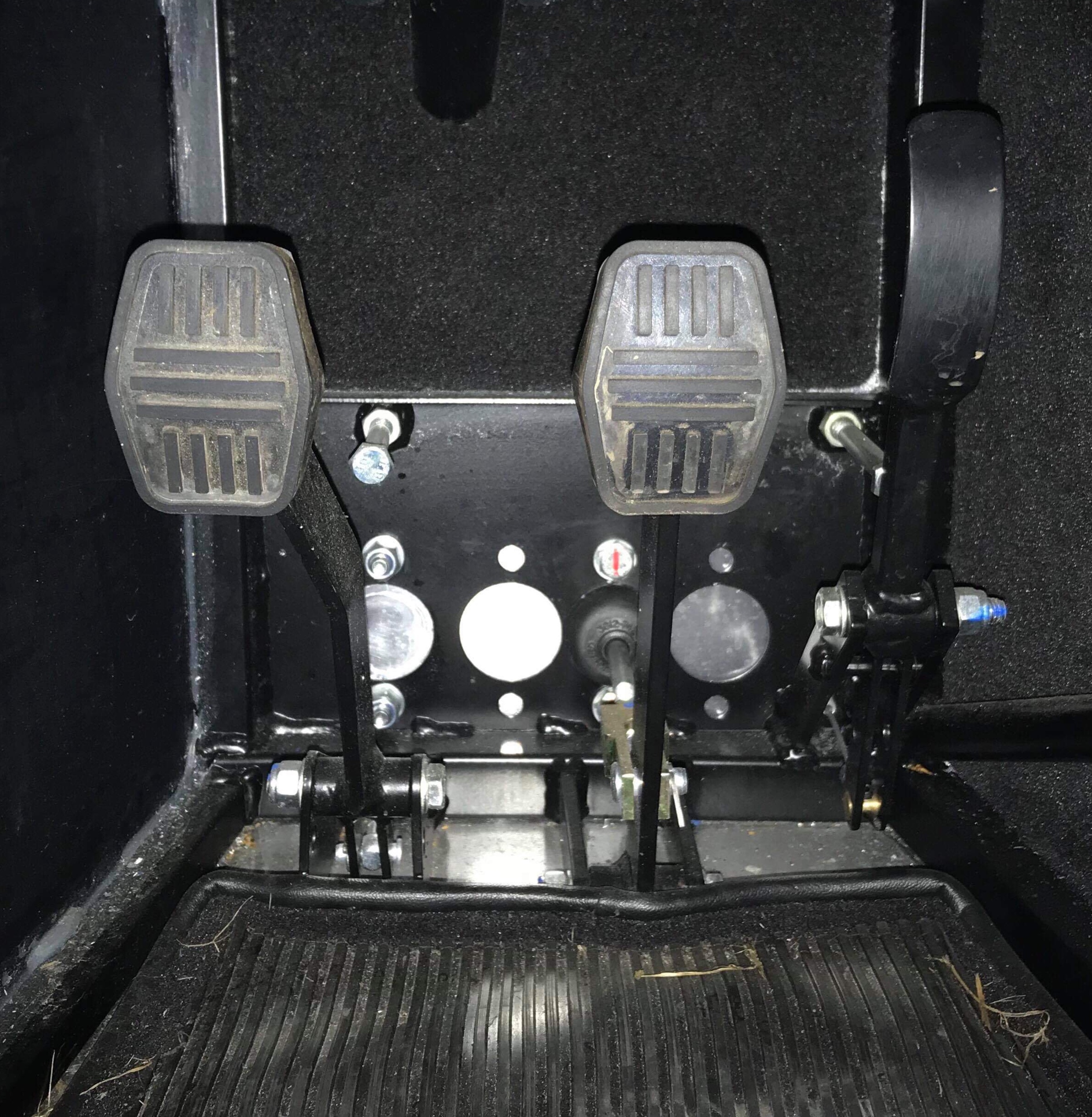 Westfield have also spent the money on the pedal box and seats. In particular, the nicely engineered floor mounted pedals are lovely to use and bring to mind a stark contrast to the Caterham build instructions recommending that you stick a screwdriver down the shaft of the accelerator pedal and bend it until it sits where you like it.
The seats are a much closer call, but I liked the units installed in this test car.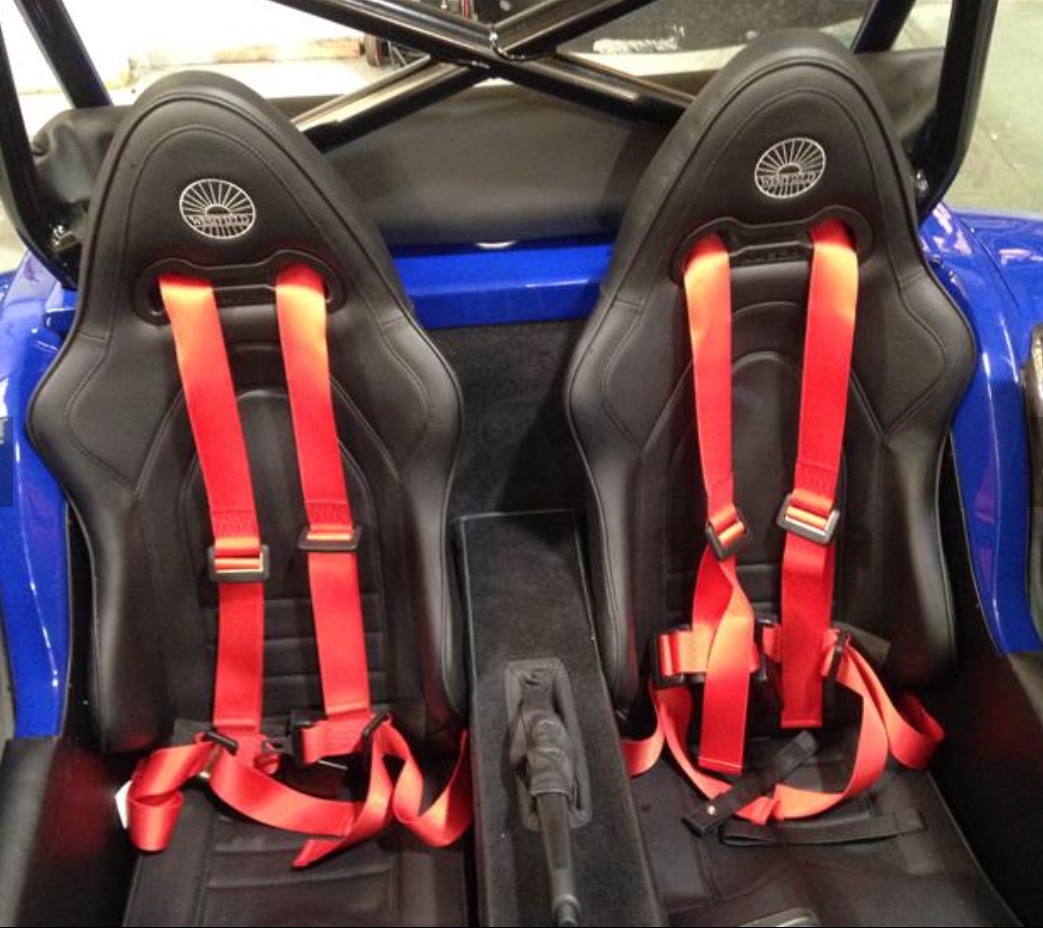 On this cold day, I was also pleased to find the Westfield had a very effective heater to keep my feet and legs comfortable. Caterham units will be just as good, but be assured that Westfield have it covered.
This particular test car had a couple of alterations aimed at the larger driver, so the seat was lower and the steering column was longer. This made the driving position a little awkward for me, so I would emphasize the need for any purchaser of any 7-based car, to invest the time and money, in working with the dealer towards getting these things right. These cars are all about the driving, so the driving position is paramount.
I need to deduct marks from Westfield on this occasion as the position of the indicator toggle is such that, with the QR steering wheel adaptor, you can neither see it nor easily reach it. I found that most annoying.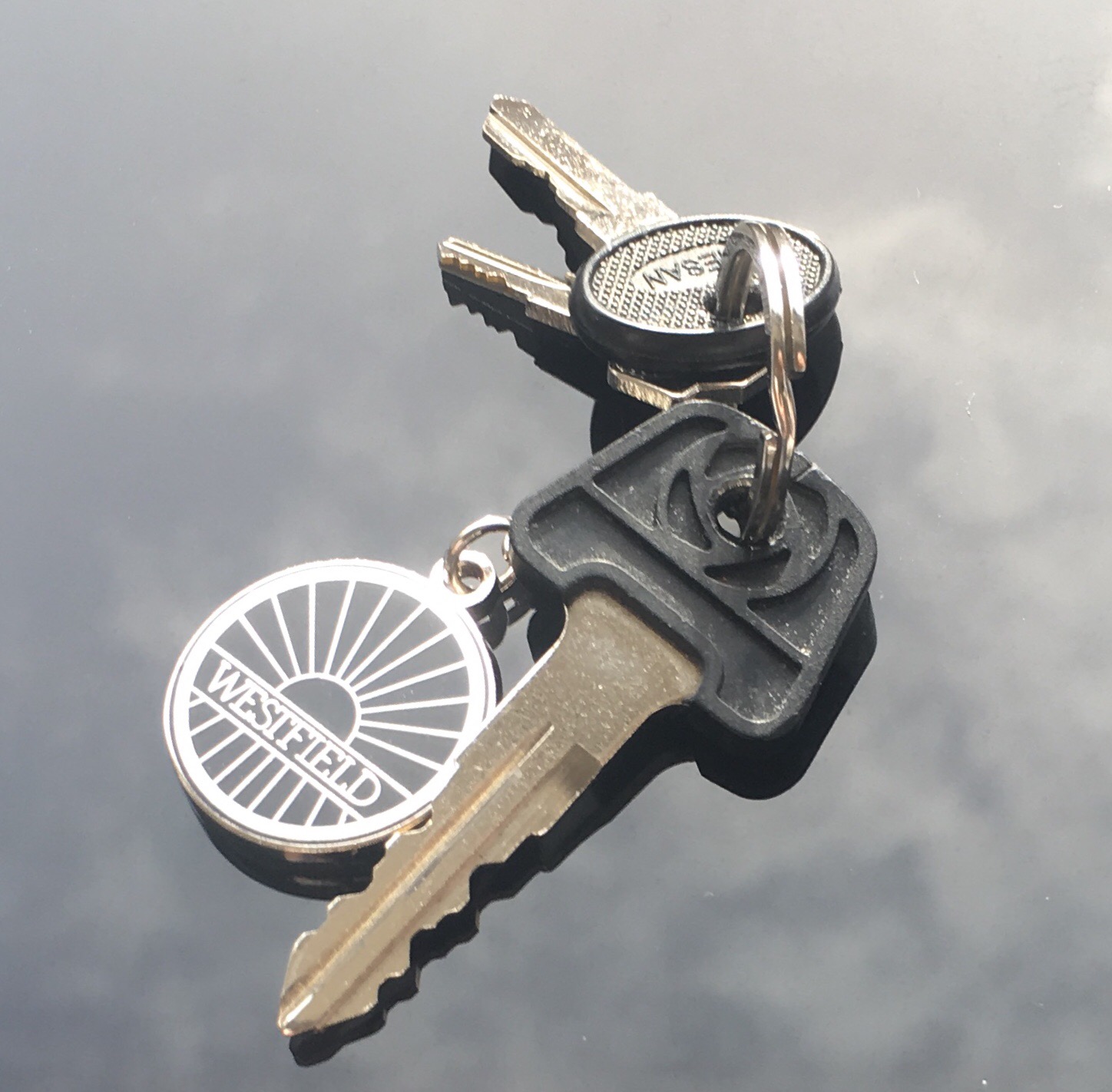 A last note on equipment…….loving the BL key.
Driving
You'd think this would be the main thrust of the write-up but this is where you need to understand what all these cars are like. They are a riot. They are completely different to anything else. The raw and completely involving driving experience is the reason you buy.
Try a Westfield or a Caterham, or perhaps one of the less well known 7-based brands, and decide whether you want something like that. Provided you don't try a bad one, which this Westfield most certainly is not, you are then deciding, within that narrow band, what differentiators are important to you. Do you want to accelerate faster than a 911 or just a Boxster? Will you often have a passenger? Will you be doing lots of track days or lots of touring? The answers to these questions will bring you to your choice, as will the looks of the cars (more of that later) and your budget.
Back to the driving of this particular car then. The FW was blessed with a 150bhp 2 litre Ford Zetec engine. In power-to-weight terms, it is pretty close to a Caterham 270, but has more low end grunt being the bigger engine in the heavier car.
We are talking, 0-60mph in 5.0 seconds, again depending on exact specs and a top speed of 125-130mph like most of these cars which are, about as aerodynamically slippy as a wheelie bin.
This level of performance is more than enough to spin up the wheels, more than enough to tackle any overtake safely, more than enough to thrill, more than enough to make your passenger scream, but not so much as to make the driving a constant exercise in self-restraint and trepidation. Together with the limited slip differential, the power-to-weight ratio felt perfect for on-road driving.
The steering feel was, as you would expect and demand in such a thing, absolutely direct and totally communicative. I am used to more quickly geared steering in my Caterham race car and, having driven Caterham road cars too, my overall opinion is that they feel a little sharper, but that could be too sharp for some and again I have to underline that we are well into "driving weapon" territory with the Westfield, regardless of the availability of cars that are further ahead in that arms race.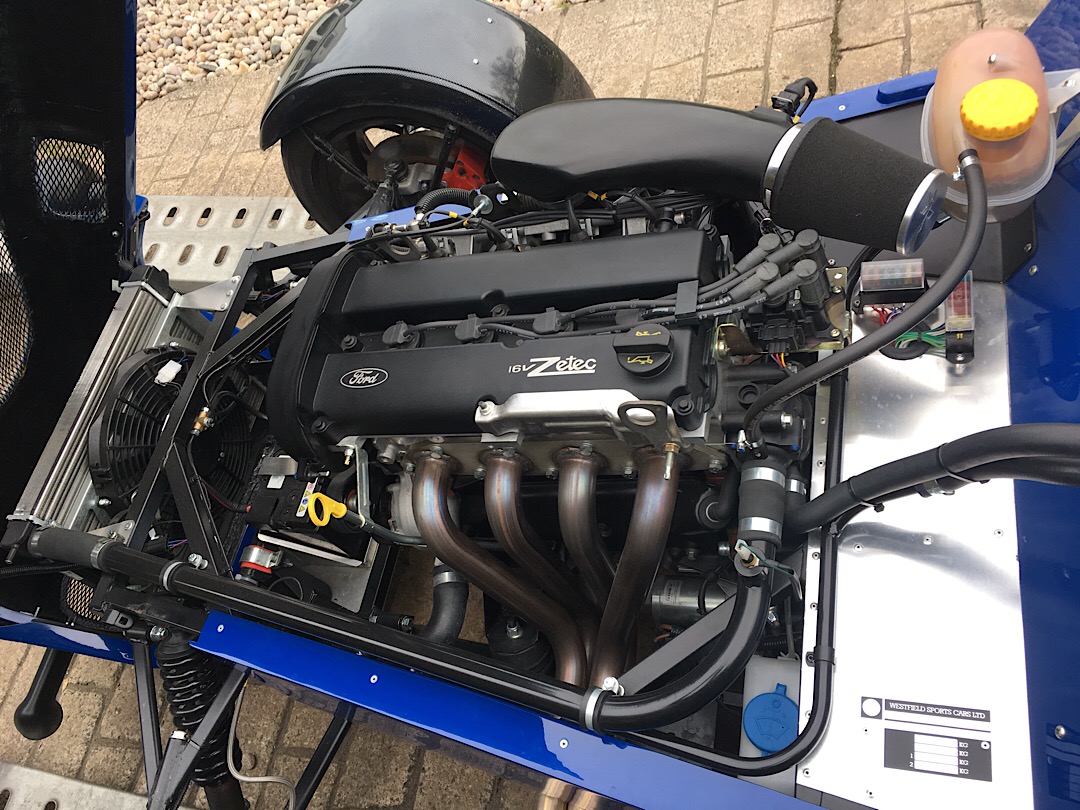 When I tested the car, it was more or less brand new. The gear change (type 9 box) felt very positive and chunky. I'm sure it would ease off a little with some miles of use but it is never going to be quite as snickety and grin-inducing as the Mazda derived unit in a comparable Caterham. Still feels good, just not as good.
The brakes were great. The limitation on a cold March day was how warm the Toyo tyres could get, but there are plenty of choices for rubber to put on one of these cars. (On track, the Toyos are very consistent and great value, but the Avons seem best in the wet).
It would be very difficult to under-brake the spec of a car like this. The Caterhams have Ford Sierra callipers at the rear and, depending on choice of pad material, can still test the arrangement of your internal organs when you stand on the pedal. The Westfield tested here was blessed with better brakes than that and perhaps rightly so with the extra weight, but the pedal feel was superb and the level of control was exactly where you'd want it.
This brings to mind another point on overall performance. On a twisty 20 mile route near my home, I can drive this Westfield at legal (or at least non-court-appearance) speeds and have absolutely no recourse to touch the middle pedal. Such is the cornering prowess of these cars, that you rapidly reach a specification where the added performance over and above that will be very hard to access away from the track, and the jail. So if your budget only stretches to a mid-level car, then don't convince yourself that you are getting the diet version.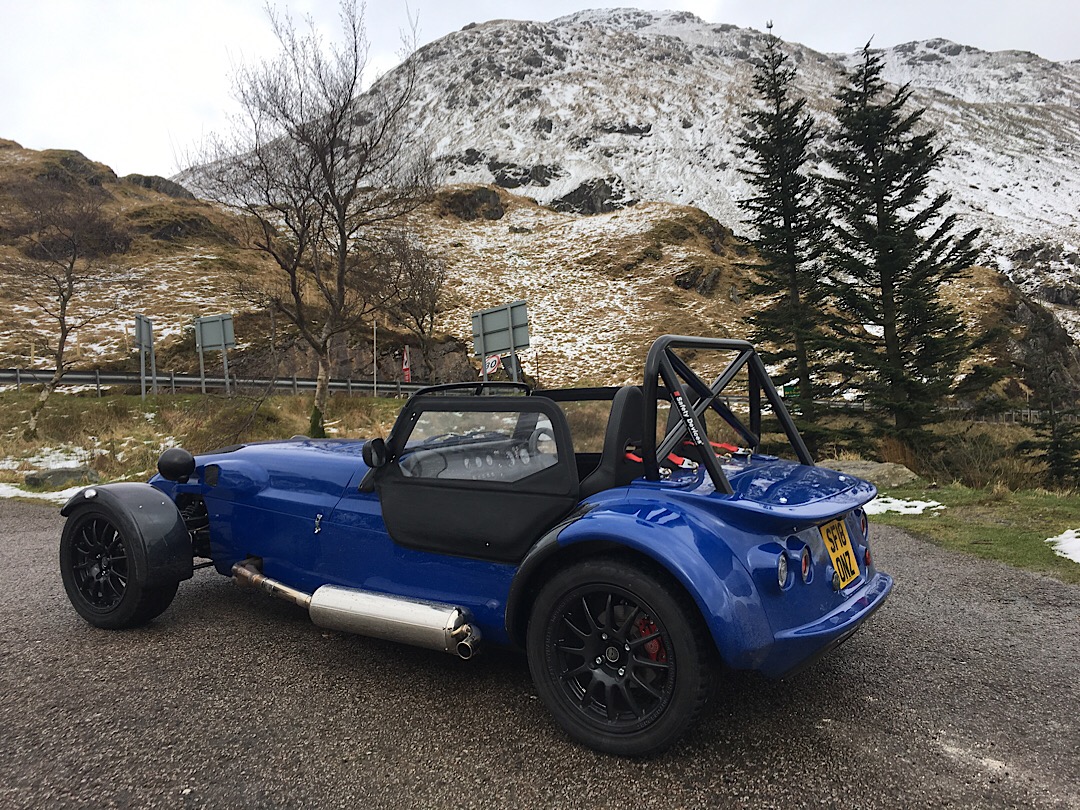 Looks
In general, the combination of the strong electric blue gel coat and the various black contrasts on the interior, grills, suspension part, windscreen surround and lights, worked really well for me. From the driving seat, it all looks great, very sporty and very purposeful.
There's quite a difference between Westfield and Caterham when it comes to the looks of the body. Westfield employ a plastic moulded construction whereas Caterham use a more traditional metal sheet over the chassis. The result of this is that the Caterham looks sharper and more classic. In places it seems more flimsy, such as the bonnet, but overall I prefer the look of the Caterham.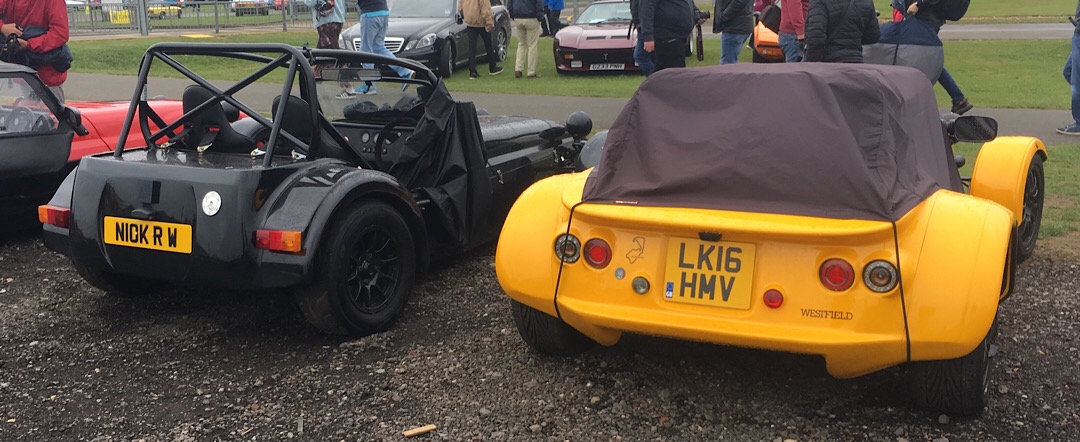 As seen in the above picture from this year's Silverstone Classic, where the Westfield Owners' Club were a strong presence in strong weather(!), Westfield do offer a choice of rear end designs to their cars, but neither style makes any secret of the construction. Personally, the standard rear-end of the Westfield is not for me and I would order the more classical style, but I think the Caterham is more balanced front to rear.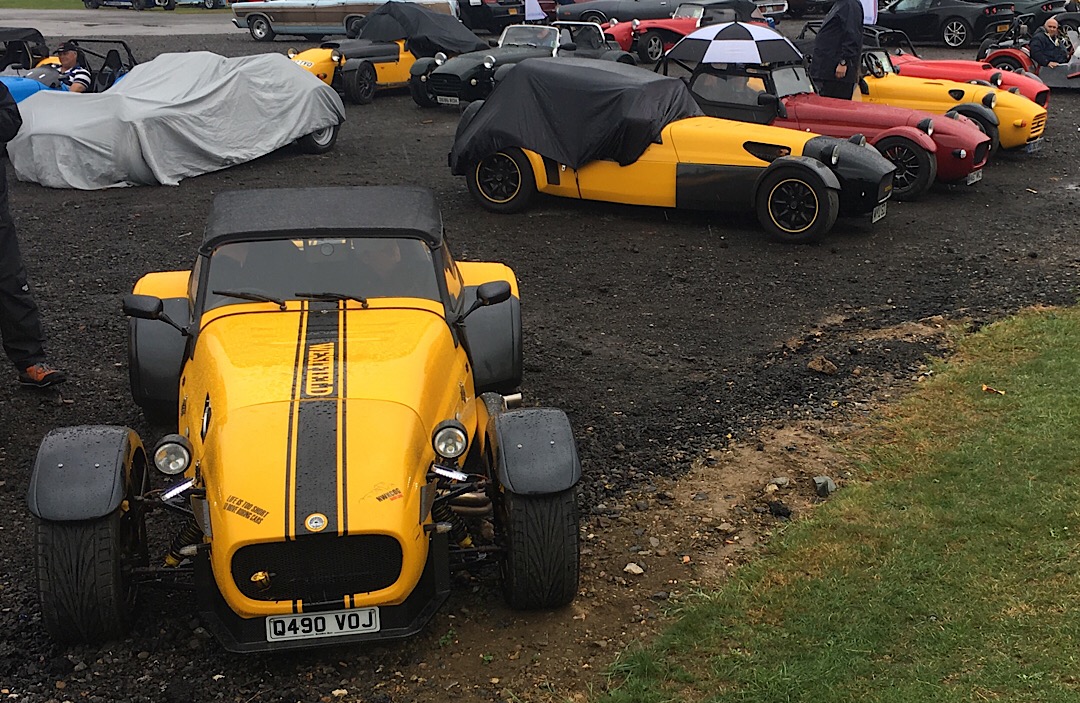 It has to be said though, again illustrated by a picture from Silverstone, that the Westfield look really suits strong coloured gel finishes against black components.
My reservations about the Westfield looks are completely reserved to the rear, but as the owner you seldome stare at that and, I could always ensure I reverse into every parking space and walk away looking at the handsome front.
The looks were certainly enough to draw a crowd of selfie-stick-weilding tourists at the top of the Rest and Be Thankful….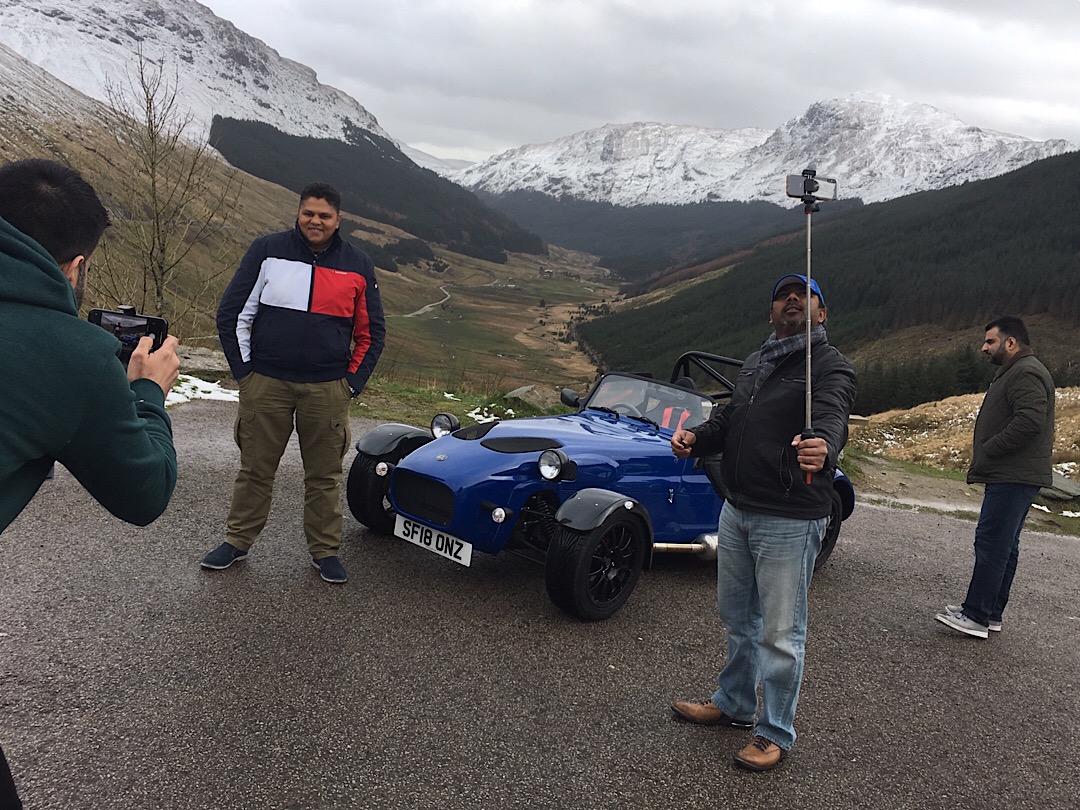 Value
Lastly, and to round off the discussion on which Lotus-7-based car to buy if you are buying one at all (you should), let's discuss price.
This special edition Westfield is advertised, with delivery miles at £22,500. A Caterham 270S with wide body and 3000 miles is currently advertised for £27,000.
If you are looking for a limited slip differential as this car has, you are most likely heading for a Caterham 310 which is going to push you up to £30,000 and beyond, but will be a little faster.
Comparable differences in price exist across the board where Westfields and Caterhams are comparable on specification and capability.
There are arguments for heading in either direction. If the more classic and well balanced looks are more important to you, then the Caterham will be attractive. If you want the driving experience to be scalpel-sharp rather than merely razor-sharp, then you'll also be drawn to Caterham.
However, if you will do most of your driving on the road, are happy with "razor-sharp" and can resolve to look at the front of the car more than the rear, then there is absolutely no reason why you shouldn't buy the Westfield, have a ball driving it, and put the many thousands of pounds saved into your track day and alpine pass hotel budgets.
Many thanks to HJD Cars of Glasgow, both for the loan of the car and their patience awaiting the review !!