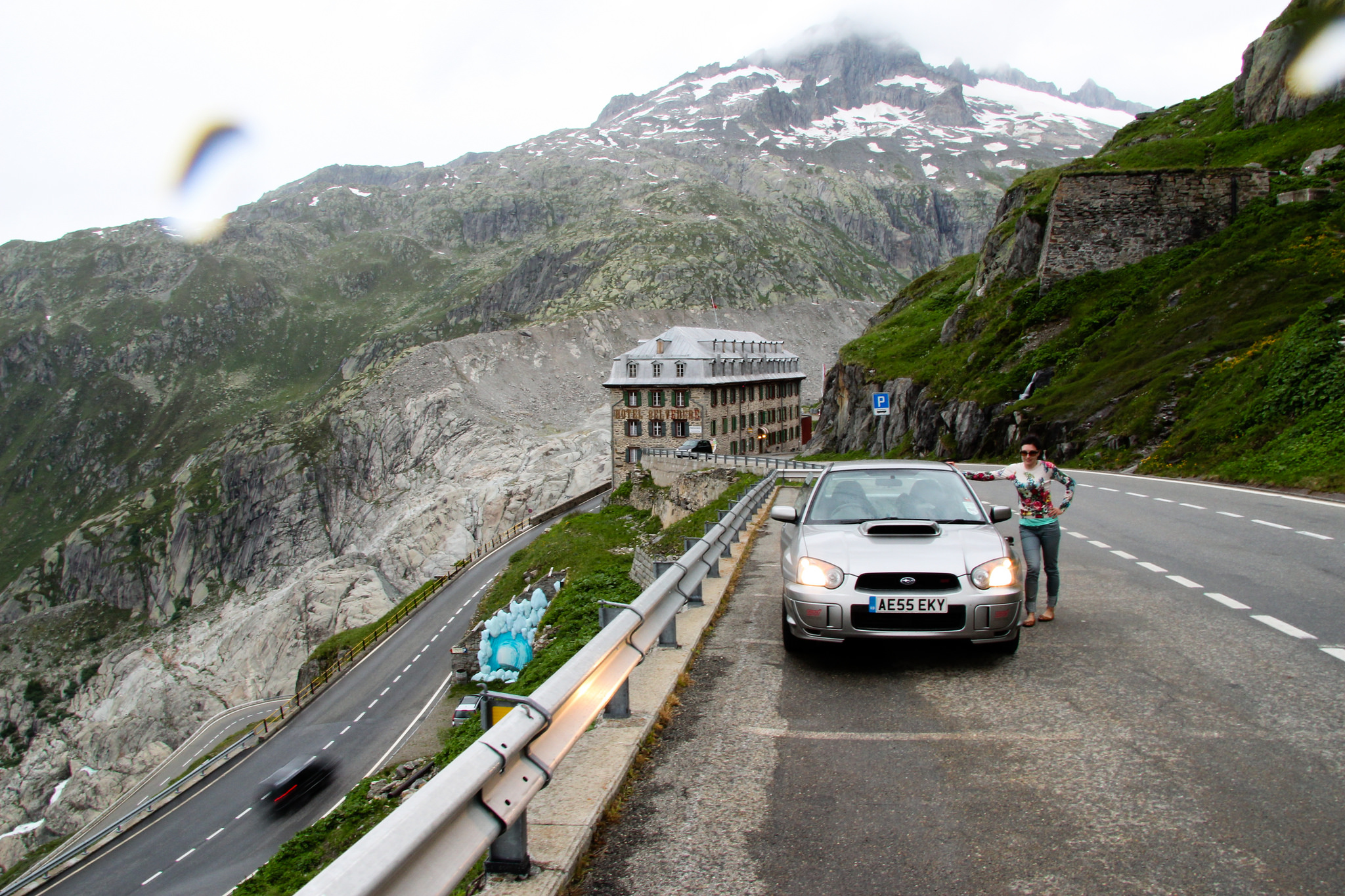 The purpose of the Big Trip
On June 1st, 2014 I married the wonderful Suzie, after 13 years together.
We have always lived by the idea that adventures are a key part in life so, when it came to a honeymoon there was no talk of Barbados beaches or pampered spa breaks.
We were taking the tent and hitting some mountains, with a music festival in France to kick off.
The following is an account of the road trip, over 15 nights in July 2014 which will hopefully inspire others to do similar and if so, provide some info & advice.
Route & Roads
The map pin points were.
Glasgow: Belfort, France: Bellagio, Italy: Alpe D'Huez, France: Chamonix: Vulkaneifel, Germany: Amsterdam, Holland.
Total miles: 2800
1st leg: Glasgow to Folkestone for the 5.30am Eurotunnel train, on to Belfort, France.
Depart July 4th, Arrived July 5th.
[M74>M6>M25>M20]
Super smooth trip. Left Glasgow around 7.45pm, had rain for most of England but no issue as we were sitting around 70 to balance range/time and energy levels.
Arrived in the terminal around 3.40am after 4 stops in total. 2 for fuel and 2 for comfort/coffee/cake.
Worth mentioning the excellent Tebay services if anyone is planning a trip up/down the M6. Like a nice cafe with a good farmshop.
Nothing much of interest on this leg down, although I'm always surprised a little at how much better the motorways are in England. Well lit, good lane markings and much smoother, wider carriageways.
Eurotunnel was very slick, reg plate recognition on arrival and tickets pop out automatically at the barrier. It cost us £81, could have been a bit cheaper but I was a little late confirming dates.
3 hours later, we were in Calais and it was raining….
Another point worth noting, there is a petrol station immediately outside the train terminal that is expensive. The next one doesn't come up for another 40 miles or so. Nerves were building for a few miles.
From Calais we were heading East to Belfort. Mostly motorway [E17], which in France means tolls. Some pricey, some ok. All slow you down and some are bloody awkward to reach the counter, even for the passenger. If you are in something low, it could be very tricky.
Highlight of the leg was the very brief detour to Geux, near Reims for the old race circuit. Now part of the main road it is totally surreal to drive onto a massive main straight, complete with near intact pit walls, garages and grandstands. Suzie was a bit cynical before arriving but absolutely loved it when we got there. Probably the best roadside breakfast stop we have ever made. We ended up spending over an hour here as it was so much fun.
Once we were within about 60 miles of Belfort the directions took us off the main roads and into some pretty interesting country lanes and villages.
Some were so tight I was really questioning the directions (with very little sleep and 900 miles already driven this could have caused some fall outs in the car. However my wonderful wife and I never argue in the car….).
Arrived in Belfort at around 3.30pm. Approx' 900 miles driven, had about 1hrs worth of naps since leaving the house 18hrs earlier. Could have done it quicker but it felt like a good balance.
Music festival (Eurockeenes) was amazing, but no driving involved apart from a glorious 5mph drift in the muddy carpark on the way in
2nd Leg: Belfort to Bellagio, Italy.
Blistering sunshine, cold mountain tops, torrential downpour & thunder with a warm, humid darkness to finish.
That is the headline version of this leg.
We ventured into Belfort proper for a couple of hours to grab a coffee and do some sightseeing on the Monday morning after the music festival. Lovely town with great old fortifications, well worth a visit if in the area. It was hitting about 27˚C as we left at noon, perfect sunshine. Just like a French holiday in July. That didn't last.
The route down to Bellagio was manipulated, deliberately to take in some Swiss Alpine passes.
Grimsel > Furka > Gotthard.
Best decision I made on the route planning.
The drive down to the passes was reasonably pleasant, barring the €34 hit for the Swiss road vignette. Passing through Basel was good. You drive over a bridge near the centre of the city and get a great view up the river Rhein.
The passes are great but, in my opinion they are more about the experience than the sheer quality of driving on offer. I would still rate the A83 or the Old Military Road around Braemar higher for driving thrills or exploring your cars dynamics. They are quite narrow, sometimes bumpy and the penalty for mistakes, well I wouldn't want to test the roll protection out on those drops.
The views, geography and excitement of being so high on a road are all reasons enough to go and explore them though.
We faced some miserable weather in parts with temperatures around 5˚ to 10˚C.
Add in my previously mentioned wife's lack of appetite for speed and it was certainly  time to keep it smooth, enjoy the incredible vistas and soak up the overall experience.
I want to try them again, without Suzie & perhaps in something even more performance oriented. Like a 911…..Or an F40 like that lucky bugger H.Catchpole, as featured in the Evo edition I came home to.
Early start from nearby, rather than part of a 7hr journey and time to do multiple runs to build up an understanding of the roads.
Coming off the passes we drove into some monumental rain. Crazy stuff. A stop at a service station near Bellinzonna saw us completely soaked through in the 20m from car to door!
Getting back in the car also brought us an F12 close up as the Swiss owner parked directly next to us, despite the fact Suzie was standing in that space at the time trying to put bags back into the car.
The slightly portly owner then slipped on the tarmac as he climbed out which cheered Suzie up slightly. My loyalty was divided, sympathise with my wife or give the guy a break due to his incredible car….This marriage stuff is already throwing up challenges.
From there it was fairly simple stuff to Como in Italy by which time the rain had cleared and warmth was exchanged for daylight.
I didn't notice the start line, or realise we had began a qualifying session but as soon as we entered the town of Como it became very obvious we were in some sort of road race competition with every manner of road going (not always worthy) vehicles. Throw in some real life advanced driving obstacles, like pedestrians & cafe chairs and it was a massive adrenaline shock after 3 hours of Swiss motorway. Everyone was desperate to overtake anything in front of them, no matter what else was happening at the time.
Exiting Como for Bellagio involves a very narrow coastal road [SS340], unlit and with houses, cafes and shops dotted all along it. Even with people on the road in a village I had a woman driving about a foot of my bumper, flashing lights and hitting the horn. As soon as the road cleared a little, I opened up and left her in my wake instantly. Then I slowed for people in the next village and sure enough, repeat process.
We were very glad to arrive at the excellent little Camping Clark site that night, 10pm but still welcomed. An hour later we were in the tent, just in time for that monsoon to catch up with us. It stayed with us for 14 hours!
We had great couple of nights in Bellagio. Really pretty place with incredible food in 'Apertivo' & great beer in 'Pub Il Tiglio'
3rd Leg: Bellagio to Alpe D'Huez, France.
Those narrow coastal roads that were so intimidating on our way into Bellagio seemed much more friendly on the way out.
Fresh body and mind, daylight and a clearer sense of direction meant I really enjoyed the 20km or so to Lecco. Bellagio is on the tip of a point in Lake Como, we arrived on the West side, departed via the East. Some of the views are car crash material and that proved the greatest challenge on the way out, keeping eyes on the road and not staring at the classic Italian film scenes to my left.
From Lecco on, it was fairly normal stuff. Beware that Google Maps directions seem to struggle with mini roundabouts. Often the exit count is wrong and some are missed altogether.
We headed for the ring road around Milan, passing very close to Monza (so tempting) and looping West towards Turin on the E64. Once again we found ourselves in an unofficial version of Need for Speed. Anyone can enter and it seems attitude and determination are worth much more than horsepower or skill level.
Best spotted on this leg was a BMW Z8. Unfortunately it was parked at a service station so it was fleeting glimpse.
Heading out of Italy into France saw our first real navigation mistake. Despite a lot of map planning and checking I missed a strange detail in the Google Map route I had created. It seems to have a habit of changing some sections based on live traffic info. Sometimes handy for day to day use. Not so much on big trips.
Outcome, it had swapped the SS24 to Briancon for the A32 > T4 > E70 to Modane.
Not only did this take us through the St Frejus tunnel which cost us €41 but it also brought us out on the wrong side of the mountains meaning we had to drive a fair bit extra West before cutting back over the narrowest, steepest pass I have ever been on, the D927 of Col du Glandon.
1st gear hairpins, in fog after driving for 4 hours isn't really much fun. Slight joy taken when a couple of French reg cars pulled over to let us by though….
Some of the roads around that area though were great. The D526 to Allemond was super smooth, open and flowing. I also had one of those great cornering moments where we were pressing on down a straight, realised the turn we wanted was a lot earlier than expected but the road was clear, the junction very wide and perfectly sighted. Jumped on the brakes, H&T from 6th to 3rd, turn right and expect a bit of slide due to the speed. Not a hint of slip, tiny chirrup from the outside tyres, back on the power.
Silent wife, smiling Keith. Thoughts about how much speed this car can actually carry through corners….
We did a little bit of driving around the area over the 5 nights we stayed.
Good roads worth investigating include the D1091, great surfaces and a mixture of viewing pleasures from mountain peaks to dramatic lakes in gorges. Always need to be aware of cyclists in this area, there can be large groups on regular occasions but the roads are built to accommodate and there is rarely any hold ups.
Unlike camper vans with UK plates….
4th Leg: Alpe D'huez to Chamonix
One of our shorter legs, some cracking roads between Megeve and Chamonix around the D1212 and D909. Great mix of open fields and close rock faces with views of white water rapids, huge mountains, lakes and pretty villages thrown in along the way.
On a day trip to Annecy we took a slight deviation between Saint-Gervais and Megeve, still not sure what road we were on but, it led to us passing a convoy of Ferraris on a very narrow road. On the downside, this meant they were going pretty slowly (as were we) but it did mean we got a good look at them. There were several 458s including at least one Speciale, an F12 and an FF. We think about 13 in total.
In Megeve itself we also saw a BMW i8 which, I think looks like a concept planned for 2016 rather than something that can be bought today. It just looks so Sci-Fi concept it is hard to accept as a real production model.
Returning from Annecy, whilst fuelling up we also came across 3 identical Jaguar F Type S Roadsters. All black, wearing consecutive number German plates. Had a quick chat with the drivers about fuel, roads and the cars. One of them was actually interested in mine and knew exactly what spec' it was. The Jags sounded incredible, and looked great. Don't think they would be much use for a camping trip though. Doubt I could even fit my cycling clothes in.
5th Leg: Chamonix to Vulkaneifel, Germany. E27/25 > A5 > A6 > A1
So much promise, so much frustration and disappointment.
We decided to ignore all the route planning advice on Google and Garmin, which suggested driving up through France and Luxembourg as we had already paid the Swiss toll. Going through Switzerland would also mean the bulk of miles would be on German Autobahn rather than French roads, so big speed was on offer.
Didn't work out that way.
Leaving Chamonix and heading East to Martigny was great. Nice winding pass, light traffic and good pace. Entering Switzerland, we dropped down a huge cliff face with vineyards on the roadside and view that seemed to stretch beyond imagination at the bottom.
Driving through Switzerland was again pleasant, swift and easy operation. Great views from the road around Montreaux and Berne. Switzerland is a definite for future visits.
When we reached the German border it was around 11.30am and hitting 30˚C. Progress had been flawless and interesting. Within 100m of the border there was a Shell petrol station with V-Power Racing 100RON on tap and excellent coffee provided.
This was a great leg, so far.
We travelled less than 25 miles in the next 5 hours on the unrestricted A5.
What we hadn't anticipated was how busy the German roads would be on a summer Friday, how many road repairs would be taking place and most of all, how shockingly bad the driving standards would be.
Stereotype it may be but the approach to roadworks was very efficient and thorough. No lane closures, just temporary lanes bypassing the work with a slight narrowing and a kink at start/finish. Should have been perfect but at every work spot, there was a multiple car pile up. Nearly every car driver we saw would stick to the mantra of going as fast as they could, as close to the car in front and make manoeuvres as late as possible. Combined with narrow carriageways, very poor surfaces and very tight exit junctions it made for horrendous driving. Then we have the 36˚C heat and no shade whilst crawling along for 5 hours to create by far the worst day of the trip. In fact, the only bad part.
When it finally all cleared as we got onto the A1 I decided it was about time we made up for the delay and explored the upper reaches of the power band. It was fun in a way hitting 120+ mph with no fear of prosecution but, the bad driving around us never quite disappeared and watching someone in a black 230E Mercedes make deliberate swerves towards and brake test another driver at 100mph before nearly binning it trying to make his exit from L2 across after the 100m mark did put me off slightly!
We did get up to 130 on one decent section but the roads were generally rubbish and having the steering wheel yanked through a 1/4 turn of lock in both directions by ruts and cambers whilst cornering at 110mph isn't my idea of a good time.
Only redeeming factor was passing by the Hockenheim.
We were extremely relieved to hit camp that night.
Final Leg: Vulkaneifel to Amsterdam
Due to concerns of traffic in Germany, and the need to catch a ferry we decided to change our final route and head West for Belgium and up. The strange thing about the South of Germany is that their Autobahns were dreadful, with no speed limit but their 'B' roads were splendid, smooth and well sighted yet had a 80kph limit. I think I was really tired that day and got the kph/mph mixed up but it seemed to work out well.
This was frustrating as part of my plan, and reason for picking that campsite is that it was only about 50km from the Nurburgring. My intention had been to arrive at the site around 3pm on the Friday and take a drive up to look around but as we didn't arrive to 8.30pm and I was absolutely shattered, it had to be left out.
The proximity to the 'Ring was possibly why the cars were getting very interesting on the surrounding roads. We passed a trailered Skyline R32 GT-R, heavily modified including wide JGTC style arches with the rear tyres exposed from behind. A couple of minutes later we passed a standard but mint looking example too. Anyone that knows me will be aware of my desire for an R32 GT-R so when I saw a 3rd one in the morning, parked up next to a tasty looking Evo IX I was getting some serious twitches to explore the finances again.
Into Belgium and it was fairly simple stuff, our tour of famous race circuits completed with a  close shave of Spa. By good fortune we decided to refuel close the Dutch border, as soon as we crossed over the prices went up by about 25c/l.
Approaching Amsterdam, around Utrecht on the A2/E35 we passed a huge sweeping glass structure that just looked stunning. The we saw what was inside, the Louwmen McLaren & Maserati dealership. Several examples were suspended on various platforms within what looks like a glass bubble along the motorway edge. Pretty special way to show off your wares.
After getting the ferry to Newcastle we made our way back up the M74. Coming up through S.Lanarkshire on that road, with its 70mph limit really did highlight the absurdity of the Autobahn experience. Here is a road far better suited to high speed driving, good surface, wide lanes, proper hard shoulder, progressive open slip roads and yet a very low speed limit. Yet take the opposite of all that and do what you like in Germany!
The Summary
An absolutely fantastic trip and adventure. The road aspect was obviously only a part of the entire trip but other than the German experience we both loved the journeys due to the views, the sense of adventure and the chance to sit and chat away for hours at a time with nothing much else to deal with. That is something of a rarity in our lives these days.
It was expensive. We spent of £1k on fuel, £200 on tolls and the ferry was £390.
If we were staying in hotels rather than camping it would have been outwith our means.
Plans are already being discussed for a return trip. This time we are looking for fellow travellers and I want to split vehicles between practical load lugger, and something special.
Combining it with a venture onto one of those race circuits is a must and building up the bravery to tackle some hairpins with attitude is the personal challenge.
The Car
We took my 2005 Subaru Impreza STi. The car performed flawlessly for the entire trip.
It proved more than acceptable on the big long M'way legs. With a reasonably long 6th gear – 25mph/1k RPM it can do a decent speed off boost with threshold just over 3k RPM.
It is quick enough to make up ground and remain composed and stable yet being normal height it manages towns fairly well. Not much fun in traffic though, clutch and gearshift are heavy at low speeds and the AWD system and all the diffs mean it lurches on and off static/crawling speeds and the turning circle isn't great (unless you use the handbrake).
The boot is pretty big and in combination with the back seats we took my bike, a medium size tent, portable BBQ kit (called the Lotus Grille), all our clothes, running/cycling kit, camping chairs and camera with tripod.
We did discuss a couple of times what other car we would have swapped for. Not many were realistic and only a few such as B7 RS4 Avant, E90 335i touring or E46 M3 could have provided the combination of enjoyment, pace and load carrying ability. None of which can be bought for the same money or run for such low cost.
Whilst I would have loved a 911/Cayman in the alps, I couldn't have taken my bike and fuel costs on the long runs would have crippled us.
Something like a 5 series diesel would have been great on the long legs but, nothing like as much fun or character for the twisties.
Over the trip it averaged about 27mpg which isn't bad considering it has about 270hp and the driving tended to be either 80ish cruising or tight mountain roads with 2nd gear hairpins.
On those hairpins it felt pretty good but, my wife isn't one for pressing on in the car to say the least so it was mainly steady stuff. However, I am glad I fitted new front pads for the trip. Some of those descents do suck you into a bit of pace and you really don't want to feel the middle pedal going long or soft in those situations.
Cars – Spotted
Some crackers, the highlights.
2x BMW Z8s. One in Italy, one in Switzerland.
Convoy of at least 13 Ferraris in France, between Chamonix and Annecy, including an F12, FF and 458 Speciale.
Honda NSX in Bourg D'Oisans. Was behind a couple of market stalls so couldn't get close but looked great in red.
Trio of identical black Jag F Type S. German registered, sequential plates. Sounded amazing.
BMW i8 in Megeve.
911 GT2 RS in Germany.
Several R32 Skyline GT-R's, testing my resolve.
Very early 911 in Holland, utterly sublime.
Some trip. Can you marry the same woman twice and do it all over again?