All over the land, preparations are under way for the 2018 motorsport season and with championships entered, cars acquired and driver line-ups confirmed, it's the right time to grab those last remaining sponsorship opportunities for your company, now that the likely marketing exposure is known.
Here at Tartan Tarmac, we're drawing your attention to two Scottish racers, entering televised UK championships at very different levels, but therefore offering a range of sponsorship opportunities ranging from supporting a one-off paddock party at Knockhill, to top-flight corporate partnership with a British GT Championship entrant.
The two championship entries are…..
British GT Championship – GT3 Aston Martin – Graham Davidson and Maxime Martin
Caterham Seven 270R Championship – John Shiveral (shameless self-promotion while Graham has attracted your attention)
Graham in British GT
Here at Tartan Tarmac we've been following Graham's GT career and, having dominated the British GT Cup series last year, Graham is stepping up to the pro-am GT3 class of the British GT Championship, co-driving with the very experienced Aston Martin factory driver Maxime Martin in a gorgeous V12 Vantage. Added to the British GT Championship, the guys will be part of the 2018 Aston Le Mans festival, including a race before the 24 hr race starts.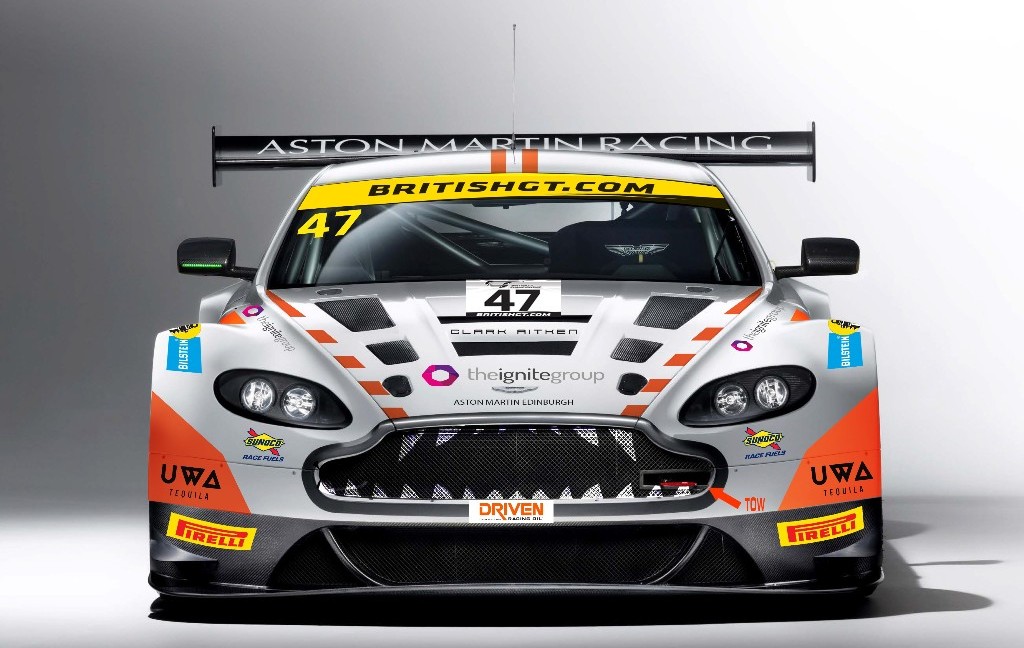 Sponsorship Opportunities with Graham
VIP HOSPITALITY
With glamorous Supercars racing bumper to bumper, ground-shaking noise, breath-taking speeds and all the drama of pit-stops and driver changes, the British GT championship provides a perfect platform for teams and sponsors to entertain guests, At British GT championship events, the SRO club is a central hub for guest entertainment as well as an area where drivers and teams can socialise and relax. On race days you can also enjoy Grid Walks with Celebrities.
This provides an ideal environment for businesses to strengthen ties with existing partners and generate higher moral among staff, or create completely new business opportunities.
YOU, THE SPONSOR
As our commercial partner, you will have incredible access to both drivers and the Aston Martin Vantage GT3 Racecar for PR appearances / photo shoots / marketing opportunities.
This is a great tool to create excitement and interest around your brand, at events such as Trade Expos, New office openings or corporate client events.
Exclusive access to Bruntingthope Proving ground give us the ability to offer your company a unique opportunity for private track day passenger laps in one of two GT3 Racecars with Graham and Maxime at the wheel ready to scare you! In addition opportunities to drive one of Bruntingthope's Ariel Atom's are available.
Private track day hire also available at any other UK circuit.
For more information or to enquire about partnership opportunities, please contact Tartan Tarmac and we'll put you directly in touch.
John in Caterham 270R
Judging by the video views and web-hits, Tartan Tarmac readers seem to have enjoyed following my Caterham Motorsport adventures so once again I'm stepping up a class, this time from Roadsport to 270R, and I'm eagerly anticipating my 3rd year in the busy and highly competitive UK Caterham paddock.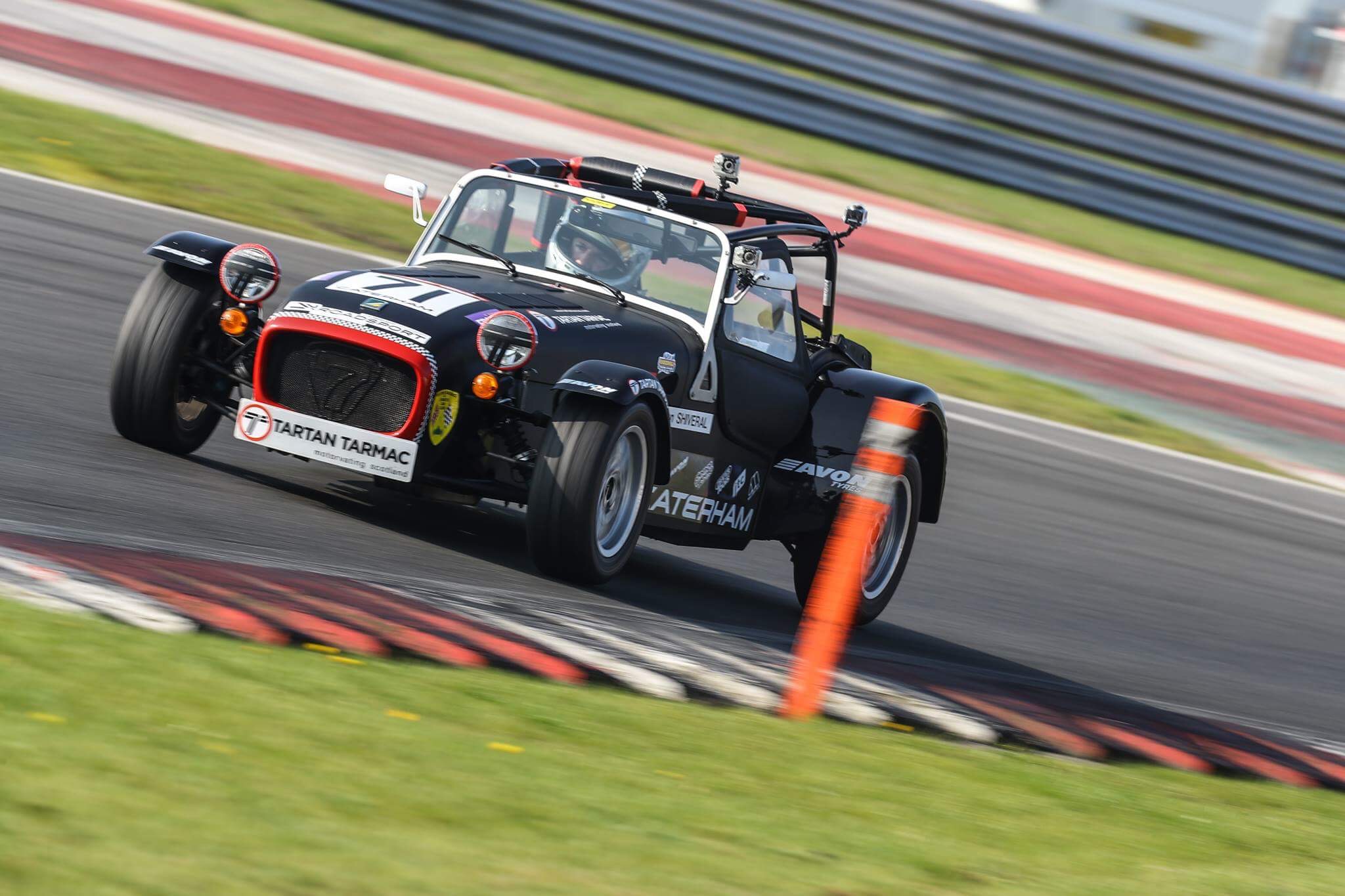 Sponsorship Opportunities with John
Caterham Motorsport has the benefits of a busy multi-class championship visiting major UK and European circuits, while retaining that accessible, family-friendly club feel with some of the most intense and entertaining racing you will see anywhere.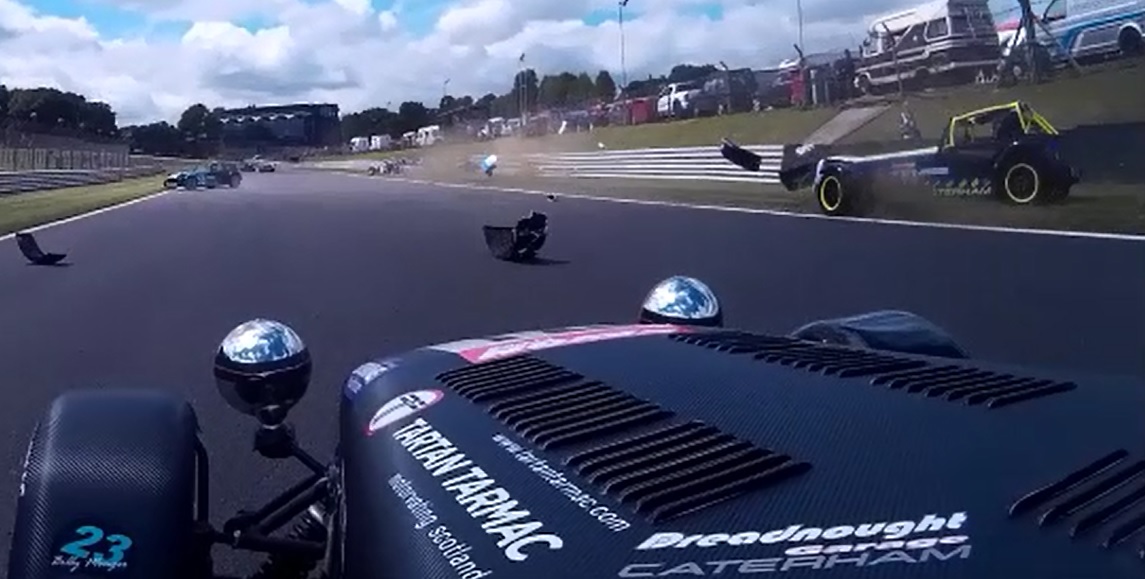 In 2018 the Caterham paddock is coming to Knockhill for the first time in many years. Sharing the paddock with TCR touring cars, Formula Ford and the Porsche Challenge, the weekend will see the most racing drivers ever at one event at Knockhill. Tartan Tarmac are planning to have a significant presence at the event with a dedicated paddock area and a paddock BBQ party, so it represents a great opportunity to expose your company, not only to Scottish Motorsport fans but also to a televised UK Championship with one of the biggest and busiest paddocks.
Season long opportunities include….
– Logo placement in-camera on the car
– Further logo exposure on support vehicles
– Entertainment opportunities as the championship tours Snetterton, Knockhill, Brands Hatch, Zandvoort, Thruxton, Castle Combe and Silverstone International
– PR on Tartan Tarmac website and Facebook page
– Potential for exposure on Channel 4 and Motorsport TV (entirely dependent on me being involved in something notably good or notably bad!)
To discuss these opportunities, please email john.shiveral@tartantarmac.com or message the Tartan Tarmac Facebook page.